Californian getaway / Ojai
Far from the madding crowd
The small California town of Ojai is within striking distance of Los Angeles, has a bubbling food scene and is famed for its native population of pixies. Grab a basket.
Ojai, a rural community an hour north of Los Angeles, is boxed in by the mountains of the Santa Ynez range. Arid, desolate valleys surround it and, in summer, temperatures can soar to 38c. But amid the scorching heat, a peculiar lushness has taken hold upon the raw landscape.
It's hard to explain Ojai (pronounced "Oh-hi") without a nod to its colourful history with spiritual blow-ins. In the 1920s, many were lured by the climate. Indian philosopher Jiddu Krishnamurti decided to make his home here and started a a ripple effect that attracted author Aldous Huxley and even Charlie Chaplin, who would dash up from Hollywood for a spiritual session with the master. Once they got an eyeful of the rolling hills and pleasant orchards, it made sense to stick around.
"Southern California has a history of alternative food," says Steve Sprinkel, co-owner of Farmer and the Cook, a veggie-first restaurant in Meiners Oaks (Ojai's west end). "You have a century-old tradition of all these health nuts such as Paul Bragg and Buster Crabbe coming to the area," adds the 68-year-old farmer, referring to the health-food mogul and 1933 Tarzan actor respectively. When Sprinkel founded the business with his wife Olivia Chase, a chef from Ventura, in 2001, they had a hunch that their model – a grocery store with its own all-organic restaurant – would take off. Today the restaurant, housed in an original 1947 food shop on West El Roblar Drive, is responsible for 60 per cent of the business's revenue.
Entering Farmer and the Cook feels a little like walking through the left-ajar backdoor of a close friend's home. Mismatched burlap sacks are available for loose produce and the shouts of children compete with the whirr of smoothie blenders. Servers race between the small deli area at the front of the shop and the shaded patio, where a pianist chimes in most afternoons. In the summer Sprinkel encourages local bands – of which there are a few – to take to the stage for weekly concerts. "People come in, order a meal to go and, while they're waiting, shop. They'll buy $30 worth of produce, pick up their order and be on their way."
Part of Ojai's appeal is the vast array of characters you meet walking along the main street, and the energetic staff at Farmer and the Cook reflect the area's eccentricity. Sprinkel, a commanding figure with a shock of white hair, has a knack for training young farmers such as fresh-faced Luca Cuvelier, who tends the vegetable patch up the road from the restaurant. The 22-year-old moved here from New York in 2018 without knowing a soul – but he feels he's landed firmly on both feet.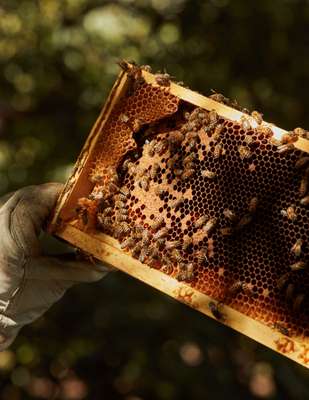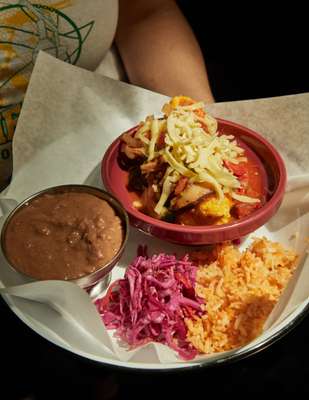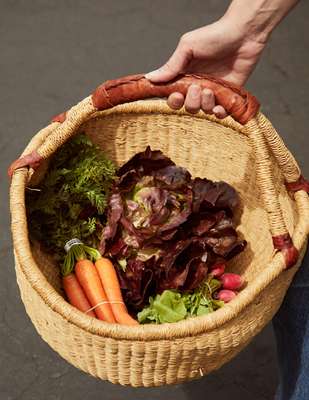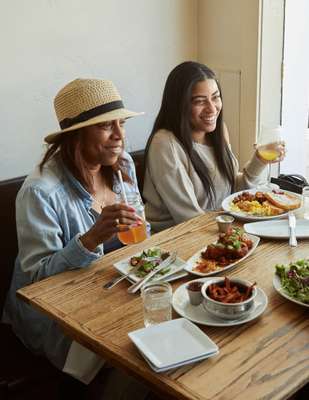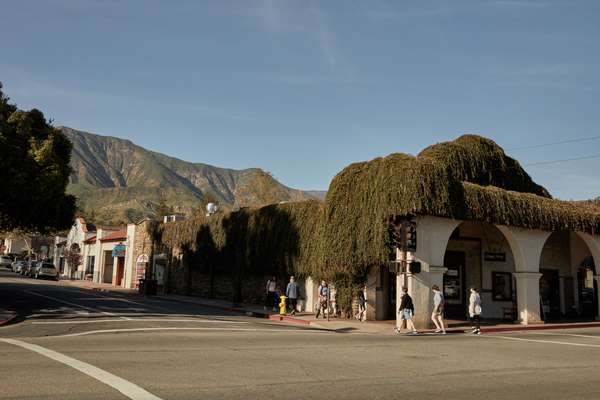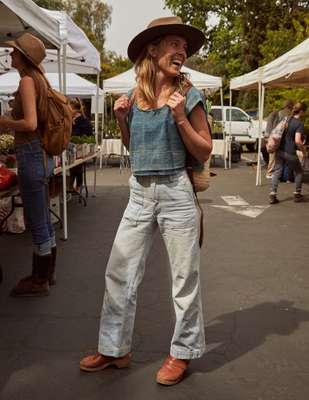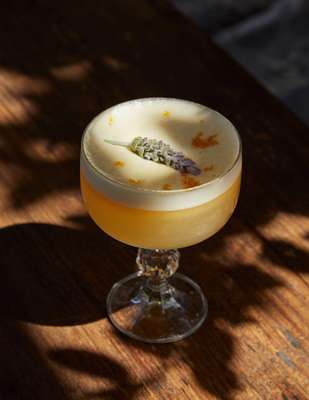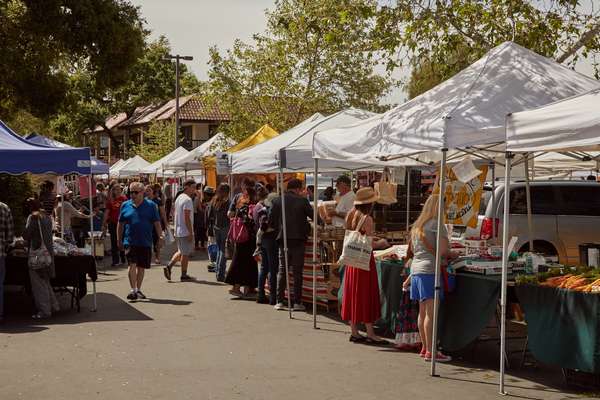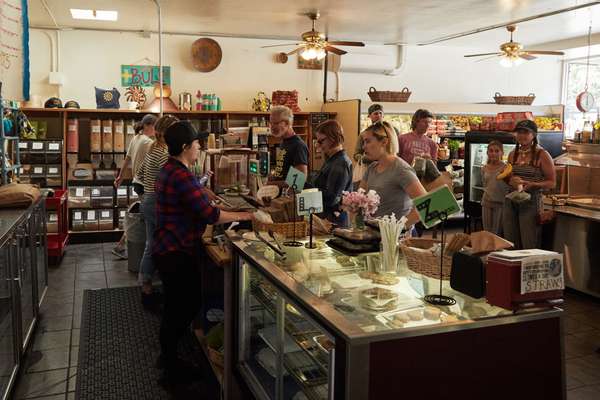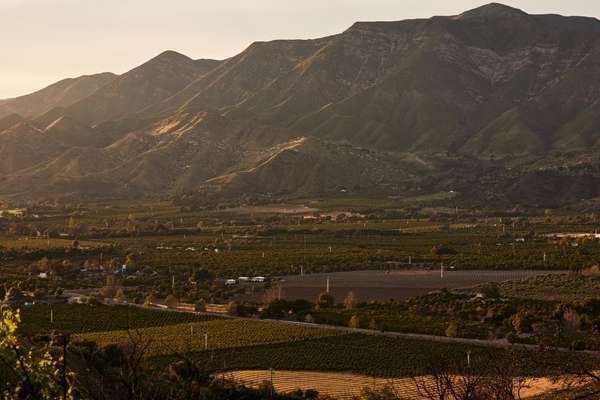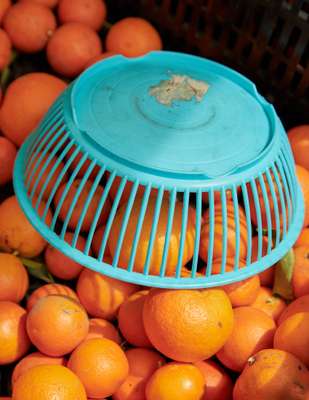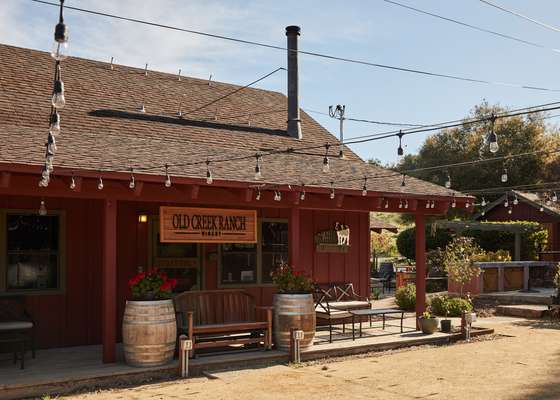 "The community in Ojai is strong, I think that's what makes it so vibrant," says Cuvelier, who is teasing Japanese turnips out of the dirt. He's hard at work despite the fact that it's a Sunday morning and wearing a red-striped Oxford shirt (top buttons open, naturally) and a straw hat. "I've had lots of health benefits from being here because of the access to good food." He mentions that he would never have found out about the job opportunity at Farmer and the Cook if it weren't for residents taking him under their wing. "Unlike in New York, people are willing to stop their day and have a conversation with you."
Marie Van Leeuwen, who is 29 and grew up in Ojai, has always known about its unique allure. But it wasn't until 10 years ago that the town began to establish itself a bona fide escape from Los Angeles. "I don't know what changed but younger families started moving in from all over," she says. Ojai is the unlikely home of a smattering of elite prep schools – including the Thacher School, where each student is assigned their own horse – and a distinguished 126-year-old tennis tournament. But it has managed to retain its small-town charm while welcoming a steady stream of tourists
In 2015, Van Leeuwen and her family bought an old winery estate on the outskirts of town, which they recently opened to weekend visitors. Spanning 340 hectares, Old Creek Ranch has scenery to rival anything in Sonoma, if not posher Napa; there's an outdoor tasting room and picnic tables set among hibiscus plants and magnolia trees. There are also firepits, outdoor games for children and the occasional food truck.
At the top of the hill is a ranch house built in 1925, where Van Leeuwen lives with her Dutch husband Frans and their border collie Linder. Gazing out from his porch over the grapevines they've planted (so far varietals include viognier, pinot gris, grenache and petite syrah), Frans says, "I'm so lucky to be here. I wake up every morning thinking, 'Is this really my life?'"
Currently weekday visitors must call ahead to make an appointment but Van Leeuwen hopes to change that. Historical designation is pending for some of the older buildings and once that happens, they plan to turn their house into a B&B. "We'd have to find a different place to live," says Marie. "But we're so fine with that."
Over the years, growers in Ojai have struggled with the unpredictable weather conditions that have blighted California. In 1969 a flood in Matilija Canyon destroyed the packing house of Friend's Ranches, a prominent citrus grower, though it was rebuilt higher up the canyon. Then, in 2017, the Thomas Fire came within feet of the town. The forecast looked bleak in the aftermath: Ojai's economy relies on tourism to survive and months went by without a single overnight guest. Some businesses began to wonder if they'd make it to the following summer.
Clearly things have rebounded nicely. But for long-term residents, as useful as tourism is, it also needs managing so it won't threaten the town's intimate way of life. "Because of its beauty and proximity to LA, the economics of the valley are changing," says Jim Churchill, who has managed a citrus farm here since 1978. "People are coming in with a new level of money and others are being priced out." As a result it's tough for new farmers in Ojai to solely live off what they grow. "No crop grown in Ojai makes enough money to support the [rising] land values," he says, warily.
This said, a wealthy crowd of visitors means that specialist crops can be sold at a premium. At the bustling Sunday farmers' market, Churchill's is the only stand at which one can spy exotic fruits including cocktail grapefruit and oro blanco (a cross between a pomelo and a grapefruit), all of which are grown without pesticides. Citrus fruits are one of the emblems of a trip here. Every spring a drive past the tranquil orchards on Grand Avenue, which run parallel to the Topatopa mountains, means a glimpse of the pixies: a uniquely sweet tangerine that only grows in Ojai.
The Ojai Pixie Packers, an alliance of citrus growers who sell directly to both local grocery stores and wholesalers as far away as Japan, unload an average of 2.3 million kilograms of these sought-after orbs each year. It's big business and works especially well in Ojai, where scorching summers and cool evening breezes help pixie trees, a notoriously difficult crop, to flourish.
"When you come into town, you smell something different: that's the orange blossom," says beekeeper Dávid Sipos, a Hungarian transplant who looks after a stack of hives on Churchill's ranch. The bees occupy prime real estate under a large oak tree, in the centre of hundreds of citrus trees. "There are times in May when you feel like there is no oxygen – instead there's so much bloom, so much fragrance."
Ojai address book
1. Stay: Ojai Valley Inn
A smart resort with Mission-style villas, oak trees and an apiary for honey tastings.
ojaivalleyinn.com
2. Stay: Lavender Inn
Garden-adjacent rooms in an 1874 schoolhouse. Wine is served nightly at tapas hour.
lavenderinn.com
3. Eat: Farmer and the Cook
Health-conscious Mexican food, smoothies and pizza with ingredients sourced from the owner's farm.
farmerandcook.com
4. Eat: Friend's Ranches
Fifth-generation grower of Ojai's distinctive pixie tangerines, a symbol of the town.
friendsranches.com
5. Eat: Deer Lodgev
Burgers and Ojai-sourced beer. Don't be alarmed by the numerous motorbikes parked outside.
deerlodgeojai.com
6. Eat: Azu
Warm family-style setting for Mediterranean food; ask about the (seasonal) pixie-infused panna cotta.
azuojai.com
7. Drink: Old Creek Ranch Winery
A key element of Ojai's maturing culinary scene. This new winery's tasting rooms overlook the wild canyon scenery.
oldcreekranch.com
8. Visit: Ojai Olive Oil
Stroll past 2,500 olive trees – some of which date back to the 1800s – before enjoying a free tasting session.
ojaioliveoil.com
9. How to get here: Ojai is an easy 90-minute commute from Los Angeles. Follow the 101 up from the city for about an hour before turning off onto the lush, remote Highway 33. You'll go past country roads of rolling farmland and high grassy mountains before finally emerging onto Ojai's pedestrian-friendly downtown strip.