Torres Blancas / Madrid
Back to the future
Too many residential towers play by the rules. We are granted rare access to Torres Blancas, a fantastical expression of 1960s modernism that remains as current and desirable as ever.
"Everything you've read about this building is untrue," says Javier Sáenz Guerra as we step into the crimson capsule-shaped lift of Madrid's Torres Blancas. "When there's a lack of information, fanciful stories tend to flourish," he adds, alluding to the stream of myth and misinformation that swirl around his father's iconic apartment tower. Completed in 1969, Francisco Javier Sáenz de Oiza's high-density housing complex was leagues ahead of its time. At 74 metres tall, the eccentric structure soared above the cheerless vernacular of Spain's entrenched fascist dictatorship. Now, more than four decades later, people are still marvelling at its audacity and the alluring mystery that envelops it.
Every Madrileño, it seems, has an opinion about the Torres Blancas. Yet a culture of secrecy, reinforced in part by a veteran team of doormen determined to keep uninvited guests at bay, has given rise to rumour and fiction. One theory claims that two other towers were initially planned, hence the titular plural. Another states that it was supposed to be covered in marble but that this was deemed too dangerous. "All nonsense," says the architect's son as he gives us a tour of his childhood home, now the residence of his younger sister. Later, from the vantage point of the low-slung balcony, he elaborates: "Perhaps all this speculation speaks of my father's ability to rouse the imagination."
The striking structure, which sprouts alongside one of the principal highways and entry points to the city, was designed as a tall cylindrical trunk made up of unevenly stacked discs, the rotating curves serve as balconies that create the cumulative effect of a vertiginous garden. At the top these plates fan out like foliage, providing a comfortable platform for a rooftop terrace and pool – all with spectacular city views to boot.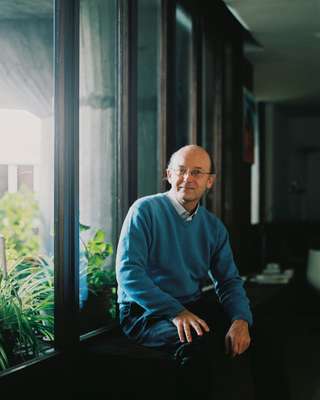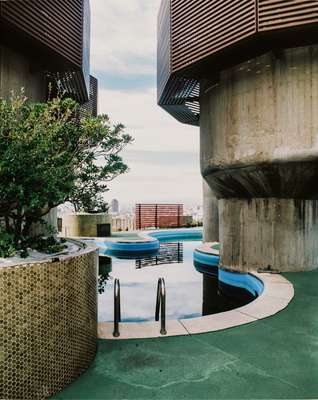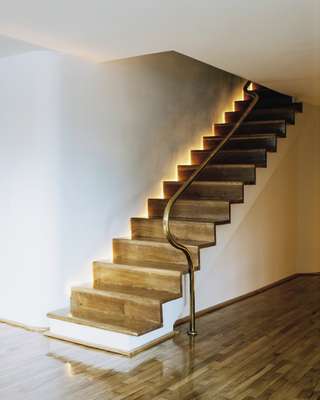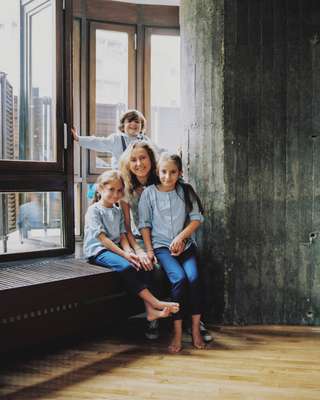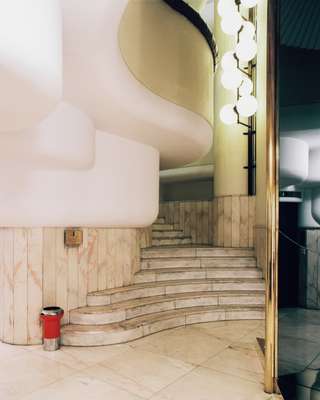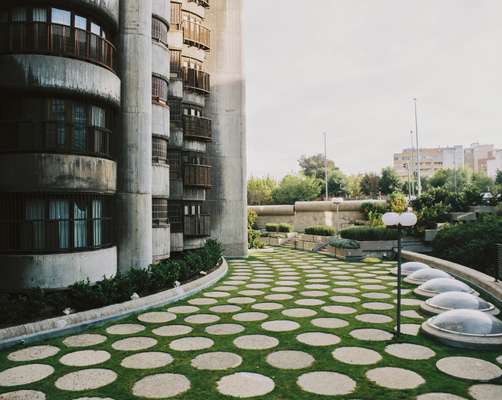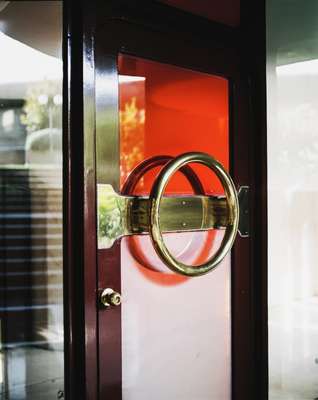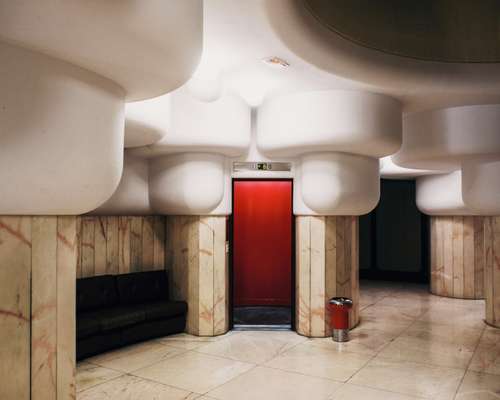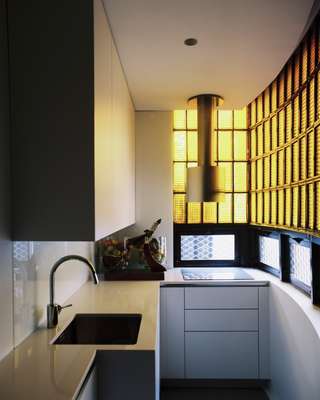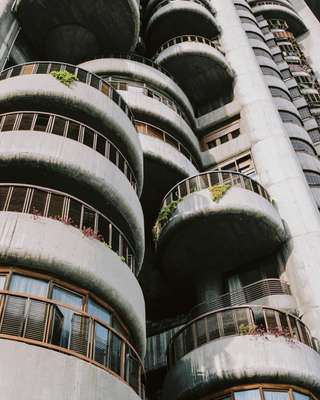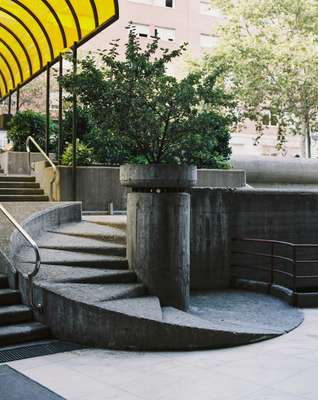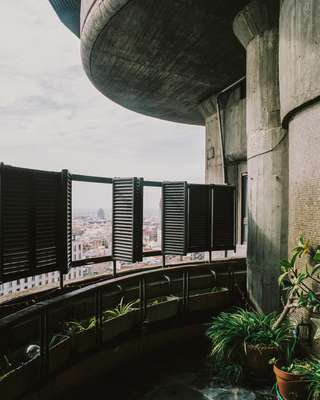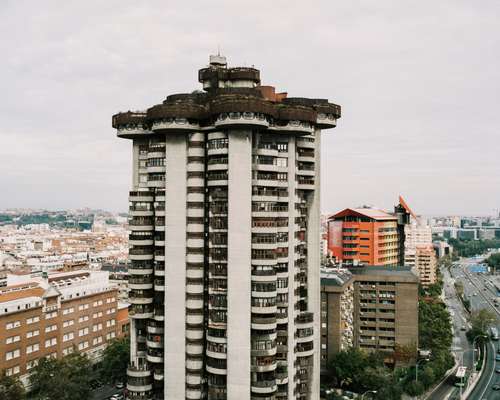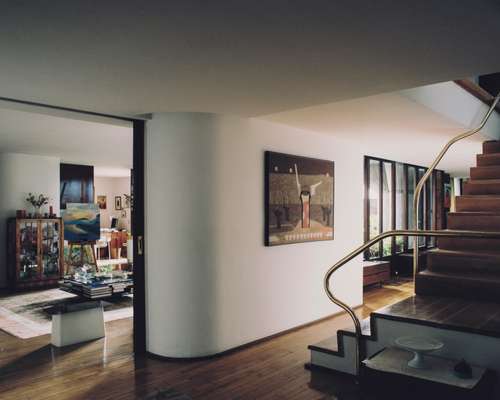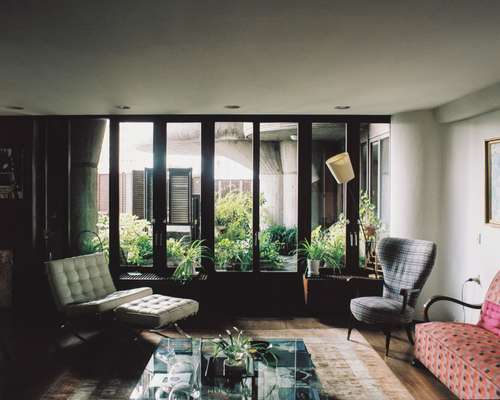 The building's futuristic form gives it a distinctively extraterrestrial tone but Sáenz de Oiza was looking much closer to Earth when he took to the drawing board. Inspired in part by Le Corbusier's concept of "machines for living in" and combining the naturalness of rival architect Frank Lloyd Wright, the Spaniard went even further by applying his own style based on the natural growth patterns of trees. Today his creation is revered as one of the most extreme examples of Spanish organicism.
At the time the Spanish capital was confronting the familiar symptoms of rapid urban growth. Between 1950 and 1970 the population doubled to three million as industrial policies lured economic migrants from across the peninsula. As cheap high-density housing erupted across the city, the regime was eager to show off its economic credentials and reposition Madrid as a modern capital. As a result, a number of surprisingly standout structures were green-lighted. Fernando Higueras' brutalist housing complex Edificio Princesa took hold in the Conde Duque district while Antonio Lamela's Torres de Colón offices polarised audiences from the outset. Yet it was Sáenz de Oiza's turret that garnered the most interest.
"It's like a psychedelic fantasy that rose up during the greyest part of Madrid's history," says film producer Enrique López Lavigne, a resident of five years. "At the time the building was an absolute extravaganza," he continues from a suitably retro Joe Colombo chair. "Remarkably, in the 21st century it is still modern; it remains both ambitious and fantastical. This transgressive quality is its most defining feature." Curious visitors of every ilk seem to validate its pulling power. When American film-maker Jim Jarmusch came to town he incorporated the eccentric building into his 2009 film The Limits of Control.
However, a glance at the surrounding districts hints at the lingering paradox. While the Torres Blancas continues to be celebrated as a singular entity – even garnering the European Excellence Award back in 1974 – the banality of the buildings that have been built in its wake show that Sáenz de Oiza's new paradigm never fully took root across the city. It is an unfortunate consequence of cost limitations but also a lack of will.
Yet from within the curvilinear confines of its interior, the prevalence of whimsical motifs and proud residents sets a much more optimistic tone. As the people who live here glide up and down the stunning spiral staircase, most seem mindful of their privileged place in local architectural – and cultural – history. Right from its inauguration during Spain's (only partially) swinging Sixties, the building became a beacon for pop icons and legends of the Madrid underground. The properties had originally been marketed towards the city's wealthy elite but initial sales were slow, particularly because the considerably smaller apartment sizes – some of them just 90 sq m – were snubbed by conservative buyers. John Huarte, the construction magnate behind the project and a renowned patron of the arts, targeted the city's cool and cultured clique instead. In an effort to generate hype, two films were given permission to shoot inside the building during the first year. It seemed to work, with figures such as writer Camilo José Cela, sculptor Jorge Oteiza and the owners of chic discoteca Cerebro soon snapping up apartments. Fashionable fiestas became a staple of communal living, especially later during Madrid's wild La Movida movement in the 1980s.
Such stories may be rapidly fading memories but the building seems to have been frozen in time. Fortunately the foresight to source only the finest materials, accompanied by decades of care and attention, has preserved a timeworn legacy. Filigree screens and window frames were fashioned from high-quality teak to weather the elements; white marble lines the walls and floors of the communal entrance; brass fittings adorn doors; and an impressive stream of bulbous light shades cascade down the building's inner spine to illuminate the spiral staircase. Even the banister, which coils up 23 floors, has retained its original scarlet-coloured leather. "All we ever really need to do is clean," says one of the doormen, almost triumphantly.
Durability has also been guaranteed by the ability to adapt. Early plans for an adjoining primary school and chapel were jettisoned due to lack of demand, while spaces for shops on the upper level were eventually converted into smaller apartments. The penthouse level was initially a restaurant (the apartments were even connected to the dining room via chutes and a futuristic electronic-waiter system) but eventually the upper floor was rented out as an office. Today it sits empty, awaiting a new buyer – and chapter.
High-density housing is an evolving recipe. The formula should strive to get the core ingredients right but shouldn't be afraid to go off script, embracing the inevitable tide of change. Born of an imaginative experiment, the enduring allure of the Torres Blancas is underwritten by the architect's audacity to imbue the concrete with a touch of fantasy. As urban planners scan the horizon, eager to find smarter solutions, it may help to glean a few lessons from these time-honoured towers of old.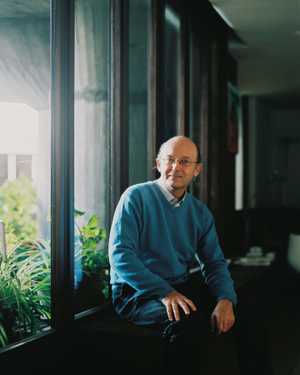 Residence 1: Sáenz de Oiza family home
Renowned for his humility and infamous dissatisfaction with his work, the architect's decision to move his family into a two-floor apartment was a rare sign of contentment with his signature project. Raising seven children here with his wife, Francisco Javier Sáenz de Oiza lived in this apartment until his death in 2000 at the age of 82. The entire family has lived through the building's colourful chronology but today the architect's legacy is continued by his youngest daughter, who lives in the beautifully preserved residence with her two children.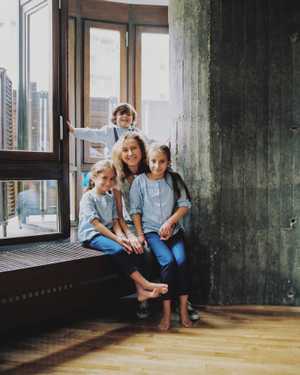 Residence 2: García-Escudero Gómez-Palacios family
Chemical engineer Angeles Gómez-Palacios and her financial-planner husband Diego García-Escudero have lived here for more than a year after buying a property on a lower floor from the estate of a late doctor. The couple took four months to completely reform the four-bedroom apartment with Madrid firm Zimenta, who peeled back the interior surfaces to expose the building's trademark cement walls and pillars, as well as installing soundproof windows to buffer their home from the roar of traffic. Furniture has been custom-made to fit the curved walls and the couple have maintained an air of minimalism throughout.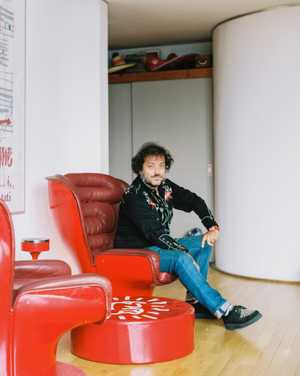 Residence 3: Enrique López Lavigne
After moving his film-production office Apaches into one of the lower floors five years ago, Enrique López Lavigne snapped up an apartment on the 21st floor two years later, which is brimming with movie paraphernalia and cinema kitsch. He likens his short daily commute up and down the capsule-like lift to travelling around HR Giger's spacecraft, the Nostromo. "This building has always been a beacon of creativity," says the producer, who has worked with the vanguard of Spanish directors such as Carlos Vermut and JA Bayona. "It still cultivates a love-hate relationship, separating the city's progressives from the conservatives."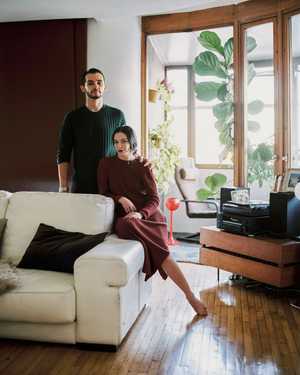 Residence 4: Eduardo B Muñoz and Andrea Pimentel
Muñoz and Pimentel represent the new wave of young creatives moving into the tower. Fascinated by the building from an early age, Eduardo bought his modestly sized slice of Sáenz de Oiza's complex a decade ago. "There's a curious mix of residents living here but a new wave of people are snapping up apartments as soon as they're put on the market," he says. Together with his Mexican lingerie-designer partner, the Madrileño photographer continues to marvel at the structural quirks. "Even after 10 years of living here I'm discovering new niches and details."