From fashion brands in Budapest to Tokyo's sport scene, we check out the places with markets worth monitoring in 2016.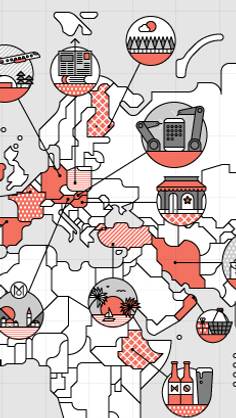 The world is a mighty big place and there's a lot to see. But when it comes to where you get your business ideas and inspiration from, there's no need to be overwhelmed. Instead, follow our snappy guide around the globe and chart a course for the year ahead. These are the markets we'll be looking at in 2016 for everything from fashion to forests, software to sustainable energy. Let's hit the road.
Europe, Middle East and Africa
Berlin, Germany: Aerospace
Schedule a stop in Berlin in June 2016 for the continent's prestigious ILA air show. The 106-year-old biennial event will also be a shopfront for the German military as it competes with France for international arms exports.

Bratislava, Slovakia: Technology
Slovakia's capital is stepping out of the shadow of neighbouring Vienna. Relatively low office rents and labour costs are enticing tech companies to drift down the Danube. Worth considering for your next venture.

Budapest, Hungary: Fashion
New workshops installed at the capital's top fashion-design university are a show of state support for the industry. For fashion inspiration, spot the new brands being routinely unveiled in Budapest's Districts vii and viii.

Foynes, Ireland: Shipping
Ireland may not be known for its shipping but navigate a course here to discover a well-kept secret. Foynes' deep-water estuary provides a natural advantage as European ports compete for the container ships traversing across the new Panama Canal.

León, Spain: Transport
Take the new high-speed rail link from Madrid to León to view a region at a transport crossroads. Local automotive experience is supporting a push into aerospace, too.

Imatra, Finland: Forestry
Money does grow on some trees. As an alternative asset class, investments in forests offer an impressive long-term return. Green-fingered investors would do well to head out of Helsinki and look at Finnish forests.

Paris, France: Defence
Take a flight into Paris in June for the Eurosatory defence-and-security trade expo. France's defence industry is proving a rare success in the troubled national economy.

Vienna, Austria: Cities
MONOCLE's annual Quality of Life conference moves inland this year, swapping Lisbon's breezy Atlantic coast for a picturesque spot on the Danube. Austria's capital jumped to second in our Quality of Life Survey in 2015; join us in April to find out why.

Wroclaw, Poland: Publishing
Printed books are making a comeback. Snap up publishing rights in 2016's World Book Capital City and ensure you're able to ride the creative wave.

Antalya, Turkey: Hotels
Large hotels put up the G20 caravan when the political tour group arrived in sun-soaked Antalya but the Roman-built town could do with some more intimate accommodation. Hoteliers, plan a summer visit to see the resort at its best.

Isfahan, Iran: Retail
As international sanctions are lifted, investors are buying into Iran's burgeoning luxury-retail market. Go beyond Tehran to Isfahan, a historic city ripe for new investment.

Muscat, Oman: Hospitality & Retail
Cape Town's v&a Waterfront is the inspiration for a PPP development of the city's corniche. As the dust settles, head to the Gulf state's capital where a hospitality and independent retail hub is rapidly emerging.

Addis Ababa, Ethiopia: Breweries
Ethiopians put away half the amount of beer of the average sub-Saharan African but a swelling middle class means there's plenty of room for growth. The likes of Diageo and Heineken have already entered the market but there's room for more.

Durban, South Africa: Retail
The renamed Rivertown district has been at the centre of Durban's revitalisation with new retail and residential developments drawing in the crowds. Overseas visitors to the International Convention Centre should wander to Morrison Street to size up warehouse space.

Windhoek, Namibia: Construction
Charming colonial-era German buildings make Windhoek a rewarding detour from Cape Town. Curious architects and developers should note the construction boom underway in this unlikely centre.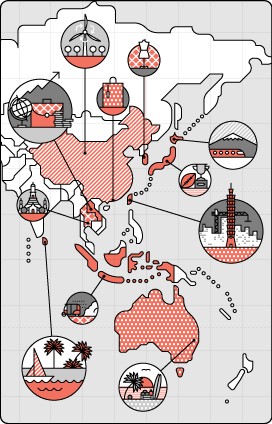 Bandung, Indonesia: Infrastructure
Disembark at Bandung if you're keen to tap Indonesia's highly mobile consumers while avoiding its heavily congested capital. A high-speed rail link with Jakarta is back on track while a monorail project in the pipeline will improve connectivity.

Bangkok, Thailand: Cities
Bangkok's city officials are planning a 7km-long promenade on each bank of the Chao Phraya River. A pilot project is slated to begin in 2016, although beware: national elections could slow the process.

Colombo, Sri Lanka: Tourism
Extended peace has created a hotel boom, turning Colombo into one of the fastest-growing tourist destinations of the past five years. Factor in a stop here and look out for new opportunities in this key port on China's 21st-century Maritime Silk Road project.

Hong Kong: Property & Retail
Stratospheric rents have prompted some international brands to let leases lapse in prime central locations. Fly in and snap up one of the world's best shop windows as landlords accept sale-time reductions.

Lanzhou, China: Clean technology
As cleaner skies become a priority in smoggy Chinese cities, European businesses should send their expertise in green tech back along the new Silk Road. State investment has brought industrial success to this historic hub for Eurasian overland trade.

Niseko, Japan: Transport
Hop on the new high-speed rail link between Tokyo and Hokkaido, which is bringing the ski fields of Niseko even closer to the capital. Summer-season businesses should receive another boost from a new Mountain Day public holiday in August.

Tokyo, Japan: Sport
Hosting the Rugby World Cup in 2019 (after surprise success in 2015) will feed the game's popularity here. Companies looking to break into the Japanese market should consider sponsoring the Sunwolves from Tokyo as they debut in Super Rugby 2016.

Seoul, South Korea: Fashion
New York Fashion Week's spring/summer 2016 event dedicated a whole segment to South Korea, so head to Seoul to discover even more cutting-edge designers.

Taipei, Taiwan: Cities
Architects should cast their gaze towards the World Design Capital 2016. New buildings from international architects are reshaping the city, such as Rogers Stirk Harbour + Partners who recently won the commission for a new terminal at Taoyuan International Airport.

Vientiane, Laos: Trade Last time Laos chaired Asean it set out a vision for an EU-style single market. The return of Asean's rotating chair to economically booming Vientiane should cheer regional businesses – and international investors.

Gold Coast, Australia: F&B
Australian F&B entrepreneurs are warming to the Gold Coast over costly Sydney and saturated Melbourne. If the experience of those two cities is anything to go by, chefs and restaurateurs should pay heed and get in on the action now.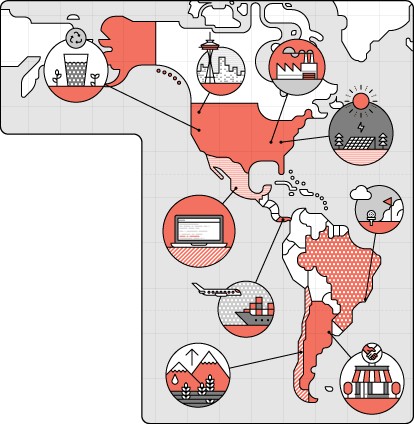 Guadalajara, Mexico: Technology
Once renowned for hardware production based on the US's outsourcing, Mexico's second city is rewriting the codebook: come here for software talent.

Nashville, USA: Manufacturing
Large manufacturing has returned to Tennessee as rising costs in China bring production home. Small-scale makers in the state capital should now look to take advantage and investors should keep a watchful eye.

North Carolina, USA: Energy
The Tar Heel State has a sunny outlook as a solar-power hub owing to clean-energy policies and federal and state tax cuts. Big names such as Apple are already in on the game but there are still untapped niches.

Sacramento, USA: Sustainability
If you're developing technology to increase water efficiency, head to where it's needed most. The ongoing drought in California is providing opportunities for businesses that have sparkling ideas.

Seattle, USA: Property & Technology
A sign on Seattle's front lawn reads: "Move here and leave Silicon Valley's surging property prices behind you". Job openings are booming as tech companies head north; consider this as the possible home of your next venture.

Edmonton, Canada: Oil New PM Justin Trudeau's government is keen to improve access to the Alberta oil sands. Those involved in pipeline infrastructure should watch this space – and pray for a pick-up in oil prices.

Buenos Aires, Argentina: Trade & Investment
Argentina's economy has been faltering but a new president is expected to reform and rebuild trade ties. Now is the time to bet on a resurgence.

Panama City, Panama: Shipping
Put your goods aboard a super-tanker from China to the US: the Panama Canal expansion is due to launch in April 2016 after a 10-year project. The world's longest flight, from Dubai to Panama City, is slated to start operating in February.

Rio de Janeiro, Brazil: Sport
Golf-lovers will be heading to Brazil: the sport is returning to the Olympics and the public can play the course when it's all over. Whatever your pleasure, with the Brazilian real at record lows against the dollar it's a good time to investigate.

Santiago, Chile: Agriculture
El Niño is causing drought across Southeast Asia but brings welcome rain in other regions. Agriculture will benefit in drought-hit Chile and the ski industry should also enjoy a better run.