Creative businesses / Global
Smarter art
The image of the starving artist, or the musician with nothing to show for their efforts other than a million YouTube fans and an overdraft, is well established. But, as these entrepreneurs show, there are ways to make creativity pay – without having to sell out.
1.
The screen queen
Independent cinemas in Asia often struggle to turn a profit. But for one former real-estate investment banker, reconfiguring a disused cinema in Singapore into a thriving cultural destination has been much more than a personal passion project.
The Projector, Singapore
Singapore-born Karen Tan studied architecture and economics, then worked as a real-estate investment banker in London for several years before moving back to Singapore in 2010. That's when she started Pocket Projects, a consultancy working to conserve Singapore's heritage buildings by redeveloping and repurposing them for creative uses.
In 2014, Tan and her two business partners came across a disused cinema on the fifth floor of the city's famous Golden Mile Tower. They decided to reconfigure it and turn it into what's now The Projector. As well as showing a bold programme of films, the building also hosts a co-working space and a café, which ensures that the space is never underused.
"I wanted it to contribute to the city by creating a cultural space that is about openness and diversity," says Tan. "In these days of increasing segmentation online, physical spaces where people from different interest groups can come together in a relaxed fashion are more important than ever."
theprojector.sg
2.
The gallery go-getter
Making a success of a small gallery is difficult: low profit margins and a limited market of potential buyers mean that many ventures struggle. But by applying an innovative funding model, Pablo Berástegui has found an approach that works both financially and creatively.
Salut au Monde, Porto
Before opening photographic gallery Salut au Monde, Spaniard Pablo Berástegui held a raft of senior cultural management positions in his home country. As well as working as CEO of the San Sebastián 2016 European Capital of Culture programme, he spent four years heading Madrid's cultural venue Matadero and seven years running the city's annual PhotoEspaña festival.
"I was working on large, complex projects and felt that the moment had arrived for something more personal, where I have more control," he says. "I was managing big teams and big budgets but I was moving further away from the artists. With Salut au Monde I'm involved in the whole process, from curating the exhibitions and installing the work to distributing the promotional postcards."
The precarious nature of funding in the cultural sector means that even big-name institutions struggle with cash flow; Berástegui's solution was to develop a strategy based on subscriptions rather than sales. He is recruiting 100 people to support Salut au Monde with an annual contribution of €400; in return they receive a print from each of its four yearly exhibitions. "The idea is that people who like photography, or share my values and want to support me, can get involved for a small investment," he says. "It's about being part of a community that supports something interesting."
The model certainly has benefits from a curatorial perspective. "I can take chances on what I exhibit and show the work I really like, instead of worrying about what sells well or having to work with big-name photographers because they attract media attention," says Berástegui. "I am focusing on up-and-coming photographers rather than established names so we can help people get their work seen."
His advice to entrepreneurs is to be patient. "You need to give things time to blossom. It's taken longer than I expected but it's important not to be too nervous about success. Important things take time; if you are committed and believe in your vision, success will come."
salutaumonde.info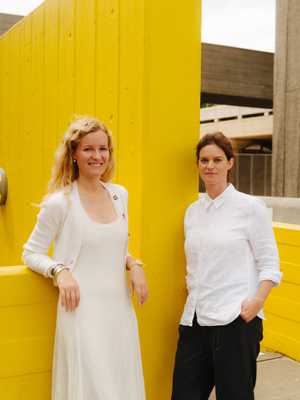 3.
The culture vultures
The Cultivist is an art-lovers' club where members pay an annual subscription in return for access to exhibitions, private tours, tailored trips and visits to artists' studios. We meet the co-founders who will stop at nothing to grant people's cultural wishes.
The Cultivist, US & UK
Marlies Verhoeven and Daisy Peat (both pictured, Verhoeven on left) had been working on auction house Sotheby's vip programme for years when they realised that there was a wider public who wanted to enjoy similar privileges to top-level collectors. The Cultivist, the company they founded in 2015 after raising $1.5m from private investors, is a membership-only club devoted to meeting art lovers' needs.
For $2,500 a year (€2,200 in Europe), members get fast-track entry to more than 150 museums and institutions around the world – from the Guggenheim to Lacma – and access to more trade fairs than they could feasibly fit into a travel schedule. Then there are the extras: members can call in and request private tours of exhibitions led by experts at as little as a day's notice. A roster of more than 200 Cultivist-organised events in New York, London, San Francisco, Brussels and Paris every year provides ample networking opportunities, while members can also visit artist studios in whichever city they happen to be visiting.
For the first year the pair capped the number of members at 1,000 but the community has now expanded to include a few more thousand. "We wanted slow growth," says Peat. "We didn't want to grow too rapidly and didn't want to advertise." Yet what began as a six-person team has evolved into a 20-person operation with offices in London, New York, Shanghai, Los Angeles and Brussels with a network of 40 collaborators on the ground in various cities around the world.
While most members are collectors, some artists and curators are also on the list. "These people are time-poor so we do the homework for them," says Peat. "We often say that they don't need us but we do make everything a lot easier." The fact The Cultivist does not have a commercial edge also allows the team of programmers to recommend whatever they feel is best, without pressures to encourage any sales.
Despite relying primarily on membership fees for revenue (some corporate partnerships are in place too), the model took off pretty quickly. Activities have also expanded to provide art-trips (pre-organised or bespoke) to less-explored art cities from Bogotá to Beirut.
"If you're going to Rome, let us know the dates and we will let you know what exhibitions you should go to, whether they are at museums or commercial galleries," says Peat. "But we'll also tell you what little chapel you should visit to see an amazing fresco."
thecultivist.com
4.
The host with the most
By going without government support and refusing to collaborate with brands that don't align with her mission, Anastasia Yefimova has pulled off quite a feat with Richter, her culture centre-cum-luxury hotel that's right in the heart of Moscow.
Richter, Moscow
"It's about a collective vision and collective action," says Anastasia Yefimova, founder and co-owner of Richter. It's easy to see what she means. In a city where setting up a truly independent cultural centre is no easy feat, she's embarked on a mammoth project. Located in a stately 19th-century mansion in the heart of Moscow's historic city centre, Richter (named after the building's original architect, Fyodor Richter) combines a library, magazine shop, recording studio, contemporary-art gallery and print shop with a luxury hotel, restaurant and vermouth bar.
"We want to create a community of people who realise that you must pay for good art and good service," says Yefimova. That's a radical departure from the way that cultural institutions normally work in Russia: even independent museums and galleries often depend on the authorities for their survival and have to toe the official line as a result. "Most people simply didn't believe we could pull this off without government support, corporate money or connections in high places," she says.
But Yefimova dug into her savings and managed to draw together a small group of investors who believed in her idea. Several big brands, including bathroom specialist Laufen and Dornbracht and Italian furniture company Zanotta, donated furniture and art objects, while a handful of architects and designers helped out for free during the building's extensive remodelling and renovation. "All this assistance really slashed our costs but when we had to pay for something ourselves, we didn't skimp," says Yefimova. "Part of Richter is a five-star hotel – but it's also a platform for artists to create and communicate. And good design stimulates creativity."
Above all, Yefimova says, Richter is about creating "a self-contained experience". Because Richter's hotel guests tend to be artists and creatives, they take advantage of the in-house facilities.
This marriage of hospitality and culture is Yefimova's driving principle. Her other project in town, the Brick Design Hotel, features paintings by Soviet-era artists in its rooms and lobby. With Richter she decided to take things one step further. Most of the complex's revenue comes from the hotel and restaurant but this helps sustain a cultural programme that includes concerts, talks, performances, DJ sets and exhibitions. Art manager Daria Kravchuk recently curated an exhibition by photographer Katya Turkina in the backyard. "Let's hope that Richter will create a dynamic new ecosystem of creative spaces in Moscow – an ecosystem that will be rooted in the creative economy in this time of political and financial uncertainty," says Kravchuk.
That uncertainty looms large over Russia's cultural sector but Yefimova says she'll never collaborate with brands or organisations that clash with her mission. "We know our audience and we know where we are headed. We are the first such space in Russia and I'm sure we'll continue to attract like-minded sponsors and donors."
richter.moscow
5.
The melody maker
When musician Jack Conte blew all his money making a YouTube video, he hit upon an idea for a crowdfunding platform to finance artists, writers and musicians. Six years on, Patreon is helping nigh on 100,000 creators around the world to make a living.
Patreon, San Francisco
In 2013, Jack Conte (pictured, seated on left), who was then a musician with a sizeable YouTube following, maxed out two credit cards. He had spent three months and more than $10,000 staging an elaborate music video. "I had a horrible feeling when I realised I was going to upload the completed video on YouTube, get a million views and make $150 in ad revenue."
Nowadays the 35-year-old is ceo of Patreon, a membership platform that allows fans ("patrons") to finance artists, writers and musicians with a monthly payment. Patreon, in turn, takes 5 to 12 per cent of the donations as a fee. "People in Silicon Valley see art as information and they think all information should be free – but it's not free to have ideas and execute them," says Conte. "What if I asked my fans for $5 or $10 a month, in return for my music, to be members of me?"
Patreon now has a roster of more than 100,000 creators, three million patrons and 200 employees; the team are integral to the business's success. And the collective goal? "If we don't figure out a fair system to pay the people who fill the web with the stuff we read, listen to and watch then everybody's going to lose," says Conte.
patreon.com