Danish television / Vaerlose
Making a killing
Danish television has long led the way in dark, thrilling drama and new series 'Below the Surface' looks set to be its new global export. We visit the set of the latest Nordic noir hit.
At a disused military airbase 30km outside of Copenhagen, a replica of the Danish capital's subway system has been built to stage mock hostage scenarios. However, this is neither preparation for a terror attack nor planning to stop one, but instead the production set of the latest example of Nordic noir.
"It's an actual threat that we'll have terror attacks in this country – and every other country – so we're not just playing around with this as entertainment," says Morten Kjems Juhl, producer of the upcoming Danish thriller Below the Surface. "We want to be careful and say something but also deal with the issue."
Below the Surface is an eight-part dark, brooding thriller that follows 15 people who have been kidnapped by three masked men on a subway train. The show was created by Søren Sveistrup and Adam Price, two men who changed the course of the country's small-screen fortunes through Forbrydelsen (The Killing) and Borgen respectively. The pair met when they were young writers at Danish public broadcaster Danmarks Radio (DR), where they worked on the soap Taxa (Taxi). In 2014 they established their own independent company, Sam Productions, with Melancholia and A Royal Affair producer Meta Louise Foldager. Below the Surface is one of its first developments.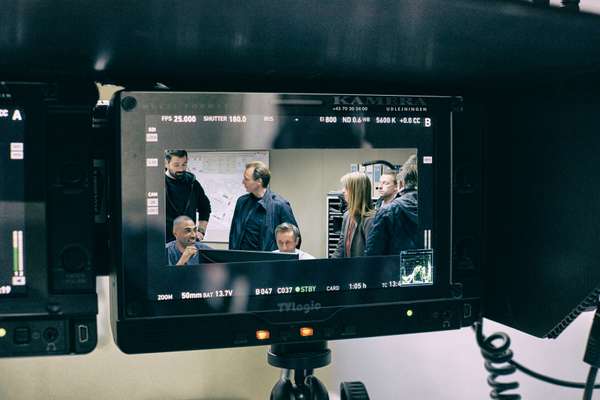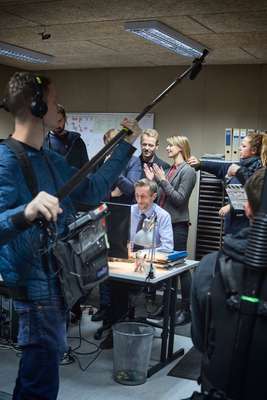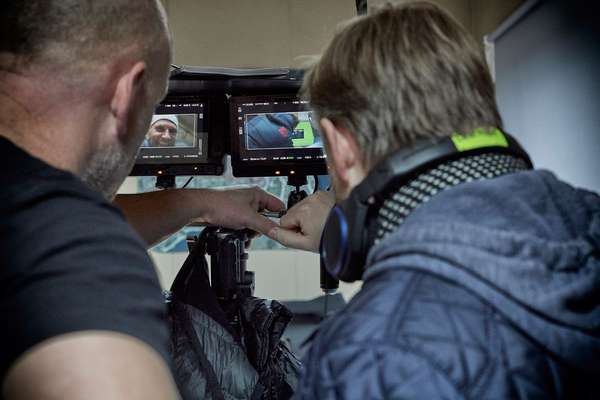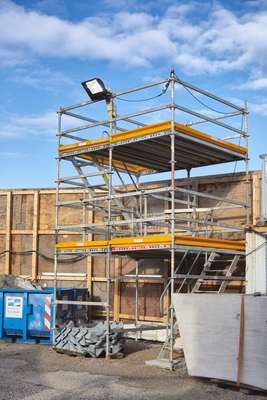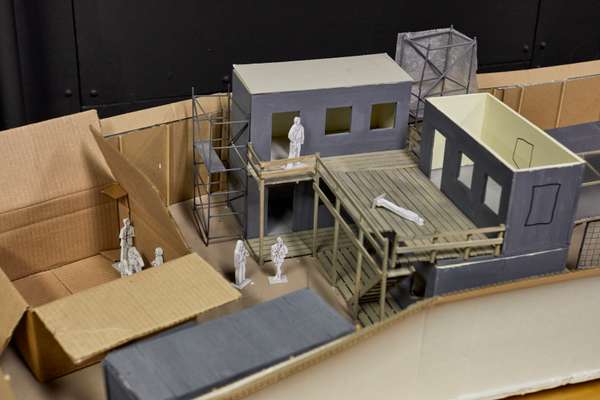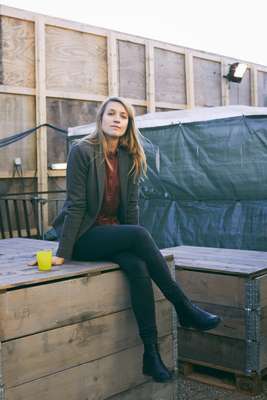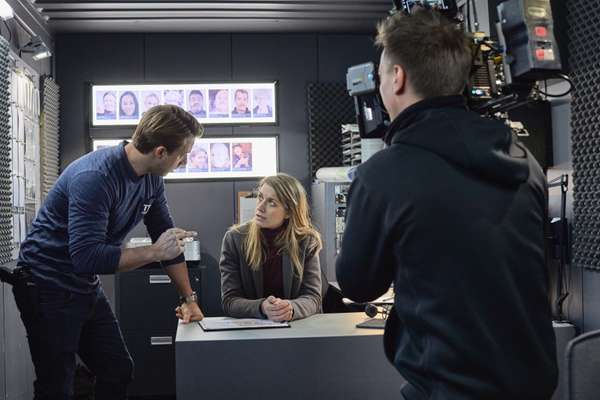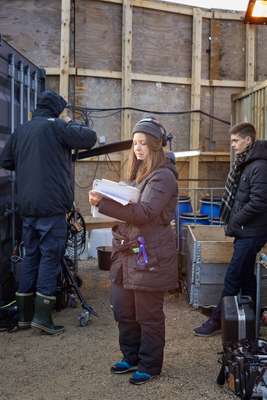 The drama follows Philip Nørgaard (Johannes Lassen) and Louise Hjort (Sara Hjort Ditlevsen), leaders of a terror task force set up to rescue the hostages and who are also lovers. We visited the set on a snowy day in November where the pair were constantly putting on and discarding fur-lined parkas as they waited to shoot scenes outside the aircraft hangar's construction-set-turned-terror-task-force headquarters. Lassen is coming off the back of smaller roles in period drama 1864 and white-collar crime drama Follow the Money but he wouldn't look out of place in a Hollywood blockbuster. Hjort Ditlevsen, meanwhile, is a former child star (best known for Danish comedy Rita) and it's conceivable that her character will rival Sofie Gråbøl's Sarah Lund as the region's next international crimefighter.
After Price and Sveistrup developed the idea for Below the Surface they scored financial support from the Danish Film Institute; they then brought on board Those Who Kill director Kasper Barfoed to write and direct and Morten Kjems Juhl to produce. The latter runs the show's two studio sets at the Filmstationen base outside Vaerløse. The facility, one of the largest in Denmark, is a bleak canvas for this particular show.
While the action revolves around the terror unit, another theme comes from reporter Naja Toft, played by veteran actress Paprika Steen, who acts as a go-between for the hostage-takers and police. Her role highlights a moral dilemma. In Denmark, friends and families of a kidnap victim are legally entitled to pay a ransom, with the help of police and authorities, as long as there is no state money involved. "The problem with doing that is obviously that you finance terrorism, so you'll have more people taken. It's a question of society versus the individual," says Juhl.
In this fictional case it's not clear where the armed assailants are from. "One of the tensions is that we're going to lead the audience in different directions. Could it be al-Qaeda or Isis or something else? It's not just three guys wanting to get rich," says Juhl.
The series will launch in early 2017, not in the classic Sunday 20.00 slot on DR as per previous Danish hits The Killing and Broen (The Bridge) but youth-oriented pay-TV station Kanal 5 because, says Juhl, Below the Surface is "faster with more action. We can see 24 on the horizon." It's set to travel around the world like its forerunners; The Killing, for instance, has been sold in more than 120 countries while Borgen has been acquired by broadcasters in at least 80 territories. The new series has already been picked up in the Benelux countries and by Denmark's Nordic neighbours.
The "Scan dram" phenomenon, it seems, shows no sign of slowing down despite increased competition from emerging territories including Israel, which has been steadily funding international hits since Hatufim (Prisoners of War), and Turkey, which is fast becoming a global force with shows such as The End and Fatmagul. A growing global acceptance of subtitles and healthy creative communities have also opened the doors for countries such as the Czech Republic, with Agnieszka Holland's psychological drama Wasteland, and Brazil, with period porn thriller Magnifica 70, to ship shows around the world.
However, it's the US that Danmarks Radio really learned from, both in terms of show creation and keeping the business healthy. "Our machine in Denmark over the last 10 to 15 years is inspired by Los Angeles," says Juhl. "DR took a chance on drama back in the day; they spent so much money on it that it became a playground for the best and newest talent and then that improved the quality of the whole system."
With that the parkas are slipped from the actors' shoulders for one more take in this eerie and – for now – fictional Danish world of heroes and villains.