Fashion and retail / New York
Taking stock
E-commerce has had a transformative effect on city centres but now the booming demand for warehouses to speed-up last-mile deliveries is set to bring another round of dramatic change to our urban landscape.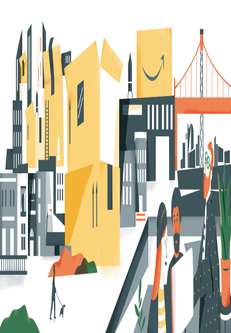 New York doesn't feel like the future. The subway is decaying and filthy; there are human-sized piles of rubbish on pavements; and fashion and music trends increasingly come from elsewhere. But activities at two Brooklyn warehouses – one under construction, the other a century old – show that the city is at the forefront of one key debate: the competing visions for our urban future.

The most visible impact of e-commerce on cities has been the decline of bricks-and-mortar shops. And there seems to be no end in sight to the decline: according to Swiss investment bank ubs, 75,000 stores will close in the US over the next seven years. But there's another way that e-commerce will reshape cities: warehouses.

Online shopping is fuelling a warehouse real-estate boom. According to the Deloitte Center for Financial Services, demand for distribution centres and other types of industrial real estate increased by 81 million sq m between 2014 and 2018; similar growth is projected over the next four years. Amazon now occupies more than 27 million sq m of space globally, most of it warehouses; that's equivalent to 5,000 football pitches. Net-a-Porter has distribution centres on four continents; Ali Baba is building multiple logistics networks at Hong Kong International Airport to meet demand from across China; and Blackstone Group has bought a network of US warehouses from Singapore-based glp for $18.7bn (€16.6bn) in what is being called the largest ever private real-estate transaction.

Warehouses and "third-party logistics centres" (known in the trade as 3pls) are being built from Slovakia to Singapore. So far they're mostly in hinterlands or near transit hubs on the outskirts of cities. But their impact on urban centres might change with the rise of next-day delivery and increased demand for so-called last-mile services. "Without a doubt, the take-up of space within city limits will increase to meet last-mile demand," says Sally Duggleby, a senior consultant at property manager Savills, who was previously head of property for Amazon in the UK and Ireland. Customers in major cities increasingly expect items bought online to be delivered a few hours later. For that to happen, those items must be stored nearby – and that brings us to Brooklyn.

Sunset Industrial Park is a handful of shabby squat buildings overlooked by the Brooklyn-Queens expressway. To the untrained eye it doesn't seem likely to be worth hundreds of millions of dollars. But its location – within an hour's drive of 13 million consumers in Manhattan, Brooklyn and beyond – means that it could be of tremendous value to an e-commerce company. That's why developers Dov Hertz and Bridge Development Partners bought the 7.3-hectare site in 2019 for $255m (€226m). After construction, which starts in 2020, the site will have a 12-storey warehouse that spans the equivalent of 17 football pitches, making it the largest multi-storey warehouse in the US. But what's most notable is that it's within a few minutes' walk of increasingly popular residential neighbourhoods.  

As creative types have been pushed deeper into Brooklyn – into areas such as Gowanus and Sunset Park – due to rising rents, the idea of what constitutes the city's "outskirts" is changing. In Gowanus, high-end restaurants and nightclubs now share space with autobody shops in a manner that resembles 1990s Manhattan. Whether a giant warehouse will enhance the area is debatable but these neighbourhoods' longtime residents would see a warehouse as a boon for local employment.

Yet, given the rise in automation, it's uncertain whether a warehouse can create dependable jobs for everyone who wants them. In California's Central Valley at least one school has started offering classes on how to be "pickers"; a warehouse job (that robots can't do) involving selecting items for shipment. But is that the best way to prepare students for the future? Companies that rely on warehouses are trying their best to make human workers obsolete. Amazon, for instance, is funding an annual competition to design a robot that can take over the role of a picker.

An alternative vision for warehouses exists five minutes up the road at Industry City, a vast complex mainly built at the start of the 20th century. When developers took over in 2013 their chief goal was to move Industry City away from warehousing towards high employment uses. It now has more than 500 tenants – many of them start-ups – running the gamut from graphic designers and cupcake-makers to manufacturers, film-industry suppliers and architects. The atmosphere is lively and the site currently has 7,500 jobs. But are any of them going to long-term residents? "We have an on-site jobs and entrepreneurship centre, run by a non-profit that has been in the neighbourhood for decades, geared towards local communities," says a representative.

Industry City isn't all about altruism. While the firm is aware that "the need for new last-mile facilities has dramatically increased over the past few years", it is sticking to its existing model rather than taking the complex back to its warehousing roots. It wants the sort of money and security that having an e-commerce company as a tenant would bring but intends to get that by attracting office, retail and hotels instead. Industry City is bustling but, says the representative, if you change it to warehousing, "There's no ecosystem; nothing's happening."

But in the future, how many landlords will take this route? Demand usually wins out in the property game. So while urban residents probably won't want a warehouse as a neighbour, they might need to get used to it. Globally, e-commerce growth is expected to remain between 14 and 19 per cent annually for the next few years, which means that many more goods will have to be stored near customers. Market research firm Market Study Report LLC says that the value of the global market for last-mile delivery will grow by more than 50 per cent in the next five years. The Sunset Industrial Park warehouse won't be the last of its kind. But while these facilities bring goods back into the heart of cities, they are unlikely to recreate the dynamism of high streets past.