Fashion and retail / Global
We're sold
With the right ingredients, physical shops can not only survive but thrive in today's climate. The retailers on these pages show what you can do with a little imagination, an eye for quality and a genuine desire to look after your customers.
"We're not into the fantasy of a guy from the 1930s wearing a complete tweed suit – that's too extravagant for today," says Basile Khadiry, co-owner of Beige Habilleur, Paris's standout contemporary menswear boutique. "We have tailoring but we also have sneakers – as long as they are well made."
Khadiry – who has previously worked for Louis Vuitton and Ami – and his business partner Jean-Baptiste Ménétrier started Beige Habilleur as an e-commerce business in 2015, before they opened the bricks-and-mortar location in 2018. It's in a former sushi shop on a bustling road in the city's 16th arrondissement. The bourgeois, family-friendly neighbourhood is undergoing a cultural boost thanks to influential residents such as artistic director Franck Durand, who opened Holiday café and its retail arm Holiday Boileau nearby and encouraged Khadiry to follow him. Durand worked on the art direction of Beige Habilleur alongside Paris-based architectural duo Lecoadic-Scotto. They outfitted the store with polished concrete flooring, pine cabinetry and a ceiling painted a David Hockney blue.
The modern, light-filled space feels right for this refreshing mix of menswear, which spans cool tailoring, sportswear and great knits. There's an exclusive selection of UK brands such as coats from Grenfell and Mackintosh, sought-after Japanese names such as Cohérence and denim brand Resolute, and timeless styles from German knitwear line Heimat and US sportswear brand Camber. There's also a concession store for Drake's, which occupies a small corner space. The offerings extend beyond clothes: titles from leading French magazine distributor Les Editions du Kiosque occupy one of the walls.
Such in-store exclusives and personal touches, including a made-to-measure service for Justo Gimeno's famous Teba jackets and an alterations service with local denim aficionado Super Stitch, has seen the brand transition successfully from an e-commerce presence to a destination store. Plus the neighbourhood, says Khadiry, is assuredly on the up. "Now a lot of people are moving back from the east of the city to the west, where they were born and raised." Besides, he adds, shopping in the Marais just isn't what it used to be: "Real people aren't even living there anymore; it is just full of Airbnbs."
What stands out most is Khadiry's obsession with tracking down exceptionally made items with a unique sartorial history. They include the efforts of Irish shoemaker Padmore & Barnes, which made the original Wallabee for Clarks, and French tie-maker Boivin, which made ties for historic Parisian shirt-maker Charvet. "In each category we find the best in terms of quality and design."
If there is something Khadiry can't find he'll probably just get it made in-house, as he has with a new line of shirts released under the Beige Habilleur brand. "We couldn't find the right old Oxford shirt, like Brooks Brother or J Press in the 1960s with the six buttons and no lining in the collar or cuffs," he says. The shirts are made in France in light, easy fabrics and Khadiry was fastidious about every element. "In the 1990s the logo was the message – now it's more about how it's made, why it's made that way and where it is made."
beigehabilleur.com
Basile Khadiry's top picks:
1. Doek shoes: Japanese deck shoes made from kimono fabric.
2. Teba jacket by Julio Gimeno: An iconic Spanish item that's a mix between an overshirt and a jacket.
3. Camber mock neck: A true US workwear brand.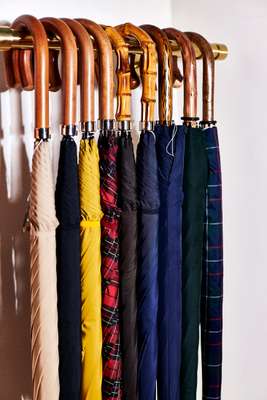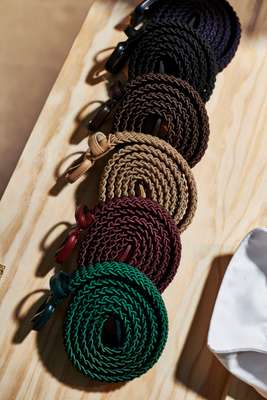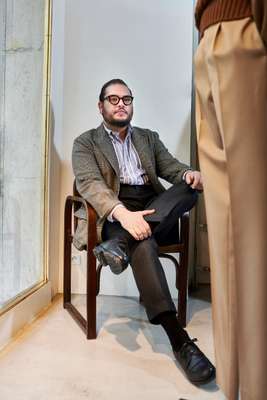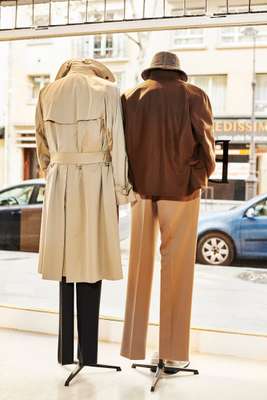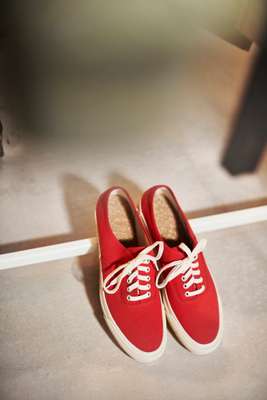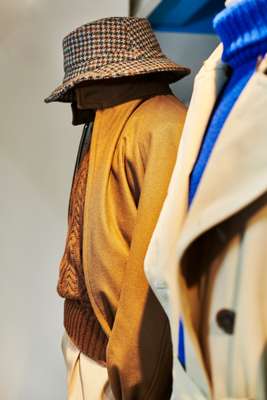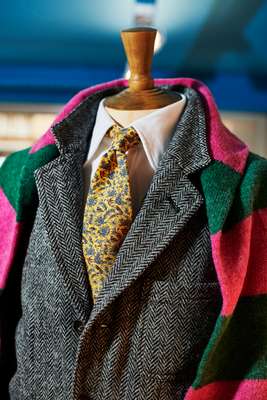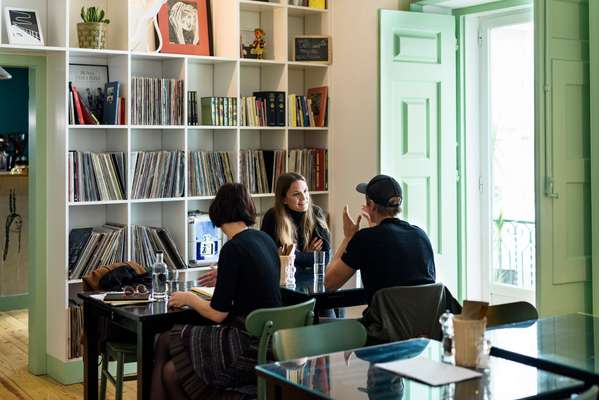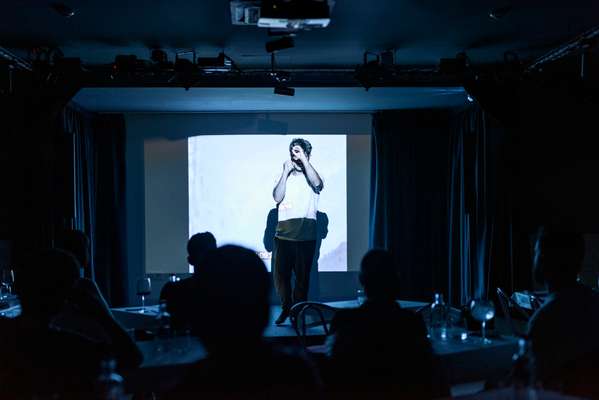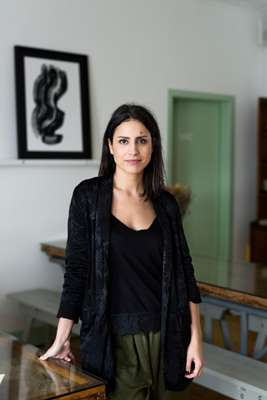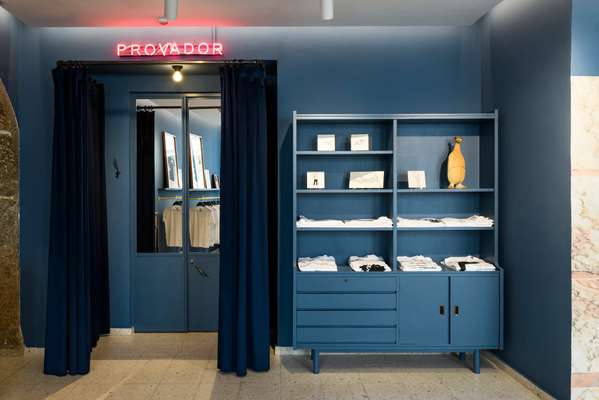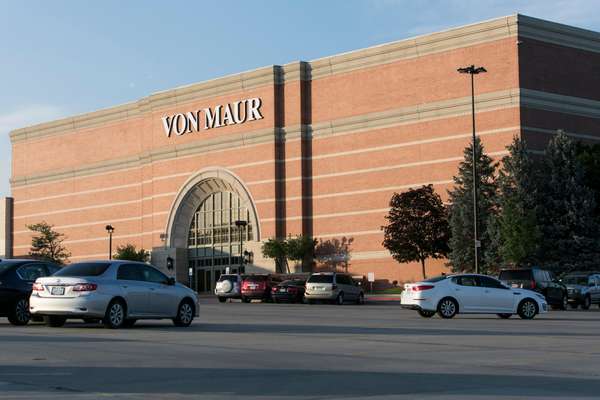 Lisbon's booming tourist scene has seen the inevitable upswing in restaurant and shop openings aimed at cashing in on the influx of travellers. Yet how many more stores selling tinned seafood or fusion dining concepts does the Portuguese capital need? Husband-and-wife team António and Bruna Guerreiro decided to address the issue head on by opening Lapo, a new shop-meets-gallery-meets-restaurant geared towards residents and visitors eager for a bite, good conversation and a bit of culture. "Talking with friends, we noticed going out had become a dull experience, with everything geared towards moving people through the door and treating them as numbers," says António.
Opened this autumn in the Bica neighbourhood in central Lisbon, much of Lapo occupies a former bakery that has been tastefully converted into a shop; it sells clothing and accessories designed or commissioned by the couple and produced in Portugal. During renovation they uncovered a nook behind a stone arch and placed the cashier's desk there. An original marble wall was retained, while the remaining space was painted in a soothing shade of navy. Patrons browse a smart selection of T-shirts, tiles, ceramic sculptures and prints, many of which feature playful black-and-white designs by Bruna herself – the gifted illustrator from Brazil studied at Central St Martins in London.
The twist in this easygoing retail model is the hidden attraction behind the changing room, which in the evenings is opened to reveal a low-lit room for dining, drinking and taking in a show. The tasting menu is not overly complicated, with dishes including duck breast in a pear-and-orange sauce. The entertainment varies from night to night, be it a jazz trio, stand-up comedy or performance art, where audience participation is encouraged. "We wanted to inject the arts into the equation and get people to interact, linger and just have a good time," says António.
Upstairs the atmosphere is relaxed, with a café that serves tapas-style dishes and communal seating where patrons eat at wooden tables once used by bakers to knead dough. In adjoining rooms you'll find a bar serving cocktails with names inspired by great thinkers (try the Carl Jung creation made with Lourinhã brandy, lemon juice, egg whites and Angostura bitters) and a relaxed lounge lined with books and vinyl where, on weekends, a resident DJ plays.
The owners are buoyed by the initial response, with locals and tuned-in holiday-makers eager to catch a show and browse Bruna's designs. A fun take on the "concept store" formula, Lapo inspires a convivial atmosphere and doesn't take itself too seriously. Adds António: "Culture is good for the soul. We've just reimagined it with retail and food."
lapo.pt
What to buy:
1. Illustrated T-shirts with catchy phrases
2. Simple black-and-white prints
3. Paintings and photographs by up-and-coming artists are for sale upstairs
It's only November but in one section of the NorthPark Mall in Davenport, Iowa, Christmas has come early. The entrance to Von Maur – the original location of a department store chain with 35 shops, mostly in the Midwest – is graced by two large Christmas trees, with more visible inside, perched beneath garlands of pine needles hanging from the ceiling. The light is warm and inviting. There are two convincing replica fireplaces, plenty of elegant wood panelling and piano music wafting around, not from speakers but a Yamaha upright played by a woman with a pile of songbooks next to her.
As many US department stores go bankrupt, from the internationally renowned (Barneys) to the strictly regional (ever heard of Younkers?), Von Maur is not just surviving but thriving. It opened two new shops in 2019, with plans to open one or two more annually "for the next several years", according to director of advertising and e-marketing Jessica Stoltz. The company, whose spaces tend to anchor big shopping malls, has experienced "steady growth, which enables us to continue opening doors in the measured way that we do", adds Stoltz. The firm has been owned by the Von Maur family for 147 years; the family tends to avoid press (they declined to speak for this article) and don't share sales data about their company.
That family ownership is key to the company's success according to retail expert Nicole Reyhle, co-founder of the Independent Retailer Conference. "Because they are privately held they don't have the same pressure from investors that places like Sears have," she says, referring to another once-admired, now-bankrupt chain. "Von Maur's values and perspective on business are a little different to those of a publicly traded company. As stores have concentrated on online, many have lost focus on bricks and mortar – but Von Maur decided to continue to focus on what I'd call old-school customer service."
Staff at the Davenport store are attentive and helpful. When asked what they like about working at Von Maur, everyone mentions customer interaction first. Leona Hedquist, who has been at Von Maur for 30 years and works in the men's department, says: "The Von Maur family are very good at hiring people who like people. If we cannot help a customer here we're going to send them to a place where they can help you. And Sofia here," she adds, gesturing to a colleague, "if you buy a dress shirt, she'll steam it for you. I keep a stash of candy for the men, because men do not like to shop on the whole." Many staff have been with Von Maur for decades and it is known to pay well compared to similar businesses.
Customers seem as happy as the staff. "They still do gift wrapping – a lot of stores don't," says shopper Kimberly Johnson. Von Maur also does free US shipping from its shops and there's no time limit on returns.
Von Maur seems highly attuned to its markets too. It has ample selections from brands such as Kate Spade, Tory Burch and MZ Wallace, which are quite fashion forward in a city whose major employers are tractor brand John Deere and the US army.
No one would call Von Maur "directional" but the shop exudes a specific point of view in a way that department store chains tend not to. Goods reflect how locals shop: cashmere scarves and Chicago Bears hats are displayed near each other, since a man might need both. People wanting face creams will find a Kiehl's store, rather than a generic Clinique selection.
"Retail is not dying, it's simply evolving," says Reyhle. "Consumers are demanding stronger experiences." Which means some of Von Maur's traditional tendencies – old-school service and live music – are a strength in modern times.
vonmaur.com
DMS's single-item focus – a new direction for retail?
The opening of Dover Street Parfums Market in Paris offers a glimpse of a different retail direction. Rather than offering a wide range of categories, this multibrand space – which the Dover Street Market (DSM) brand calls a "satellite store" – homes in on fragrances and beauty products. 
Owners Rei Kawakubo and Adrian Joffe have found success over the past 15 years with their six multibrand, multi-product DSM shops in London, Tokyo, New York, LA, Singapore and Beijing. It's a an idea that has been copied by many but never bettered – and DSM remains at the forefront of fashion retail.
Dover Street Parfums Market focuses on one of the mothership's bestselling and more accessible categories. And because it is a smaller boutique than the six DSM outposts, rent and overheads are reduced. These lower risks mean the model has greater potential for growth beyond the world's shopping capitals.   
The two-storey shop, just off the well-trodden paths of Le Marais, offers recognisable names alongside cult perfume brands and indie labels. Dover Street Parfums Market is the only place in Paris to discover Berlin botanical fragrance brand AER, low-fi natural beauty line Pure by Switzerland, and famed make-up artist Gucci Westman's own line, Westman Atelier. Bigger names, such as Byredo, Gucci and Thom Browne, have designed their own display units.
Looking ahead there's certainly room, says Joffe, to apply the single-product multibrand concept to other items, such as T-shirts, trainers and jewellery. "It's where we can really work on the incubation of young designers, [where] we can give that Dover Street energy," he says. It's a refreshing contrast to the ubiquitous concept store approach seen in retail today. Bring on the age of single-item shopping.