Collecting / Global
Art and soul
Smart collectors follow their taste and inclinations when they're buying but they also have the nose to expand and explore new fields. We speak to four insiders about where the market is heading – and what sectors are piquing their interest.
Victoria Rogers
bought
Sculpture by EJ Hill
Victoria Rogers' career has included the role of director of arts at crowdfunding platform Kickstarter. She is now a masters student in fine arts at Parsons School of Design. Recently she has been spending time in Philadelphia, campaigning for Joe Biden. Activism comes naturally: the daughter of political insiders (her mother is Desirée Rogers, the former social secretary for Obama), Rogers was raised around the Democratic elite.
Collecting art is a more recent endeavour, which she pursues with a sense of social engagement, which informs her role as a board member of both the Brooklyn Museum and New York-based non-profit Creative Time.
In this challenging political and cultural moment, does collecting art still matter?
I think it's possible to focus on art and on issues like social justice at the same time. Art, for me, is a way of tracking our cultural past while pushing forward new ideas and creative visions for what the future can look like. Artists of colour are an essential component of doing this work. It's important that institutions engage more deeply with diverse audiences.
What about collectors of colour, do they have a unique responsibility?
There have always been really incredible African-American collectors throughout history that I've long looked up to. It's true that wealth creation has not been equitable in this country, which has impacted the ability of African-Americans to acquire works. I try to vote with my resources and invest in artists that believe in inclusion.
Why this piece? Why this artist?
This is a piece that EJ Hill made following a performance series that he mounted at the Hammer Museum in Los Angeles. I've long been a supporter of his work. This piece is incredible to me, particularly the ways in which it speaks to black power. Sometimes it can take me a while to make a decision about a piece but in this case, I saw it at New York's Company Gallery and decided to buy it instantly.
What advice would you give to those who'd like to collect?
There are many ways to support people who are making the art world more equitable. Artists have been engaged in conversations around these topics for a long time and I hope this can encourage others to do the same. Being a black woman I have an added burden, an added responsibility. But it is my hope that in the future everyone feels the same way, that everyone values this process as much as I do.
---
Nanne de Ru
bought 
Vintage furniture by George Nakashima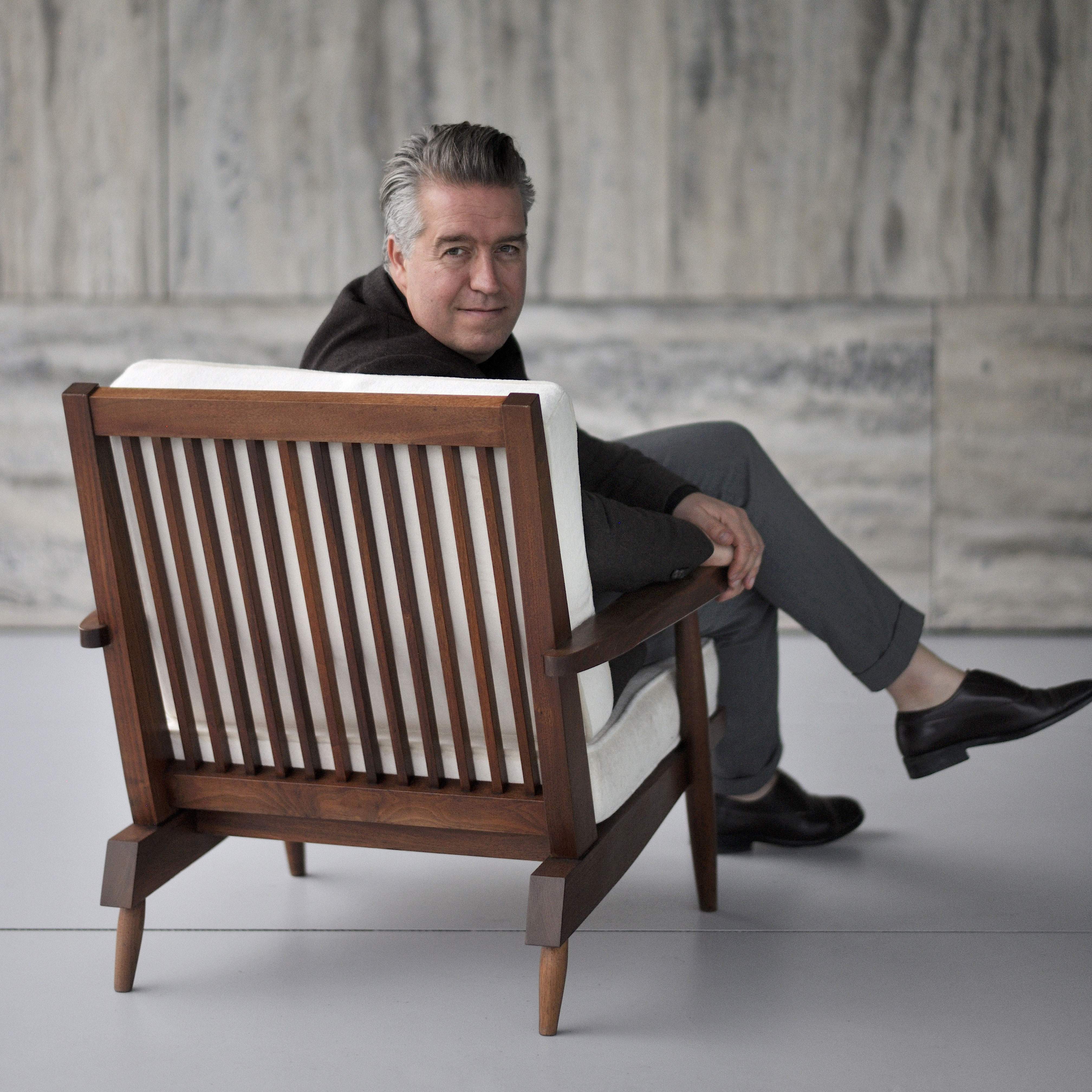 Having lived in the US and Germany, Dutch architect Nanne de Ru settled in Rotterdam in 1999, where he founded his own practice seven years later. Today his firm employs 100 people across offices in Rotterdam, Oslo, Munich and Beijing, taking on projects that range from high-end residential briefs to train stations and public-use buildings. De Ru began collecting as a way to reward himself after closing great deals but it then grew into its own dedicated pursuit. Here he explains why buying vintage furniture is not just an investment but a way to bring some "joy" and "soul" into a home. 
What did you buy and where?
A spindle back chair and ottoman by George Nakashima from the 1960s. I bought them at the Morentz gallery [in Waalwijk, the Netherlands]. As a designer and architect I work regularly with Morentz – we do a lot of interiors. It always has beautiful stuff. I have bought quite a few things there; the gallery is really good at sourcing rare original pieces. This one, in particular, caught my eye. I am so happy when I'm looking at it.
When did you start collecting?
About 12 years ago. I wanted to celebrate a commission. I started buying chairs, then after a while I realised I had a lot of chairs. So I started buying art too. I really like mid-century modern but lately I've been looking at the interbellum period.
Has your attitude towards buying changed in 2020?
The lockdown has made us more aware of our surroundings at home, so we decided to fine-tune quite a lot of areas in the house. Many friends of mine have also been spending more time and money on furniture than in previous years.
Do you also buy from fairs?
Yes. I bought from Brussels' Brafa, Art Rotterdam and Tefaf in Maastricht. What I like about Brafa is that it puts together art and furniture in what is an inspiring combination. I think that is what fairs are moving towards. The mixture and crossover will become stronger in the coming decade.
Has the market for vintage furniture changed since you started collecting?
The market is really rising. Some pieces that were available for a few thousand euros could now be double that price. People are realising that vintage pieces have an investment value and, if you choose right, they keep that value. They also bring a lot of joy and elegance to a home. The art market has exploded to unprecedented levels, which makes high-level art unaffordable, while design furniture and objects are good entry-level [purchases]. And it might be banal but it's nice that you can physically enjoy these pieces. Vintage design furniture is something that you can engage with and it also has a certain nostalgia about it.
---
Guy Salter
bought
Korean pots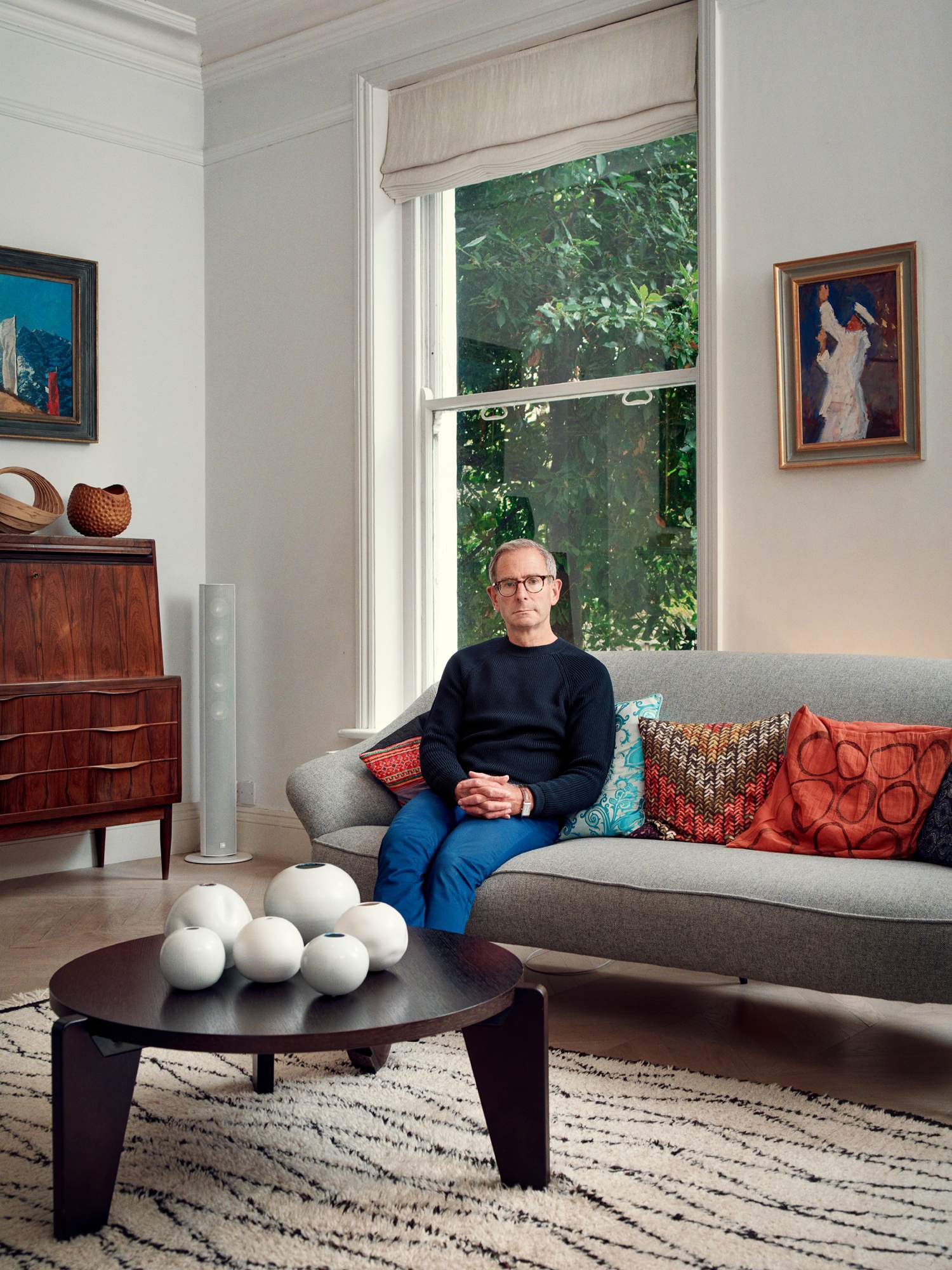 Guy Salter founded London Craft Week in 2015 to plug a hole in the art-world calendar. That absence was no doubt down to craft's old, undeserved reputation as an inferior art form – after all, these were objects with domestic functions. But as more and more people develop a keen interest in finding out how the things that surround them are produced, high-end ceramics, woodwork and metalware are going through a resurgence in popularity. It's something that Salter – an avid collector with a lengthy career in luxury retail – is particularly attuned to. We spoke to him during the fair's 2020 edition about shifts in the market and why craft is a comfortable (and smart) area to buy into. 
What did you buy and where?
I bought these Korean pots from the Han Collection, a London-based gallery representing artists from Icheon City. They were made by an artist I'd never heard of, called Jeong Sewook. I bought them all. They were priced individually so it wasn't that they were being sold as a set but they're just beautiful together.
Why did you buy them?
Korean culture, especially when it comes to craft, is incredibly rich and much overlooked. I go to Korea quite a lot. They've actually done me the compliment of copying London Craft Week – they now have a Korea Craft Week – and they're doing it brilliantly.
What's the difference between collecting craft and contemporary art? When did you first become interested in craft?
I've always been fascinated by how things are made, and I've always responded strongly to quite simple, beautiful things. Then you realise that there's actually a huge amount of skill that goes into achieving that beauty. 
Craft is much less fashionable. It doesn't have the same hype. As a collector, it's brilliant because it's more affordable and you're operating in a space that is still a little hidden. There are so many opportunities – such as visiting makers' studios – and there's less of a sense of right or wrong.
---
Chiara Mazzoleni
bought 
Etching by Georges Braque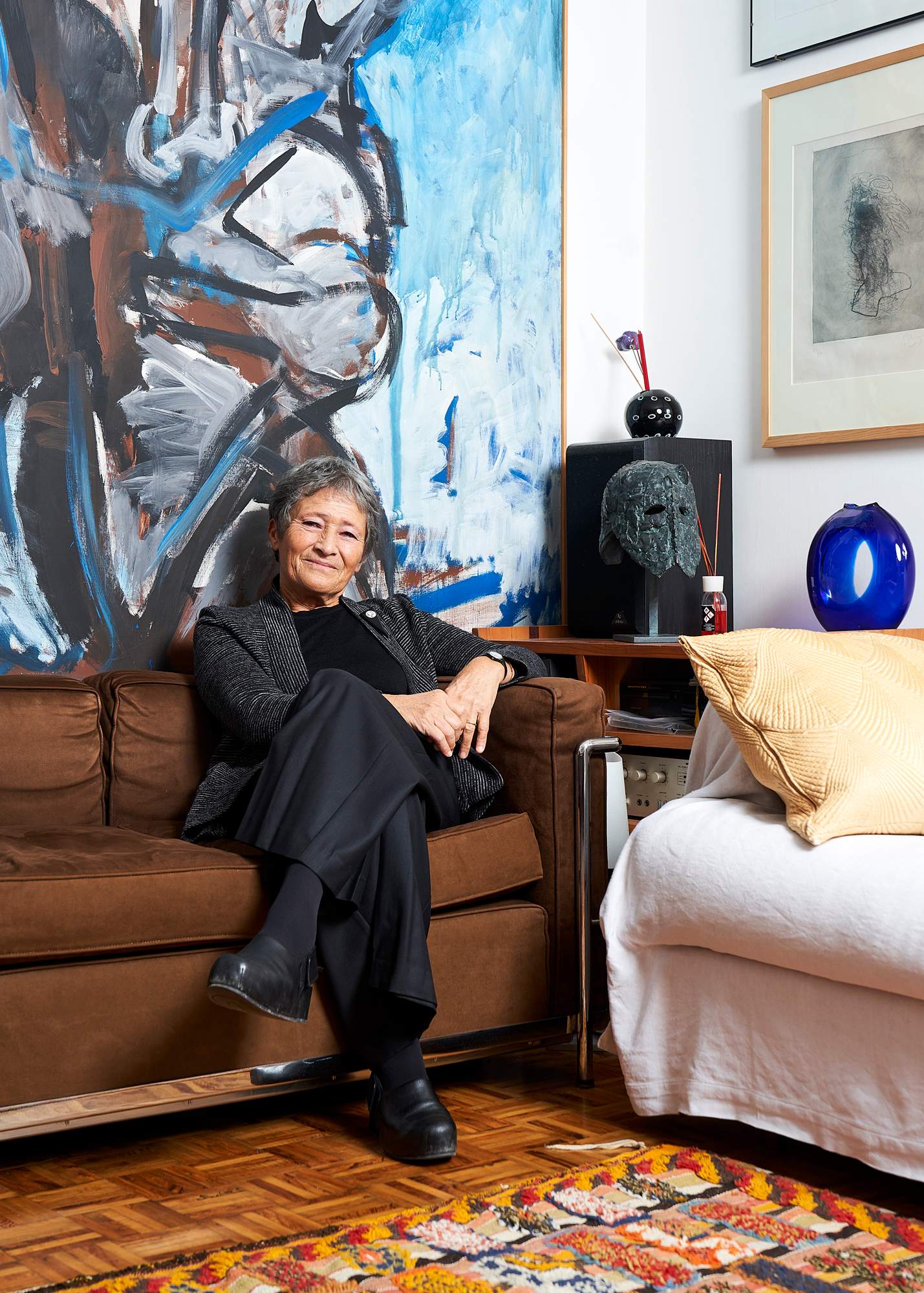 For Chiara Mazzoleni, collecting isn't so much a matter of investment – but instead, a way to connect to her city, foster friendships and, crucially, ensure that her home is a place where she is happy to spend time. That's why, when she buys art, she chooses works that make her feel something and why she values building long-standing relationships with galleries. Born in Bergamo, she moved to Venice in the 1970s to study architecture and is now an associate professor of urban planning at the city's Iuav University. It was through meeting local artists that Mazzoleni began to piece together her collection of lithographs and etchings.She tells us about the latest addition on her walls. 
What did you buy and where?
I recently bought a 1950 etching made by Georges Braque called "Grande tête". It was included in an exhibition of his prints at Galerie Bordas in Venice. I first bought a piece there 20 years ago and I've been buying art there ever since.
Why did you buy it?
It was the work's eccentricity that appealed to me. What dominates is this strong and enveloping scene that only partially reveals the figure. You can see that it's a classic figure, a bust, but the emotion and atmosphere are the first things that draw you in.
What are the benefits of buying prints or etchings?
Prints allow us to appreciate aspects of an artist's language that are not always recognisable in paintings or sculpture. Often the artist manages to be more biting, to immediately communicate his intention. I appreciate that spontaneity and the incisiveness and expressive force of the line. Prints can also bring those with limited purchasing opportunity closer to the world of art.
When did you start collecting?
When I came to Venice, which during the 1980s and 1990s was very vibrant and filled with Venetian artists. I became friends with lots of them and I bought their work – not only prints, but also paintings. Through these friendships I had the chance to discover art and be a part of the process.
What's behind your decision to buy something?
I look for art that makes me feel something. Because if I have no emotional reaction to a work, then what? Whether or not I buy something depends entirely on my feelings – it's about passion.
"Whether or not I buy something depends on my feelings – it's about passion"
Any advice for future collectors?
The place in which you buy art makes all the difference. The relationships I have with some galleries are a precious resource. With Galerie Bordas, [for instance], selling art is part of a family tradition. Hervé Bordas himself is an artist and Domenico Brancale is a talented poet. You need to have an understanding with the person you buy from. We're good friends now.
How has the market changed over the past few years?
It's being discovered and quite often by well-established art collectors. It's always the same with collecting: you get to a certain point and you're hungry for more. There are a few people, including [ceramics collector and curator] Sarah Griffin, who have been leading the way and showing that these are world-class artists.
And the future of craft?
Funnily enough, the times we're in are perfect for it because everyone's forced to spend more time at home, so investing in something beautiful that you can look at every day is quite special.
Images: David De Vleeschauwer, Max B, James Mollison, Benjamin Quinton