Observations / Global
Lay of the land
As society adapts and businesses pivot in order to survive as a result of a tumultuous 2020, we survey the smart moves in gastronomy, travel, infrastructure and hospitality that have fostered success and take the pulse of where the world is heading next.
sweden
Sniff of success
Truffle hunting
When Christina Wedén, a student of mycology (the study of fungi), received a call about unidentified "black lumps" on the isle of Gotland some 20 years ago, she could never have imagined that Sweden's very own burgundy truffles would one day end up on the plates of Nobel prize winners. But that's exactly what happened in 2013.
The Baltic island of 60,000 people is a hotspot for summer holidays but, until Wedén made her discovery, no one ever suspected its climate could host truffles. The aromatic delicacy grows among the roots of oak or hazel trees and is found with the help of specially trained canine companions. As climate change threatens many southern European states famed for their fungi, Gotland's burgeoning community of truffle hunters is on the scent of a major breakthrough.
From October until December, truffle entrepreneur Susanne Welin-Berger works long days with her husband Olof Thomsson, their two dogs and 50 landowners across the island to harvest hundreds of kilos of truffles that are purchased by wholesalers, restaurants and individuals for about €0.50 a gramme. "The taste only holds for about three weeks so we have to ensure that it gets to those people as soon as possible," says Welin-Berger. She does keep a frozen stash in order to make bespoke products such as salt, honey, whiskey and oil for Tryffel of Sweden, which was co-founded with two others in a cabin laboratory next to their sprawling orchard in the village of Östergarn.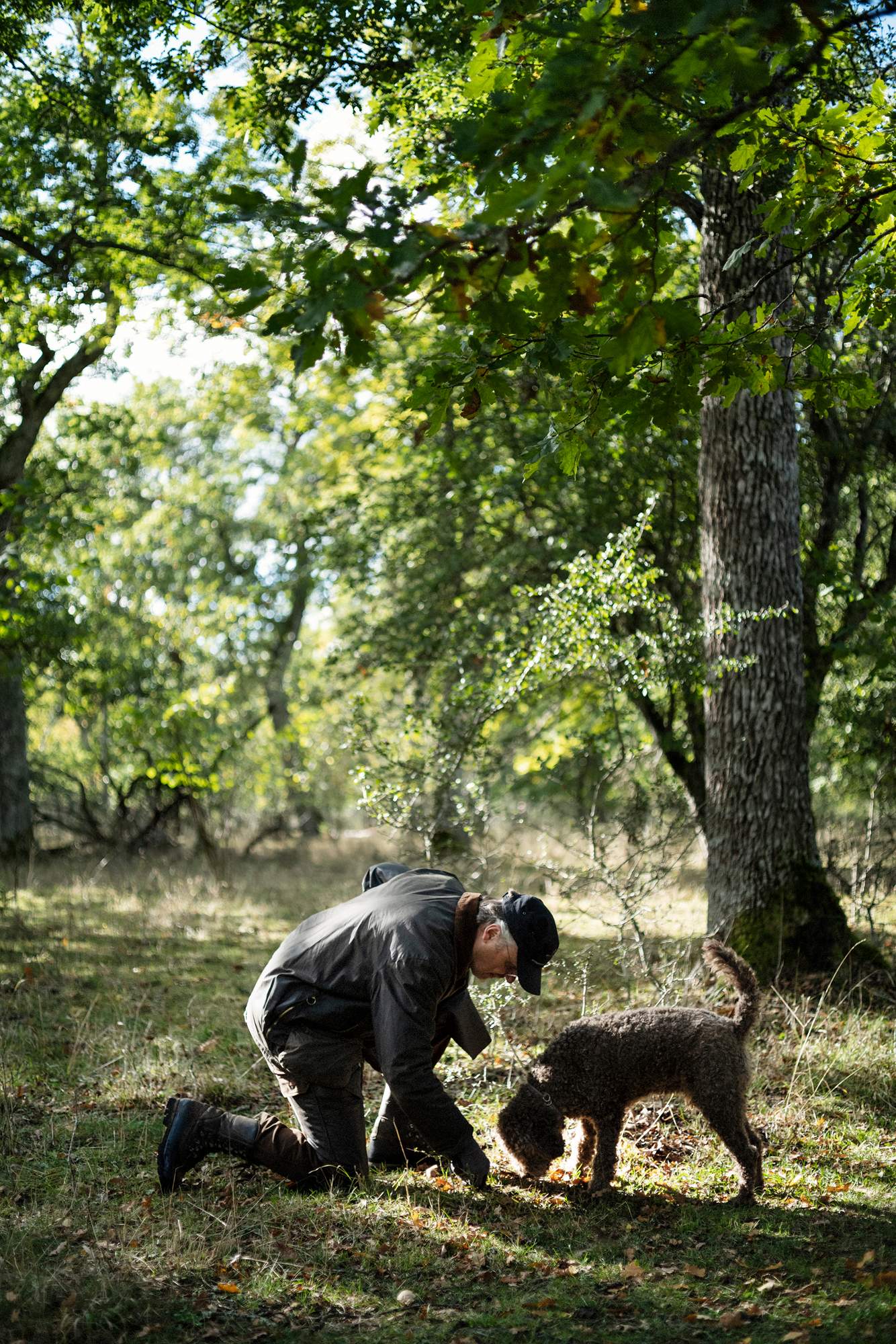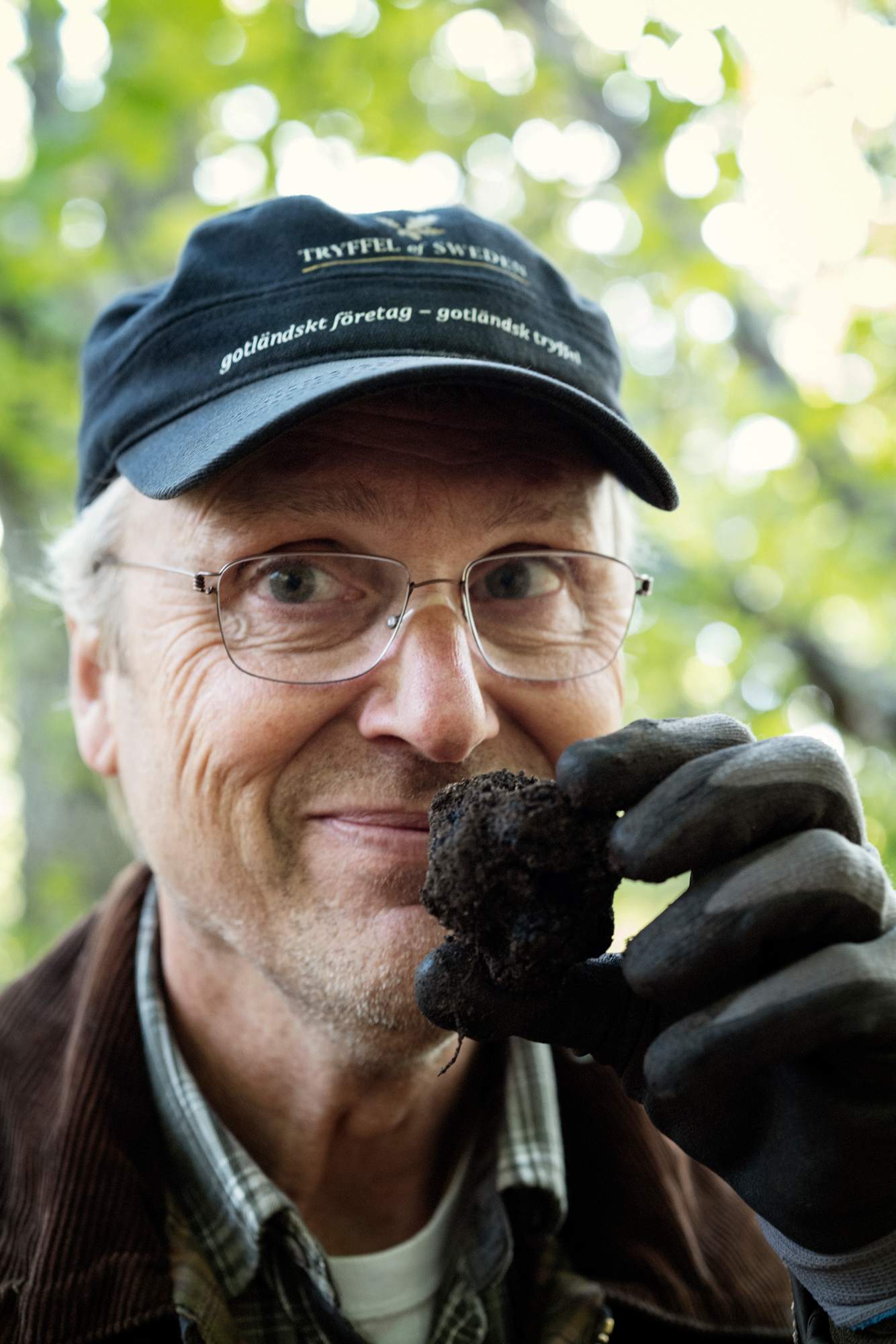 One of their occasional partners is Rickard Hasselblad, co-owner of Smakrike Krog & Logi restaurant in nearby Ljugarn. His menu is rich with truffle dishes, from risotto to purées and even crème brûlée. He also runs truffle safaris designed to show visitors the full harvesting process, from hunt to table, before serving a nine-course lunch. "At first it was hard because people didn't want to talk about where the truffles were in case someone would come and steal them," says Hasselblad. He tells tales of sniffer dogs being poisoned in Italy, where hunters compete for the fungi.
"At first it was hard because people didn't want to talk about where the truffles were in case someone would come and steal them"
Thankfully, attitudes have relaxed in Sweden. Welin-Berger operates a more collaborative system, dividing profits equally among dog owners, hunters and landowners as a way of encouraging them to look after the island's trees, where truffles can be found. With worldwide demand predicted to potentially hit a whopping $6bn (€5.1bn) by 2030, this sustainable approach might help Gotland capitalise on a sad reality: shrinking harvests in the Mediterranean. Academics fear that severe droughts caused by climate change could eradicate wild truffles in Spain, France and Italy (Europe's biggest producers) by the end of the century.
Wedén, who now directs pharmacognosy studies at Uppsala University, has gone on to help develop truffle orchards not only in Gotland but in Estonia, Denmark and Norway as well. She believes that the isle could one day regain its medieval status as a key Baltic trading station for the Hanseatic League, "but as a focal point for truffles, which can spread from there and make the whole region stronger".
tokyo
Suite ambition
Hospitality school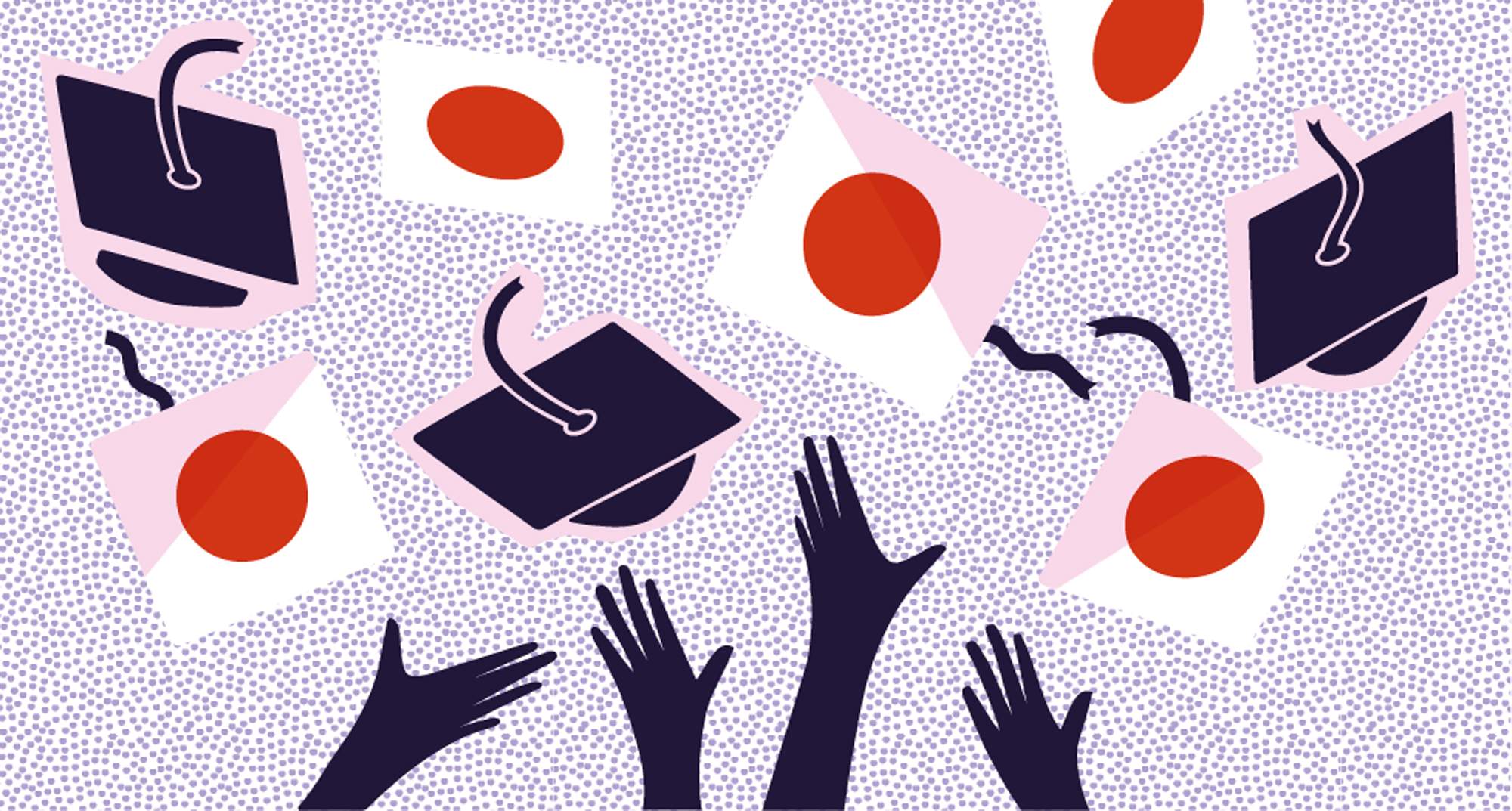 Target failed to take off in Canada. Home Depot failed in China. And Starbucks famously failed to find its footing in Australia. Taking your brand overseas is no easy task. Doing so successfully often requires making clever tweaks to account for foreign cultures and tastes but international expansion can also lead businesses to lose sight of what made them successful in the first place.
Japan's Hotel Okura Company, founded in 1958, has a smart plan to aid its international expansion efforts. It is launching a Tokyo-based hospitality course that will train its overseas staff (and other aspiring hoteliers) in an art that Hotel Okura has mastered: authentic omotenashi hospitality. Partnering with Tokyo Management College in Chiba, Hotel Okura's two-year tourism and hospitality programme will teach the ins and outs of the business beginning in April, with an inaugural class of 40 students.
While most spots will be open to the public, three seats will be reserved for Okura's overseas staff. The company already has 40 international outposts, from Amsterdam to Honolulu but it plans to raise that number to 50 by 2020. And doing so successfully hinges on providing Hotel Okura's omotenashi hospitality. "Our mission is to provide an authentic Japanese service," says Toshihiro Ogita, president of Hotel Okura Company. "We wanted to train our overseas staff in Okura's Japanese-style hospitality as we expand globally."
Some of the curriculum will be taught by Okura instructors, while students will have a chance to polish their skills with work placements at the group's Tokyo flagship or its other Japanese hotels. But that's not all. Hotel Okura has also partnered with Matsuda Culinary School for a one-year programme that will see a handful of its overseas chefs hone their skills in the kitchen before heading back out to one of the Okura hotels.
International expansion often waters down the values businesses were founded upon. But Hotel Okura's investment, to the tune of ¥200m (€1.6m) over the next 10 years, offers smart lessons in how businesses seeking to expand internationally can do so without compromising their brand. And while Hotel Okura will cover most of the tuition fees for its selected staff, the rest of you aspiring hoteliers better crack open your piggy banks and get cracking on your applications. 
hong kong
Concrete jungle
Construction boom
Hong Kong is a noisy place, there's no denying it. My producer colleagues at Monocle 24 in London often wonder if I'm doing my radio check-ins next to a motorway. I'm not, I swear. Our bureau and shop actually occupy a "quiet" corner of Wan Chai. But single-glazed windows, a staple in Hong Kong, do little to insulate the sound of round-the-clock delivery lorries struggling up the hill, shaking chains and other loose bits of metal as their tyres screech, engines roar and horns blare.
The Hong Kong street soundtrack can make for an overwhelming playlist, especially when you factor in the constant air- conditioning, the general volume of Cantonese – commonly shouted rather than spoken – as well as an increase, of late, in sirens. Hotel reviews are full of advice to pack earplugs. Then there are the dreaded jackhammers. Many live in fear of these thudding construction tools that pound away at the ground, creating foundations for the city's skinny skyscrapers. I spent my first few years in Hong Kong being stalked by this noise. Jackhammers followed me from house to house before I realised, when going around with estate agents, that I needed to check for signs of developments out of the window, rather than a mountain or harbour view.
After six years I have essentially tuned out this racket but one sound has been cutting through the white noise recently: drilling. Shopfitters have been audibly busier of late, stripping out old fixtures, putting in new shelving and transforming abandoned and boarded-up businesses into new ventures. This is particularly noticeable around our outpost in Wan Chai: a bustling mixed commercial and residential neighbourhood surrounded by small, independently owned shops selling everything from curtains to custard tarts.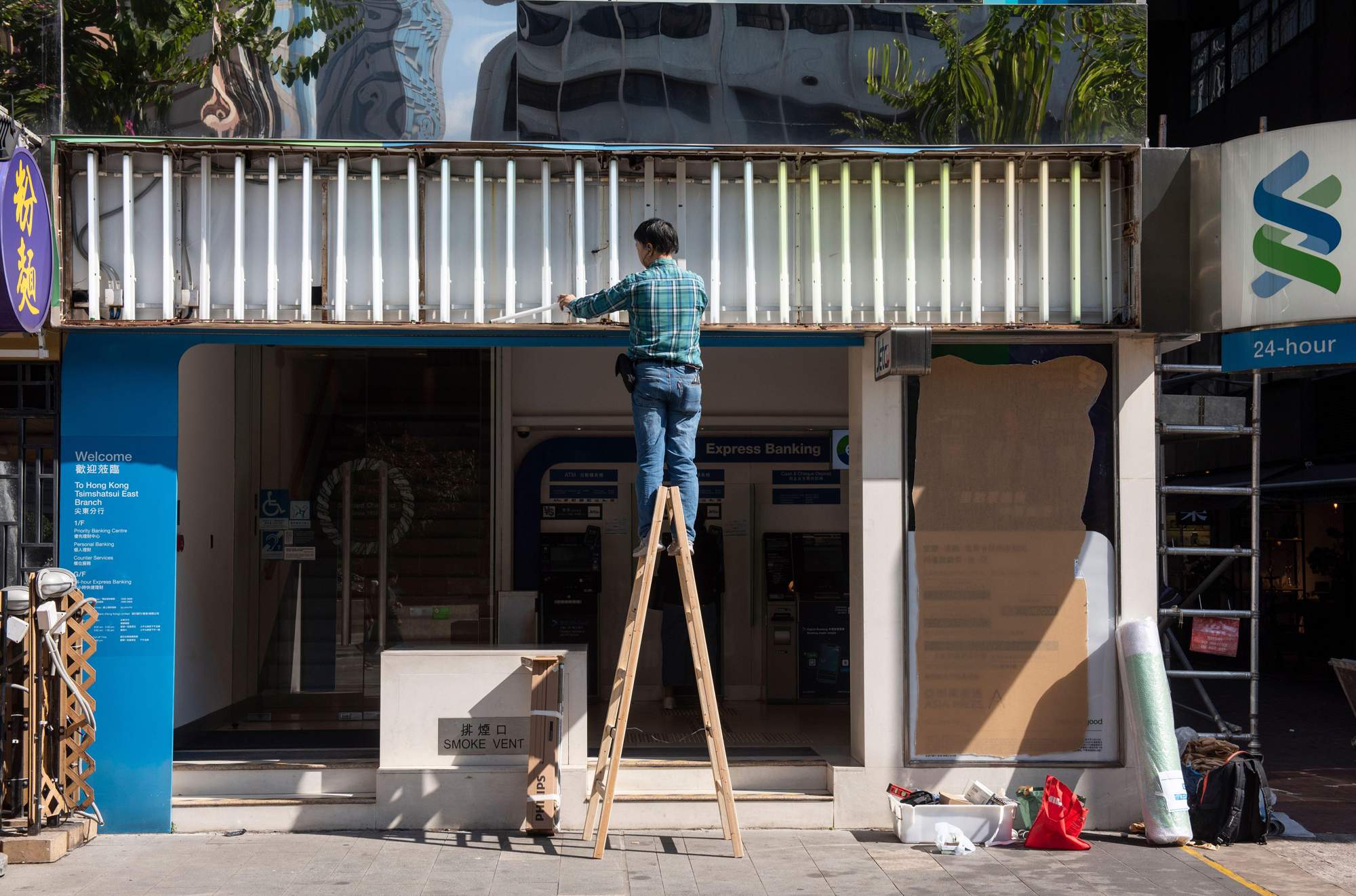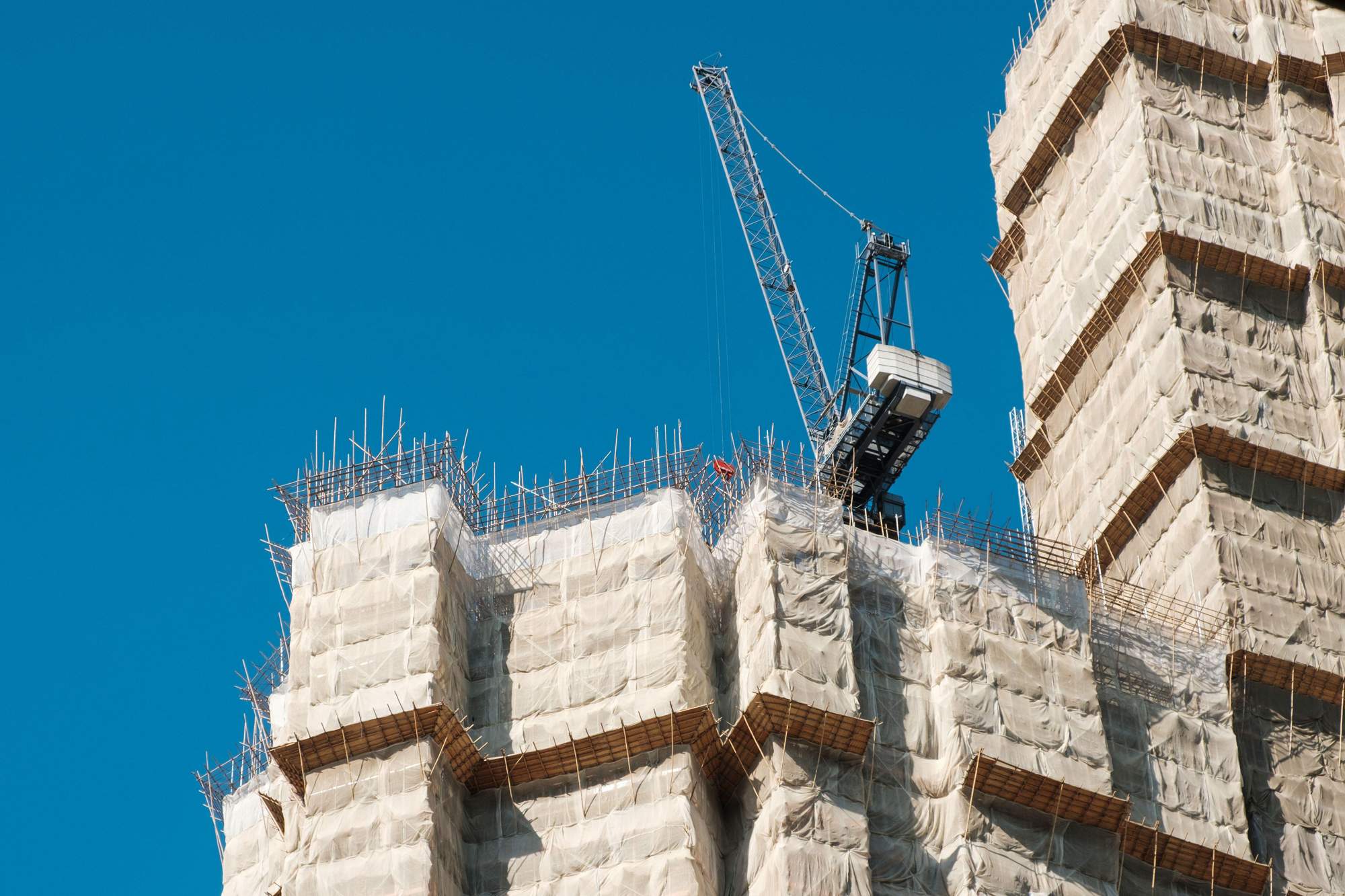 Right now, what passes for window shopping in the neighbourhood involves peering into these windowless cement shells, trying to remember what the empty shop used to sell and guessing what the dusty mess will soon become. Perennially shirtless shopfitters get on with their sweaty work at a frantic pace, minus any face coverings – perhaps the only people not wearing masks in Hong Kong, despite the evident health benefits.
There's a lot of work to do. Businesses in Hong Kong have been walloped in 2019 and 2020 by the twin forces of political unrest and the coronavirus pandemic – bricks and mortar has been hit harder than most. Nonetheless, this city is built on trade and it has a deep pool of buyers, sellers, importers and exporters, ready to give their concept a go. Acoustic insulation would certainly be a sound idea.
I'll admit it: my drilling index is by no means scientific. Sophisticated investors seeking an edge might still want to rely on reams of data or drone camera footage of the container lorries moving into and out of the port. Chinese money managers, meanwhile, will continue to place their stock decisions in feng shui and the invisible flow of energy. (The water-cooler chat on that front is that 2022 is going to be Hong Kong's best year ever, so the next 12 months could indeed be an opportune time to secure a prime location at a favourable price.)
But from where I'm sitting there's no substitute for on-the-ground information and there's nothing more grounded than working in a shop – even if it's a noisy business.
---
finland
Causing a stink 
Dogs that can smell coronavirus
ET, a four-year-old white Swiss shepherd, observes the four tin cans laid out in front of her with a mix of excitement and apprehension. Inside one of them is a skin sample from a person who's been infected with coronavirus. Inside the others are samples from people without the virus. ET's job is to spot the infected one. She gets a cue from her trainer and off she goes – straight into a photographer's lap, whose long lens and gizmos ET finds far more appealing than the tin cans. "Let's do this again," says trainer Tommy Wiren. "From the way she pants, I can tell that she's too excited. Her nose won't work right."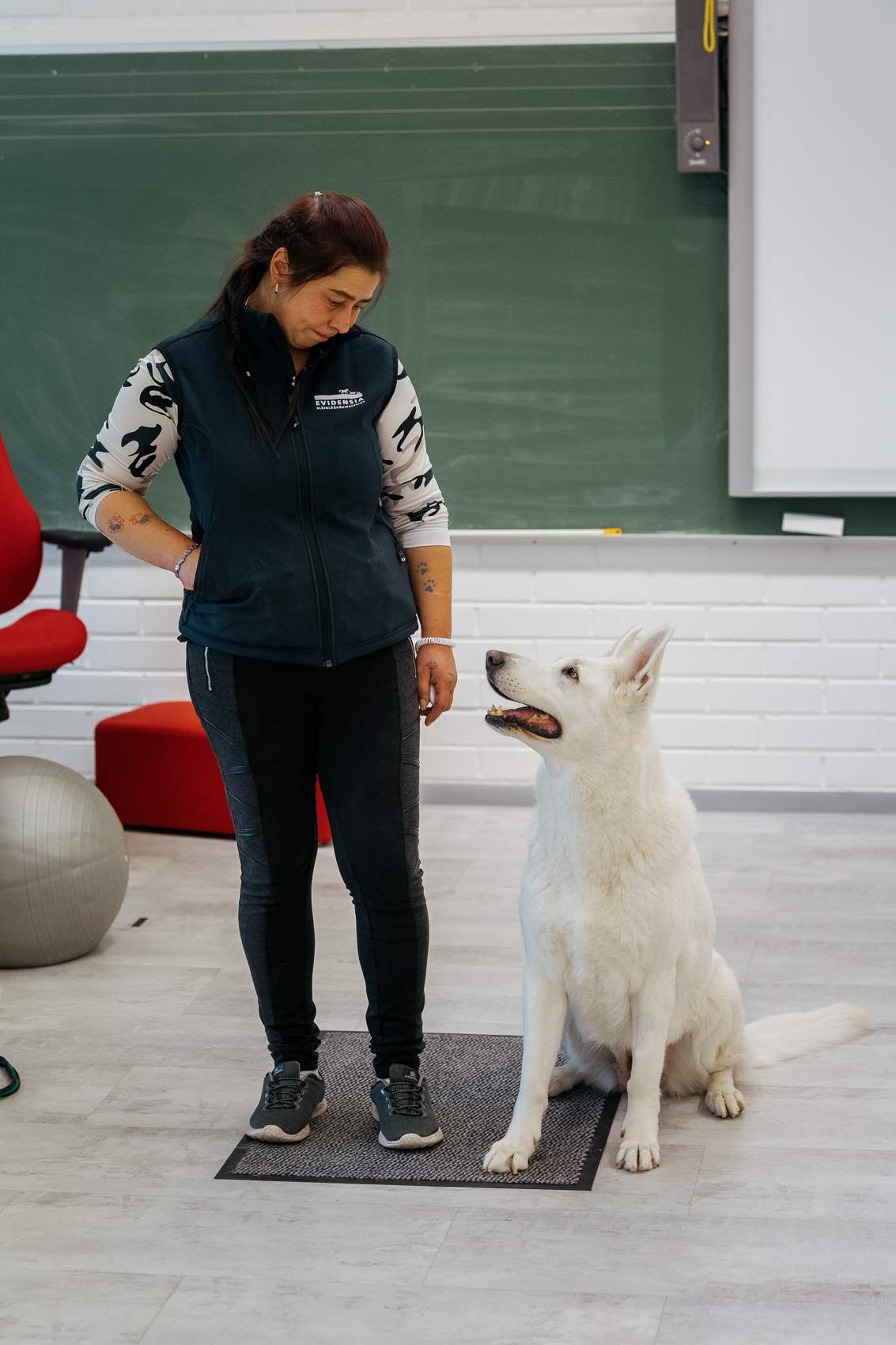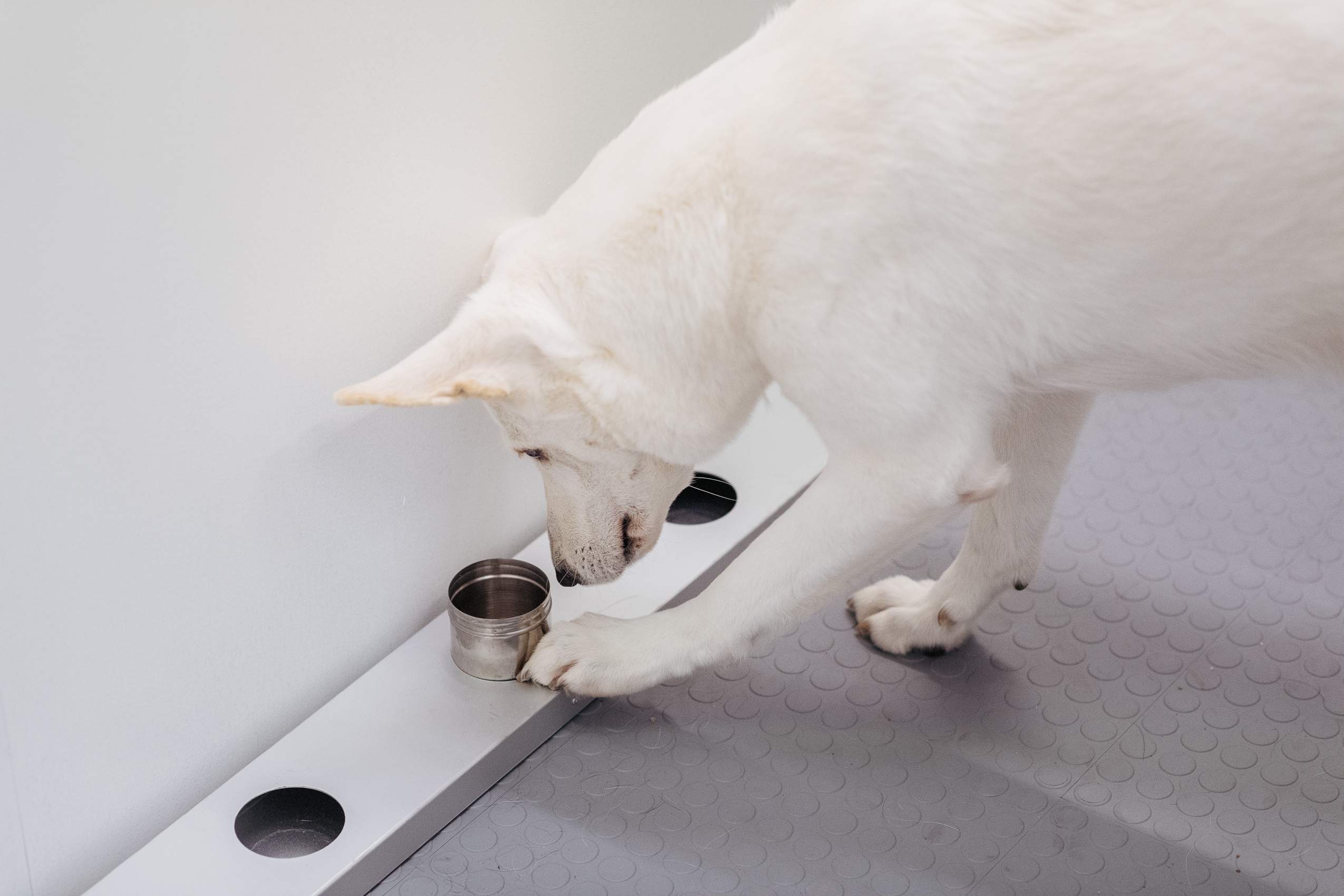 After overcoming her disappointment at not getting a treat, ET gets a second chance. Those present shuffle to the side with hopes of not distracting her. And she's off. She smells all four tin cans and after a split-second decision starts to scrape the correct one. ET, like most of the dogs trained here in the Finnish city of Vantaa, has an almost 100 per cent track record in identifying coronavirus infections. Once you get her to concentrate, that is. "Not all dogs are cut out for this," says Wiren. "Some don't like being around crowds, others lose interest in sniffing humans after a while."
Wiren is the chief trainer in a pilot project run by Wise Nose, a Finnish voluntary organisation specialising in training sniffer dogs. Sixteen of its pooches have started working at the Helsinki-Vantaa airport in an experiment that could transform international travel during the pandemic. Research from Helsinki University shows not only that dogs, whose sense of smell is roughly 18 million times stronger than that of humans, are close to perfect at spotting the virus but also that they are able to detect it before the patient develops any symptoms.
Back at the training centre, ET is blissfully unaware that she might one day save the world. She and her twin sister Leku are more interested in barking at Musti, a labrador, who has just arrived. Some of the dogs trained here are as young as seven months; others, such as Kössi, an eight-year-old greyhound, are seasoned veterans who know exactly what they're doing. Kössi is somewhat of a media star in Finland and has lent his nose for the greater good of mankind for years. He can, among other things, smell if someone has cancer.
Helsinki's canine coronavirus experiment is unparalleled in its scope. It has piqued the interest of much larger airports in countries such as Germany, the UAE and Australia. Imagine if we could travel freely again without being subjected to unpleasant nose or throat swabs and long antisocial quarantines. And all with just a little help from man's best friend.
Marvellous noses:
1.
Frida, a labrador retriever and rescue dog with the Mexican navy, helped to save 11 children after a 7.1 magnitude earthquake struck Mexico City in 2017. She retired from duty in 2019, having taken part in more than 53 rescue operations.
2.
Murray, named after tennis pro Andy Murray, has used his nose to help combat poaching in Nepal's Chitwan National Park. Partly thanks to its innovative use of sniffer dogs, Nepal is among the world's best at fighting poaching, even achieving zero poaching-related deaths of tigers, rhinos and elephants in 2014.
3.
Sierra, a husky in Wisconsin, alerted her owner to ovarian cancer by putting her nose on her own owner's stomach and making a fuss. Impressively, Sierra not only detected the cancer once but four times in all.
usa
Brave new world
Pivoting to survive
When the pandemic hit the US, design commissions for restaurants, hotels and offices vanished overnight – and designer and artist Matthew Moore found himself rethinking his company. Over the next few weeks, his team at Mateo Goods in Phoenix, Arizona, focused on developing an object to meet the changing working habits of Americans: a minimalist sit-stand desk. "It's about serving what people need right now," he says.
Available in Baltic birch, walnut or white oak, it was released on IndieGogo this summer and raised $250,000 (€215,000) in a month. "[2020] has been a terrible year," says Moore. "But now is a good time to think about the basis for businesses, families, friendships – and make that more sustainable."
"Now is a good time to think about the basis for businesses, families, friendships, and make that more sustainable"
It's a message that resonates with Patrick Robinson, founder of sustainable clothing brand Paskho. Although the high-performance men's and womenswear was already made to high environmental and labour standards in China and Laos, he wanted to do more. "As I watched the unemployment rates go up, the social unrest, the inequality, the people at food banks, I made a choice that we had to have a bigger social mission," says Robinson.
He decided to bring back manufacturing to provide jobs for the thousands of highly skilled people suddenly without work, from Broadway seamstresses to factory workers. He is now working on creating a co-operative model so that his new employees can also have ownership of the New York company. "We call it a community because as makers we're all equal," he says. "We believe that the so-called gig workers should have more rights."
Then there's female-led filming hub Upriver Studios, which is hoping to provide jobs in upstate New York. It opened a massive soundstage mid-pandemic to provide a sustainable, coronavirus-secure option for new productions. "Questions of equity, justice and opportunity have been everywhere in 2020," says Laura Callanan, founder of impact investing non-profit Upstart Co-Lab. "I think the creative economy has a big role in addressing them."
gibraltar
Path least travelled
Tales of the unexpected
If you'd asked me 12 months ago where I thought I'd go on holiday in 2020, Gibraltar wouldn't have crossed my mind (writes Christopher Cermak). But as a British territory, it was exempt from the UK's quarantine rules that applied to Spain, which is why my partner and I decided it was a good place to spend a week. It turns out that Gibraltar and I have a lot in common. Not only does it celebrate my birthday as its national day but it's also linguistically and culturally confused. As an American-Austrian I throw German into my English and English into my German; Gibraltarians do the same with English and Spanish (which they call "Gibberish"). Throw in alluring beaches, hiking opportunities and dolphins, and I'd call this one of those fortunate decisions that remind you of the wonders of spontaneous travel. Planning to go where you always wanted is nice but you never know what you might find without looking. Gibraltar, I'll be back next national day at the very latest, when the pandemic has eased and we can celebrate my birthday in style.
For more stories like this, sign up to the Monocle Weekend Edition at monocle.com/minute.
---
geneva
Rolling with the punches
Motor shows take stock
At the Geneva International Motor Show in 2019, the impending death of the format was as much a topic of conversation as the new cars being unveiled. Several notable manufacturers had decided to skip the event, including Jaguar Land Rover, Ford and Volvo. They had determined that the return on investment wasn't worth it with so many cheaper ways to get media attention. Now coronavirus has, in all likelihood, hastened the demise of the traditional motor show. If Geneva does return in 2021 (the 2020 outing was cancelled as the virus spread across Europe) – far from a sure thing – we may see more car-makers opting to skip it.
"Recently we've seen a change in the importance of key European shows and have had to adapt"
It was at the 2019 show that Honda launched its delightful electric car, the E. Despite the show's notable absences, Honda's little car attracted a big crowd. Honda says that motor shows remain an important part of its marketing efforts but the company also acknowledges that the market is changing. "Recently we've seen a change in the importance of key European shows and have had to adapt," says Nik Pearson, who as head of European PR for Honda Automobiles is in charge of a team tasked with addressing these challenges. "We've increased our attendance at events that are not traditionally associated with auto brands," he says. In fact, shortly after the industry unveiling at the Geneva Motor Show, Honda held the official public debut for the E at Milan Design Week. As an urban car pitched at younger, design-conscious drivers, Pearson says it was the ideal fit.
A clear shift is taking place in the auto industry. Manufacturers are trying to pitch themselves as "mobility" providers, rather than simply car-makers, in an effort to open up the range of products and services that they can offer. As electric engines and advancing technology allow for different types of cars and new models of ownership, manufacturers want to broaden their horizons – and the range of people that they can sell to. Part of the move away from the traditional auto show is about creating some distance from the past.
With hopes of keeping pace, motor shows have begun to rebrand around broader mobility themes as well, positioning themselves as the place for top talent in mobility to meet, exchange ideas and present their visions to the world. The Detroit Motor Show has made a gear shift in that direction for 2021. Instead of taking place in January, as it long has, the show was rescheduled for September, which will allow for outdoor demonstrations of new technologies and mobility solutions, among other things. While many other motor shows are headed in the same direction, car makers might find that even as the big events modernise and adapt, they can still get more exposure at lower cost with a direct marketing campaign online where they control the narrative, or a surprise appearance at an unrelated cultural event.
So does that mean that every car launch will be held online from now on? Unlikely. There is still nothing quite like pulling back a sheet to reveal a brand new car to a packed crowd. "These events provide manufacturers with a unique opportunity to meet the customer face to face, capture their imagination and create a deep impression," says Pearson. But hopefully what emerges will be events that offer a refreshed take on mobility and something more in tune with the needs of today.
---
global
Only good on paper
It's time to rethink the Human Rights Council
Ideas for reforming the UN are often made in bad faith and tend toward the simplistic. Here's one that we offer with total goodwill: abolish the UN Human Rights Council. The UNHRC's membership has been prompting mordant eye-rolling since its foundation in 2006. Nations that have served their statutory three-year term have included Eritrea, Bangladesh, Libya, Somalia, Egypt, Qatar and Afghanistan, among others whose only interaction with a human-rights organisation should be as defendants. In 2021, China, Russia, Cuba and Pakistan will take up seats. The UNHRC is such a grim joke that it put Donald Trump on the right side of history: his withdrawal of the US from the UNHRC stands as one of the few foreign-policy triumphs of his presidency. As for what might replace the UNHRC, here's another easy solution: nothing. That's $116m (€99m) a year saved right there. And maybe a few nations whose human-rights records actually merit respect could form their own organisation and advocate by example.
---
global
Do we still need them?
The future of large facilities
Berlin's new Brandenberg airport opened in October – at perhaps the worst moment in the past 50 years – amid the vast slump in plane passengers due to coronavirus. Meanwhile, Tokyo's Olympic facilities are finished, despite concerns over whether the Games will actually take place and whether anyone will attend. Other megaprojects also face the prospect of quiet openings. What to do? Call the whole thing off?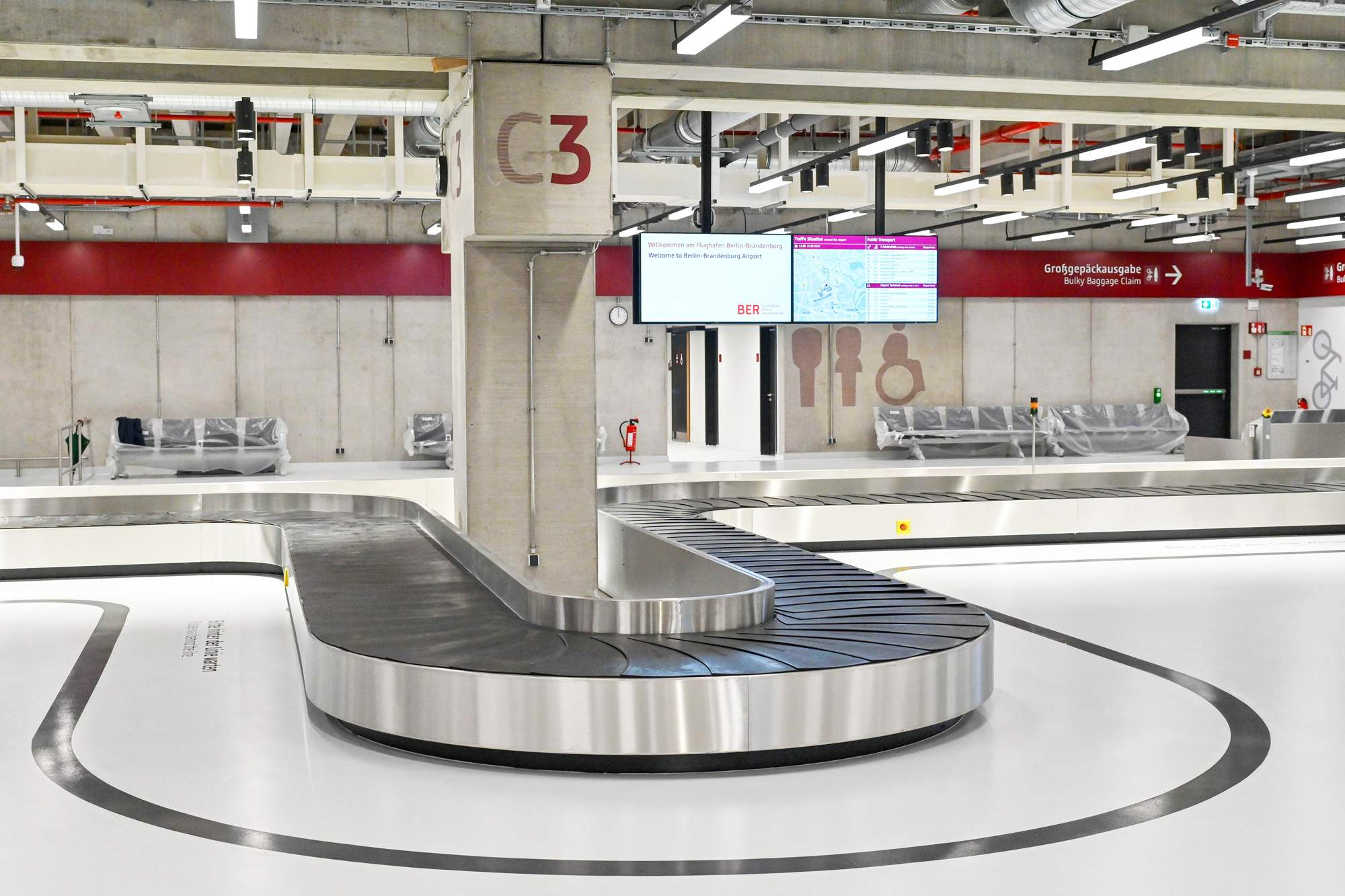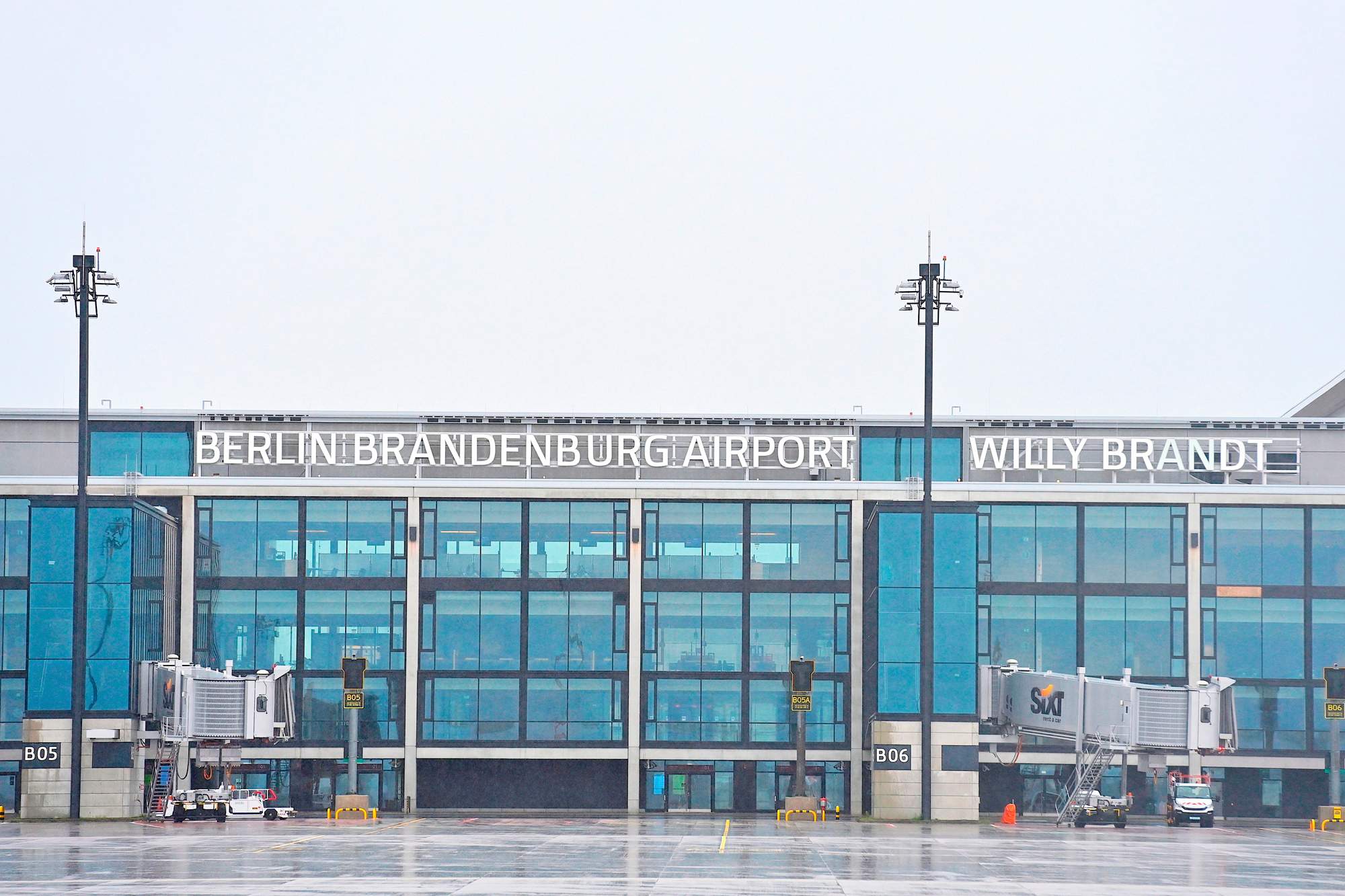 For projects where ground hasn't been broken yet, this is possible. Several airport expansions have been canned, mostly because they hadn't really begun. But for those underway, with contracts issued, or even recently completed, it's a little more complicated. For airports, there's some hope (despite dips in passenger numbers, cargo traffic has remained steady and is likely to increase) but most athletic venues under construction will be superfluous in their current form.
Tokyo has reused facilities wherever possible. Housing for athletes is easy to turn into housing for residents but the Athens 2004 softball field and the Beijing 2008 kayaking course still sit empty. The Lusail stadium in Qatar, for the 2022 World Cup, will be partially repurposed into housing and shops. Such facilities point to a question that we should be asking about expensive public buildings: if things don't change, what else might we do with them? 
PHOTOGRAPHER: Felix Odell, Juho Kuna. Images: Alamy, Getty Images. Illustrator: Mike Lemanski