Bordering the sublime / Global
Bordering the sublime
The US-Mexico border may be politically contentious but food culture and entrepreneurship have found a way to flourish here, with some tasty results.
Day one
San Diego to Tijuana
Baja California, Mexico's westernmost state, stretches south from the border with southern California, like a tendril, into the Pacific. As international borders go there may be few lines on the map more redolent of the politics of the day, rhetorically at least, than that between Mexico and the US. But you'd be forgiven for missing the potency of this particular political moment between the two countries during the short drive from San Diego to Tijuana, the largest city in Baja California.
The drive is swift; our car cruises along the winding border highway beneath the wide welcome sign bearing the word "México" in vast, cheerful-red letters. The traffic going back to the US, however, is slow and sluggish. Still, Mexican and American pop tunes merrily compete with each other, with radios audible from cars with their windows down in the sweltering heat.
All the same, this backlogged stretch of road into the US has something of a festive feel to it. It's lined by colourful canopies of street carts that have been set up to take advantage of hungry and thirsty drivers and their passengers. Food and drink, such as candied fruit and juices, have come to define this cross-border area during the past decade or so.
Tijuana, the first stop on our journey along the state's west coast, is a sprawling mass that has seeped, over the years, right to the edges of the US border. It was, historically, the good-time gal of border towns: US sailors and military men would be dropped off here for a sleepless night or two of revelry and excess. More recently it was the playground of the boisterous spring-break college crowd, who would come to take advantage of cheap alcohol, good times and the city's particularly liberal brand of joie de vivre.
The staple US party crowds began to ebb in the early 2000s, when the September 11 attacks brought a halt to cross-border visits by the US military. The so-called narco wars in the years that followed, and the global economic crisis of 2008, hit the city particularly hard. And while mementos from Tijuana's heyday still dot the streets – the city's famous white donkeys, daubed with black stripes to make them resemble zebras, and bedecked in Tijuana's own colourful brand of Mexican kitsch, are still a fixture – there is something of a reinvention underway, driven by food and drink.
"We've become known as a culinary destination," says Greg Strangman, a San Diego hotelier who is behind Tijuana's One Bunk hotel, citing the well-regarded Culinary Arts School, which opened in 2003 and was expanded in 2010, as having fuelled the city's blossoming drinking and dining scene. "San Diego, for example, was known for beaches, flip-flops and fish tacos. But then, in 1995, craft beer changed all that. We got better food, better architecture; our expectations increased. For Tijuana, it's the culinary movement that's moving things along."
There have long been fine-dining rooms here, not least Caesar's Hotel. It's where Italian-American restaurateur Caesar Cardini is said to have concocted the Caesar salad dressing in 1924. But they've been joined by newer, smarter restaurants. Change can also be seen in the small-batch breweries, including Insurgente, and eclectic outposts such as the Telefónica food-truck enclave.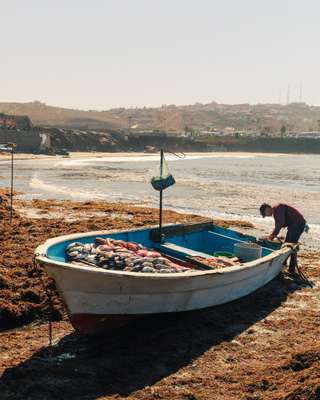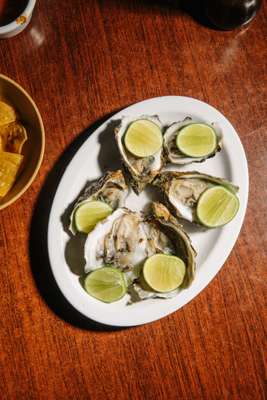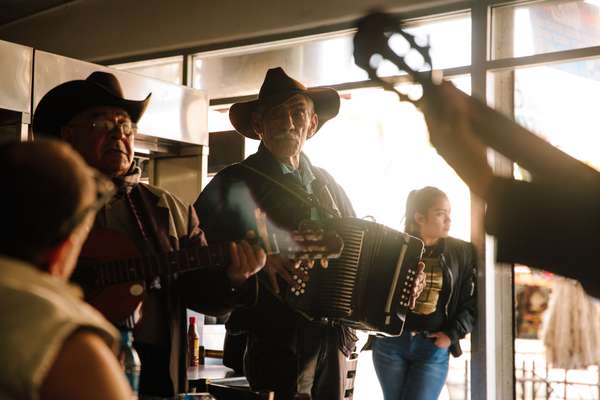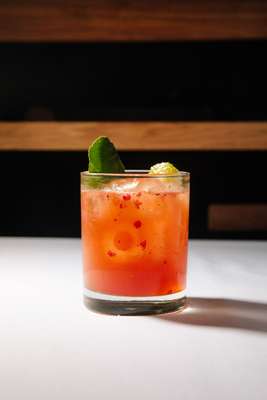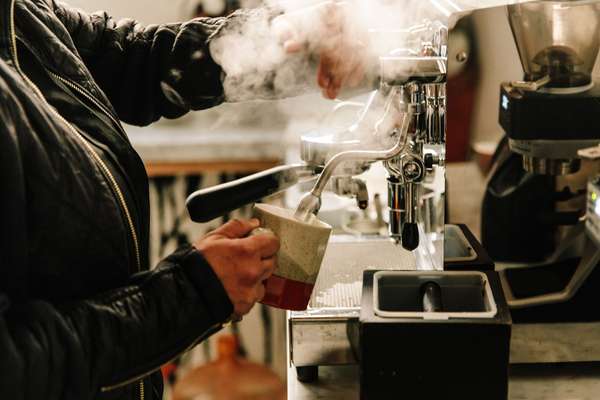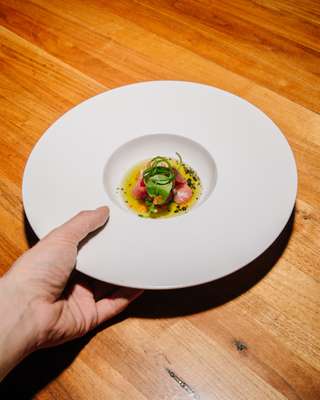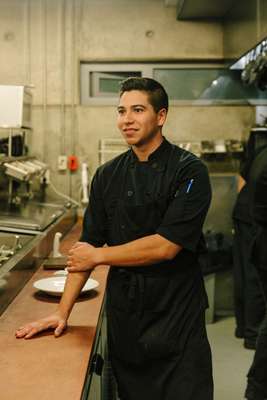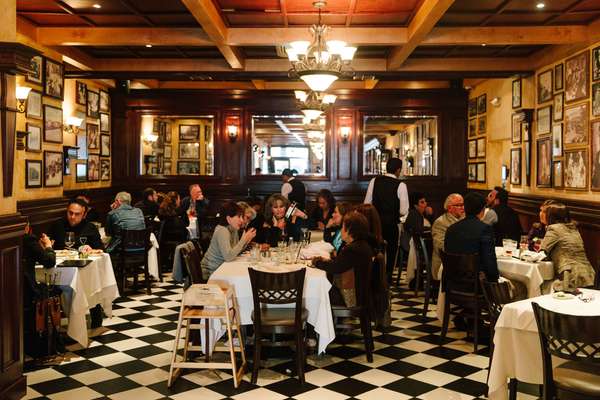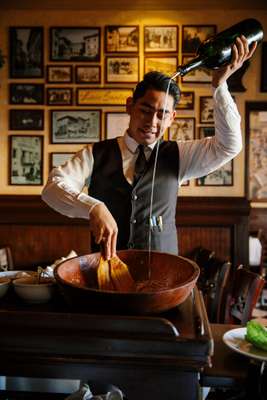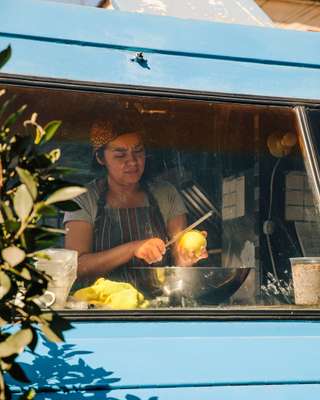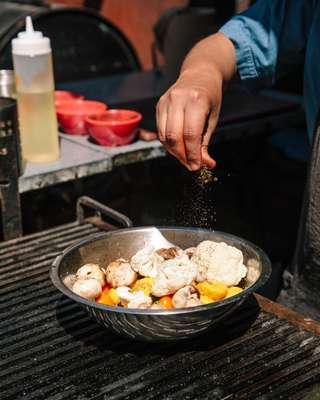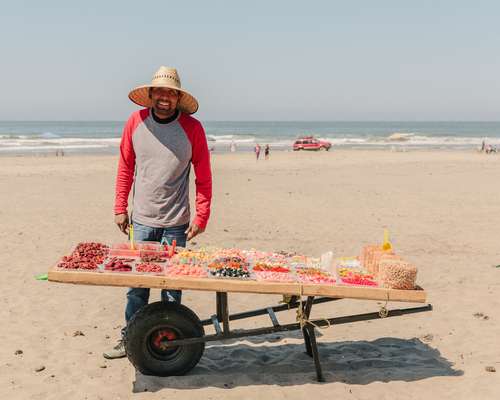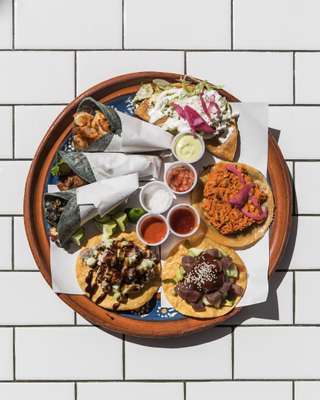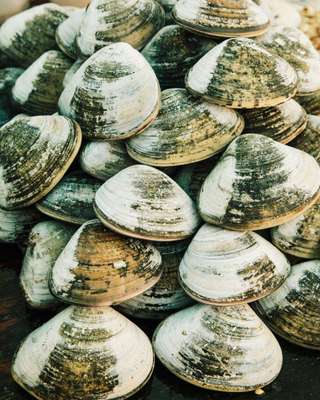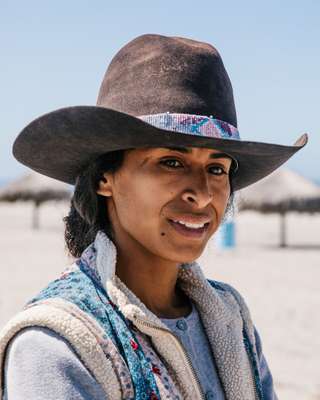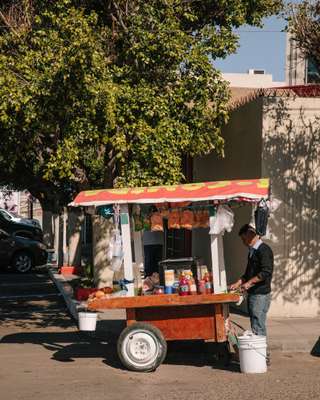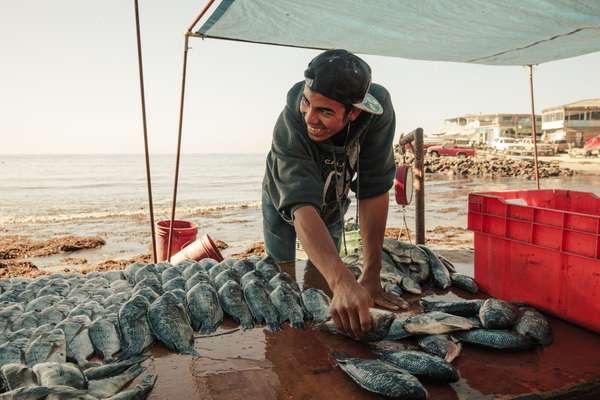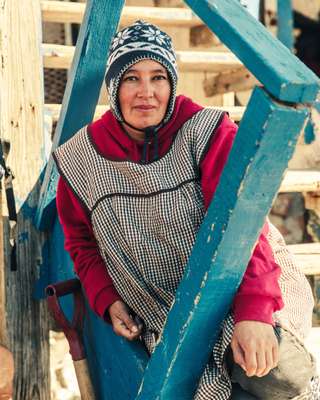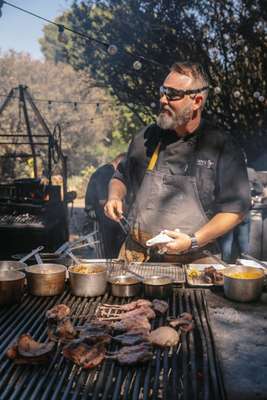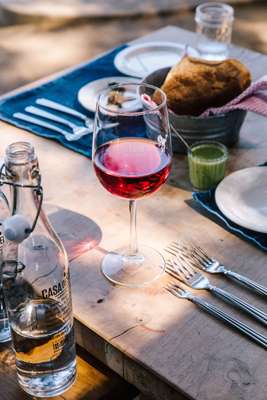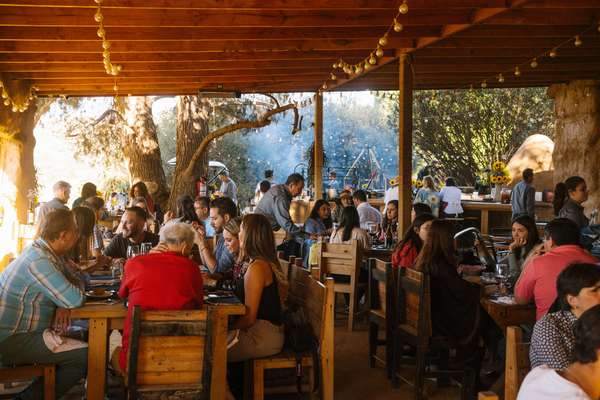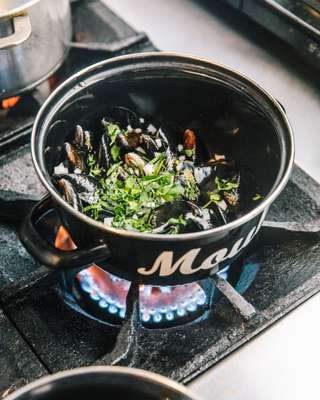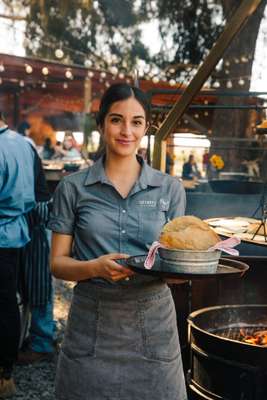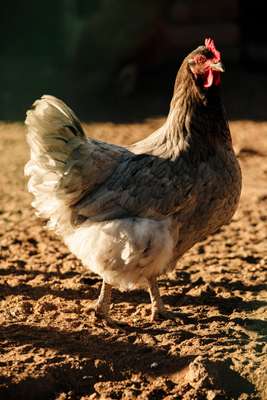 "We have excellent produce here; very good beef, oysters, tuna, octopus," says Francisco Gutierrez, founder of the Butchers & Buns burger truck at Telefónica, over the hubbub of the lunch crowd. "Our chefs are excellent. And because we're at the border it's multicultural."
Tijuana address book
Telefónica
A wonderful array of food trucks offering excellent tacos and burgers.
8860 Boulevard Agua Caliente, 22000
+52 (01) 664 200 2155

Caesar's
The birthplace of the Caesar salad, which is tossed tableside.
1059 Avenida Revolución, 22000
+52 (01) 664 685 1927
caesarstijuana.com

Dandy Del Sur
This dive bar is a charming throwback to Tijuana's glory days as the stomping ground of American GIs.
8274 Flores Magón, 22000
+52 (01) 664 688 0052
dandydelsur.com

Misión 19
The most notable in a new wave of restaurants opened in 2011.
10643 Mission of San Javier, 22010
+52 (01) 664 634 2493
mision19.com

Container Coffee
The latest coffee outpost specialising in beans sourced from around Mexico.
1348 Avenida Revolución, 22000
+52 (01) 664 638 4471
---
Day two
Tijuana to Ensenada
The next call on our road trip is the port city of Ensenada, 100km south of Tijuana. The highway is dotted with small roadside food stops selling fresh tacos, tamales and sweet treats in the form of candied oranges by the bag, honey-soaked figs and slivers of chilli-coated mango. They are accompanied by an array of convenience stores and billboards for the Tecate beer brand, the first Mexican brewery to successfully can beer. It was founded in Baja in 1944.
After a 30-minute drive along a winding road that hugs the rocky slopes down to the shore – the tuna-fishing nets are visible far out in the marbled blue water below – we make a pit-stop at Popotla's fish market. We order a handful of chocolate clams, queen clams and mule-hoof clams, all dressed with a zingy salsa of tomato, onion, chilli and Clamato juice (clams and tomato, that is).
"Every clam has a different flavour," says Jose Salazar, a fishmonger who spent many years working in restaurants in the US. "I was tired of working in the kitchen," he says of his return to Mexico. "At least here you feel more free," he adds, as nearby a young woman tosses fish from a fresh catch into a market-bound bucket.
Much of the fish caught in smaller fishing towns such as this makes its way to the dining rooms of Ensenada. The city itself is also a major producer of seafood, particularly tuna, a large proportion of which is now exported to Japan. "We try to cook with what we have on our doorstep," says David Martinez Garza, who opened Muelle 3 seafood restaurant on Ensenada's bustling promenade in 2007. "Ten years ago nobody knew about our produce. Now, everybody wants it. If you go to any restaurant that sells seafood in the biggest cities – Cancun, Playa Carmen, Tulum, Los Cabos – you'll see oysters from Ensenada, tuna from Ensenada."
The city, says Martinez Garza, was at the forefront of Baja California's culinary ascendancy. Chef Benito Molina's Manzanilla pioneered elevated menus of Mexican fare; the house sausage and the grilled clams with gorgonzola are a delight. Smaller, newer outposts such as Barra d'Café, with its speciality coffee, are also leading the way.
But the culinary resurgence, and the acclaim that has accompanied it, have brought their pressures. "At the beginning we were proud of the attention," says Martinez Garza over lunch on the waterfront. "But now all of the product is being exported to the rest of the country. As restaurateurs we resent it a little when the stocks of these kind of ingredients that we depend on are low." But luckily a burgeoning aquaculture sector is countering these effects, particularly for oyster and mussel stocks.
Ensenada address book
Manzanilla
Considered the harbinger of culinary rejuvenation in Ensenada, opened by Benito Molina.
139 Avenida Teniente José Azueta, 22800
+52 (01) 646 175 7073
rmanzanilla.com

Alameda
This excellent small coffee shop's signature is a cortado flavoured with Baja California honey.
Macheros, 22800

Houssong's
One of Mexico's oldest watering holes, this rowdy bar is still wildly popular with Ensenadans for its hearty Mariachi singalongs.
113 Avenida Ruiz, 22800
+52 (01) 646 178 3210

Casa Marcelo
Ensenada's best breakfast spot. Tuck into fresh buttermilk bread and house-churned ricotta.
746 Avenida Riveroll, 22800
+52 (01) 646 187 3158

Muelle 3
A fine seafood lunch spot, offering simple twists on Mexican seafood recipes.
187 Avenida Teniente José Azueta, 22870
+52 (01) 646 174 0318
muelle3.restaurantwebexperts.com
---
Day three
From Ensenada to Tijuana via Valle de Guadalupe
If demand is putting pressure on one sector of Baja California's food-production industries, another is meeting it along the poetically named Ruta del Vino. It stretches languidly northeast from Ensenada into the mountains of Valle de Guadalupe, Mexico's wine-making jewel. "This is an emerging region and we are very excited," says Kristin Shute, who owns the Lechuza winery with her husband Adam. "Because now we're getting people from all over the world coming here: from Argentina, from Chile, from France, from Spain. Everyone is coming with their own perspective so it isn't just one type of wine [being made here]. It's fun and it's challenging."
After a quick stop for a light lunch of cactus tostadas, oysters and a glass of sparkling rosé at nearby Bruma – a vineyard-hotel opened by David Castro Hussong in 2015 – it's time to begin our 90-minunte drive back to Tijuana, forgoing the coastal highway for the picturesque route inland.
The sun is starting to descend behind the mountains and the Mexican pop hits on the radio are now interspersed with political ads (in English and Spanish) for candidates in Mexico's upcoming general elections in July. As Shute waves us off she says: "We want to show the best versions of what's on our plates, what's in our homes. We want to show the world what we fell in love with."
Valle de Guadalupe address book
Deckman's
Drew Deckman helms the kitchens of his open-air restaurant. The blood-sausage ravioli, topped with an octopus tentacle, is delicious.
Km 85.5 Carretera Ensenada-Tecate, San Antonio de Las Minas, 22766
+52 (01) 1 646 188 3960
deckmans.com

Lechuza
Among the younger wineries in Valle de Guadalupe. Try the Nebbiolo. Km 82.5 Carretera Tecate-Ensenada, 22766
+52 (01) 646 947 6315
vinoslechuza.com

Fauna at Bruma
David Castro Hussong, an exciting young chef, has returned to his native Baja to bend all the rules.
Km 73.5 Carretera Ensenada-Tecate, 22760
+52 (01) 646 103 6403
bruma.mx

Finca Altozano
Regional fare from Javier Plascencia, one of the top restaurateurs in Baja.
Km 83 Carretera Federal, Tecate-Ensenada Ejido Francisco Zarco, 22750
+52 (01) 646 156 8045
fincaltozano.com
The roadtrip rundown
Route: San Diego-Tijuana-Popotla-Ensenada-Valle de Guadalupe
Duration: Three to four days
Distance: 298km
Essentials: Carry cash. Many of the smaller stops along the way don't accept cards. And there are two toll posts along the route that only accept cash: one outside Ensenada, the other on the way back into Tijuana via Highway 3. Each is about $6.
Where to stay
One Bunk, Tijuana
A fine addition to a small hotel scene.
920 Avenida Revolución, 22000
onebunk.com

Nachitas Place, Ensenada
A simple 1940s bed and breakfast, repurposed by architect-owner Alejandro D'Acosta, above Ensenada's port.
6 Paseo Miguel Hidalgo y Costilla, 22870
+52 (01) 646 193 5734

Agua de Vid, Valle de Guadalupe
Design hotel with an adventurous restaurant attached.
69 Parcela, Francisco Zarco Ejido el Porvenir, 22750
aguadevid.com