Tabernas / Spain
Put it on the tab
'Tabernas' are like the lively living rooms of the Spanish capital but tough times have left many out of business. We meet a new generation who are turning the tables.
The news that Café Comercial, a beloved bar serving since 1887, had closed its doors was as sudden as it was sad. People plastered heartfelt messages onto its façade and, across the patchwork obituary, regular customers likened it to having a room in their homes boarded shut. A citywide debate raged about the future of Madrid's age-old bars, cafés and tabernas.
In the insatiably social Spanish capital, tabernas are a locus of life. A uniquely Spanish synthesis of an all-hours drinking den and casual restaurant, they work like homely mess halls where traditional fare is plentiful and beer, wine and vermut lubricate the laidback lounge vibe. Be they retirees reading the paper, rowdy youngsters or workers in impromptu meetings, every facet of city life swirls together with ease. For Madrileños, tabernas are the communal table laden with life's best ingredients: talk, togetherness and tasty food.
This is likely what pushed 20 people – patrons and hospitality honchos – to band together and save the café. "We knew we had to do something special," says Pablo Castillejo, the investment group's spokesperson. "There were rumours that a big chain had bought the venue so when we reopened in April 2017 there was a sense of relief and excitement."
Today it teems with life once more. A respectful renovation added a round-the-clock kitchen, which can serve 200 diners at a time. Sketched portraits of cultural figures (and former customers) such as film director Luis García Berlanga and poet Antonio Machado line the walls, while platters of Spanish dishes are borne out to the tables by dapper waiters.
Lined with glass counters stuffed with fresh artichokes, and some prawns and razor clams on ice, the front bar is a classic vignette of Madrid morning life. At 11.00 several senior customers are already nursing glasses of wine while churros and dishes of pan con tomate are being passed over the marble bar. "We are serving around 300 coffees a day," says Pablo. "This number is a barometer of our popularity in the neighbourhood."
Not far away, on a quiet street in the lively Malasaña district, another time-tested establishment has undergone a similarly emphatic changing of the guard. Having being renamed three times since it first opened in 1920, this taberna was rebadged Casa Macareno by new owners Sergio Ochoa, Julián Lara and Pepe Roch.
"We paid great respect to the original elements," says Ochoa. "We wanted to celebrate the traditional values of Spanish hospitality but update them with fresh eyes." This approach is evident in the food (not least in the kitschy but confident little Spanish flags jabbed into the tortillas) but also the level of service. "I only hire characters who know how to make customers feel at home," he says.
The trio's revised recipe has been received so well that they are looking to take over two more age-old bars. "Madrid is going through a transition at the moment, with many establishments changing hands," say Ochoa. "It's giving the younger generation an opportunity to refresh the panorama."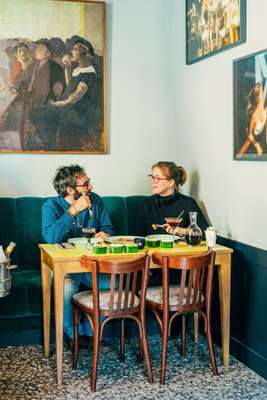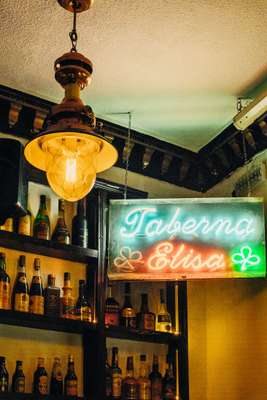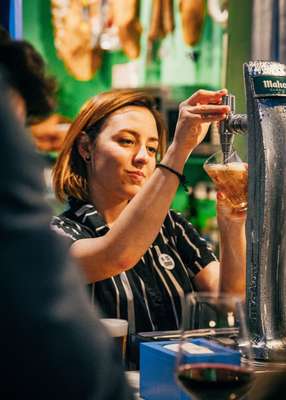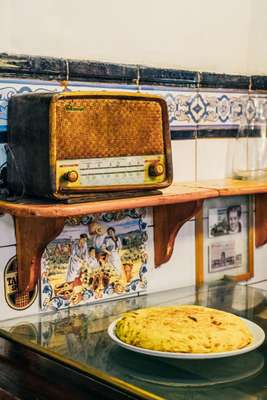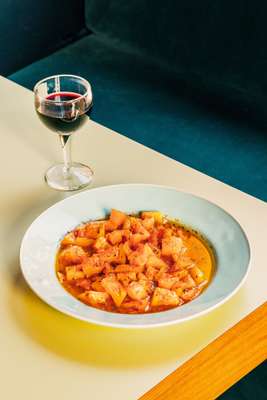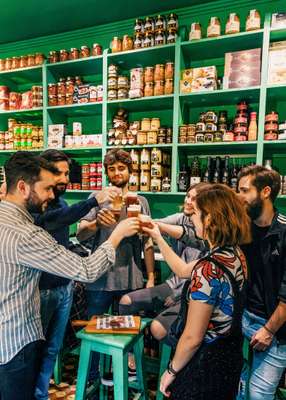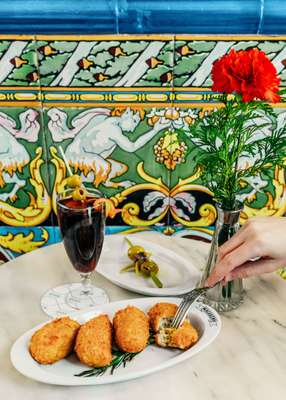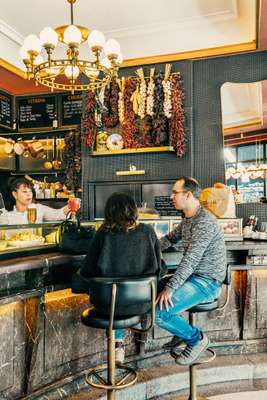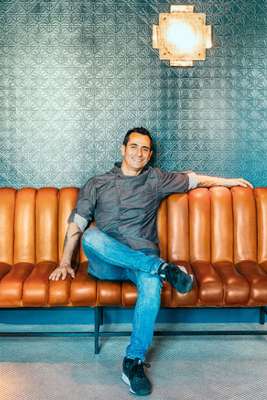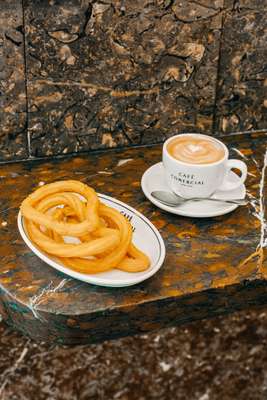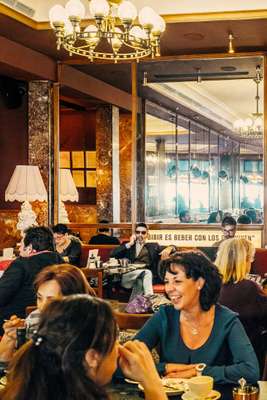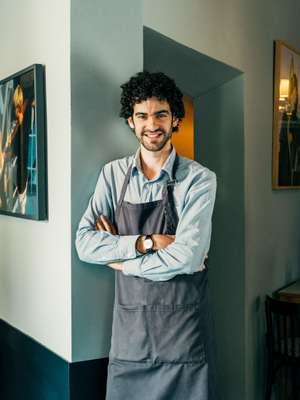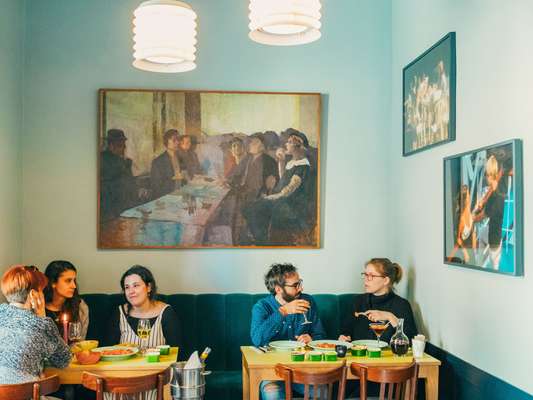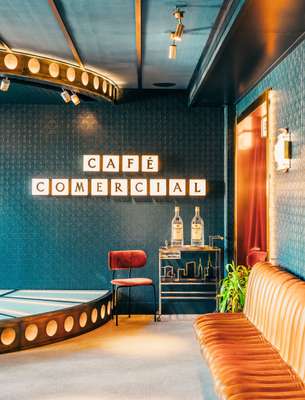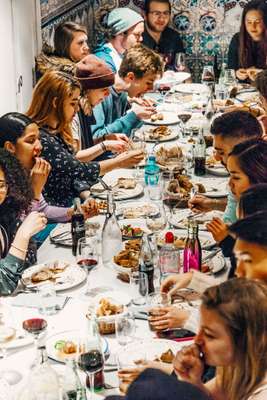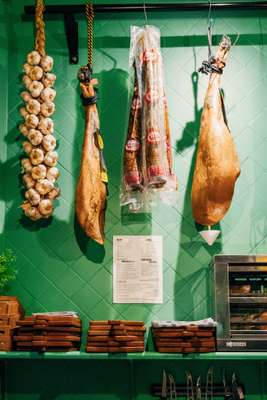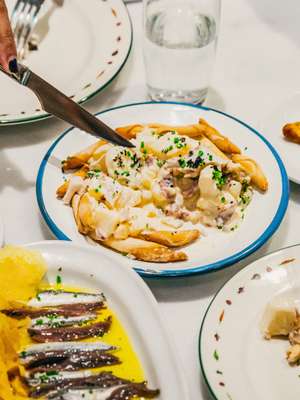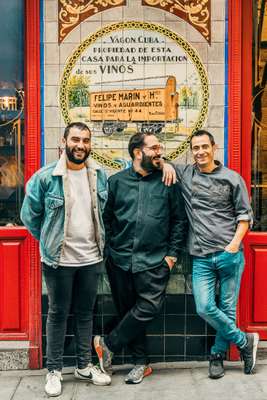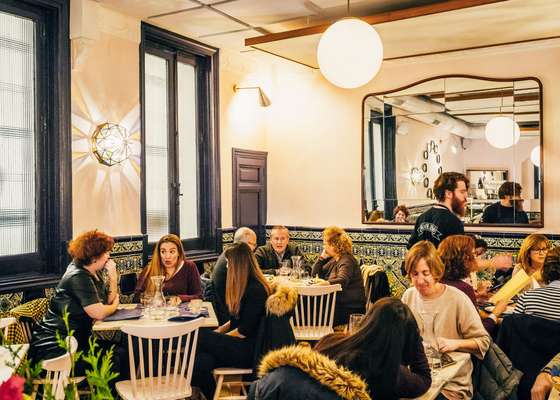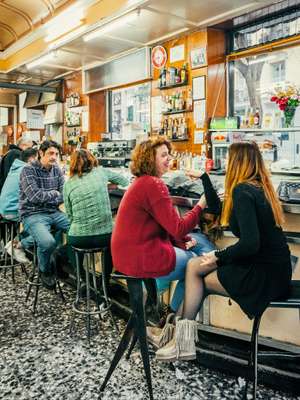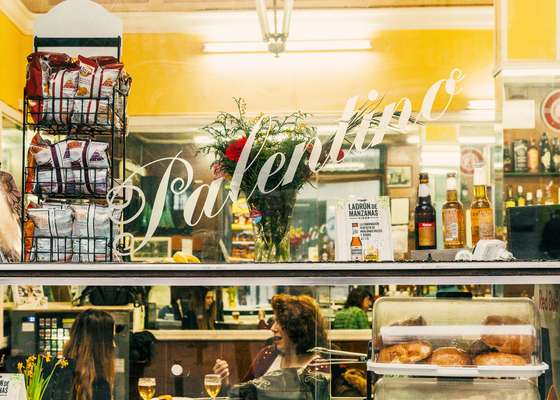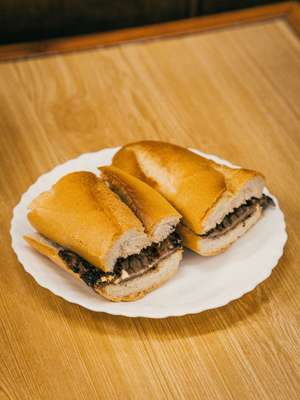 Across town we meet Carlos Zamora, the new owner of Café Angélica. "The Las Austrias quarter is like its own village," he says. After restoring one of the city's oldest tabernas (La Carmencita) several years ago, the chef, restaurateur and Santander native jumped at the chance to rescue a place once frequented by artists and the avant-garde. "London has its pubs and Paris its bistros but this is the Madrid icon because it supports our spontaneity," says Zamora. "Madrileños often finish work at 20.00 or 21.00 but still find time to socialise. It's our duty to preserve places where people can unwind."
Bar Elisa was rescued in a similar vein. "The first thing we did was take down the television sets," says chef David Alfonso Casado, who hails from the more modern restaurants TriCiclo and Tandem nearby. The screens may return for the World Cup (this is Spain after all) but Casado stresses that it will only be temporary. The chirpy barman endorses the move: "A blaring TV means people talk less and tabernas are made for talking."
Chef Casado sticks to simple dishes that pull at the heartstrings such as cocido Madrileño (a Madrid stew) and fried entrails known as casquería and salmorejo (a tomato soup similar to gazpacho). "The idea of doing our own interpretations of classic staples excited us," he says.
Other hungry entrepreneurs are mixing up the model, taking cues from the past to create something new. The brightly painted bar La Colmada revives Spain's nearly extinct ultramarinos (a sort of delicatessen) by adding the buoyant atmosphere of a taberna. Owners Alejandro Abades, Carlos Dorrego and Lucia Fernández, all in their thirties, had a clear vision. "We wanted to attract people of all ages," says Carlos. "Eating good food is a universal part of our culture; it unites people of all persuasions."
In the historic La Latina district, 36-year-old proprietor Daniel Iglesias is preparing plates of cecina (Spanish beef jerky) between pouring cañas (small beers) for his customers. "The only thing I changed here was the wine selection," he says. A news clipping reveals that his establishment opened as far back as 1840 and today it seems little has changed in the decades since.
Iglesias took over when his father died more than 10 years ago. Except for a respectful coat of paint, everything – including the antique cash register and radio – has been preserved. "We all have to evolve but, just like the constant stream of film sequels, people crave familiarity, even if they want to experience it in a different way," he says.
Back in Malasaña, the news that Palentino will be rolling down its shutters for good has upset the barrio's daily decorum. Palentino is the type of bar that deserves its own postcard: it brims with colourful characters and oozes 1970s charm, all bathed in an odd but fitting fluorescent light. Álex de la Iglesia's comedy film The Bar was inspired by the notorious social theatrics within. However, after the beloved co-proprietor Casto Herrezuelo passed away this year, his business partner and sister-in-law Lola López decided it was time to retire.
On the last night of service, Marta and Alberto, two university students who share an apartment above the bar, tell us they will miss the familiar cacophony. Yet they're hopeful that their favourite institution will return. Deep down, most residents know that the cycle of regeneration will soon kick into gear and a younger owner will welcome punters back inside, breathing life back into one of Madrid's most beloved establishments.
---
Menú del día: the daily set menu that Madrileños swear by
La carta: the physical menu
Tapas: the pint-sized servings preferred by ill-informed tourists
Ración: more generous serving plates made for sharing (and a Madrid staple)
Pincho: (no, not pintxo) small serving sizes, such as a pincho de tortilla
Caña: a small beer
Doble: a larger beer, double the size
Vermú: the affectionate term for the aperitivo of choice: vermut
Yayo: vermú mixed with a splash of gin and soda water
Tinto: red wine
Blanco: white wine
Torreznos: an age-old bar snack of dried bacon rashers
Banderilla: skewered appetisers served with drinks
---
Table talk
Eavesdropping amid the Madrid milieu.
"My daughter is now in the middle of a bureaucratic maelstrom!"
A man describes his daughter's post-Brexit Spanish visa predicament
"It's going to be huge – the signs are already there."
A man gives the 'taberna' equivalent of an elevator pitch about his technology start-up
"What's wrong with a simple face-to-face hello?"
Two women lament the onslaught of impersonal dating apps (and long for old-fashioned first-contact)
"Since when did Madrid turn into London?"
A woman enters and complains about the rainy weather – to no-one in particular
"Tonight, Catalonia, corruption and the Champion's League."
The 'Telediario' newscast blares the nightly headlines from a corner television.
"I heard that season two is going to poke fun at Spain's oddest icons."
A group of girls talk eagerly about the Netflix-acquired Spanish comedy show 'Paquita Salas'
"They've gone mad and he's asleep at the wheel."
Two elderly men grumble about Catalonia and prime minister Mariano Rajoy