Food entrepreneurs / Global
Make hay while the sun shines
There are more ways to make an impact in the food world than opening a swanky restaurant. We've sought out the innovators in the industry, be they urban farmers, philosophical wine-makers or Parisian jam peddlers.
1. Martin & Beat Jucker – Owners, Jucker Farm
Seegräben, Switzerland
All over the world, farming communities and farmland are being challenged by urban sprawl and young people plumping for life in cities rather than the countryside. There is, however, a solution brewing in rural Switzerland. Here Martin Jucker (pictured, left) and his brother Beat have turned their family's five-generation-old farm into a thriving and innovative business by hosting a year-round programme of events.
"It all started in 1997 when we wanted to do more than just sell our products in the farm honesty shop," says Martin. "A new shop and the launch of an annual pumpkin festival quickly gained a lot of attention." But that festival, which continues to grow with every passing year, was only the start of it. The Juckers now have two farms – which, despite the mouthful, they call Erlebnisbauernhöfe (experience farms) – where they host everything from company away days (imagine businessfolk helping with the day's milking) to weddings. "We offer a place for recreation but our mission is also to educate visitors about nature," says Martin.
Despite having a burgeoning business that now sprawls across events, restaurants, a bakery, shops and a recently launched e-commerce platform, the Jucker brothers still consider themselves farmers at heart. The Juckerhof, one of their farms, is Switzerland's largest domestic supplier of asparagus, and there are plans afoot to expand local processing of farm products here. "We cultivate and celebrate rare species [of fruit and vegetables] and promote a long-term perspective in farming," says Martin. "Crops sometimes take between 30 and 70 years to fully develop and become profitable." No wonder he feels the need to take the long view.
juckerfarm.ch
Why it works: Switzerland's farmers are some of the best in the world but as the Jucker brothers recognise it's necessary to diversify revenue streams. Turning their farms into events spaces and festival venues has enabled the Juckers to continue to invest in their operations and to send produce to their countrymen in the bigger cities.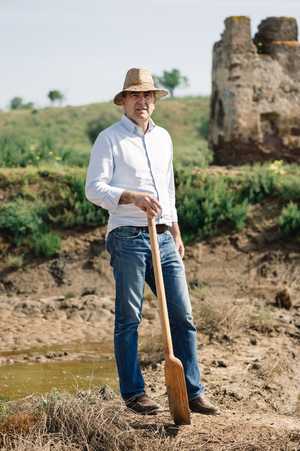 2. Jorge Raiado – Salt-maker, Salmarim
Castro Marim, Portugal
Not many entrepreneurs make a mark on a business by reducing its output but that's what salt-maker Jorge Raiado has done with Portuguese brand Salmarim. When he joined the business in 2007 the company's annual production of its premium flor de sal (sea salt) was 11 tonnes; today it turns out between six and seven. "I wanted to focus on quality rather than quantity," he says.
Salmarim's quality salt is hand-harvested in the Algarve nature reserve of Castro Marim and is among the purest you'll find. Its crystals melt on the tongue, leaving only the most delicate suggestion of saltiness behind.
Raiado invites chefs to take part in the harvest. "Understanding the process helps them understand the salt's quality and they give us important feedback too," he says. The company's cork packaging emerged from these collaborations. "We needed protective packaging that was also something that chefs could use in the kitchen but wanted to avoid plastic. Salt comes from the sea and we want to do what we can to preserve it."
The environment is important to the company. Its base in Castro Marim is free from industrialisation and pollution. "The place is ours but it doesn't belong to us; we are protecting it for the future."
salmarim.com
Why it works: Focusing on quality has enabled Raiado to build relationships with high-end restaurateurs.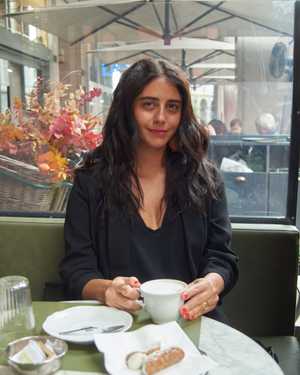 3. Karen Mordechai – Founder, Sunday Suppers
Los Angeles
Karen Mordechai became a food entrepreneur almost by accident. In 2009 the photographer and her husband began hosting dinners in their Brooklyn apartment, inviting guest chefs who would run informal cooking workshops. As Mordechai explains, the communal approach was simple but effective: "If you do it in that group setting it takes the intimidation out and you're happy to bring it into your repertoire at home."
When the blog Mordechai created to share pictures and recipes from those workshops became a hit, Sunday Suppers really took off. Today the business incorporates cookbooks; a studio for dinners, workshops, photo shoots and events; and Ila, a product line of ingredients.
Food has always been important to Mordechai. "My grandparents were from Kurdistan; my parents are from Israel. Food was how we brought the family together." It's this philosophy that runs throughout Sunday Suppers and its underlying message is that cooking should be joyous. "People love making pasta because there's satisfaction in rolling out the dough," says Mordechai. It's one reason why her cookbooks have proved so popular too: "People like what's tactile. When you open a cookbook, you're collecting it, it has a story."
sunday-suppers.com
Why it works: Mordechai's understanding of photography and design doesn't complicate the simple joy of eating.
4. David Lane – Editor in chief, 'The Gourmand'
London
"I'm suspicious of people who aren't interested in food," says David Lane, creative director and editor in chief of The Gourmand. "But I'm not so obsessed with keeping up with trends." It's something that's reflected in the biannual magazine's sometimes-eccentric approach.
Founded in 2011, The Gourmand documents a universal subject by stirring together witty writing, candid photography and nifty illustration. It looks at food through a cultural lens, featuring opinion pieces and interviews with musicians, artists and authors. Lane's office, in a former warehouse in east London, is sparse. "When we started we were just two," he says, referring to himself and his partner Marina Tweed. Lane was running a design company when he and Tweed decided there was room for a new food magazine. "We invited friends over, gave them loads of wine and asked for ideas," he says. The result was Issue 0, of which 2,000 copies were printed. Today about 50 people work on every issue, with each printed in batches of 20,000.
"Everyone is involved in other projects, us included, and the magazine's all the better for it," says Lane. "I spent a lot of time working with other people's content. This magazine is something I have done myself."
thegourmand.co.uk
Why it works: Looking at food through a cultural lens gives 'The Gourmand' a mirth and mischief that sterner titles lack.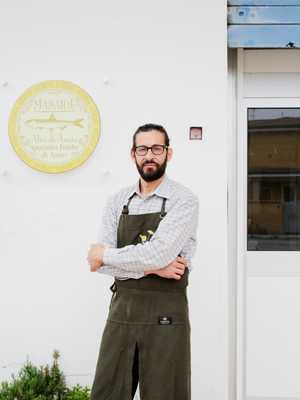 5. Luigi Crescenzi, Founder, Manaide
Anzio, Italy
In his small kitchen in Anzio, outside Rome, Luigi Crescenzi is jarring the morning's haul of purple conch – a speciality preferred by the ancient Romans. "The secret of making great fish preserves is to do everything fresh," he says. Just hours after they're caught, Crescenzi salts his fish by hand and conserves them in organic olive oil.
In 2013, Crescenzi founded Manaide to elevate the art of fine fish preserves and to revive the traditions of Anzio, a renowned fishing capital (the Roman historian Pliny wrote of Anzio's octopus as the tastiest in the empire). Even the name is historical – "manaide" references the nets and oar-propelled boats of Anzio's ancient fishermen.
Crescenzi sells preserves of anchovies and sardines along with razor clams, octopus, tellin clams (which only live locally) and other small fish. "People only know a few varieties of fish today and those are fished to near extinction or farmed with antibiotics and an unnatural diet," he says. He works only with wild-caught fish. For Crescenzi, sustainability means maintaining biodiversity and fishing varieties in the proper seasons. "Even the Romans designated areas where it was prohibited to fish for five-year stretches," he says. "Our laws today are so relaxed, things can't continue this way."
manaide.it
Why it works: Crescenzi is not only reviving a near-forgotten craft, he's educating people about the perils of over-fishing.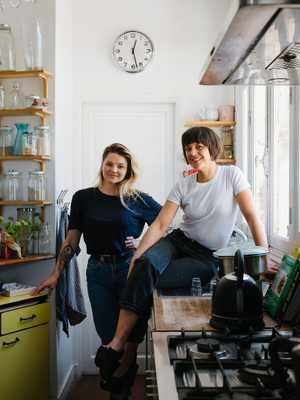 6. Laura Goninet & Nadège Gaultier – Founders, La Confiture Parisienne
Paris
Laura Goninet and Nadège Gaultier (both pictured, Goninet on left) abandoned careers in restaurants and advertising respectively to launch La Confiture Parisienne three years ago. "We started in our apartment kitchens," says Gaultier, recalling the brand's early days when she would whizz across Paris on a scooter carrying pots of jam. "We went directly to the shops."
The pair developed unusual recipes – raspberry, apricot and aniseed or grapefruit, pomegranate, honey and chilli – and crisscrossed France to find the best fruit. "Meeting producers and chefs is a pillar of our work," says Gaultier.
Demand for their white-glass jars with delicate graphic labels has increased but the duo are determined to stick to their handmade values. Gaultier explains how she has managed to keep the operation small while also introducing efficiencies, such as machinery to automatically label the jars. "Soon there will be a pitting machine for stoned fruit. I dream about this."
In June, the pair will open a new confiturerie in Paris's 12th arrondissement. There customers will be able to watch the batches of jellies, jams and pastes being made – and, naturally, buy them. "All our products will be made here," says Gaultier. "It's unique in Paris."
confiture-parisienne.com
Why it works: Great packaging and unorthodox flavours are two reasons why La Confiture Parisienne turns heads.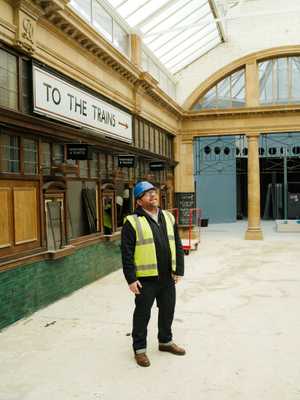 7. Simon Anderson – Founder, Market Halls
London
By the end of 2018, Londoners will have three new upmarket food halls to enjoy, courtesy of a new venture from restaurateur Simon Anderson and former property investor Andy Lewis-Pratt: Market Halls. The first will open in May in the original ticket hall of the heritage-listed Fulham Broadway underground station, combining restored Edwardian details with street-food vendors. It will have nine kitchens, a bar, a deli and a communal dining area. "We wanted to find spaces of historic significance that were once public and bring them into permanent use again," says Anderson. The former advertiser's first foray into food came when he bought his own pub and he has since worked on several major projects, including transforming Pitt Cue from a food truck on the South Bank into a wildly popular restaurant.
A second market in Victoria is slated to open in summer on the former site of the nightclub Pacha, while the third will be the largest food hall in the UK when it opens in part of the former bhs building on Oxford Street in the autumn. "It's the perfect stage for brands to reach their audience. For most new food traders it would be unheard of to open a shop on Oxford Street but we're providing the infrastructure."
markethalls.co.uk
Why it works: Anderson is harnessing Londoners' passion for drinking and dining to breathe new life into tired spaces.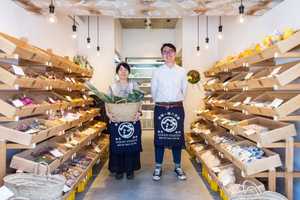 8. Soichiro Hirabayashi – Founder, Vegeo Vegeco
Tokyo
Soichiro Hirabayashi once had ambitions to become a farmer but has ended up selling vegetables instead. In 2013 he founded Vegeo Vegeco, a website selling organic produce from the sun-drenched island of Kyushu – heirloom aubergines, Swiss chard, green papaya and much else besides grown by 300 families.
The Vegeo Vegeco website puts farmers in the limelight, telling their stories alongside the produce they grow. Last year Hirabayashi launched a small vegetable stand in eastern Tokyo. Conceived by interior-design firm Wonderwall, the yaoya (a neighbourhood vegetable shop) features display boxes made from cedar wood grown in Kyushu. The company also has a distribution centre in Tokyo to handle deliveries. "We collect daily from farms and deliver directly to consumers. They specify a one-hour window and we bring it to their door," says Hirabayashi. Bypassing farm co-operatives also means that misshapen carrots are not thrown away for not meeting the industry's strict size‑and-shape standards.
And recently Hirabayashi has realised his early dream of farming by borrowing idle land in Miyazaki. "Japan needs young people who want to be farmers," he says. "With our own farmland we can train a new generation."
vegeryorganics.com
Why it works: Belief in provenance is helping Vegeo Vegeco support farmers and get fruit and veg in shoppers' baskets.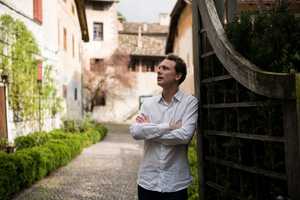 9. Clemens Lageder – Owner, Alois Lageder
South Tyrol
Clemens Lageder only lasted two weeks as an economics student in Zürich. "Everyone was talking about making money," says the South Tyrol native. "I started studying sociology instead and I found that extremely exciting." That explains his priorities at the Alois Lageder winery, which has been in his family for close to 200 years. Having been abroad for 10 years he returned to the family business in 2015 and has since been taking the reins from his father – but he doesn't just want to bump up profits. "Money is needed to realise something else."
He explains that the family firm has, for the past 12 years, been creating biodynamic wines, made without chemicals and following a natural method developed in the 1920s. "The problem is that agriculture is becoming more industrialised. If we want to guarantee a certain quality in our soil we need to think in a much more holistic way."
He has, for example, teamed up with dairy farmer Alexander Agethle, who gives Clemens a dozen cows for the winter to trim the grass and provide manure. "Having cows is not, from an economic point of view, very interesting," says Clemens."But the soil only has value if it's fertile – and fertility doesn't appear on any balance sheet."
aloislageder.eu
Why it works: Lageder's work with farmers and vintners is helping to build an ecosystem that can stand the test of time.