At the front / Global
Editor's letter
Poring over this new addition to the Monocle stable has got our editor in chief dreaming about what kind of drinking-and-dining establishment he'd like to open: and this time he's going back to basics.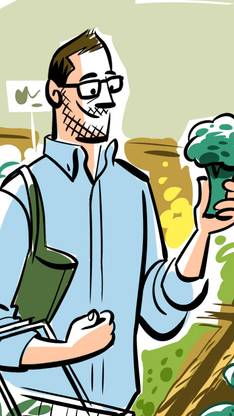 It's been a little over a year since we decided to carve out our food-and-drink coverage in monocle magazine and give it a dedicated home in the shape of a rebranded Section E – fully devoted to entertaining. Under the watchful eye of editor Josh Fehnert, the section has grown not only in page count but also ambition. This first edition of The Monocle Drinking & Dining Directory is a bubbling, sizzling, sparkling example of our intentions for the sector.
When we first discussed the idea of trotting out another title from our stable, we looked at a possible spin-off from the business pages or maybe something from fashion but it only took a couple of trips to a few of our favourite kiosks to reveal that there was very little in the way of international periodicals devoted to food, drink and the hospitality industry. For sure, there are some regional titles that have global distribution but when we discovered there was a glaring gap to do something that appealed to the sous-chef with ambitions of opening his own Gasthaus or the wine retailer with dreams of buying her own vineyard, we set to work plotting out the essentials of this 194-page volume.
Our starting point was to offer as much in the way of service as possible while also delivering plenty of big reads (see Tomos Lewis's reportage from Mexico's northwest on page 34). At the same time we wanted the recipe pages to be desirable and packed with classics that you'd want to cook again and again while also offering enough in the way of news and tips to get you out on the road to sample some of the highlighted cafés, bars and hotel buffets.
You'll note that we've gone for a bit more gloss than we normally do (we felt the recipes directed by our Kate McInerney deserved it) and a more bookish layout (informed by The Monocle Guide to Drinking & Dining released in 2016 and published by Gestalten). We have also added a few elements that should speak to those in the industry as much as readers who have their sights set on launching their very own food-retail business within the coming five years.
As the photos, illustrations and copy for this issue started hitting our desks, the breadth of topics naturally prompted discussion about "what kind of food business Josh might want to run" or "what we would eat for lunch on a production Saturday if it wasn't for our trusty Lebanese?" When the question swung my way, I decided I wouldn't be opening a café (already in that business with plenty more to come) or a restaurant but would prefer to open a neighbourhood grocery store serving up the right mix of basics, hard-to-find products, excellent wines and, of course, with the best little kiosk within the city limits.
In terms of overall offer it would feel a bit like the Bogenhausen branch of Käfer in Munich, mixed with the conviviality of Bi-Rite in San Francisco and the familiarity and recognition that's the trademark of buying fine cuts of meat at Hannes Mair in Terlan – outside Bolzano. As for the kiosk component it would have a bit of an indoor/outdoor feel and spill out onto the pavement the way the newsstand does at Largo Claudio Treves in Milan. Locals could grab a coffee in the morning, park their purchases and then pick up their favourite titles before heading off. Of course my little store would also have a team of nattily dressed delivery boys and girls to drop off milk, first editions and fine baked goods. And where would this little fantasy outlet be? Come back to me in a few years. In the meantime, enjoy this debut issue and thank you for your support. Cheers.
Head to monocle.com/subscribe for our latest titles and releases.