Recipes / Alpine
Summer heights
The Alps aren't just for winter treats – they have the summer months covered too. Join us for a trek from base-camp canapés to peak rösti. And leave some space for the strüdel in your knapsack.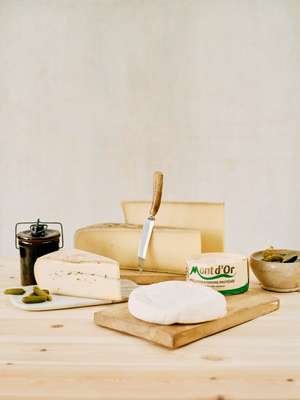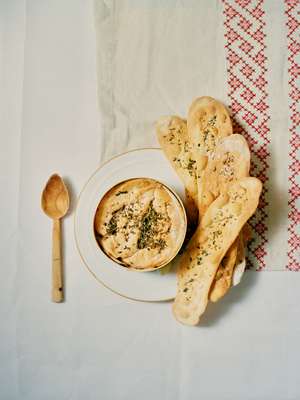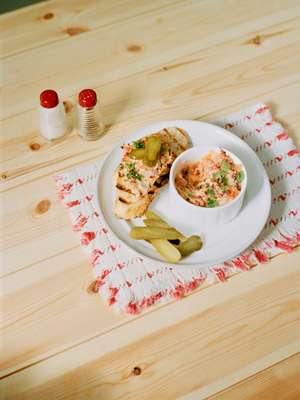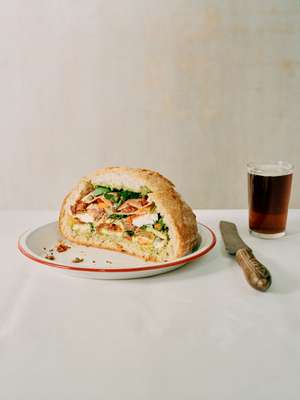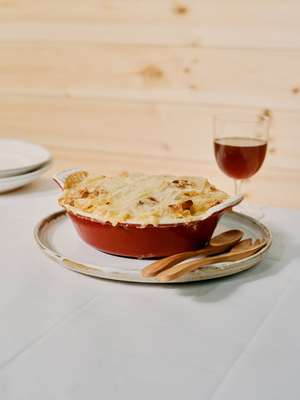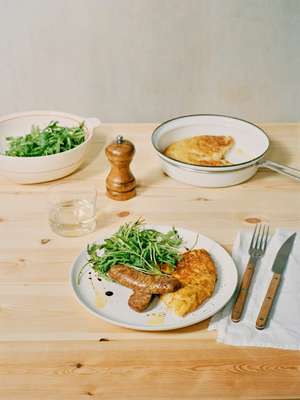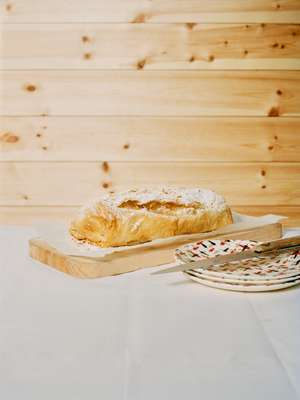 Food styling: Joss Herd
Recipes: Lizzie Harris
Prop styling: Tabitha Hawkins
Food assistant: India Whiley-Morton
France
Baked vacherin with garlic and wine, and fennel and thyme crispbreads
(Serves 4 to 6)
1 young vacherin
1 large garlic clove, finely chopped
1 tbsp fresh thyme leaves
1 tbsp white wine
Crispbreads
115g plain flour
Pinch of sugar
1/2 tsp dried yeast
70ml warm water
1 tbsp olive oil
Large pinch of salt
Extra flour for kneading and rolling
1/2 tsp fennel seeds, lightly crushed
2 tbsps fresh thyme leaves
Sea salt flakes
Black pepper
1. For the crispbreads, place flour in a bowl. Add yeast, sugar, water, olive oil and seasoning. Mix into a ball.
2. Turn out onto floured surface; knead for eight minutes until it's smooth and elastic. Place in lightly oiled bowl, cover with a tea towel and leave to rise for an hour.
3. Preheat oven to 200c. Dust two large trays with flour. Roll 12 balls of dough into tongue shapes as thinly as possible. Drizzle with oil, sprinkle on fennel, thyme, sea salt and black pepper.
4. Bake for 10 minutes or until crisp and golden. Remove and allow to cool.
5. Turn oven down to 180c. Place vacherin in its casing on baking tray, making a cross in the top. Mix garlic, thyme and wine. Sprinkle on cheese. Put the lid back on and place in oven for 12 minutes until soft but not runny. Serve.
(Makes 12)
1 small fennel bulb
50g aged parmesan
12 slices of bresaola
50g wild rocket
Extra virgin olive oil, for drizzling
Juice of ½ a lemon
Chives to decorate
1. Halve fennel, remove core and slice thinly into long sticks. Cut parmesan into matchsticks.
2. Place bresaola slices on a board. Arrange the fennel, parmesan and rocket leaves centrally onto each slice of meat, leaving a little overhanging one edge. Season, drizzle with olive oil and add a squeeze of lemon. Roll up into a loose cone or cylinder and arrange on a serving platter.
3. Squeeze over some more lemon juice and sprinkle on some chives just before serving. If preparing in advance, cover and refrigerate but leave the seasoning, oil, lemon and chives until ready to serve so that the canapés don't go soggy. Bring to room temperature 10 minutes before serving.
Switzerland
Aubonne salad
(Serves 4 to 6)
For the croutons
1/2 olive ciabatta loaf, cut into rough cubes/slices 2 tbsps olive oil
For the dressing
1/2 tsp wholegrain mustard
1 tsp Dijon mustard
1 tbsp red wine vinegar
4 tbsps olive oil
1 garlic clove, finely grated
1/2 tsp honey
Squeeze of lemon
For the salad
4 eggs
Selection of salad leaves, washed and dried
100g aged comté, shaved
6 slices of smoked ham
75g walnuts, toasted and crumbled slightly
1 ripe avocado, sliced
1. Preheat oven to 180c. For the croutons, place bread onto a large baking tray, drizzle with olive oil, season with salt and pepper, and toss gently. Bake in oven for 10 minutes until golden. Leave to cool.
2. Mix together ingredients for dressing, season and set aside.
3. Bring a pan of water to the boil, lower eggs in and set the timer for 7 minutes. You want them to be soft-set but not runny. Drain and place in a bowl of cold water to cool completely.
4. To assemble salad, arrange leaves in a large bowl. Add cheese, walnuts, avocado and croutons. Pour over dressing to taste (you may not need it all). Mix everything together gently and check seasoning. Peel and halve eggs. Roll up ham and slice. Add both to salad. Serve immediately.
Switzerland
Smoked trout pots with pink peppercorns and capers
(Serves 4)
50g salted butter
1 tbsp extra virgin olive oil
125g hot-smoked trout fillets
50g smoked trout
Zest of 1/2 unwaxed lemon
1 tbsp capers, in brine, drained
1 tbsp pink peppercorns, lightly crushed
A few chervil or parsley leaves
To serve
A few small cornichons
Fresh baguette or sourdough rye toast
1. Melt butter in a small pan. Add oil and leave to cool.
2. Finely slice smoked trout. Add to a mixing bowl and flake in hot-smoked trout fillets, then gently stir through lemon zest and capers. Pour cooled butter mixture onto trout and gently mix it together.
3. Divide between four ramekins or place in one dish. Sprinkle with pink peppercorns, chervil or parsley.
4. Serve straight away or store in fridge, covered, until 15 minutes before serving.
5. Serve with fresh, warmed baguette or sourdough rye toast and cornichons.
(Serves 6 to 8)
For the pesto
1 large garlic clove
25g basil leaves
20g pine nuts
100ml olive oil
20g freshly grated parmesan
Black pepper
For the filling
3 sweet bell peppers
1 large courgette, thinly sliced
1 tbsp olive oil
2 portions of buffalo mozzarella, drained, patted dry and sliced
12 sundried tomatoes, drained, roughly chopped
2 tbsps capers – in brine, drained – or pitted olives, chopped
5-6 slices Parma ham or your favourite Italian cured ham
50g rocket, washed and dried
1 fresh, round sourdough or country-style loaf
1. For the pesto, whizz up garlic, basil, pine nuts and oil in a food processor. Pulse in parmesan, season with pepper and set aside.
2. Preheat oven to 220c. Place peppers onto a baking tray and cook in oven for 40 to 45 minutes, or until softened and beginning to blacken. Transfer to a bowl and cover with a tea towel. When cool enough to handle, peel off skins and de-seed. Pull into strips.
3. Heat a griddle or frying pan. Toss courgette slices in olive oil, griddle on both sides until deep golden. Season.
4. Cut through the loaf 2cm from the top. Scoop out most of the doughy bread leaving a 1cm to 2cm shell. Start with two good spoonfuls of pesto on the base, making sure you spread it right into the corners and up the sides.
5. Begin layering with roasted peppers, roasted courgettes, mozzarella, Parma ham, capers, sundried tomatoes and rocket. Really pack the filling in, getting each layer into the corners, making sure you season each layer well. Then spread pesto thickly on the top slice of bread and place it back on top as a lid. Wrap whole loaf in cling film and refrigerate for a few hours.
6. Bring to room temperature. Cut into thick wedges, find a sunny spot in which to enjoy it then serve.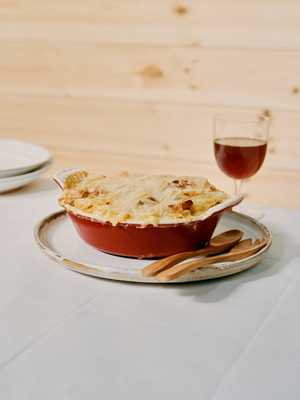 (Makes 4)
1 tbsp olive oil
5 banana shallots, peeled and sliced
200g smoked pancetta
1 garlic clove, minced
700g large charlotte potatoes, peeled
125ml white wine
250ml double cream
240g reblochon cheese
1. Preheat oven to 180c. Boil a pan of water, cut potatoes into 1cm chunks and parboil for 5 minutes. Drain, add to gratin dish or dishes. While potatoes are cooking, heat oil in a large pan. Add shallots and sauté for 5 minutes, then add pancetta. Cook for a few minutes until caramelised. Turn off heat, stir in garlic.
2. Scatter cooked pancetta and shallots over potatoes and mix through, then pour wine and cream over. Season well with salt and freshly ground black pepper, then pour evenly over the potato mixture. Place the dish or dishes (use one large or four smaller gratin dishes) on a baking tray, place in oven and bake for 20 minutes.
3. Cut cheese into thin, long slices (best done straight from the fridge). Remove potatoes from oven and layer cheese evenly over the dishes. Return to oven for 25 minutes until golden and bubbling; you may need to cover it with foil for the last 10 to 15 minutes if cheese is colouring too much. Serve with a crispy green salad or our Aubonne salad (see above).
(Serves 4)
2 large or 3 medium red-skinned potatoes, peeled (red roosters are good)
2 tbsps freshly chopped parsley
50g butter
1 tbsp olive oil
8 sausages; smoked Swiss or chunky Italian fennel and garlic
100g wild rocket
1 tbsp olive oil
1-2 tsps aged balsamic vinegar
1. Parboil potatoes, then drain, cool and chill for at least two hours or overnight.
2. Grate potatoes thickly, season well with salt and stir through. Heat half the butter and olive oil in a pan and pile in potato; pat down very gently on top and around the sides to make a neat shape.
3. Cook on a low heat for 10 to 15 minutes, shaking the pan regularly to check it's not sticking. Flip over with a plate. Add the rest of the butter and oil and cook on the other side for another 10 to 15 minutes until deep golden in colour.
4. Cut into wedges and serve with sausages and rocket salad dressed with balsamic vinegar and olive oil.
Austria
Viennese apple strüdel
(Serves 6 to 8)
650g Bramley apples, peeled, cored, quartered then sliced
1½ tsps cinnamon
Zest and juice of 1 unwaxed lemon
100g light brown or caster sugar
75g sultanas or currants
100g butter
50g bread crumbs
6 large sheets of filo pastry
Icing sugar for dusting
Vanilla ice cream to serve
1. Preheat oven to 190c. Line a baking tray with parchment paper.
2. Mix apples together with lemon zest and juice, cinnamon and sultanas or currants.
3. Melt 25g butter in a pan and lightly toast breadcrumbs until golden. Mix in with apples.
4. Melt the rest of the butter in a pan. Place a piece of filo on a tea towel, lightly brush with butter and lay a second one on top. Repeat with remaining sheets until filo is six sheets deep.
5. Spoon apple mix along one long edge, leaving a 4cm border all around. Tuck in ends and roll like a cigar, finishing with seam underneath. Bake on a baking sheet for 40 minutes.
6. Let the strüdel cool slightly, then dust with icing sugar and serve warm with ice cream or cream.