Retail 1: Corner shops / Toronto
Small but perfectly formed
People have moved back to urban centres and we no longer do a 'weekly shop', which has prompted a surprising revival: the corner shop.
The Lucky Penny is bustling with flavour: fresh produce on the pavement stand, aromatic coffee pots on the counter in the back amid trays of chocolate-chip cookies and slices of banana bread. Opened less than a year ago on the corner of Shaw Street and Lobb Avenue in Toronto's Trinity Bellwoods, the snug grocer is now a favourite one-stop-shop for neighbourhood residents and passing visitors. Offering groceries, sandwiches, skincare and even comic books, the café-cum-general store sources most of its products from local suppliers such as Blackbird Baking, Sanagan's Meat Locker and Crawford Street cosmetics.
"I've been in the neighbourhood for many years and watched various enterprises come and go," says owner Debbie Rix, a marketing professional by trade and a first-time entrepreneur. "When the property became available I decided to make a move and create a space that would serve the community and become a hub for the neighbourhood." Now the early afternoons are packed with parents buying last-minute dinner ingredients before picking up their children from the school across the street; on sunny weekends regulars eat croque-monsieurs or sip macchiatos on the patio.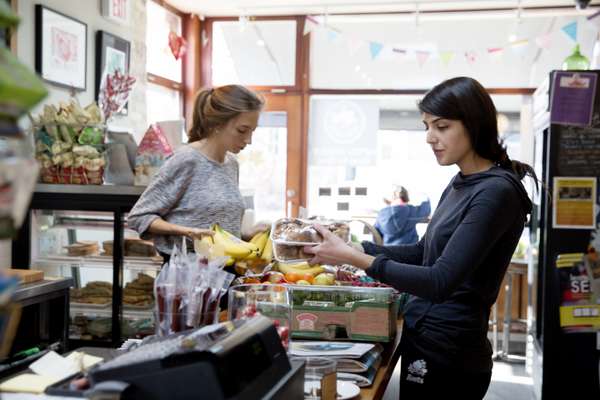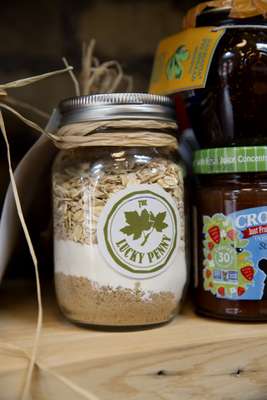 This handy neighbourhood market echoes what's happening at another venture on the opposite side of the country. Set in Vancouver's residential Cambie area, The Mighty Oak was opened in 2012 by John McClelland and his wife Heidi, occupying a lot attached to their house. "The corner had tremendous potential to become a small grocery store serving the community," says John of the venue, which carries a well-balanced mix of local quality goods and imported healthy foods: produce and dairy from British Columbia, homeware by Abeego, a Mighty Oak-branded line of nuts and spices, and fresh pastries from the nearby Monte Cristo Bakery.
Both The Lucky Penny and The Mighty Oak cater to a new breed of food and health-conscious urban dwellers who pop in several times a week just like shoppers do in Europe. That is in marked contrast to the typical big-haul, once-a-week shopping routine – so popular in car-heavy midwest US or the vastness of northwest Canada. These independent corner shops trace a new trend in quick-stop shopping: a standout against the impersonal experience of browsing through the aisles of North America's megamarts. "Less than a decade ago people started moving back to the urban centres and, consequently, retailers are now responding to their needs," says Phil Bloodworth, PwC advisory principal. "The surge of the downsized neighbourhood shop is particularly noticeable in major metropolitan hubs where everything is built around foot traffic and the customers don't have a lot of time to shop, nor drive to a larger grocer." Plenty of big-name chains, such as Walmart and Canada's Loblaws, are also jumping on the small-shop format as a reaction to the independent-convenience store trend – especially in densely populated urban areas.
"A few years back, the average size of a grocery store was between 4,200 and 5,500 sq m," says Lisa Sedlar, founder of Portland's healthy Green Zebra Grocery. "Today, a smaller 460 sq m shop looks more like the traditional general store a lot of Americans still remember." According to Sedlar, the new corner-shop set-up is evolving around the 20-minute-neighbourhood concept, an idea whereby city dwellers should live within a 20-minute walk or bike ride of everything they need: banks, schools, parks and healthy food.
Dubbed "7-Eleven meets Whole Foods", the first Green Zebra shop opened in the residential Kenton neighbourhood in late 2013. The second instalment is planned in Richmond this summer with 18 more to follow by 2020, expanding to Northern California and Washington State.
It's fair to say that the goods at these new corner shops aren't necessarily as cheap as at the megastores. Still, because the prices remain decent and because they are known for a focus on independent brands with better quality, these retailers are considered solid value among the core neighbourhood shoppers. The icing on the cake is the service. "The cashier at your neighbourhood grocer is a friendly face behind the counter who says hello when you walk in," says The Lucky Penny's Rix. "We know the coffee preferences of most of our early-bird customers. This not only speeds things up on busy mornings but also brings a smile to their faces."
While, according to Bloodworth, megastores are not going anywhere "as there will always be people who crave product exuberance and discount deals of the megachains", he believes the reinvention of the corner shop will continue. "Grocers have led the quick-one-stop trend and I see hardware stores and electronics retailers following."