Pocket urbanism / London
The sky's not the limit
As on-trend as developing a High Line may be to city planners seeking a legacy, we'd urge them to consider a more workable, sustainable and genuinely useful alternative method to rejuvenate their patch. Herewith: 10 of our own.
It's 1970 and you're the mayor of a mid-size North American city that needs to somehow make its mark on the continent. Once a year you manage to attract tens of thousands with an annual farming trade fair and you have two decent sports teams. You've toyed with a new airport and a sweeping new terminal but you can't be bothered dealing with the various agencies in Washington to pull this off so you've decided what you really need is a "dome". They recently built one in Houston and according to engineers you've chatted to, no less than five other cities are looking at domes to cover their sporting and convention activities.
From the late 1960s through to the mid-1990s, North America became home to the Astrodome, Sky Dome, Carrier Dome, Superior Dome and plenty more. Come the 1980s, domes had become too commonplace and suddenly mayors wanted to build mega-malls to draw tourists and keep locals in service-style employment. A decade later cities wanted to develop financial centres to host multinational banks and insurance providers and as we shifted into the new millennium, London's massive Ferris wheel became a must-have for other global hubs short of more monumental ideas.
As we hurtle toward 2020, you're unlikely to be seen as much of an urban innovator if you don't have some form of a High Line on the go within your city limits. Just as domes and Ferris wheels have defined their respective decades, an elevated stretch of landscaped track intersecting a city seems to be the defining feature for this part of the century.
Never mind that the Manhattan original is particular to its street portion of the Lower West Side – cities from China to Australia back up to Canada are all keen on having their own High Lines to show that they, too, are leaders in progressive urban living. Many are missing the point and creating levitating expanses of concrete and shrubbery from scratch rather than repurposing derelict overpasses or rail lines.
Over the past two years we've been presented with no less than 10 High Line-inspired concepts as cities search for what they think will be unique regeneration and marketing opportunities for their various departments and promotion agencies. Sadly for residents and visitors alike, far too many City Halls emphasise the high-impact one-off rather than looking at smaller, more relevant initiatives to improve daily life for locals and instil a sense of envy for those just passing through. In place of these often too-grand gestures and occasional white elephants, clued-up politicians and planners might want to embrace pocket urbanism (think well-proportioned parks, buildings wedged into awkward lots, mini-markets lining unused laneways) over large-scale development.
Where budgets, timelines and expectations are blown by erecting singular structures, there's more to be said for creating nooks and enclaves that connect one neighbourhood to the next. From a business perspective it's poltically astute to start encouraging young entrepreneurs to set up a stall. And isn't it more calming for everyone to be politely credited with politely punctuating the urban landscape, rather than bellowing over others?
From Taipei to Melbourne, Kyoto to Copenhagen, we've considered the elements that make pocket urbanism the healthier prescription for cities looking for a fresh regime.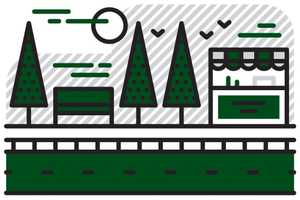 1- Laneway lift
A beautification and business opportunity
Narrow alleyways and lanes lacking sunlight are too often regarded as service thoroughfares rather than arteries for small businesses to set up weekend stalls or stand-up bars.
As high streets become the domain for big chains and deep-pocketed independents, laneways present opportunities for creating covered gallerias that can accommodate smaller retail formats while also redirecting traffic to other streets, thus opening up neighbourhoods to more visitors.
2- What lies beneath
Designs on filling in the blanks
There's a small, sloping patch of Roppongi in Tokyo that manages to combine an underground bicycle-parking garage, public toilets, greenery and well-positioned benches.
It's a textbook example of pocket urbanism as it's not only small in scale but also an example of how a seemingly unusable space can be fashioned into a place to park, pee and find a patch in the sun.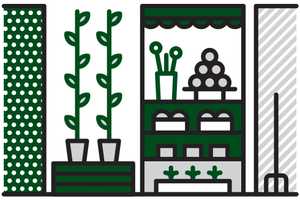 3- Running wild
Greening the streets
As many cities and developers find trees an unnecessary expense and choose to plant saplings (that don't have a hope in hell of surviving) instead of mature trees, letting public pavements run wild makes for richer-looking streets.
Kyoto, Taipei and Hong Kong all offer good examples where local residents/business owners allow their greenery to run onto pavements, making their neighbourhoods look healthy and well kept.
4- If you go down to the woods...
Real urban jungles
Plots of land that are unlikely to be developed in the short term should be allowed to grow their own way (with a bit of guidance and grooming).
In place of perfectly groomed parks, dense thickets can host birds and bees and even the odd hut offering up good coffee or hearty micro-brews.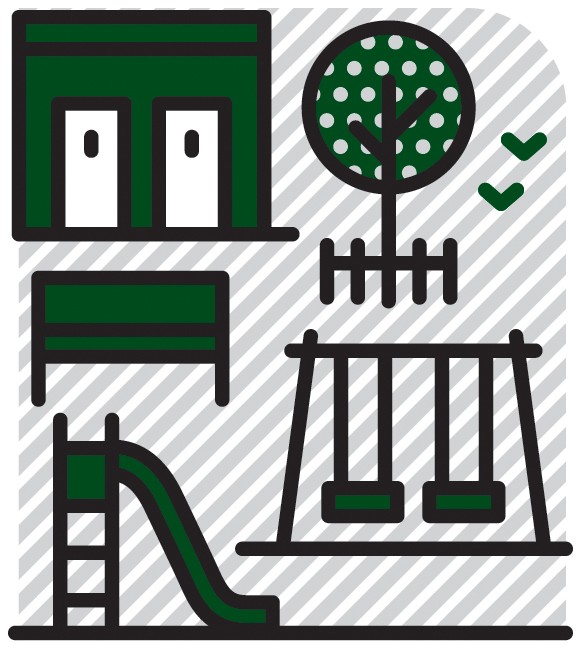 5- Child-exhaustion parks
Play hard, sleep harder
Rather than simple arrangements of slides and swing sets, pocket parks can be developed to ensure children get a proper workout and parents can walk home assured their kids will pass out the moment they're through the front door.
Designed with climbing hills, water spouts, plenty of climbing structures, clean bathrooms and changing facilities – and a well-stocked kiosk for parents to sit back and watch the chaos.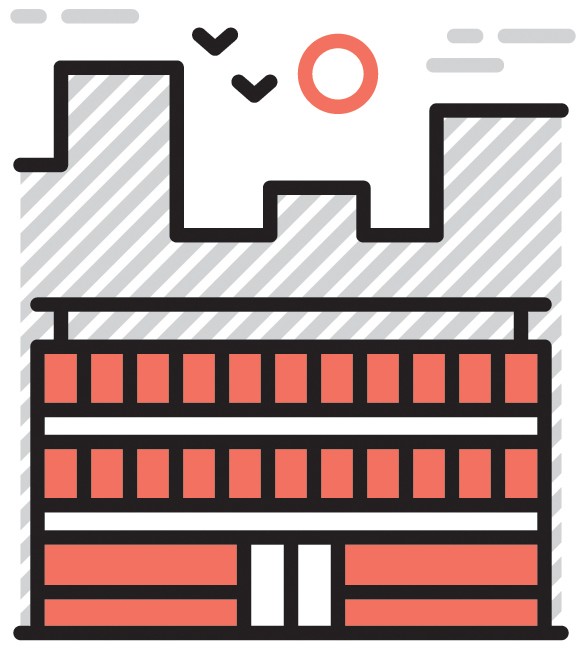 6- Small and cosily formed
Create your own neighbourhood
Tokyo's Yoyogi Village and Bangkok's Barkyard (see page 112) are good examples of how a bit of vision applied to awkward plots of land can not only create entirely new communities but also offer opportunities for various start-ups and experimentation. By going for small-scale builds, costs are kept in check and tiny floors translate into lower rents.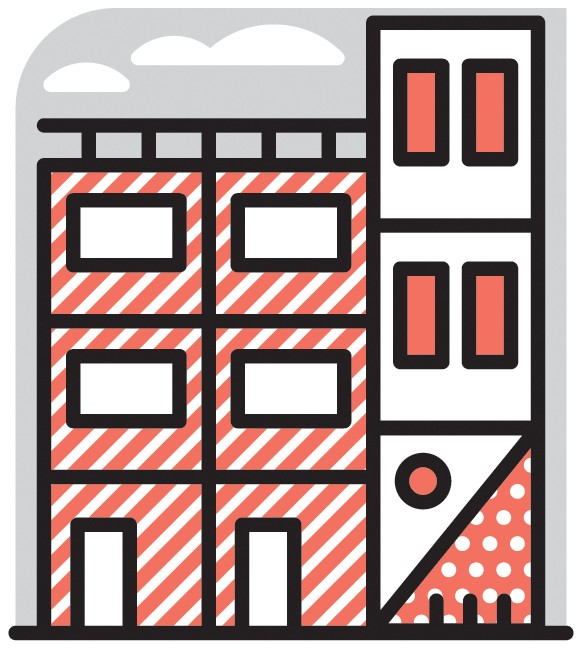 7- Lean living
Space for trimmer townhouses
Empty car parks jammed behind a tangle of buildings can take a more charming turn by rethinking the possibilities with lankier townhouses – constructed in easy-to-fit, pre-fab dimensions. Swiss-based Blumer Lehmann is a master of such concepts, including wooden school structures fully fitted with all necessary electrics and plumbing.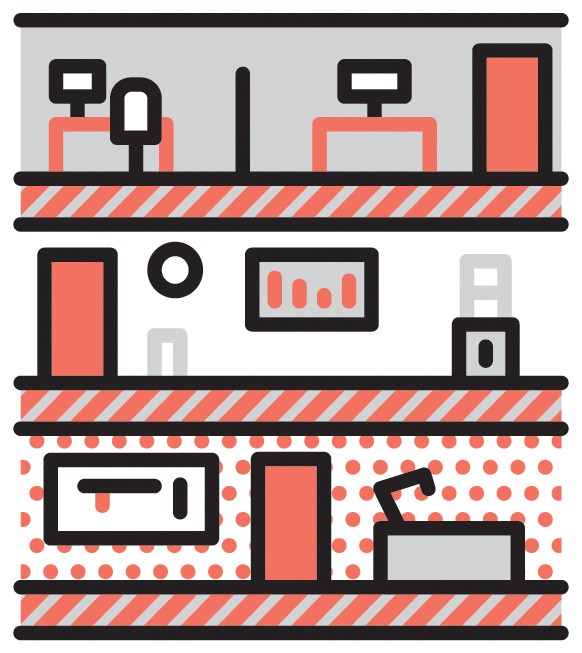 8- The shophouse relaunched
A Southeast Asian classic for live/work
Given that more developers are in search of unique retail and food-and-beverage operators while also encouraging more small-scale start-ups, a return of the three to four-level shop house with retail/services at ground level and offices and living above are ideal for rekindling the metabolism of sleepier neighbourhoods.
9- The hum of the city
Light industry as an economic engine
Wander the streets of Zürich and you'll still find woodworking shops, printworks, metal-bashing ateliers and other firms that display a bit of muscle. While many cities are focused on moving industry to the suburbs or beyond, moving workshops onto hard-to-lease side streets may offer broader job opportunities for mayors battling with high youth unemployment.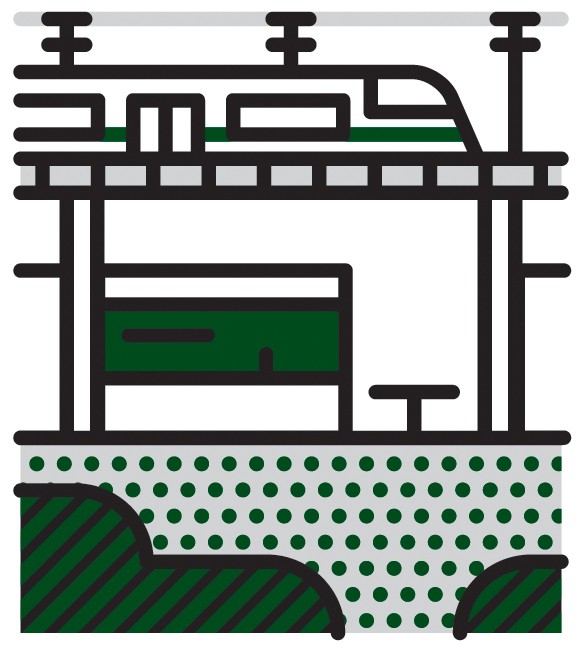 10- Follow the low line
Time to fill in the gaps
While it's not new to see businesses being run beneath railway arches, there are still too many centrally located spaces in major cities that are ripe for redevelopment as retail and service pockets. Tokyo-based JR East's vision for land around Shinjuku will be the most interesting to watch over the coming years following their successful station redevelopment in Akihabara.