Cartagena / Colombia
El Centro
In the 1980s the only deals being done in Cartagena were for cocaine. Now the drugs barons have been kicked out and the property kings are moving in to one of Latin America's most promising cities.
When asked to pinpoint what makes Cartagena so special, people usually end up comparing this fortressed city with other places. It is like Dubrovnik but in the Caribbean or Cádiz but with better weather. Its courtyards, they say, are reminiscent of Moroccan riads and its narrow cobbled streets like Seville. But it also has probably the biggest concentration of Spanish colonial buildings anywhere in South America.
"You won't find anywhere else in the Americas that has so much beautifully conserved Spanish colonial architecture with remnants of Arab influences on such a large scale as you'll find in the historic centre. It's through this rich legacy that the magic of Cartagena transcends the Old and New worlds," says local architect Fernando Benitez.
After years of neglect during the height of Colombia's cocaine wars of the 1980s, Cartagena is now revelling in a new heyday. Its thriving gourmet scene and al fresco dining, several well-established arts festivals and a burgeoning property market are all part of the city's renaissance. And despite the recent influx of European high rollers and Colombia's elite snapping up properties, the main characters in this city remain its friendly residents – from the fruit and flower sellers, emerald dealers, and university students to the wandering dance groups.
The city has retained its informal, village atmosphere. It's the kind of place you will see neighbours exchanging gossip on street corners, old residents rocking on wicker chairs on porches on a balmy night, impromptu dancing on balconies, and romances kindled on top of the city's ramparts at dusk.
To escape the heat, locals head to the Rosario Islands. A short boat ride from Cartagena, the islets and mangroves of this coral reserve are great for island hopping and diving.
Cartagena is spilt into three distinct districts. During the conquistador era, Spanish merchants made rich on the back of the slave, emerald, and gold trade built elegant mansions in the El Centro and San Diego quarters. Today savvy European investors and Colombia's monied elite either looking for a luxurious holiday home or a lucrative rental investment are descending on these neighbourhoods and buying derelict buildings and restoring them to their former grandeur. They have filled the courtyards with trickling fountains, planted cascading bougainvillea, bleached wood-beamed balconies, retouched white coral stone walls and installed pools and roof-top Jacuzzis at a frenzied pace. Restoration costs will set you back around €1,000 a sq m if renovating a run-down building from scratch.
In the Getesmaní district, the gentrification of one-storey houses once home to African slaves and artisans is less hectic. While prices have soared in El Centro in the past three years, there is still a chance to snap up a bargain in Getesmaní, but the pundits say that will not last for very long.
Mila
Calle de la Iglesia 35-76 Billed as the best bakery in town, Mila is a fashionable place to stop for a snack.
Casa Floral, Art Cartagena
Calle Vélez Daníes 4-15 Knowledgeable curator, Norma Uparela, showcases homegrown talent in her studio, including the oil paintings of Alfredo Piñeres, a former maker of rat traps.
Ábaco libros y café
Calle de la Iglesia con Mantilla Esquina 3-86 Frequented by the local intelligentsia, this is a relaxed place to browse art and coffee-table books with wi-fi and a small bar serving coffee as well as Chilean wine.
Parque de las Flores, Avenida Venezuela
Most sellers have been at this street flower market for decades. Find sunflowers, ginger flowers and bird-of-paradise flowers shipped in from the capital.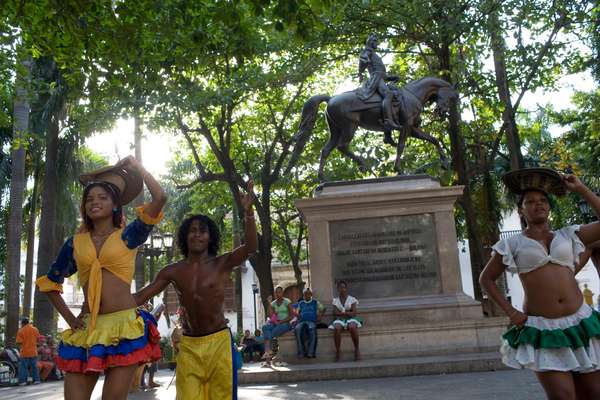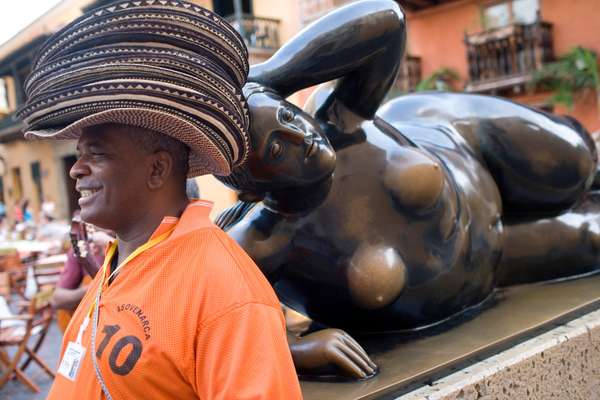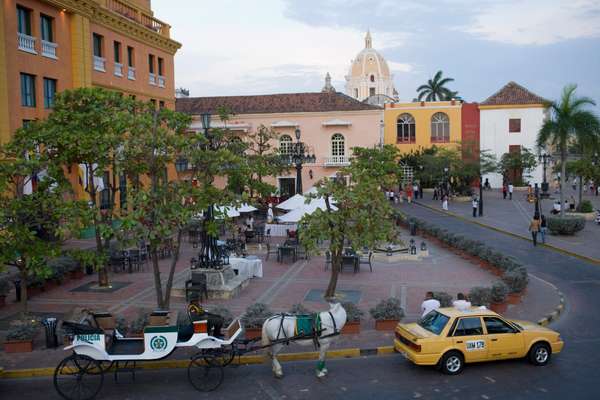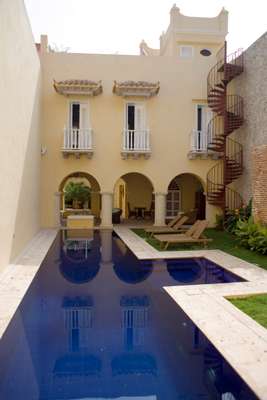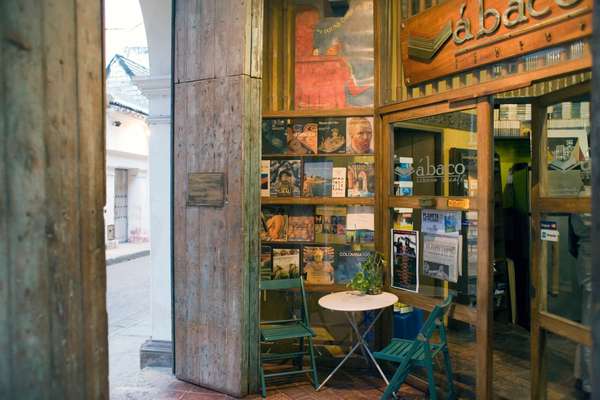 Lucy's
Edificio Cuesta, Calle Santo Domingo 3-19 Lucy has been on the block for the past 25 years and stocks the shiniest green beryl stones bought directly from Colombian miners. The emerald cutters working in the shop can do made-to-order commissions.
Estudio Morfo
+ 57 315 721 8921
estudiomorfo.com
A much sought-after American-Colombian team who divide their time between Paris and Colombia. They specialise in residential, hotel and retail developments using local craftsmen and materials.
Martha Wiesner and Eduardo Mendez
+ 57 316 834 1827
Busy local architects credited with a range of restoration projects.
Patrick Enste, La Heroica
+ 57 316 874 7656
laheroica.com
Expat Patrick is well-versed in Colombia's attractions and an expert on the local property market.
Rosanna Aranguren Velez, Inverfin
Centro Calle de Ayos Edificio 35-26
+ 57 310 630 0969
Rosanna has 14 years' experience in helping foreigners buy property in Cartagena.
Cultura del Mar
Calle del Pozo 25-95
+ 57 310 714 2683
culturadelmar.com
A group of attentive young Colombians who organise diving trips to the coral reef at Rosario Islands.
Flights to Cartagena:
From New York
Continental – one flight daily via Bogotá
From Madrid
Iberia – one flight daily via Bogotá
From Paris
Air France – one flight daily via Bogotá
Juan Valdez
Plaza de la Universidad Situated in the historic centre, find fine Colombian coffee and great croissants.
La Casa de Socorro
Calle Larga 8B-112
+ 57 5 664 4658
The local's favourite. Famed for its seafood dishes and unfussy fare. Order the crab claws or cazuela de mariscos, a creamy seafood soup with a tang of coconut served with plantain cakes.
Vitrola
Calle Baloco 2-01
+ 57 5 660 0711
Vitrola is an institution in Cartagena. It is often packed with well-heeled Bogotános during the holiday season, so book ahead. Expect fresh catch, slick service and a well-stocked cocktail bar.
Havana
Calle Media Luna
with Calle del Guerrero Havana has an authentic bohemian vibe and the Cuban bands playing here three times a week draw in the local crowds as well as the odd European yachtsman.
Quiebra Canto
Parque Independencia A regular fixture on Cartagena's nocturnal scene, here you'll encounter a steamy dancefloor taken over by Colombian couples. Its balcony has seats from which to drink the local sweet rum and enjoy a fine view of the city at night.
Café del Mar
Baluarte Santo Domingo, El centro
Its location on top of the city's fortifications makes this one of the best spots for an aperitif at sunset. Bar stools are sandwiched between rusty cannons and turrets with views of the Caribbean on one side, and the floodlit church domes and rooftop terraces of the historic quarter on the other.
Stay
Hotel to stay in while house-hunting
LM
Calle de la Mantilla 3-56, +575 664 9100, hotel-lm.com The new kid on the block in the booming boutique hotel scene. A restored 18th century mansion with an eclectic blend of modernist-colonial styles, oversized sun loungers and pool on the rooftop terrace.
Flat to rent while you're house-hunting
Edificio Puesta, Plaza Santo Domingo
Rented by Rosanna at Inverfin estate agents, + 57 310 630 0969
Renovated by Martha Wiesner, the view of the sea and terracotta rooftops overlooking Santo Domingo square and cathedral makes this two-bedroom flat stand out. Use of the pool in the leafy courtyard is included.
Martha Carrascal
Secretary
"I've lived all my life in Cartagena and I can't imagine living anywhere else. The people make this city what it is. We're a place that welcomes visitors with open arms, where people talk to their neighbours. Just walking around the city is a pleasure. I love to stroll by the old walls at sunset and take in the sea breeze. It's all very romantic."
Yamid Gonzalez
Law student
"There's a sense of warmth and joy to be found in this community. Cartagena's a diverse mix – Europeans, Arabs and Africans. The historic centre is like a small town, but I can meet people from all over the world. I like to go to the beaches on the islands at the weekend. It's the best city in the world."
Martin Murillo
Keeper of Cartagena's mobile library
"Cartagena is a city where cultural exchanges take place all the time. There's a constant cycle of activities and entertainment, even when it's not high season. People are always interacting with each other. And it goes against the stereotype of a violent Colombia. You'll find no blood on the streets, but people living peacefully side by side. It's a safe town. Everything I need, I can find within these walls. I like reading in the squares filled with palm trees that keep me cool. At the moment, the old buildings are being renovated and there's a sense of optimism. It's never been so good here."
Carmela Paez
Chef and restaurant owner of La Cocina de Carmela
"I come from a Lebanese family. Cartageneros are a blend of different flavours. People here have cheek-to-cheek smiles. We're happy people. I like to draw on our rich, indigenous heritage and it's important for me to use fresh local produce. There's an abundance of talent and craftsmanship. I rely on our growers for the foods such as seafood, tuna and fruits. Six years ago, Cartagena wasn't opened up to the world. But we're receiving more visitors and I enjoy sharing the best of our local cooking."
Property guide
Average prices for houses
El Centro, the areas around Plaza Santo Domingo, Santa Teresa Hotel and Santa Clara Hotel (prime location)
Unrestored €1,696 – €2,374 per sq m
Restored €3,391 – €4,070 per sq m
El Centro, the areas around Plaza de los Coches and Parque Fernández Madrid
Unrestored €1,560 – €2,035 per sq m
Restored €3,052 – €3,731 per sq m
Notary costs 0.35 – 0.5 per cent (of purchase price) split between seller and buyer
Registration duty 1.5 per cent
Government tax 1.5 per cent
Agent's fee 3 per cent, paid by seller
It has become easier for foreigners to buy in Colombia and there are few restrictions. In fact, foreign investment is positively encouraged. You might want to hire a lawyer to navigate the red tape but using a trusted estate agent will often suffice. Probably the easiest way to buy is to wire money directly to the estate agent's bank account. Or you can set up your own Colombian bank account. Alternatively, you can set up a private company to purchase a property. Tight anti-money laundering laws mean you have to prove cash from a foreign account is clean. The matrícula immobiliaria is a crucial document that outlines the history of a particular property including its previous owners and mortgages. This allows you to verify whether the seller is the bona fide owner of the property and if any debts on it have been settled. If in any doubt, hire a lawyer. If you're renovating a ruin from scratch, strict regulations concerning the original façades and layout exist. Expect up to six months for a decision and another 15 months for the restoration.