Summer stays / Global
Be our guest
We unpack the secrets of the perfect stay, including a Cape Town gem, a surf-tossed Portuguese retreat and a hotel from a famous Japanese brand. First we get a warm welcome in LA.
Sunny stay
Firehouse Hotel
Los Angeles
In his 1970s book about the architecture of Los Angeles, critic Reyner Banham famously penned a dismissively threadbare chapter offering simply "a note" on Downtown. His contention? That this was all that the bleak area of gridded streets and warehouses deserved. One imagines he'd think differently today. Downtown is now one of those rare parts of LA that's actually walkable, particularly the Arts District on its eastern edge. Over the past few years aged warehouses – remnants of its 20th-century industrial boom – have been transformed into coffee shops, galleries and restaurants.
The new nine-bedroom Firehouse Hotel (no relation to the similarly named London hotel) is the first to open in the Arts District. It's housed in what was once Downtown LA's Engine Co No 17. The station, dating from 1927, was largely untouched despite being out of service since 1980. So when the building's owner approached Dustin Lancaster – who'd found success with Hotel Covell in Los Feliz and restaurants l&e Oyster Bar in Silver Lake – he jumped at the chance to launch a new venture. "It's this brick behemoth," he says. "I was enamoured with it."
Lancaster wanted to pay homage to both the building and the flourishing district's heritage. "This is an LA project through and through," he says. "It's a true collaboration of LA artists and designers." When it came to renovating the space he brought on board designer Sally Breer and her team at Etcetera, with whom he had first worked on Hotel Covell.
"It was a balance of respecting the architecture and the city we're in while trying to create something new," says Breer. As such, exposed wooden beams in the ceilings, original features such as the big, red doors and even a hose-drying tower have been left intact. What was once a handball court used by firemen was kept in place and has been turned into an event space. Each guestroom is named after a colour, which lightly informs the design within (no bright-red walls here), and features thoughtful details and amenities such as custom-made seersucker bathrobes from local accessories designer Clare Vivier.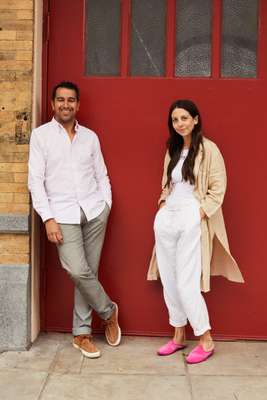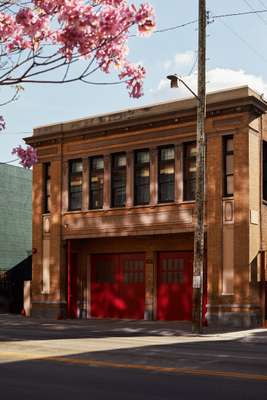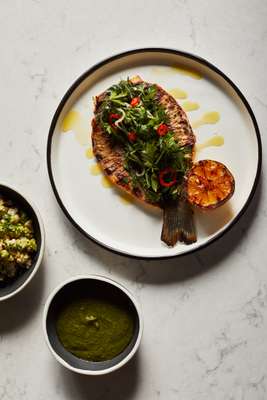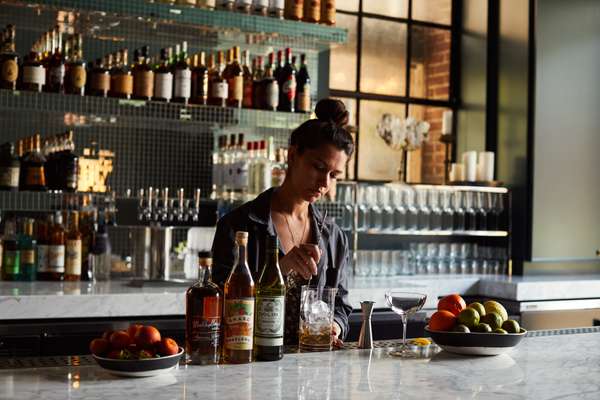 This LA loyalty is also reflected in the hotel's menu. The Firehouse's head chef, Ashley Abodeely, hails from New York (she's an alumnus of NoMad and Eleven Madison Park) and says she was delighted by the possibilities afforded to her working in a West Coast kitchen. "LA seasonality is super-vibrant and fresh," she says, as grilled delicacies from steak to sea bass are served on the restaurant's sun-dappled patio. "It's the kind of place people can come once a week or for a special occasion."
Lancaster echoes that idea. "It's for people seeking something special," he says. "If I had 200 rooms I couldn't make each one unique. With nine we could make each one stand out. This is where I'd want to stay if I was travelling."
firehousela.com
Eat: Bestia: An internationally renowned Italian restaurant from husband-and-wife team Ori Menashe and Genevieve Gergis. Try the burrata pizza.
bestiala.com
Soffee: Bread Lounge: This bakery and café next door to the Firehouse Hotel serves scrumptious pastries, bagels and sandwiches too.
breadlounge.com
Browse: Hennessey + Ingalls: One of the largest art, architecture and design bookshops in the US – and an LA institution.
hennesseyingalls.com
Drink: In Sheep's Clothing: Something of a hidden gem in the Arts District, this bar and hi-fi lounge mixes a mean cocktail.
insheepsclothinghifi.com
Shop: Poketo: With several locations in LA, this shop is known for tasteful stationery as well as ceramics, clothing and accessories.
poketo.com
Visit: The Broad: A contemporary-art museum in Downtown, showcasing the likes of Yayoi Kusama and Jean-Michel Basquiat.
thebroad.org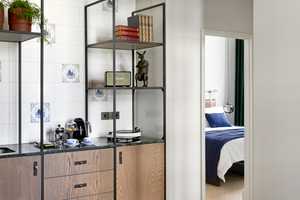 Urban hideaway
Gorgeous George
Cape Town
Towering mountains, powdery beaches, rippling vineyards: Cape Town's gobsmacking good looks justifiably hog the limelight. What too few visitors realise, though, is that its compact urban centre is worthy of a stay too. Nestled at the foot of Table Mountain, its walkable streets are lined with galleries, independent retailers, quirky museums and lively pavement cafés in a cornucopia of architectural styles, ranging from quaint Victorian to brutal modernism.
While most of the city's boutique hotels are based in outlying suburbs, a new arrival is determined to buck the trend: Gorgeous George, which opened in March. The 32-room hotel is the result of a sensitive restoration of a couple of early-20th-century buildings, with exposed concrete elements adding a dash of industrial daring to the interiors.
Each room is an exquisite showcase for South Africa's thriving creative scene, featuring murals by David Brits and furniture by David Krynauw and Gregor Jenkin. While international guests will feel at home here, it is very much a place for Capetonians too. Gigi, the hotel's sixth-floor rooftop bar and restaurant, is an all-day affair offering delights, from executive chef Guy Bennett's scrumptious shared plates to cocktails made by barman Jody Rahme.
"Gorgeous George was born out of the need for community, where global creatives can share ideas with local powerhouses and stories and memories will be made," says the owner, Tobi Alter. "Our event programming is going to give locals a platform to elevate their network; artists and designers will have the opportunity to exhibit their work in our ground floor event space. Tech talks, panels, boozy brunches and power lunches – and, of course, sunset sundowners on our rooftop – are just a taste of what our programme will look like."
gorgeousgeorge.co.za
Eat: Upper Bloem: Andre Hill's Bo-Kaap roots inspire his Cape Malay-infused restaurant. The shared-plate set menu is artfully paired with top Cape wines.
upperbloemrestaurant.co.za
Coffee: Deluxe Coffeeworks: This roastery serves the finest flat white in town.
deluxecoffeeworks.co.za
Drink: Publik: This cosy spot offers terroir-driven wines (and a mean negroni too).
publik.co.za
Shop: Missibaba: The place for leather handbags, totes, purses and weekend bags, all handcrafted in Cape Town.
missibaba.com
Visit: Zeitz Museum of Contemporary Art Africa: Set in a waterside granary transformed by Thomas Heatherwick, this is the continent's leading showcase for contemporary African art.
zeitzmocaa.museum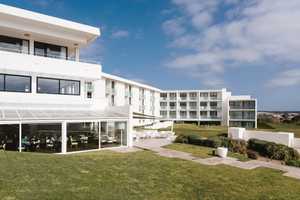 Seaside retreat
Memmo Baleeira
Sagres
Sagres sits in the far southwest corner of Portugal, where the western Atlantic coast meets the southern Algarve beaches. It is unspoiled and elemental: high cliffs fall vertiginously to a tumultuous sea; waves crash and swirl against the rocks; the wind tastes of salt and heather; and herbs and grasses form a slim clifftop wedge of green between the blues of ocean and sky.
This former fishing village has become a favoured destination for surfers and in-the-know travellers, lured by its waves, wilderness and the simple luxury of the Memmo Baleeira hotel. Its co-founder and managing director Rodrigo Machaz is a surfer himself. "Sagres attracts people who want to slow down," he says, his hair tousled from a recent dip in the water. "The ocean is all around and you can really disconnect and unwind."
The hotel originally opened in 1962 in a low-slung building overlooking the sea. Memmo acquired the property in 2007 and appointed architect Samuel Torres de Carvalho to subtly revamp the space. Much of the architecture and some original furniture, such as the 1960s vintage dining chairs, have been retained. The 111 rooms and 33 suites feature neutral interiors with pale wood floors, jute rugs and pleasing details such as leather door pulls and hand-woven blankets.
Along with a restaurant and bar overlooking the ocean, the hotel has a spa, indoor and outdoor pools and a surf centre for storing boards or arranging lessons. "Right from the start we wanted to create a place that would appeal to a cosmopolitan audience," says Machaz. "Luxury today is not about having marble bathrooms: it's much more about having time and tranquillity, the chance to drink a beer and watch the sunset over the sea."
memmohotels.com
Eat: Restaurante Carlos: This family-run spot offers superlative traditional Portuguese dishes, such as Feijoada de Choco (squid and bean stew).
Rua Comandante Matoso
Coffee: Gelateria Alice: Alice serves good coffee but is more famous for its handmade ice-cream; pistachio is a best-seller.
Rua de São Vicente
Drink: Pau de Pita: Order a cocktail, wine or beer and head for the upstairs terrace to watch the sunset.
Rua Comandante Matoso
Shop: Cerâmica Paraíso Mó: This 70-year-old ceramics shop offers vases, bowls, plates and decorative pieces.
125 Estrada Nacional
Visit: Cabo de São Vicente lighthouse: Brave wind and vertigo to visit the point where Europe ends.
Farol do Cabo de São Vicente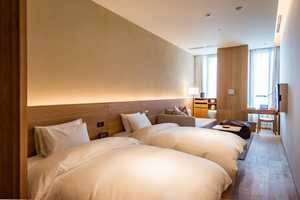 City getaway
Muji Hotel
Tokyo
Amid the many hospitality developments birthed by Japan's booming tourism industry, the new Muji Hotel, opened in April, is a standout arrival. A five-minute drive from Tokyo Station, the 11-storey building in Ginza is not only home to the hotel but it also houses the Japanese brand's new global flagship shop and a Muji restaurant.
Designed and run by Tokyo-based urban-planning agency uds, the "anti-cheap, anti-gorgeous" 79-room hotel embodies Muji's brand in three dimensions and looks the part with its stone and oak interiors. "We used materials that people would like to touch," says Keiichi Ito from uds, who created the interior with Muji's design team. "Comfortable lighting is also part of the design," he adds. Guests can choose from a 14 sq m basic room to a 52 sq m deluxe with a custom-made hiba cypress bath.
The hotel's restaurant, Wa, serves Japanese dishes such as toriten chicken tempura, teishoku lunch sets and hotpot-style Wagyu sukiyaki, while the salon offers everything from yuzu green tea to martinis and saké against the neon-lit backdrop of Ginza.
Jetlagged guests can linger in the library corner or run revitalising laps around the nearby Imperial Palace (ever-practical, the hotel rents out running gear). Japan could use more establishments like this.
hotel.muji.com/ginza
Eat: Shiseido Parlour: Dress smart and tuck into superb yoshoku such as curry rice, croquettes or omu-raisu.
parlour.shiseido.co.jp
Coffee: Café de L'Ambre: This classic café, open since 1948, serves the best Blanc et Noir coffee.
cafedelambre.com
Drink: Star Bar Ginza: No trip to Ginza is complete without a visit to this renowned institution, headed by Hisashi Kishi.
starbar.jp
Shop: Ginza Itoya: The go-to place in Tokyo for Japanese stationery.
ito-ya.co.jp/ginza
Service: Barber Nihonbashi: Housed inside the Takashimaya department store, this barber will trim your beard and cut your hair to leave you looking sharp.
thebarber.jp/nihombashi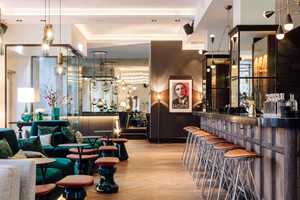 Waterfront wonder
Amerikalinjen
Oslo
The recently opened Amerikalinjen is near Oslo's waterfront in the former headquarters of the Norwegian America Line, from where close to one million Norwegians embarked to the US in search of a better life at the beginning of the 20th century. Now it's a place you'd rather not leave. The hotel's convivial restaurant Atlas Brasserie and its bars Pier 42 and Gustav (the latter of which is reminiscent of a New York jazz club), encourage residents and visitors alike to drop in for a drink, while the leafy indoor courtyard serves as a space to work and relax.
"Oslo is a vibrant city with much to offer in terms of design and creativity," says Petter Stordalen, Amerikalinjen's founder and owner of Oslo's The Thief hotel. "I wanted to support that by using local companies such as Holzweiler for staff uniforms, Sprekenhus for bathroom amenities and Eikund, a company that revives mid-century Norwegian furniture."
All 122 guestrooms and suites have high ceilings and large windows, some with balconies overlooking the Snøhetta-designed Opera House. "We wanted to counterbalance the building's beautiful original features with airy, playful design that brings a little bit of New York to Oslo," says Stordalen. "This hotel tells the story of people in motion."
amerikalinjen.com
Eat: Hrímnir: Blending Japanese and Nordic culinary traditions, this restaurant's use of smoking, fermenting and grilling makes for a bowl of ramen unlike any other.
hrimnir-ramen.no
Coffee: Fuglen: Coffee bar by day, cocktail bar by night, this café is just as lively as it was when it opened in 1963.
fuglen.com
Drink: Bar Bellini: Go for a Campari soda aperitivo amid the wood-panelled decor.
barbellini.no
Shop: F5 Concept Store: This womenswear retailer exclusively stocks Norwegian brands, from Moe Oslo to Julie Josephine Essentials.
f5conceptstore.com
Service: Rosl: A bike-rental shop that doubles as the Rouleur Bar & Café, this is an ideal starting point to explore the forests beyond the city thanks to its guide service.
rosl.no