Travel / Tucson
Tucson, USA
In the Arizona desert, Tucson has an arid climate but a bountiful creative scene – and both are drawing in eager visitors.
Along Tucson's southeastern edge, where the city's low-lying earth houses give way to the vast and arid Sonoran Desert, a peculiar sight expands beyond a row of fences. More than 4,300 defunct military aircraft are neatly aligned, occupying the largest aero­plane boneyard in the US. They sit moored in this stretch of desert, near the Davis-Monthan Air Force Base, for the same reason that "snowbirds" – elderly Canadians decked out in turquoise and wide-brimmed sun hats – flock to southern Arizona: the climate. With dry heat and scarce rainfall, the desert is a natural site for preservation, where metal is free of rust and engines are embalmed, ready to be scav­enged for a second shot at life.
At first glance Tucson, a sprawling city of half a million people, dotted with auto-body shops and Circle K convenience stores, seems unlikely to be one of the US's most exciting cities. But there's more to it than the promise of 350 days of annual sunshine. "To really understand Tucson you have to scratch the surface to find the diamond in the dust," says Charlotte Hoffman, a 71-year old Tucsonan, who, along with her husband Jon, occupies a house of burnt adobe designed by desert modernist Tom Gist in the city's east side.
As dusk falls over the Miracle Mile – a wide, motel-lined thoroughfare just north of Tucson's downtown – a series of neon signs flicker to life. A tall cactus calls visitors to the glowing Monterey Court, while the Ghost Ranch Lodge bares a cow-skull emblem designed by Georgia O'Keeffe. "Not liking a neon sign is like hating American pie," says Demion Clinco, a former Arizona State representative (and the only openly gay member in the House of Representatives at the time) and the current ceo of the Tucson Historic Preservation Foundation. "They weren't manufactured in big factories and churned out like plastic-form signs today. These were one-offs and they're glowing artefacts of postwar America."
In the 1920s, when Tucson was a town of just 30,000 people, the rise of the automobile led tourists to crisscross the newly forming highways threading the country. In the ensuing decades Tucson's highways flourished with bowling alleys and motels, whose parking lots were lit by neon by the 1950s. But in the 1960s, when the larger Interstate-10 cut through Tucson, it skirted the Miracle Mile. Neon signs, once symbols of modernity and family vacations, came to signal seedy motels. They fell out of favour and hundreds were felled across the city.
But today, thanks to the efforts of the Tucson Historic Preservation Foundation, these glowing icons of a for­gotten America have found new life. The foundation has reinstalled restored signs and its members have drawn a clever map guiding visitors to the city's best neon. It's fuelled a small renaissance of fading signage arts, from traditional hand-painting to the bending of neon bulbs. "It's not just about the signs but also the living, intangible heritage required to maintain them," says Clinco. "They're a touchstone to who we are as a city."
There's a broader regeneration story going on in Tucson too, and one that's the envy of cities coast to coast. Tucson's population had swelled to 250,000 by the 1960s, spurred in part by a nearby military base and an aeroplane factory. Blocks of his­toric houses were bulldozed to make way for hulking civic complexes and new suburbs pushed into the city's east valley. While this postwar boom resulted in one of the US's best clusters of mid-century archi­tecture – where modernist principles were adapted to the extreme desert heat with deep, cantilever­ing roofs and seamless indoor-outdoor living – the city's downtown was gutted of investment. Suburban shopping malls lured residents away from the once vibrant city centre, leaving behind vacant storefronts bleached by the Arizona sun.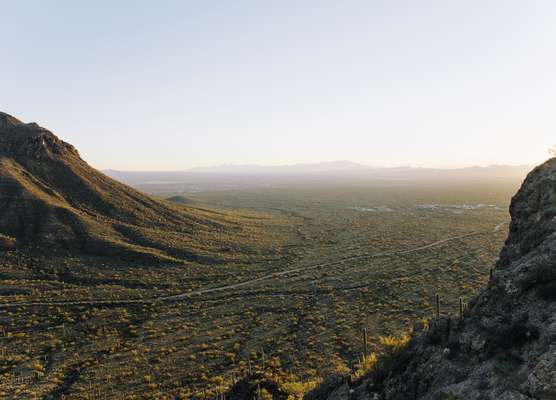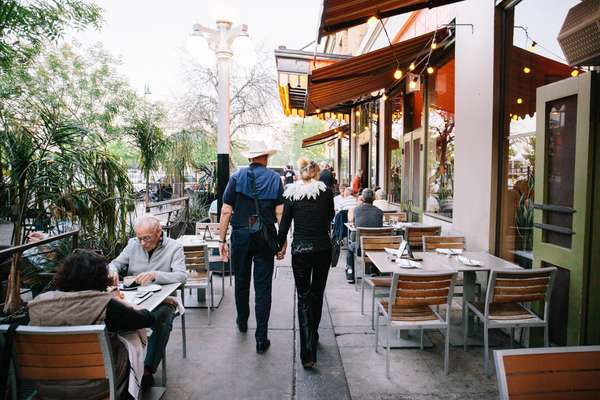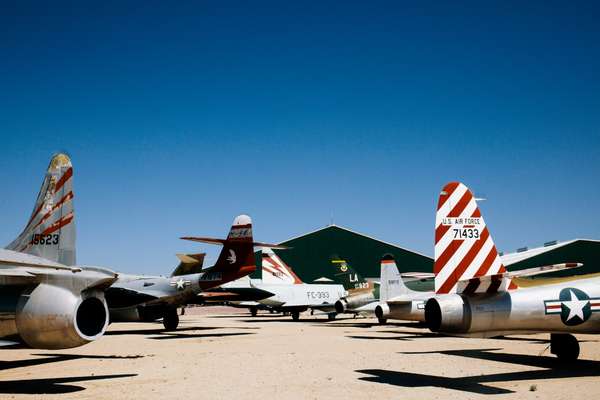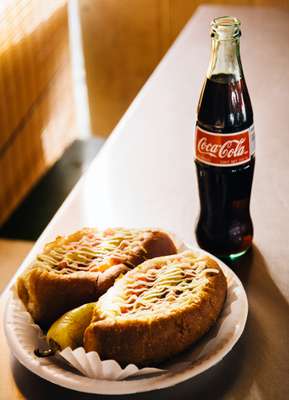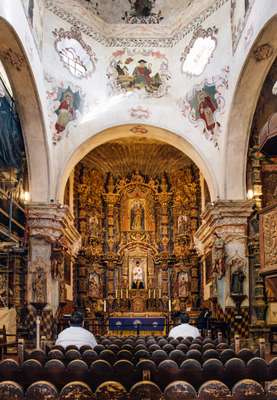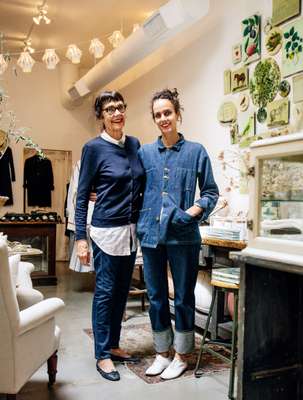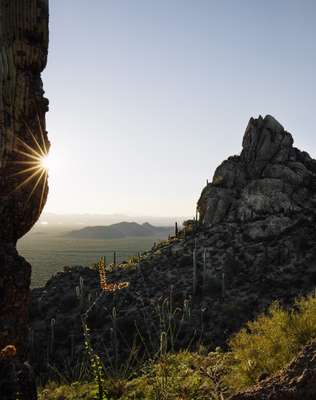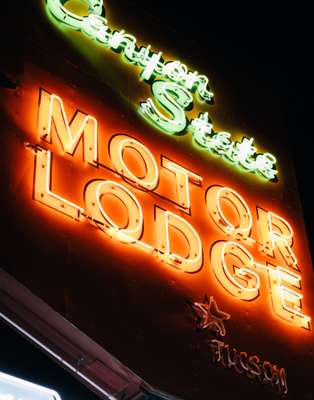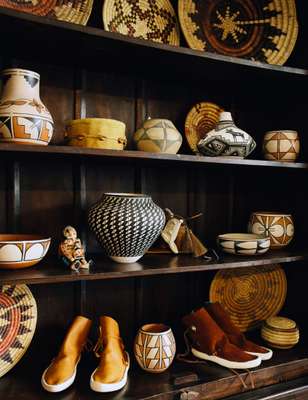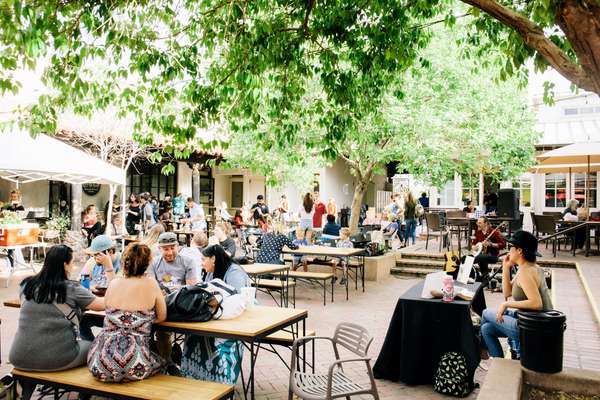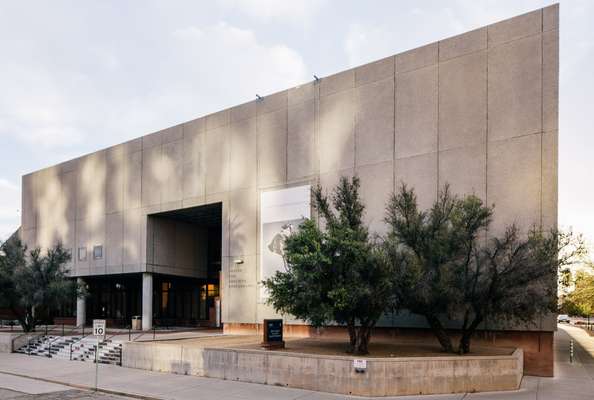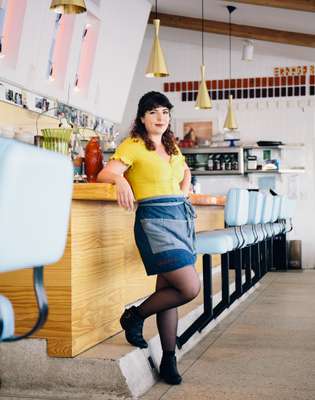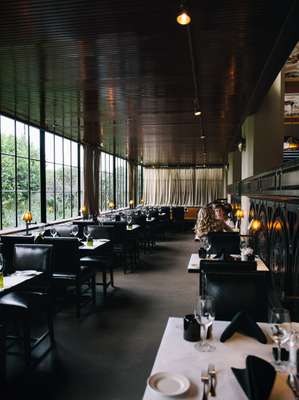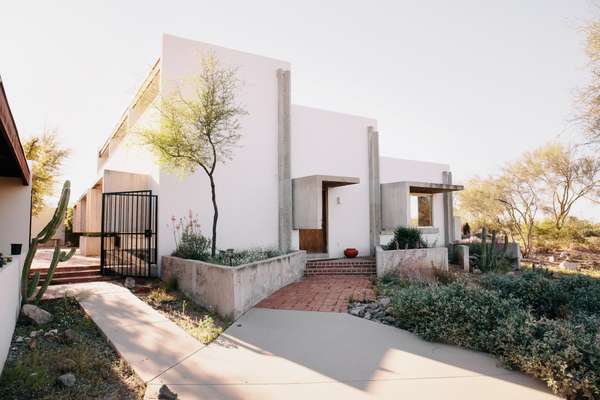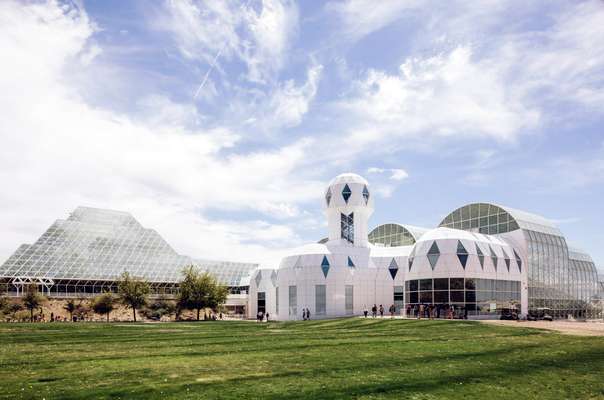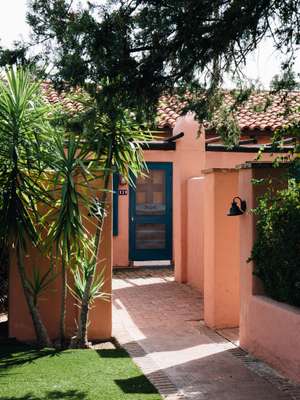 You wouldn't know it looking at downtown Tucson today. The city has invested heavily and when evening strikes and the heat has worn off, restaurants and bars brim with pedestrians, fuelled in part by a new 6km streetcar line built in 2014. "If you're driving, sometimes you won't even make it through a green light because so many people are crossing the street," says Rick Joy, the city's most famous architect, who moved here after a University of Arizona catalogue bearing a sunset and saguaro cactus arrived at his home in Maine during winter.
But to fully grasp Tucson you have to reach further back – past the cars, cantilevered roofs and yes, the cowboys. Long before Tucson belonged to the US or the Mexican state of Sonora, it was the homeland of Native Americans. In the late 1600s, Jesuit missionary Father Kino arrived in the region and founded the Mission San Xavier del Bac. Now found in the Tohono O'odham reservation in southern Tucson, it's the best preserved example of Spanish Colonial architecture in the country. Cultures collide inside the arching mesquite doors, as Christian symbols are interpreted through Native American eyes. "The walls are even painted to look like marble, although the artists had never seen marble before in their lives," says Jonathan Mabry, Tucson's former city archaeologist.
A desert city with a meagre 300mm of annual precipitation is an unlikely site for the first Unesco City of Gastronomy in the US, but Tucson owes the designation to its 4,000 years of agricultural history. "Nowhere else in the US has that kind of depth," says Mabry, whose team discov­ered the vital piece of charred corn that, when carbon-dated, unlocked the city's past.
While President Trump has visions of an impene­trable southern border, Tucson – an hour north and a blue dot in a firmly red state – owes its vibrancy to its fluid blend of cultures. Few things embody that intersection better than the Sonoran hot dog, which wraps the American staple in bacon before jamming it inside a bolillo bun decked with taco top­pings. While it's estimated that Tucson has more than 200 Sonoran hot-dog vendors, El Güero Canelo – with its metal picnic tables painted to match the Mexican flag – is the only one to boast a James Beard award.
Faced with climate change and worsening droughts, the city is also rebuilding its historic food­shed. Seed banks preserve more than 2,000 des­ert-adapted varieties and the city's chefs regularly cook with local ingredients, such as tepary beans, the wild pepper known as chiltepins and cholla buds (cactus flowers before they've bloomed).
In an unassuming storefront off the Sunshine Mile, baker Don Guerra briskly loads slabs of dough into a tower­ing oven. While Guerra is French-trained his breads are firmly rooted in southern Arizona, baked from historic grains and wheats – like the legendary White Sonora, which was brought to the region in the late 1690s. Perfectly adapted to the desert, White Sonora spawned the flour tortilla but the develop­ment of modern, hybridised wheats nearly led to its demise in the 1960s. Only in 2012 was commercial production revived in the region and Guerra is keen to carry on the tradi­tion. "I grew up trying to steal my nana's tortillas as soon as they'd come off the comal; the stack would get lower as she was making it," says Guerra, laughing. In 2009 he founded Barrio Bread, which then produced 900 loaves a week out of his garage, before driving around town selling them out of his van. "That's just the type of thing people do here," he says.
Today entrepreneurs are flocking to the city, some returning to their birthplace, others lured by the desert and cheap rents. "The city has a Detroit vibe, where a lot of young people are learning crafts and starting their own businesses; it's making Tucson a pretty rich place to be," says Joy from his rammed-earth studio hidden inside the Barrio Viejo neighbourhood, just around the corner from the Downtown Clifton, a revived motel with locally picked vintage furniture, and Bon, a boutique selling Austrian-made pyjamas, French ballet slippers and vintage Bolivian frazadas (blankets), alongside its own clothing label by co-owner Crystal Flynt.
Tucson has long been a natural stop for musi­cians touring between Texas and California, and with a growing roster of entrepreneurs armed with good taste and years spent in larger cities, it's common to hear that Tucson is like Austin was before it became Austin. In the past three years Tucson has seen a 30 per cent growth in overnight stays but the danger is that in the city's pursuit of becoming the next go-to city, it will get lost in a wash of sameness.
Thankfully Tucson now has a firm grip on what makes it unique. "There's a certain independence of thought here, a rebelliousness deep down that comes out in different ways," says Hoffman. She's back under the screened-in porch of her desert modernist home, which visitors tour by just knocking on its large wooden door.
A short drive away Will Conroy, a screenwriter and hotelier, is standing under a tall palm tree inside the nearly six-hectare urban oasis that is the Arizona Inn. The Spanish Colonial-style compound was built in 1930 by Conroy's great-grandmother, Isabella Greenway, and it's hosted the likes of Katharine Hepburn, John Wayne, and John F Kennedy. "I've always known I'm no hospitality expert and I only started to feel comfortable when I realised that's what allowed this place to last," says Conroy, a New Yorker by birth who moved to Arizona to help his mother run the inn in 2003. "We've never been professionals But we love this particular place. And it means we've never made the decisions that would have led us to sell it or try to open a second Arizona Inn."
But nine decades in hospitality don't pass without road bumps. When the 2008 recession struck, tour­ism dried up and the Arizona Inn was devastated; its staff of 230 was whittled down to 155. "I think a good businessman would have taken 80 cents on the dollar at that point – but that never occurred to me," says Conroy. "If the ship goes down, we're going with it." But today, under the midday Arizona sun, the surface of the inn's shimmering pool is broken up by children's splashing, and the bar – said to be Frank Lloyd Wright's favourite room west of the Mississippi – is full. "Some people say if you don't make it in Los Angeles you come to Tucson, as if that's an insult," says Conroy. "But it's a plus. This place is full of second chances."
Stay: Arizona Inn: This sprawling family-run inn has been in operation since 1930. It's long been the destination of choice for celebrities looking to escape to the desert.
arizonainn.com
Stay: The Downtown Clifton Hotel: First built in 1947, this 10-room motel near the trendy Barrio Viejo neighbourhood fell on hard times before it was revived in 2015.
downtowntucsonhotel.com
Eat: El Güero Canelo: Daniel Contreras opened his Sonoran hot-dog stand in Tucson in 1993. It's since received a James Beard award.
elguerocanelo.com
Eat: Barrio Bread: Inspired by his nana's tortillas, Don Guerra bakes French-style loaves with local wheats and grains.
barriobread.com
Drink: Exo Roast Co: Amy and Doug Smith's charming coffee shop and roastery now has a wine and mezcal bar too.
exocoffee.com
Shop: Bon: Mother-and-daughter duo Bonnie and Crystal Flynt run this boutique offering a mix of homeware, textiles and clothing from local makers all the way to Japan.
bon-boutique.com
Shop: Mast: Located in the burgeoning Mercado District, Mast sells locally made leather bags and jewellery.
ilovemast.com
Visit: Neon-sign road tour: Starting on the Miracle Mile, the Tucson Historic Preservation Foundation's handy road map guides visitors to the city's best neon signs.
preservetucson.org
Visit: Center for Creative Photography: The Southwest has long lured photographers and the archives of Richard Avedon and Ansel Adams are housed inside this cultural gem.
ccp.arizona.edu
Visit: Pima Air and Space Museum: Has 350 aeroplanes, from presidential aircraft to Nasa's zero-gravity trainer. They provide tours to The Boneyard next door too.
pimaair.org
Visit: Gates Pass at Tucson Mountain Park: Tucson unfurls behind you as you crest this mountain pass, which offers some of the best views of the surrounding desert.
visittucson.org/business/gates-pass