New generation / biarritz
Time for a fresh look
Meet the young fashion designers of Biarritz who are determined that their town should trade on more than a storied reputation.
Chloé Chabaud darts around the showroom of No Stress, a fashion agency on the outskirts of Biarritz that's run by her father, Christophe Chabaud. Fresh-faced and smiley, the 27-year-old is wearing a bright-yellow French worker's jacket from Graine, the womenswear brand she launched earlier this year. It was conceived while Chloé was taming an unruly vegetable patch near her apartment in Bordeaux. "I didn't want to have to change clothes as I transitioned between the city and the garden," she says, flicking through her debut lookbook of ecru-red jackets, crisp shirts, playful T-shirts and salopettes. She proudly hands over her business card. "You can plant it. This one is filled with camomile seeds and the labels are studded with tomato seeds."
When Chloé announced that she wanted to launch her own brand she had little trouble convincing her dad, who is an industry veteran: as well as running No Stress he is the co-founder of Biarritz menswear brand Bask in the Sun. "One morning she said, 'I need to speak with you,'" says Christophe, chuckling. "I thought, 'Is it a wedding? A baby?' Instead she said, 'Dad, I want to create a brand.' A brand? That's all? No problem."
The southwest corner of France is ideal for a clothing start-up. As well as a wild landscape to inspire and a rich industrial history to explore, it is well positioned geographically: it's just over a four-hour train to Paris, a 30-minute drive to Spain and a seven-hour trip by car to the manufacturing haven of northern Portugal. Just over an hour's drive inland from Biarritz is Mauléon-Licharre, the 19th-century centre for French espadrille production, while a little further on is Oloron-Sainte-Marie, the capital of the "Basque beret" (the town houses the last of France's beret-making factories, Laulhère).
The vibe in the No Stress showroom, meanwhile, is decidedly relaxed. Up the wide wooden staircase is a well-used drum kit, and with Horace Andy playing in the background you'd be forgiven for thinking you'd stepped into a surf shack. But this is no surfers' hangout. Chloé is among a new generation of fashion entrepreneurs redefining what a clothing brand from this part of the world can look like. "Twenty-five years ago everyone living here worked in the big surf industry and everything was built around it – but they lost their way," says Christophe. "In Chloé and her friends I see that there is a new generation of surf – and these young people come with more creativity and more of an urban feeling. The new generation don't want to be wearing the same clothes their parents did."
For years this rugged coastal slice of France has housed the European HQs of brands such as Quiksilver, Billabong and Rip Curl. And it has long been the case that nearly every young person from the region with an interest in fashion has worked at one of these firms. But now the "big surf" era is dead in the water: breakneck expansion in the early 2000s, followed by a sharp decline in those brands' popularity, led to an industry crash. In its wake a group of desirable young brands is swelling. Many are run by former colleagues and long-time friends and those who gained experience at the surfwear behemoths are using that know-how to build businesses that are reflective of their individual tastes, rather than recalling long-haired Aussies in floral board shorts.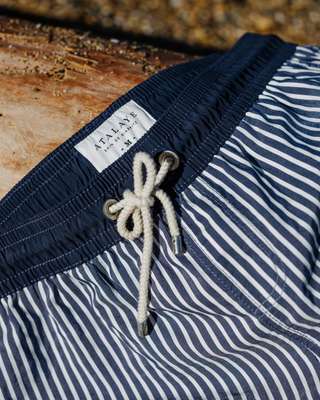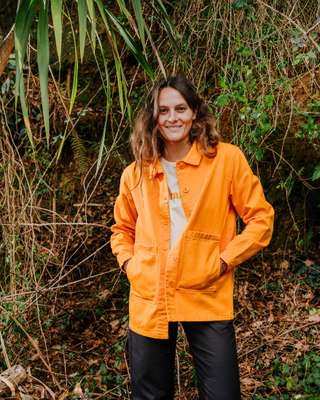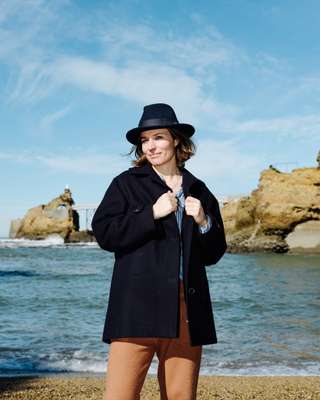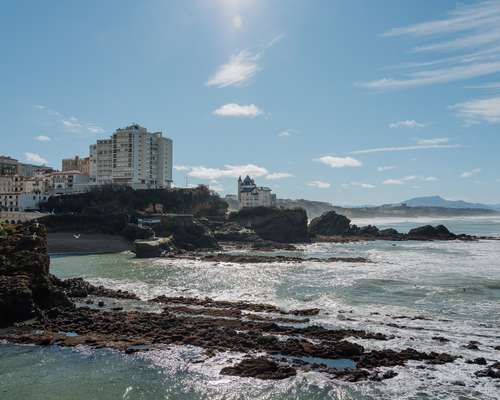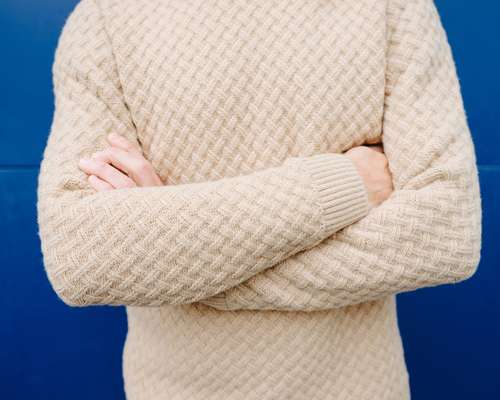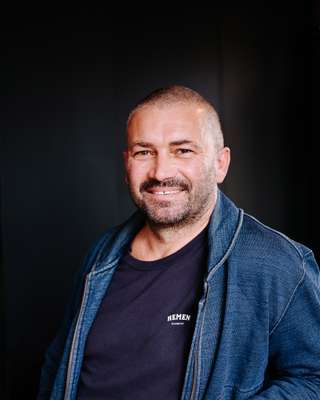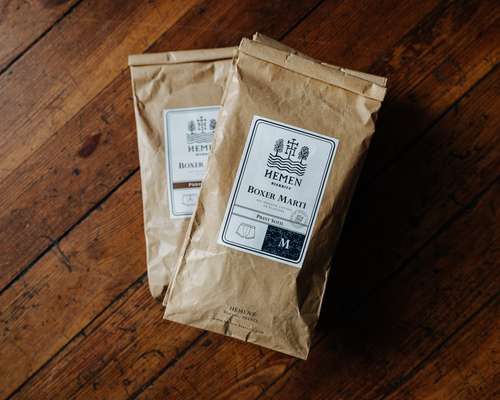 "When we left Billabong we thought, 'Never again' – but we'd worked in the surf industry for 15 years so we knew how to set up a brand," says Marie Guyot, who in 2014 co-founded Biarritz underwear label Hemen with husband Emmanuel Mouazan and their friend Bixente Lasserre. Hemen's boxers, henleys and long johns take their cues from an old Basque tradition whereby shepherds' wives made hard-wearing clothes in order to protect their husbands from the elements.
Not long after launching Hemen, Guyot and Mouazan founded Atalaye, a collection of one-fit swim shorts that pay homage to Biarritz's resort lifestyle. Both brands are based on a one-product strategy – and it works. Atalaye has 35 retailers, including Mr Porter; Hemen has 40. "We want to be experts in what we do," says Guyot. "We also want to do fashion that lasts, particularly when there is so much savoir-faire in the area. Porto is a great place to do quality clothing and it's more convenient than Paris or Marseille." She and her husband spend two days in Porto every two months to keep an eye on production.
Other designers have kept production even more local. Valérie Hernandez was once a designer for Billabong, whose old HQ is a half-hour drive from Biarritz in Hossegor. She has a showroom nearby and it's here that we find her sifting through samples. After struggling to find French-made fabrics for her initial vision of summer kimonos, Hernandez met a wool manufacturer from Castres and decided that she would create something for cooler climes: woollen capes. Her brand, La Méricaine, was founded in 2014 and has since gone on to make variations on the Native American-inspired cape design, with a collection that now includes pieces such as heavy woollen coats and bespoke blankets.
As Hernandez moves around her small shared showroom, her gold bangles clatter as she talks animatedly about a woman in Saint-Étienne who makes waffle cotton; La Méricaine's first summer range, which will be made out of said material, is en route. For the designer, "The most important thing is to have a completely French product."
The jewel in this region is the fishing village of Guéthary: a 20-minute drive from Biarritz, it embodies the area's unique Néobasque architectural style. In recent years it has become en vogue; it has a small Japanese diaspora (which accounts for Yaoya, a trendy French-Japanese épicerie) and a well-heeled clientele who come from across France in search of sun.
In a cabin-like outpost overlooking the beach we meet Brice Montesuit, founder of Parlementia; his collection of T-shirts, sweatshirts and canvas bags bear 1970s-inspired graphics and illustrations. "When I started in 2009 I really wanted a streetwear brand, not a surfwear one," he says. Parlementia also encompasses a record company and online radio station.
In a village with about 1,500 permanent residents, you'd expect brand growth to be slow. However, Montesuit has capitalised on Guéthary's newfound cool and the seasonal influx of wealthy visitors from the suburbs of Paris, Lyon and Bordeaux. The French Basque country is far from the glitz and mega yachts of the Riviera but, says Montesuit, "In August we might do €10,000 in one day." He runs a careful retail operation. "I never do sales, I don't do traditional marketing, I don't want to be in shops in Paris. I want to keep the products more rare – if you want Parlementia go to our website, or come to my shop here." Montesuit's only plans for expansion are in relation to the recent purchase of an adjacent restaurant and general store, the idea being to create a kind of "Parlementia campus".
All the young brands we meet favour a selective strategy. Hernandez at La Méricaine once worked with a commercial agent who placed her products in more than 500 shops. "They put the brand everywhere. So I had to stop and do that part of it myself. Now the focus is on selective stores – like Merci in Paris – and ecommerce."
Brands also work together to capitalise on tourist footfall: in summer Hernandez and six other designers share a pop-up shop in Hossegor, where they trial new products. Hemen and Atalaye, meanwhile, are sold in two Biarritz shops (Deus ex Machina and Madames et Monsieurs) to take advantage of the August droves. Their founders are conscious of the need to minimise waste. "We propose our products all year round so people can order what they want when they need it", says Guyot. "We work on a flexible production schedule so we're not left with too much stock at the end of the season – that's nonsense."
After sipping jasmine tea with us at a downtown Biarritz café, Guyot walks us to the Old Harbour pier, reflecting on her town's glittering past. Biarritz was adored by Napoleon iii's wife Eugénie and its resort lifestyle boomed in the 1920s and 1930s, with visits from the likes of Ernest Hemingway, Jean Cocteau, Pablo Picasso and Coco Chanel (who opened one of her first shops here).
But when we reach the pier, where the Atlantic spray whips up around us, something is obscuring the view of the town that these luminaries enjoyed: the famous Hôtel du Palais, Eugénie's old summer pad, is clad in ugly scaffolding. Guyot sighs as she laments Biarritz's upheaval for the forthcoming G7. The arrival of Air Force One will have the whole town on lockdown – but Guyot says that the spotlight is nothing new. "From a technical point of view, Biarritz and Paris are linked so it's very easy to travel between the two. It's popular. Everyone knows about Biarritz – in the US, Germany, the UK, Australia. It's a great business card to have."
---
Stay: Beaumanoir: A neobaroque château that's surrounded by gardens and is a cosy retreat away from the ocean's spray.
lebeaumanoir.com
Eat: Le Corsaire: Fresh fish direct from Saint Jean de Luz, best enjoyed on the terrace that spills across the Old Harbour.
lecorsaire-biarritz.fr
Drink: Bar Du Marché: French brassiere that's always buzzing. Closed on Mondays but open for merriment until 01.30 the rest of the week.
55 Avenue De La Marne
Shop: Deus Ex Machina: First appeared as a label and shop in Sydney in 2006; last year Biarritz became home to Deus's flagship French store. It's close to the beach and the ethos is as much about catching waves as it is about catching up over a flat white.
55 Avenue De La Marne
Shop: Parlementia: The flagship is a beacon on the Guéthary coastline crammed with Taschen books, quirky homeware, surf accessories and Parlementia's iconic sweatshirts, jackets and tees.
parlementia.com
Shop: Yaoya: The French-Japanese couple who own this multistore reflect their origins in Yaoya's selection of high-quality, sustainable products, including citrus honey from the Pyrénées and Japanese donabe (clay pots).
251 Avenue du Général de Gaulle