Big Interview Series 2019 / Global
Best foot forward
This year our Big Interview Series taps into the experience of the men and women guiding the travel industry to new horizons.
Bernd Bauer
A chorus of "Grüezi" erupts as the Edelweiss crew – in pressed uniforms with tidy updos, red lips and scarves printed with the airline's flower logo – welcome passengers aboard a flight to Florida. The mood aboard Switzerland's leading leisure carrier is relaxed as apron-wearing flight attendants serve Swiss spätzle. Images of the Alpine flower, after which Edelweiss was named when it was founded in 1995, are sprouting everywhere – on pillows and napkins, as well as on uniforms and livery.
Over the ensuing years since launch the airline has expanded to fly to 70 holiday destinations across 32 countries with a fleet of 16 Airbus aircraft, serving more than two million passengers a year worldwide. It has experienced a brisk growth spurt in the hands of Bernd Bauer, who joined Edelweiss as ceo in 2014 after previously working at Swiss.
We've watched with interest as Bauer has overseen the expansion of the firm, updating the fleet and adding new destinations that include the Seychelles, Colombo and Ho Chi Minh City. We met him at Edelweiss's Zürich Airport hub, fresh off a round-trip to Tampa, to find out what's next.
flyedelweiss.com
How important is Swiss identity for Edelweiss?
It is very important. For our guests, Edelweiss is a piece of home and for our international passengers it represents the quality associated with Switzerland. Our brand stands for authenticity, clarity and honesty.
How do you stay ahead of the competition?
Competition in the aviation industry is tremendous. One has to be clearly positioned to succeed in the market. Our guests know what to expect when they fly with us – we take them on holiday and you feel that on board. They want to be entertained when they fly to their destination and we design our product – from food to service – to allow us to address their individual wishes. We also fly to destinations many airlines don't go to.
What's your relationship to Swiss?
Our parent company is the Lufthansa Group. Swiss and Edelweiss work together very closely and we benefit from Swiss services and the Zürich hub – in many ways Swiss is our big sister.
Do you attract many connecting passengers with your model?
That definitely plays a role on our long-haul services. Short-haul we fly up to 90 per cent local, point-to-point, but on long-haul flights – depending on the season and route – the share of transfers increases up to 50 per cent. Our planes are quite big, Switzerland isn't always on holiday and not everyone wants to fly to Costa Rica, so we need connecting passengers on our long-haul flights. This is why we work closely with Swiss, which delivers the transfer passengers we need.
Colombo, the Seychelles and Ohrid are among your latest destinations. How do you select new routes?
There are many figures to consider, from arrival and departure numbers to overnight stays and Swiss approval ratings. We fly to lots of smaller markets so we need a sense of whether a destination can be successful. Tampa, for example, was one of our first long-haul routes. Florida is very popular with the Swiss. Many own properties in the region and fly out regularly, so Tampa has established itself well.
What routes would you like to add in future?
It depends on political and economic developments, although there's potential in Southeast Asia, as well as South America, from Colombia to Peru and Chile. The Gulf region, west Africa and the Silk Road are also interesting.
There seems no end in sight for the current economic turbulence. How is this affecting your business?
Economic cycles aren't felt right away because most passengers book their holidays far in advance. In January, 40 per cent of passengers had already booked for the year. So the effects are delayed and if the situation improves, we don't feel it at all. This is likely not the case at airlines and in other countries; it's pretty unique to Switzerland.
Is the business affected if there's a terrorist attack or an air accident?
Certain things do have a dramatic impact – this is what we learned a few years ago when there was a plane crash in Egypt, a coup d'état attempt in Turkey and the refugee crisis in Greece. What you need at a time like this is flexibility and the ability to strengthen passenger flows in unaffected areas or introduce new destinations. This way we can motivate guests to try something new.
What are your future plans?
We're really focusing on increasing the quality of every point of contact with our customers. Automation and digitisation play roles, particularly in improving our on-board processes and check-in. We want these to be as efficient as possible so that our crew has more time to devote to guests.
Are you investing in further growing your fleet?
We have just received a new a320, which will strengthen certain routes and fly to Ohrid, which we couldn't have added to our network otherwise. It also serves to stabilise our operations in Europe. Airspace is tight and delays were terrible last year. With this additional aircraft we're able to alleviate delays and offer our customers a better product. In the long term a big topic for us is a large-scale fleet renewal to new technology in 2026/2027, which we're already planning now.
How are you addressing climate change and calls for people to fly less?
We all have to address this issue but cutting out all air travel isn't the solution. If you were to limit flying you would lose what makes travelling so fascinating: the ability to learn from other cultures and people, and gain new perspectives. That said, airlines need to be responsible in the way they approach travel and by limiting pollution and waste, as we do.
Lastly, what's your own favourite holiday destination?
I find Sri Lanka very exciting but even Switzerland offers great destinations, from St Moritz to the Lake Geneva region. As we become more international as an airline we want to bring more guests to our home country and let them experience it for themselves.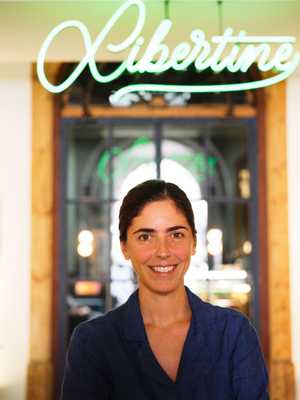 Inés Miro Sans
She'd be the last to admit it but the hotel that Inés Miro Sans opened in Barcelona is impossibly cool. At 34 the entrepreneur admits she's in it for the long haul and that is what has made Casa Bonay – 67 rooms set in a Modernist mansion block – such a success in a short period. The hotel generated plenty of buzz – including in monocle – when it opened in 2016. Miro Sans' hope is to make it a contemporary classic that stands the test of time by constantly reverting back to her original vision: a hotel with tip-top service and an authentic ambience.
Casa Bonay relies on small businesses, such as a café and micro-bookshop, for commercial clout at ground level. The common areas are frequented more by city residents than the hotel's guests, giving the spacious lobby bar the feeling of a creative salon. Miro Sans reveals her thoughts on staying relevant in a ferociously competitive market.
casabonay.com
What have you learned over the past three years?
You start to take your head out of things a little after three years. Not to relax but to get more perspective. You're not so focused on the details and you have a better global idea. Of course, there's no ceiling for improvement but you have a better idea of where you want to drive your business and which people you need for that. We are now trying to restructure and start to take on key people.
At what level are you recruiting?
At every level. Who are the key people that can move up over the next two years? I am also looking for a new GM. We have a project coming at the end of next year so we are trying to organise towards that.
Did you know the hotel would become so cool from the start?
People from outside say that Casa Bonay is cool. But to me it was always that I've done something personal; this is what I love, hopefully other people will like it too.
How do you want to be perceived?
We want to be recognised not just for design but for amazing service that you could get in a high-end place. At the beginning we were making so many mistakes. So we are focusing on quality, on the team and creating more – looking to find a balance between people not just coming for the cultural events but because they feel comfortable just having a coffee. Our customers in the lobby are mainly locals. When you have someone staying from London or the States and they hear everyone talking in Spanish, they think, "Wow, it's a real place." But we want to become the classic hotel not just trendy – that's not sustainable, it's exhausting.
Why do you think it feels trendy?
I don't feel trendy and the people behind Casa Bonay aren't trendy. They are real people who do real things and enjoy life. It may sound contrary but we are reducing the number of cultural events we host. We have music until 1.30am but we used have it until 3am. There's a new hipster generation that I don't understand and I don't want to lose time [trying to] because I'm not attracted to it.
How do you stay cool instead?
By doing it differently. We gave musician Lewis Ofman a residency. Very nice – like an old guy in the body of a 20-year-old. We are talking to another young artist that we love. We are going to do the things that we understand. Instead of three days of programming we are doing one and starting to shape this into afternoon concerts. Very relaxed – things that we go to.
What's been the hardest thing?
Staffing the restaurant. The people we get are studying – it's not their focus. There's no culture of service so you need to train a lot. Then there are some people who have hospitality inside. They can be studying film, music or whatever, but they are dedicated.
What's that next project?
It's by the sea and small – maybe eight apartments that will turn into rooms at some point. Maximum capacity will be 30. It's going to be one step more than Casa Bonay; it will be higher end.
How do you stay inspired?
I enjoy life a lot. I'm a dreamy person. I look serious, controlled and balanced but I have a world on the inside. Little pleasures – having a very nice coffee – are small things but big things too.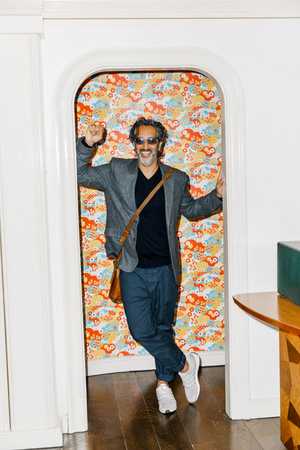 Amar Lalvani
CEO, Standard International
The first Standard hotel opened on Sunset Strip in West Hollywood in 1999; since then it's added venues from New York to Miami. Now the Standard is going global with the opening this spring of its first international property in London's King's Cross. Amar Lalvani is ceo of Standard International, the company behind The Standard and Bunkhouse hotels, in which Thai developer (and monocle investor) Sansiri has a stake. We caught up with him to learn more.
standardhotels.com
Why do you work in hotels?
When I was six years old my grandfather brought me to London. I stayed at one of the legendary hotels, maybe The Ritz. As a kid growing up in the suburban LA sprawl, I had never seen anything like it. The doormen, the elevator attendants, the uniforms, the chandeliers, high tea, the stream of seemingly important businessmen and glamorous ladies. The constant buzz. A magical world unto itself with a constant pulse.

What challenges and opportunities have come with the changes in the industry since then?
One of the biggest challenges is the change in social dynamics. A hotel lobby used to be a place for unexpected, spontaneous interaction – a chance encounter that makes your day or maybe even changes your life. Think Lost in Translation – what a beautiful representation of how a hotel stay can leave you transformed. Today chance encounters have all but disappeared. People have their eyes on phones, not each other. It's become awkward to – god forbid – approach someone for a chat. But everything is an opportunity. A few months ago we launched The Lobby app, a closed social network for our hotel guests to use while they are staying with us. It's an acknowledgement that people are looking at their phones but it's also intended as a kick in the pants to put them down and meet in real life. 

For better or worse, Airbnb has changed people's expectations. How have you evolved as a business in response?
By doing better at what we do best: bringing people together. Whether that be Standard Talks, a sculpture installation by Prune Nourry, talented chefs such as Peter Sanchez, Rocco DiSpirito and Adam Rawson cooking at our restaurants, a music festival under the stars with our sister company Bunkhouse or a new-wave gay bar by Angela Dimayuga.
It's not a business strategy. It's who we are. I'm always telling our team that we have to do those things that others could not or would not do. That is what makes us The Standard. Our logo appears upside down for a reason.
How might hotels change and adapt in the future?
There's a fluidity about how the next generation travels. Does anyone care how many stars a hotel has? Why do I have to check in after 4pm? We came up with Standard Time, which eliminates check-in and check-out times. We created Stowaway for guests staying seven days or longer, where they get their minibars stocked with what they want. We also launched One Night, a booking app with 200 of our favourite hotels in 16 cities (so far). 
Why did you choose London for your first hotel outside the US?
We have so many loyal guests from London and there's a natural crossover with New York and LA, where we are well known. London is vastly more international than either of them and it's a showcase to the world for us. We've been around for 20 years but for many people this will be their first interaction with the brand. It sets the tone for our next 20 years.
King's Cross is perfect for us, with its link to Europe at a moment when that link is at risk. We are attempting to give something to a neighbourhood that doesn't have a social anchor. We want Peter Sanchez's restaurant on the rooftop, the Double Standard bar downstairs and the garden restaurant, Isla, to be places that people stop into on a regular basis. We'll be doing the community a service with our 24-hour licence. Finally some decent late-night dining in London – I guess it takes a company from New York to bring that.
Do you worry that Brexit will have a negative impact?
I am a huge believer in London. It is a dynamic city and will endure. Brexit concerns me on the staff side though. In hospitality we rely on a diverse workforce. Many come from outside of the UK and I'm concerned about disruption and potential rule changes that leave the hotel at a disadvantage.
You plan to open 20 hotels within the next five years. Tell us more.
We do have ambitious growth plans. There are cities that you'd imagine for the brand given our connection to fashion and art – Paris, Milan and Hong Kong – and some places I am personally fascinated by such as Mexico City, Lisbon, Bangkok, Singapore and Jakarta. We are working on our first Asian resorts in the Maldives and Phuket. We will not forget the US though: we have a fantastic project in Chicago in the works.
What is your hope for the future?
That we all treat each other with kindness and respect; that's what hospitality is about. Whether it's travel bans in the US or Brexit in the UK, we must be hospitable countries in order for hospitality to thrive.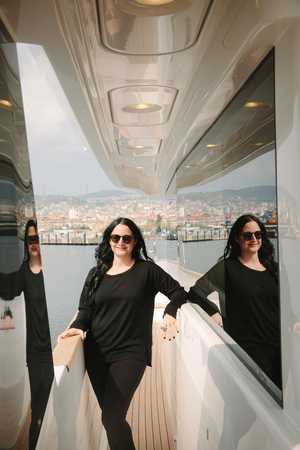 Ipek Kirac
Not many ceos give interviews barefoot. Then again, Ipek Kirac is not your typical ceo. With her jet-black hair, black shades, black T-shirt and black jeans, she looks more rock chick than corporate head. After kicking her leather flats off – black, of course – the 34-year-old head of Sirena Marine makes herself comfortable on the light-grey sofas inside her company's 21-metre powerboat. Moored in a marina on Istanbul's Asian side, this is the model with which her company's yacht brand launched in 2017. An 18-metre model soon followed and a bigger, 27-metre sister is due to join this year.
"She will be in the water in July," says Kirac, tucking her foot under her thigh. "She's beautiful. I just came from the shipyard. It's very exciting; a new member for the family." When talking about her boats and her company, family is a word that Kirac uses time and again: perhaps it's because, in a sector dominated by major established players, it's important for a newcomer to keep things personable.
Kirac's parents already ran a holding company in the automotive sector when, in 2007, the opportunity to build yachts for Italian brand Azimut came up. "After a while, when we started learning about boat-building, we decided to start our own brand," she says. At first the newborn Sirena Marine built sailing boats under its sub-brands Azuree and Euphoria but soon a growing market for powerboats enticed them to dive into the sector.
Two years after debuting Sirena Yachts at the Cannes Boat Show, the company is poised to nearly double production: the 30 boats a year it has been making will soon become 50. Turnover for the group shot up from €18m to €40m from 2017 to 2018, a rise that – coupled with an ambition to create ever-bigger boats – led it to construct a new shipyard in addition to the original plant in Bursa, across the Bosphorus from our current perch. "[Superyachts] are a totally different game," says Kirac. "It's what every small company aspires to one day. We want to play the big game."
With her straightforward tone and neatly laid out plans, Kirac sounds like she's been gearing up for this all her life. But before Sirena, boat-building was uncharted territory for her. After studying biology at Brown University in the US, she returned to Turkey to work for the maritime arm of her father's company. But it wasn't long before her drive brought about a sea change in operations: encouraging a rebranding of Euphoria and initiating new collaborations with designers. "What's so special about the journey is that we created a team where everyone really did do their best to reinvent this company from zero," she says. "The company was alive before I came – but we started a whole new system."
In practice this has meant that since becoming ceo in 2012 (her father remains president of the holding group), Kirac has turned a business that was very production-focused into one that's now creatively led – and where experiments in design are actively encouraged. A Sirena boat is today known for its wide-open spaces that create the impression of ample, airy interiors.
Kirac admits that she remains very involved in the design process. "Ask any of the designers and they won't be very happy with me," she says, joking. But she has entrusted many of her ideas to naval architects, including Italy's Tommaso Spadolini and Argentinian Germán Frers. Working with the latter had a particularly nostalgic feeling for her. Her parents "were workaholics" when she was growing up. "They worked so much; the only time I used to spend with them was sailing," she says. "We used to go out in our little boat in the south of Turkey. It was designed by Frers. My happiest family memories were on that boat."
Where many of Sirena's Italian competitors may be focused on aesthetics, and its northern European counterparts specialise in sturdy functionality, Kirac believes her brand's approach to boat-building sits somewhere in the middle. The company's Turkish credentials are most reflected in the manufacturing process: everything, from hull to furniture, is made in-house by woodwork, upholstering and finishing specialists. "That way we can control our own quality. We don't outsource any of it – which is more costly for us but pays off," she says.
Kirac is proud to have created a brand that is Turkish through and through. "It's the most beautiful feeling to look out to the water and see a boat that you and your team have created from scratch," she says. "Especially in Istanbul, where you're surrounded by the sea. To be able to say, "Hey, this is made here. We build them here."
Sirena's trump card is its hull shape devised by Frers and his studio, which allows boats of this size to cruise far faster than regular 20-metre types. This has helped it break into emerging markets, including Japan, Malaysia and Thailand. "The whole point of having a powerboat is getting where you want to go fast," she says. Asked if she enjoys speed, Kirac knows how to answer. "Yes," she says. "Especially on this boat. It's a nice, smooth ride."
sirenamarine.com.tr
Sirena Marine in numbers
Turnover in 2018: €40m
Length of its soon-to-be released yacht: 27 metres
Sirena64's maximum speed: 28 knots
Boat shows Sirena Group attends directly (it reaches more via its dealers): 5 – Cannes, Düsseldorf, Miami, Fort Lauderdale and Genoa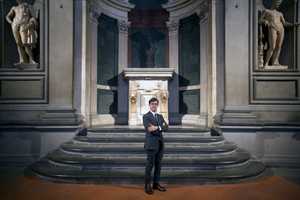 Dario Nardella
In the era of low-cost travel, mayors across Europe are under increasing pressure to balance a thriving tourism industry with protecting their city's amenities and residents' interests. Dario Nardella, the left-wing mayor of Florence since 2014, is no exception. The city's 400,000 residents are joined every day by an average of 200,000 visitors. In an effort to stem the more destructive forces of mass tourism he has come up with a host of novel ideas, including barring fast food restaurants. Seated in his frescoed 16th-century office in Palazzo Vecchio, he tells us about his plans to make tourism work for the city and the policy he implemented that would be unthinkable in the US.
How do you maintain the city's authenticity with so many visitors?
This is the challenge for every città d'arte [cities with artistic cultural heritage] such as Paris, Venice and Florence: to be global cities while maintaining their identities. It's a challenge we can conquer. Tourism is not my enemy – on the contrary, from a conceptual point of view, I believe the more people have the opportunity to share the beauty of my city, the more the world improves because beauty, art and culture are instruments of peace. Tourism is an economy of peace. More people are travelling today and tourism is also a great resource.
How can you mitigate the cultural risks of tourism?
The flipside of mass tourism is a loss of identity. We've created a restriction to protect the city's artisanal and historical shops so if you make shoes or picture frames or wrought iron, you can sell your shop but it can't go to some international brand selling suitcases or football jerseys or sandwiches. The new owner has to maintain the same artisan activity. This kind of rule would be inconceivable in the US because it goes against the idea of free-market competition. It's a restrictive policy but it's a policy that's showing results. I eliminated property taxes for all the owners of historical shops and artisans' workshops, which encouraged young people to open new artisanal shops as well. Slowly we're inverting the narrative. I even put a stop to new restaurants in the centre because there's too much food.
Is there sense in making it harder to travel to cities such as Florence?
We've made a deal with Vodafone, respecting privacy of course, for the first study in Italy to analyse tourist arrivals using the numbers of phones present. We have to know who's here, where they go and how much time they spend there. We protect Florence by working on quality and containing tourist numbers. We're trying instead to discourage "eat-and-run" tourism. A tourist who spends more nights in Florence is more cultured, respectful, and brings money to the city by going to museums, restaurants and hotels.
It's not that Florentines don't like tourists, they just can't stand tourists with poor manners – the tourists in shorts and sandals who eat a sandwich sitting on the street. Eat-and-run tourism is damaging because those visitors aren't interested in the city. They don't even go into a museum and they leave after four hours. We doubled the price of a single-day permit for tourist buses and their numbers dropped.
What else have you done to encourage better-quality tourists?
We've created the first student hotels in Italy to encourage student tourism because we should invest in the new generation. We've fought to keep mass tourism from imposing mass commerce – so I've prohibited the opening of any fast-food businesses, internet cafés or phone shops in the centre of Florence. Everyone has heard about my battle against McDonald's opening in Piazza Duomo two years ago. I created a rule based on the laws that protect cultural heritage and the judges sided with me. We've now won a number of suits against companies on exactly this issue of protecting our traditional commerce.
What are you doing to help citizens keep their homes even as holiday rentals proliferate?
We're working with mayors across Europe to get the EU to give us a way to regulate this. You can't eliminate the sharing economy but you can control it. Florentines are moving to the periphery to earn an income renting out their city apartments to tourists. We have to incentivise residence in the centre. We've taken over abandoned buildings to make social housing. We're also asking for the right as mayors to cap the number of nights an apartment can be rented out each month. In the meantime we've made an agreement for Airbnb to collect the city's hotel tax on overnight stays, which takes Airbnb out of the shadows of the black market.
How can you make tourism income work for the public?
When we started the tax on hotel stays five years ago we were at €33m a year [in tourism income]. Now we're at €41m. We're obligated to invest this money only in cultural activities, park maintenance and public transport. We need to better communicate what we're doing for Florence so that residents understand that tourists offer opportunity for their city.
Florence in numbers
Beds for rent: 101,000
Overnight stays in 2013: 9.8 million
Overnight stays in 2018: 15.1 million
Value of Florence's 2018 economy: €32 billion
Percentage derived from tourism: 15
Joni Sundelin
Director, Helsinki Airport
An orderly group of Chinese travellers is reading signs written in Mandarin at Helsinki Airport. Ten hours earlier they had boarded a shiny Finnair a350 to fly them on the short northern route to Helsinki. Now they are looking for their connecting flights to take them to Paris, London and even further afield.
It is because of travellers such as these that traffic at Helsinki Airport has been growing by an extraordinary 10 per cent in the last two years. Annual passenger numbers here are predicted to climb from the current 21 million to about 30 million by 2030. Growth is a welcome challenge for the airport's director Joni Sundelin. He is leading its biggest-ever overhaul, which will include new check-in and arrivals halls designed by Helsinki-based architecture firm ala, as well as expansion of the airport's long-haul terminal and new security facilities. The project, which is already under way, will be completed in 2022 at a cost of €1bn.
Work on the airport has already begun. monocle met Sundelin at the long-haul terminal's new Aukio – a central square that has been decorated with Finnish wood and comes equipped with a large, curved video installation that transmits views and sounds of Finnish nature.
finavia.fi
How will the airport's expansion improve customer experience?
The obvious difference that passengers will notice is increased capacity, which means more space and faster security. We can currently process 150 passengers an hour in each security lane [there are more than 20 lanes] but with new state-of-the-art security we can double that. If you can find a faster security at another major airport, get in touch with me. In addition to the smoother people flow, we're also focusing on improving the retail and f&b offering. And we want to improve the sense of place that passengers feel at the airport. There will be ambient elements that make the place look and sound more Finnish.
How will this more Finnish approach be visible?
The new entrance building will be a striking example of Finnish timber architecture. We have added elements of Finnish nature at the airport, such as the space where we are currently sitting. We also put a lot of focus on retail. So many airports around the world have very similar shops. We want ours to be unique and we work with retailers to guarantee a certain level of quality. Many of the most famous Finnish design and fashion brands [including Marimekko and Iittala] have their own outlets here.
How important is Helsinki Airport to brand Finland?
Let's face it, nobody comes to Helsinki just because it has a great airport. That said, the airport is the first thing that visitors see. Their experience of Finland starts here and we want to make it as positive as possible. If you think about a great city like Berlin, it's a shame that its airports don't match that and people know it. Helsinki is living a golden moment, with record tourism numbers. This just makes our role as the first point of contact even more important.
Much of the airport's growth is based on Asian travellers. How does it cater to them specifically?
We have hired native Chinese speakers to work at the airport, which has been a resounding success. They help the passengers in security lanes and offer personal shopping assistance. We have signs and digital services in Chinese too. We've been among the first airports in Europe to introduce [Chinese] ecommerce services, such as AliPay and UnionPay, to help Asian passengers shop. The increase in affluent Asian travellers has helped us attract luxury brands, such as Bulgari, that perhaps otherwise would not see Finland as a potential market.
Helsinki Airport has won awards for its functionality. What are the critical elements in a smooth- running airport?
It's a combination of well-trained staff and good infrastructure. For example, we teach security staff to not only control safety but also serve customers. Flow needs to be fast and transfers smooth. Design choices are important here – our minimum connection time is 35 minutes, which we're very proud of. In terms of the airport layout, we've wanted to keep everything under one roof so that passengers don't need trains to move from one terminal to another. But being functional is not enough: we also want to be fun. We've organised events such as fashion shows here and we focus on improving the experiential aspect.
When will the current expansion be finished? What comes after that?
The entire project should be completed by 2022 when the new entrance building opens. That should mean that in terms of the building infrastructure, we can handle the increased capacity. Airports are never really complete. We need to constantly develop our services to meet customer expectations. In 10 years' time the airport will look totally different from how it is now.
Helsinki Airport in numbers
Non-stop destinations: 162
Destinations in Asia: 22
Weekly departures to Asia: 111
Airlines: 50
Passengers per year: 21 million
Transfer-passenger share: 36 per cent