Travel / The Philippines
Siargao, The Philippines
This tiny Philippine island is determined to build its tourism industry in a different way to its bigger and busier neighbours.
Exotic locations usually come with several telltale signs. One is the sight of a propeller plane waiting on the tarmac. Hearing the whirring of the engines from inside a tiny cabin promises sun, sea and, in Siargao's case, wave after wave of surf. Abi Ponio-Quadelli boarded a similar plane to Siargao (pronounced Shar-gow) in 2014 to lean into a surfing lifestyle while working remotely as a consultant. Five years later, on a sunny weekday morning in early April, the 32-year-old from Manila is standing barefoot in her own 14-room resort in the tourist hub of General Luna, where her Italian husband Gabrielle Quadelli makes the best pizzas in town.
Something special is happening on this remote tropical island, skirted by pristine beaches, mangrove forests and coconut trees, in the underexplored southeast of the Philippines. Residents we meet call it an "energy". Many others have glimpsed an opportunity, opening bars or hotels to serve the growing number of tourists. Whatever is going on, there's a magnetism in this once-remote surfers' paradise that is drawing eco-conscious entrepreneurs to its sandy shores. Ponio-Quadelli's first guests at Bulan Villas are due in a few days so for now the sea has had to take a back seat. "Before I would surf every day but now it is once every two weeks," she says, wearing wide-rimmed spectacles over a healthy tan. Her lifestyle is both a million miles from Manila and only a one-hour flight away. Beach bums here can still mean business.
Siargao feels like Bali might have done 30 years ago. However, this unspoilt island is less than a tenth of the size, can be scooted around in five hours and is home to about 160,000 residents rather than more than four million. Farmers dry their rice on tarpaulins on the main road while "sari-sari" convenience stores pour petrol from glass Coca-Cola bottles – 50 pesos (€0.80) a litre. Scooters are the main form of transport, carrying several passengers at a time with a surfboard rack on the side. Wherever you go, Ponio-Quadelli's entrepreneurial tale can be heard on repeat: from bustling General Luna (or GL) in the south to the quieter spots of Pacifico and Burgos in the north.
Mark-David Pintucan set up Lokal Market in Burgos in 2018. The business provides space for farmers to sell their produce. Overheads are subsidised by Lokal's nearby sandwich shop and Pintucan plans to roll out the idea around the island later this year. "I got fed up with Switzerland," says the architect, who used to work at CCHE in Lausanne. "It's so perfect that I was almost scared to leave." Pintucan chose Burgos because it has the best internet connection on the island and he continues to freelance for several Swiss architecture firms. His Filipina mother has followed him – not the only parent to do so. She makes jam for her son's Lokal conglomerate, which has just opened a homestay and a carpentry workshop where two apprentices will be trained to make furniture for all the new arrivals who are building their own homes.
Australian surfers were among the first foreigners to find out about Siargao's secret bounty in the 1980s and 1990s. This first generation set up businesses around the surf break Cloud 9, which was made famous – in certain salty circles – by an article in Surfer magazine in 1992. Europeans followed. At the beginning of the decade, when the main road was still made of sand, French, Spanish, English and Italian expats developed small, popular resorts, such as Kermit and Buddha, along the coast in GL. Surfing Cloud 9 has become one of several must-do experiences, alongside island-hopping and diving into GL's burgeoning nightlife. The line-up is fixed, six nights a week. Each bar takes it in turns to host and the young crowd moves between locations, seemingly as one, dancing on the sand. Solo travellers can suddenly become part of an extended Filipino family – a nation known for its warm hospitality.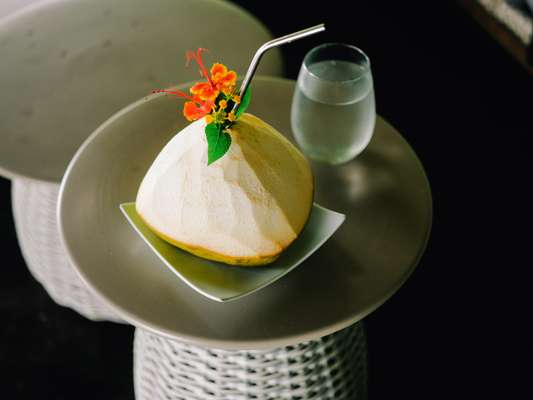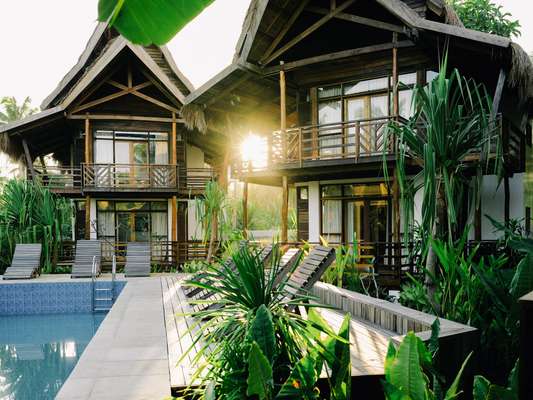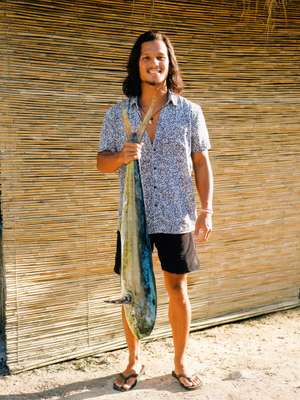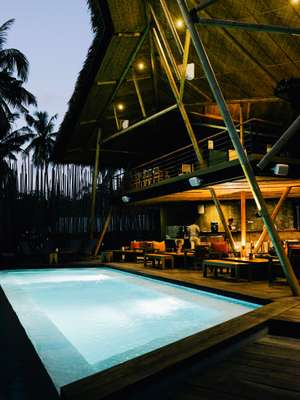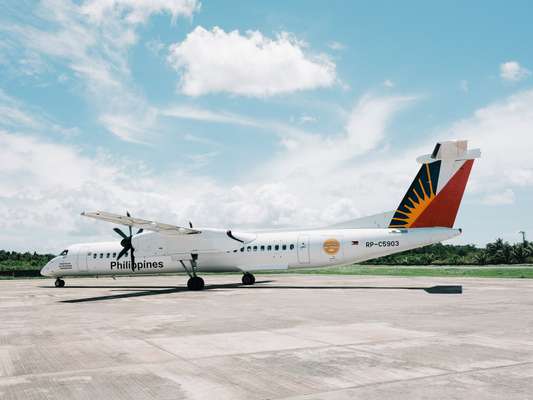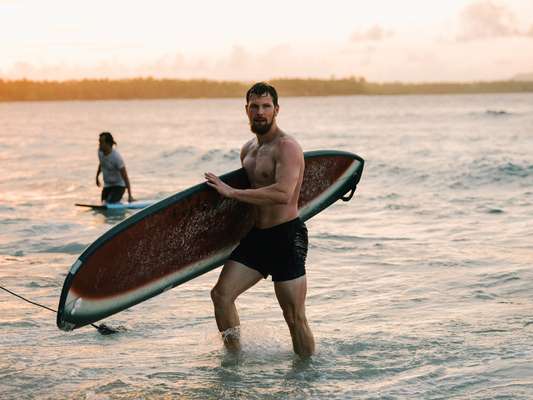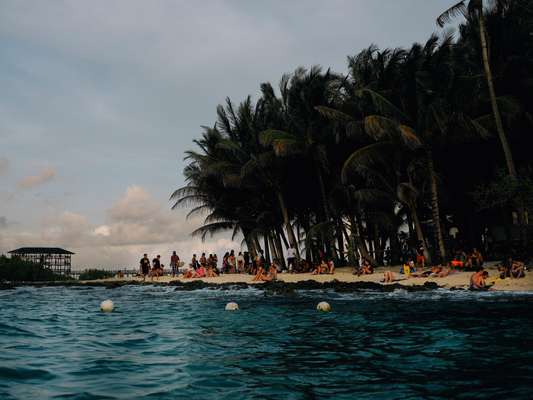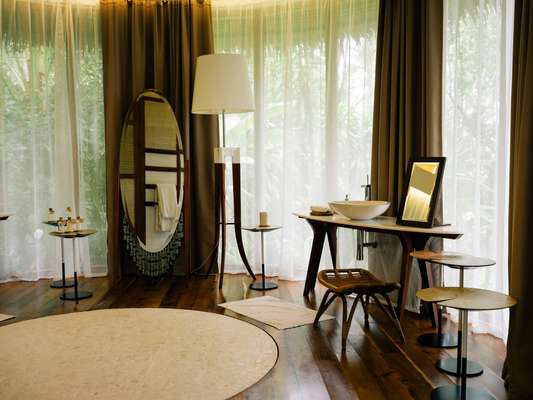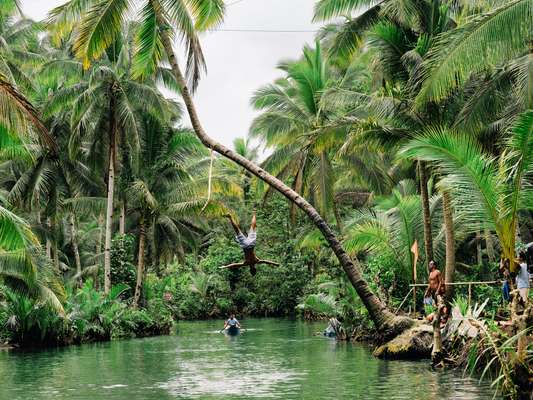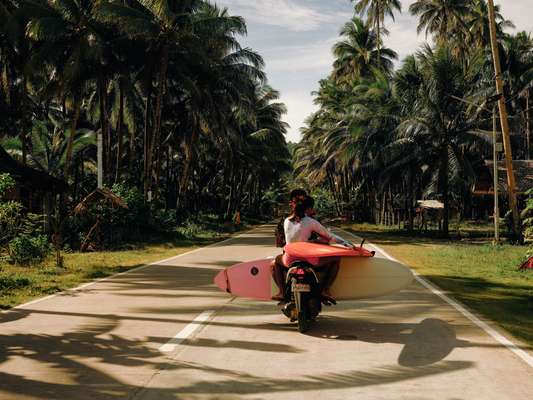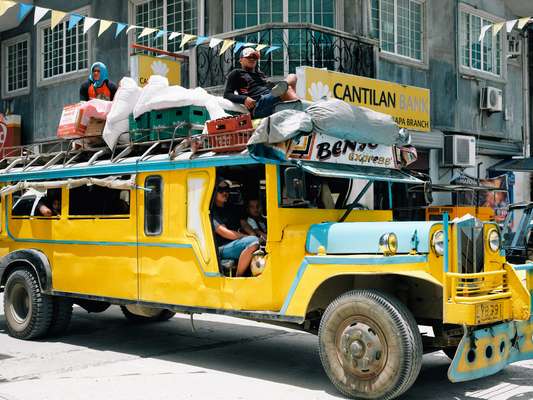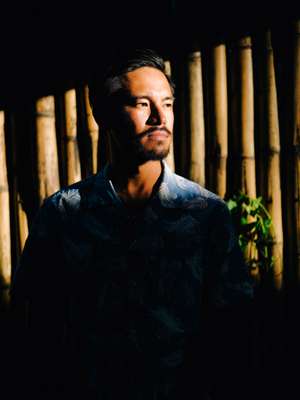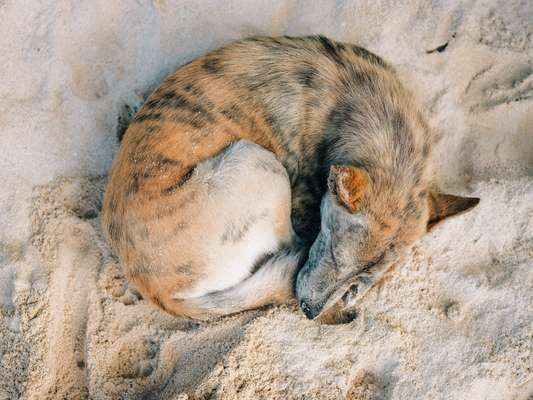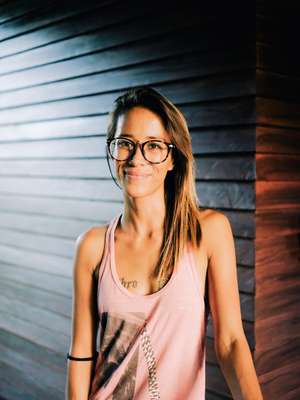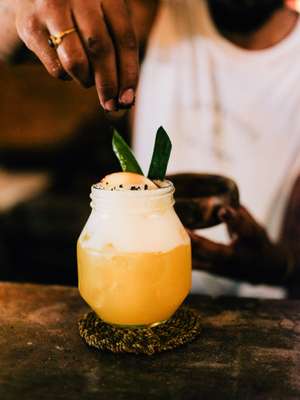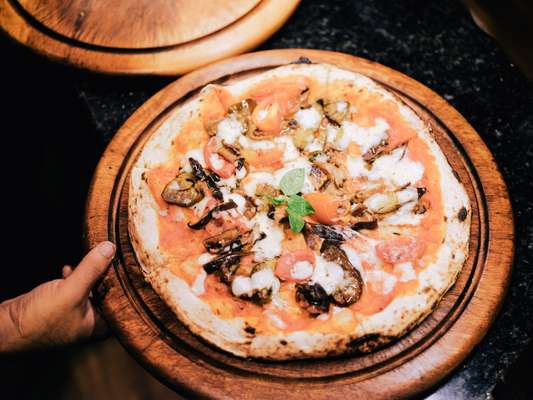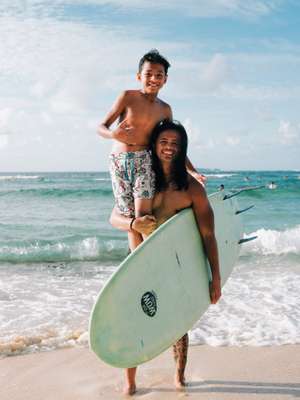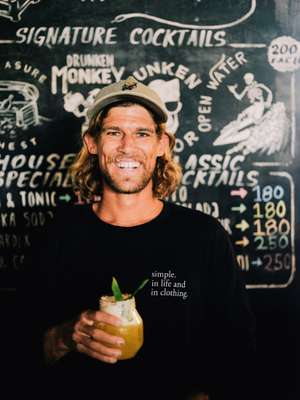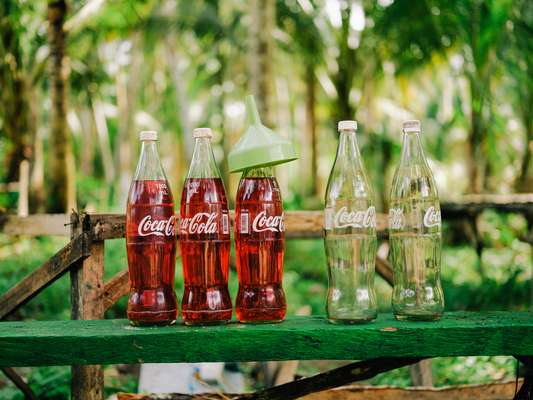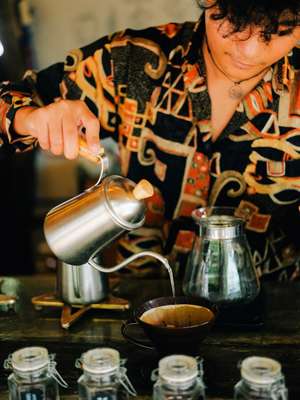 As night falls on GL, hospitality owners, tourists and surf instructors gather at the combined Loose Keys bar and CEV (Ceviche & Kinilaw restaurant). Filipino rock band Red Dogs are playing as two friends reflect on their lifestyle upgrade since moving here. "I'm the happiest I've ever been," says David Del Rosario, who left his finance job after nine years to let his hair down a little. The 33-year-old spent a year at a culinary school and a ceviche restaurant in New York before learning Siargao's hospitality ropes at Buddha. CEV opened last year, selling kinilaw – a Filipino version of ceviche cured with coconut vinegar and made with tropical fish such as mahi-mahi. His Manila friend Jap Lui Pio, a sports broadcaster for ESPN, opened a hostel nearby. Nowadays he commutes to Manila to cover the big basketball games.
Getting to Siargao used to require an epic multi-leg journey, ending with a 15-hour overnight ferry from Cebu; now it's a mere 40-minute flight away. The turning point came in 2017 when direct flights connected the island with the capital, Manila. A romantic Filipino movie named after the island and released that year added to the wheelie suitcases on the luggage carousel and drove demand for Manila-style service and air-conditioning. Twelve flights a day now land at Siargao's tiny airport, up from two per week, bringing in an estimated 200,000 arrivals last year. "Roughly half of my guests are now domestic and they will probably be taking surfing lessons for the first time," says Ashley Charles, a 35-year-old Yorkshireman, who set up the Buddha resort in 2011.
Island veterans such as Charles talk about 2016 like it was 30 years ago, not three. High season used to be around the international surf competition in September; now there's no low season. Summer is the best beach weather so rooms are booked up year round. Late-night parties, spun by techno DJs who take over from the island's traditional acoustic-guitar bands, provide entertainment for night owls who can't face waking up at 05.00 to surf at sunrise. Del Rosario and Lui Pio beam with pride, almost pinching themselves at the sight of foreigners and Filipinos, rich and poor, sharing waves by day and sandy dance floors by night – a far cry from the gated communities they left behind in Manila.
The feelgood vibes and liberal atmosphere are infectious ("Up to you" is a popular reply) and booking a trip to Siargao should come with a health warning: visitors come and never leave; plans to relocate to Bali are put on hold; even journalists sent to write a story have returned within two months on a personal assignment. Moving to Siargao is about getting on rather than dropping out: Italian Gianni Griofoni of Kermit Surf Resort and Restaurant regularly flies to Manila to oversee the first outpost of his island restaurant that opened in the Poblacion area of Makati last year. While some of Siargao's original Aussie proprietors left when their children had to go to school the second generation of Europeans such as Griofoni, are in it for the long haul. The 33-year-old is planning to set up an international school for his toddler and about 25 other kids born to the island's expats.
Given Siargao's warm climate and welcoming community, it doesn't take new arrivals long to start dreaming about owning their own slice of paradise. Conversations in GL inevitably turn to buying a plot of land and hand-painted "for sale" signs are nailed to tree trunks all over the largely untouched island. Land prices are skyrocketing. Evidence of a "Siargao bubble" for some. Yet others are more bullish. "Philippine tourism is in its infancy and there is nowhere to go but up," says Dexter Lee, who runs a property company with his brother Dennis. The retail-focused family business recently diversified into hospitality. Its Hue Hotels brand, already operating in Palawan and Boracay, is slated to arrive in Siargao at the beginning of the next decade.
The potential returns are clear: Nay Palad is one of the country's most expensive resorts, with room rates starting at $630 (€560) a night. While some grumbling can be heard about these outside investors riding the Siargao wave without even getting their feet wet, the standard of hospitality is being raised. A focus on quality over quantity is no bad thing now that families are beginning to make the journey to Siargao alongside footloose twenty-somethings. It can also counter the threat of mass tourism.
The big question on everyone's lips is whether this agricultural island can develop its nascent tourism industry while avoiding the pitfalls of Boracay. Famous for its white sand and clear blue sea, the island was declared a "cesspool" last year by president Rodrigo Duterte, who shut the island for six months. Siargao's close-knit community is determined to do development differently. "What sets Siargao apart is there are a lot of business owners who are environmentally conscious," says Ponio-Quadelli.
As a new day dawns, three boys playing in the port of Dapa skim along the water's edge on makeshift wooden surfboards. "We have a community who are willing to push the issues early," says Abe Tolentino from his home in Siargao's largest town. The Filipino, whose family ties to the island stretch back five generations, has become a spokesperson for sustainable development since becoming president of the Siargao Tourism Operators Association (Stoa). Some of Stoa's 120 members worked with local officials to improve waste management. Meanwhile the business association supported an influential NGO called Sea Movement when it successfully lobbied the government in GL to pass a single-use plastic ban in January.
The STOA president now wants regional and central governments to put the brakes on promotional activity (ads have appeared on buses in London and New York) and properly prepare the island, from building a hospital to enforcing existing regulations. Dressed in a floral shirt and flip-flops – more surfboard than boardroom – Tolentino is confident of getting business buy-in. "Most business owners understand that we are all selling one product – the island – and if we ruin it then we will have nothing else to sell."
Sustainable development will be given a helping hand by Siargao's geography: it is 40 times bigger than Boracay, has been a protected area since 1992 and, unlike Boracay, has an existing population. But, ironically, Siargao's biggest protector is likely to be its diminutive airport, which is already at capacity. Crosswinds and the surrounding mountains mean only propeller planes, carrying no more than 70 passengers, can land. The authorities are talking about building another airport but, according to Tolentino, this is at least a decade away. Until then flights out of Siargao will continue to be delayed when it rains. That forces travellers to extend their stays – and gives them time to plan their return.
---
Stay: Kalinaw Resort: Kalinaw's five villas live up to the name – it means "peaceful" in Cebuano. This discreet resort backs onto a private beach: dining on the sand doesn't get much more tranquil.
kalinawresort.com
Eat: Kali Ma Café: Enjoy a healthy breakfast of chia seeds, oats and fresh fruit amid the relaxed surroundings of yoga retreat Lotus Shores.
lotusshores.com/kalimacafe
Eat: Bulan Villas: People queued for hours at Italian expat Gabrielle Quadelli's former workplace Kermit, so grab a slice of pizza at Bulan Villas before word gets out.
Tourism Road, General Luna
Drink: Loose Keys: Thai-American co-founder Vitecha "V" Kochaon brings in musicians from across the Philippines to play live. Surfers can pair a beer with kinilaw (Filipino ceviche) prepared by chef Gringo Benedicto.
+63 928 338 8848
Drink: La Mari: This bar caters to an older cocktail-drinking crowd. Co-owner Dre is a Swiss hospitality-school graduate and has brought in service staff from his hometown of Cebu.
+63 917 714 2030
Coffee: MA+D Siargao: Few coffee shops can match MA+D's beachfront location (rise early to catch the sunrise). The staff are passionate about reviving the Philippines' once-mighty coffee industry.
+63 908 597 0063
Shop: Kudo Surf: Eco-friendly surf brand Kudo makes clothes for the World Surf League. Its Aussie founder and CEO James O'Donnell is the long-term partner of Sea Movement's Marja Abad, who runs regular beach clean-ups every weekend.
kudosurf.com
See: The North: GL residents in need of a break jump on their motorbikes and ride north to stay in beachfront towns on the east coast, such as Burgos and Pacifico. Scooter novices can join Bathala's island tour in a safari-style Jeepney.
+63 099 5011 7805
Read: 'Be Siargao': This monthly magazine covers hospitality and community news in English and Bisaya.
besiargao.com