Editor's letter / Global
Bums on streets
Let's take this outside – Tyler Brûlé outlines what our cities need to do to thrive.
The clock is ticking. The deadline is 31 October. This is the date on which the city of Zürich (home to monocle's headquarters) is supposed to cancel the special measures implemented in spring that allowed for restaurants, bars and cafés to expand onto public pavements in order to increase table capacity, stimulate city life and keep people outdoors. Although it's questionable whether wearing masks in shops and closing adjacent urinals in public bathrooms have made much difference in the fight against the pandemic, the expansion of café society onto footpaths has been a tonic for business owners, residents and the city in general – and not just in Zürich.
Around the world a decrease in traffic has allowed for pavements to be reclaimed. In shady suburbs, where many have been working from home, once sleepy precincts have boomed as a residential workforce has been on hand to occupy tables, shop at neighbourhood markets and fill baskets rather than online delivery forms. This has been good news for communities that were used to sluggish sales from Monday to Friday and only saw an uptick at weekends. It's meant that high streets that were on a fast track to failure have seen repeat traffic daily and a rhythm that comes close to resembling village life – familiar faces, people pausing for conversation, a slower and more even approach to consumption.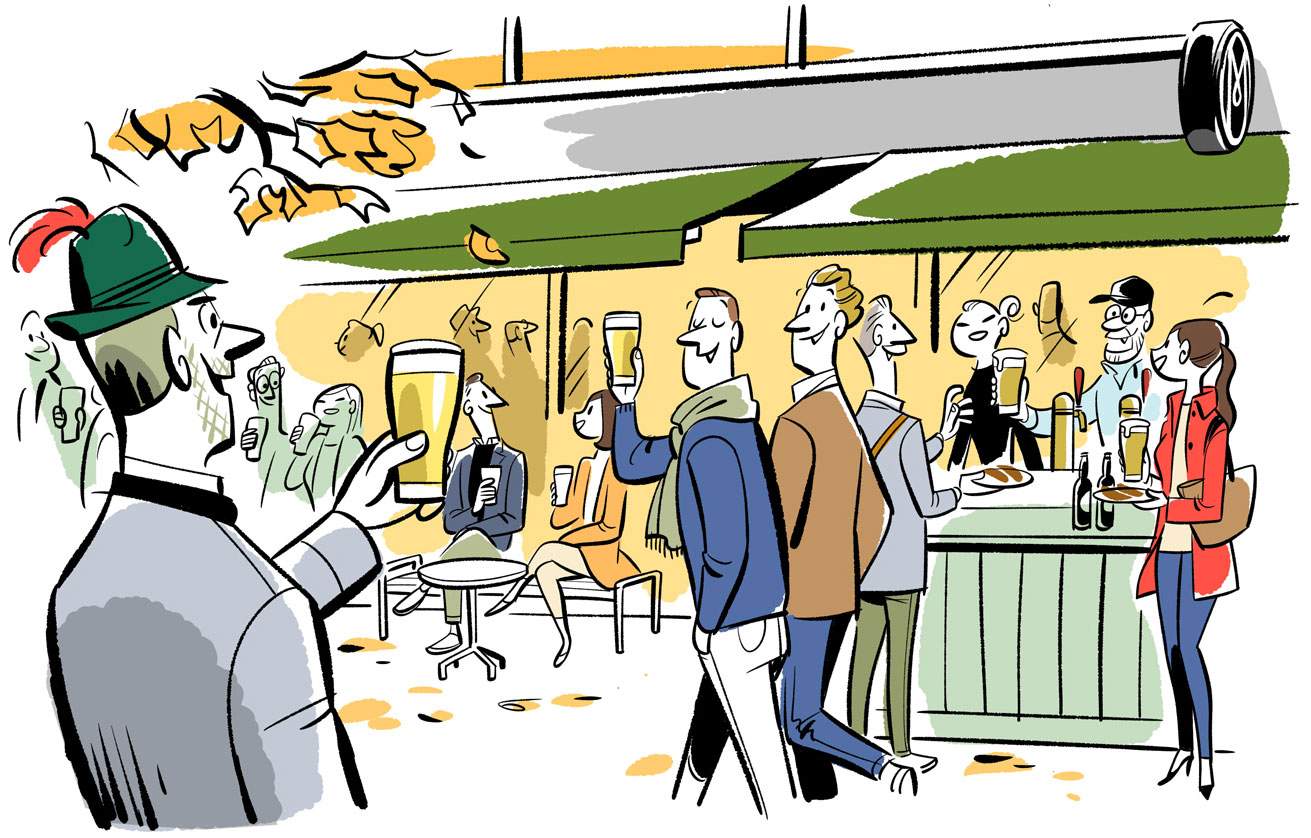 Around the towers and rail stations where most of these villagers normally work, meanwhile, it's a chilly scene of empty buildings, barren lobbies and businesses boarded up. A few days before this issue went to press I read a survey that suggested that only slightly more than 10 per cent of London's office workforce had returned to their desks. The UK newspapers were filled with con- cern that cities were being hollowed out and something needed to be done to get people back to buying coffees and breakfast before heading up to the 32nd floor, bumping into colleagues, catching a quiet word with the boss and going for drinks after work. As I read this story I glanced up from my perch in Vienna. On that particular morning I was enjoying a Wiener Melange on the terrace of a mid-century café. Groups of young men dressed in the crisp, telltale style of consultants in their first or second year on the job (navy suit, white shirt, no tie, monk-strap shoes) walked into a nearby building; around me clusters of two or three were having pre-work meetings and on the streets there was busyness and a sense of purpose.
Vienna is not London nor Chicago nor Melbourne; its conditions are different. Austria has (to date) done a good job of managing the pandemic while also keeping the economy moving. Vienna is a city that consistently ranks highly on global liveability surveys (monocle's included) and – on a sunny, late-summer day – it was easy to see how good urban planning and policies had helped the city to get back in action. It's a formula that other cities will need to follow if they want to maintain the positive of revitalised neighbourhoods while also figuring out what to do with all those empty office blocks.
We might soon have to clear the pavements in London and Zürich of our extra chairs but I'm hoping that local governments will allow them to stay. Likewise, it would be a positive if mayors and their advisors saw the good in greenery and implemented new measures to make business districts more liveable after hours and at weekends. Trees, gardens and human-scale shop façades would be a good start to a gentler, more rounded approach to city planning.
Which brings us to our latest addition for your night-stand, The Monocle Book of Gentle Living. If you're seek- ing for a few ideas to suggest to your city hall or your company's architecture firm, this new edition from our books team has all you need for a personal, professional or policy rethink. And we'll be hosting a few events to sign copies and trade ideas from its pages. First up will be Zürich and London, and then we hope to get to some key monocle hubs – quarantines permitting. If you want to be kept in the loop, it's best to become a subscriber or to sign up for our daily newsletters, The Monocle Minute and Monocle Weekend Editions. We look forward to seeing you over the coming weeks – it's about time! As ever, you can reach me at tb@monocle.com. Cheers and thank you for your support.