Briefing / Global
Cities
Briefing
Delhi's grand avenue gets a makeover and Helsinki's new chief design officer reveals her plans.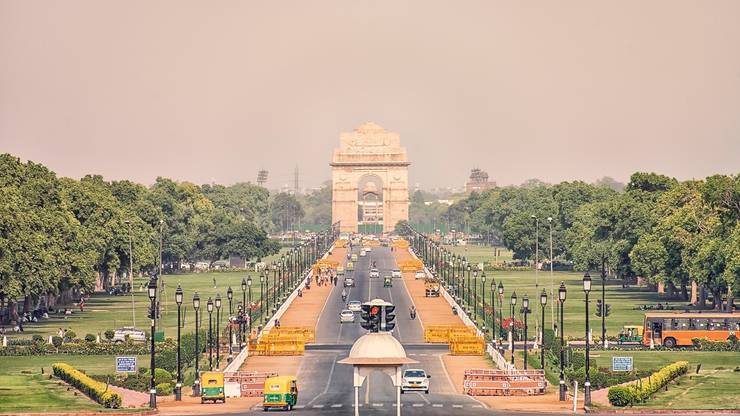 Passage for India
DELHI —
ARCHITECTURE
Built by the British as a show of pomp and dominance, Delhi's "central vista" has evolved into a statement of India's own grandeur. And now this avenue, which has an altar to imperialism at one end and a former palace at the other (with India's parliament off to the side), is about to get a makeover. The goal? To finally bring order to the country's administration.
Dr Bimal Patel – whose firm, hcp Design, Planning and Management, is leading the project – says that the original British architect, Edwin Lutyens, always intended for the 3km sweep to have ministerial offices along its sides. But after India's independence, government buildings sprang up in a haphazard way across the city. "Everyone functions from their silos and the administration is poorly served," says Patel. "The prime minister [Narendra Modi, who initiated the plan] is aware that you need good office infrastructure to run government smoothly."
The avenue's revamp includes several buildings that were erected in the 1960s and 1970s and, according to Patel, were "architecturally inadequate and on poorly utilised precious land". In their place will be a more cohesive and efficient set of offices to house all ministries. A new, more secure parliament building will also be constructed next to the existing assembly which, although impressive to look at, is in a state of disrepair and is too small for India's bulging legislative body. Finally, a new office and residence for the prime minister will be built.
Though the cost hasn't been revealed, the architects have set the ambitious target of completing the project by 2024. However, the lack of public consultation has drawn criticism, with many citizens demanding their say on how a beloved part of the capital might be changed. Others are worried that construction will eat into the lawns lining the avenue – a favourite of the busloads of tourists who flock here as well as serving as a picnic and even protest spot for Delhiites.
Patel insists that "not a single square inch of public space will diminish". Rather, he says, the project will actually provide more space for the public because the two majestic buildings known as North Block and South Block, which flank the former viceroy's palace and currently house a handful of ministries, will be turned into national museums. "It's akin to the Louvre in Paris being converted from a palace into a museum," he says. "It's a major symbolic gesture. It's a deepening of the republic."
Q&A
HANNAH HARRIS
CDO
Helsinki
In 2016, Helsinki became the first city to hire a chief design officer. Currently filling the role is Hanna Harris, a former director at Archinfo Finland and a programme director at both Helsinki Design Week and London's Finnish Institute.
What has this role brought to the development of Helsinki?
One example is our library system. Helsinki has close to 40 libraries. The new central library, Oodi, is the jewel in the network. Participation processes with all its users went into making Oodi a library of the future. The same principle goes into keeping older libraries relevant or designing smaller ones outside the centre. Library usage has increased throughout – not just at Oodi.
What are the architectural challenges facing Helsinki?
There's a need for new housing and better services. We've many large infrastructure projects on the way. Helsinki is also taking climate matters seriously and our carbon-neutral Helsinki 2035 programme will impact all future urban planning.
What role does design play in a well-functioning city?
An understanding of the designed environment aids active citizenship. Education can teach people how to read the built environment and help to shape it.
Playing it safer
BALTIMORE —
URBANISM
Legislators in Baltimore are set to overturn a law that prohibits throwing a ball or flying a kite on the city's streets; offenders currently face a potential $50 (€45) fine. The rule was introduced to discourage children from playing near traffic and thus keep them safer. However, councillor Ryan Dorsey, who is spearheading the repeal, says that it fails to do so as it doesn't encourage motorists to slow down.
"It's not the law that's going to keep children safe," says Dorsey but rather "changing driver behaviour by prioritising other modes of transport". He points out that encouraging more people to walk, cycle and ride on public transport lessens the dominance of cars and challenges the "collective mindset that the space belongs to the automobile". Bike lanes, it seems, will be key to having a ball on Baltimore's streets.