Auckland / Global
Café cultured
Coffee is a way of life for New Zealanders and there are no finer connoisseurs than the guys at Coffee Supreme. The company's Al Keating gives Monocle a food-and-drink tour of his Ponsonby neighbourhood.
"Having a coffee is a default social thing we do. You guys go for a pint, Kiwis go for a flat white. It's a cheap thrill," says Al Keating. The 33-year-old is the manager of the Auckland office of New Zealand's celebrated roaster and wholesaler Coffee Supreme.
With espressos in some of the world's best cafés brewed by Kiwi baristas, coffee has become a cultural phenomenon here and the workers in the industry are now local heroes. Coffee Supreme is one of New Zealand's leading suppliers with 350 contracts nationwide and an overseas operation based in Melbourne.
Keating's office is behind one of Auckland's leading indie cafés, Good One. It is Coffee Supreme's flagship space in Auckland and is characteristic of New Zealand's coffee culture – neighbourly and committed to serving high-quality brews. The bathtub-sized mochalatteccinos popular in other corners of the world have never caught on here. "Starbucks never really got a foothold in Auckland; it's gone for a few high visibility stores, but sells drinks mostly to tourists," says Keating.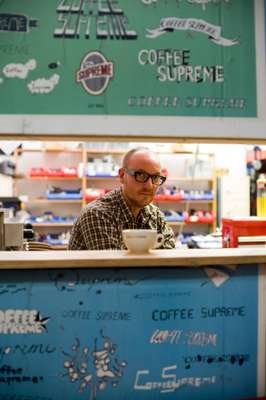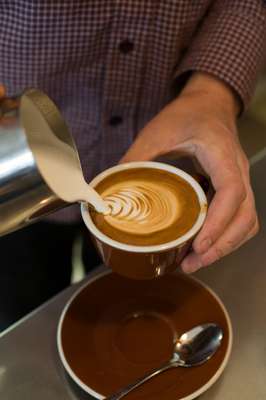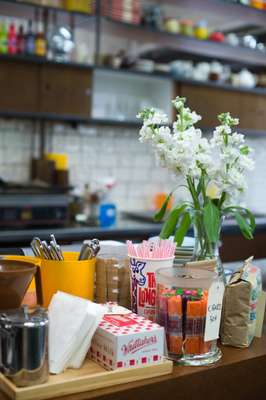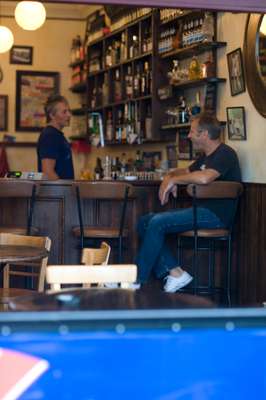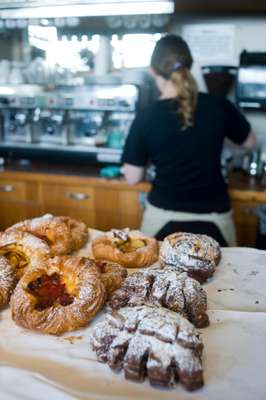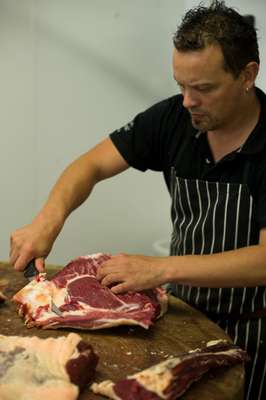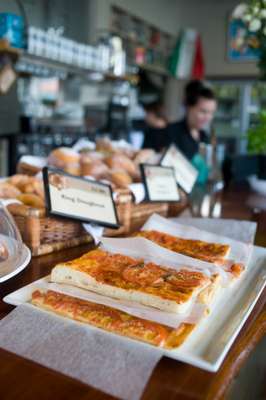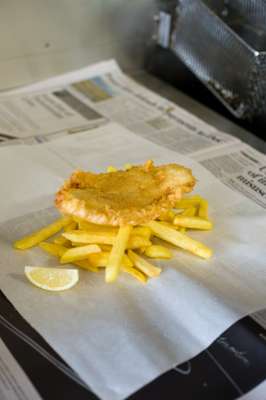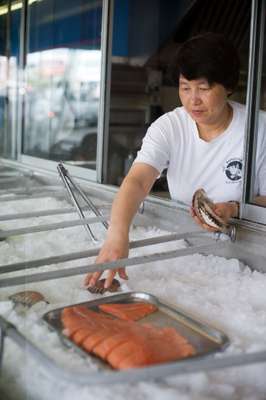 Keating starts the day in Good One with a cup of filtered Ethiopian Harrar – "It's got a fresh bread and cinnamon fruitcake aroma," he says – and banter with the Ponsonby locals. Most New Zealanders like their coffee milky, and for flat whites or cappuccinos Keating suggests using Coffee Supreme's Boxer blend – made from Brazilian and Papua New Guinea robusta beans.
He'll breakfast on something that comes in to the café with the daily orders from local bakery Il Forno, situated on nearby Mackelvie Street. It supplies Good One with Puglia and mixed-grain loaves and it's where Keating also goes to pick up treats for his two children. "The kids go crazy for the cherry doughnuts."
For lunch, Keating will make do with a "steak and cheese" – a palm-size pie that's held very dear by the Kiwis – which he picks up from the Early Bird Bakery. He'll pop next door to the friendly family-run D Jairam & Sons for bits and pieces for the pantry.
Up the street is Ponsonby Fish & Chips where Keating goes for some local catch, or to pick up some fish burgers, "I don't do the chips, carbs and all that." Despite New Zealand being known for its lamb, fish is much more common as supper in Auckland. Kiwi fish-and-chip shops typically double as fishmongers too, unlike their vinegary batter-ridden British counterparts. When he's there, he'll grab a bottle of L&P from the fridge, a sweet lemon drink that originates from the nearby town Paeroa, which is drunk by the oceanful in NZ.
The Kiwi working day starts early and ends early. After work, Keating will drive by Mondial in neighbouring Grey Lynn for a bottle of Kiwi Steinlager, and stop for a natter with the impeccably handsome French owners Pascal and Manuel. He'll sometimes graze on their French tapas menu – "not that they'll let you call it tapas" – including salt and pepper squid or tuna skewers with caperberries and lemon.
Auckland is a small city of 1.3 million with almost 1,500 restaurants, and isn't short on celebrity chefs. Typical of the casual Kiwi spirit though, Keating's taste is low-key, and instead he prefers to focus on good produce in familiar surroundings.
If the tapas at Mondial isn't enough, he'll skip the haute cuisine and instead pick up dinner at local butchers West Lynn Meats. "It's where I buy my sausages, usually pork and fennel. Everyone knows about them for their barbecue. They're made 'just over there' – you know it doesn't have all that muck that's in the mass-produced ones. It's owner-operated, and being local, they get to know you there."
Set up by Chris Dillon in Wellington in 1993, as Coffee Supreme's influence on the Australasian coffee scene has grown, its power has devolved to satellite offices, including Al Keating's in Auckland, and in the highly competitive market in Melbourne.
Ponsonby is a hilly district west of the city centre. With pretty Victorian villas and bungalows on tree-lined streets it's reminiscent of San Francisco. The main artery is Ponsonby Road, populated by independent boutiques, cafés, and some of the city's best bars. Following a dip in the 1970s, when bohemians, the rainbow crowd and new arrivals from the Pacific islands made use of the low rents, Ponsonby has undergone major gentrification in the past 20 years, with floorboards polished and Auckland's creatives moving in.
Beyond the balsamic
Austria
Vin aigre is French for "sour wine", and for a long time many conventional, non-balsamic vinegars lived up to their name. In recent years, however, the more refined flavours of speciality vinegars have become increasingly popular and Austrian maker Gegenbauer has caught the attention of chefs such as Daniel Boulud and Jean-Georges Vongerichten.
To produce flavourful acidic brews, the Vienna-based firm presses asparagus, tomatoes and other fresh produce into juices that are then fermented into vinegars for no fewer than three years. The ingredients are regional and no additives are used in the process.
Founder Erwin Gegenbauer says, "In the past, there was only apple vinegar or fruit vinegars made with second-rate mixtures, but today's single-ingredient fruit vinegars inspire chefs to invent new creations." Many of these chefs have earned Michelin stars, but hobbyists use it to accent foods. Just match the vinegar to its fruit: you can't go wrong with a dash of tomato vinegar on a mozzarella and tomato salad; or asparagus vinegar in the sauce hollandaise topping white asparagus.
Five artisanal fruit-vinegar producers
01.
Gegenbauer, Austria
The Rolls-Royce of vinegars.
gegenbauer.at
02.
A L'Olivier, France
France's oldest oil and condiment purveyor has excellent fruit vinegars.
lolivier.com
03.
Stratta, England
Mary and John Stratton's sweet fruit vinegars consistently win awards.
stratta.org
04.
Acetoria, Italy
Made in Bolzano. Chestnut honey is a favourite.
05.
Shady Glen Enterprises, Canada
Pressed berry-based vinegars from British Columbia.
loveberries.com
Good One 42 Douglas Street
Il Forno 55 Mackelvie Street
Early Bird Bakery 133 Ponsonby Road
D Jairam & Sons 141 Ponsonby Road
Mondial 549 Great North Road, Grey Lynn
West Lynn Meats 440 Richmond Road, Grey Lynn
Ponsonby Fish & Chips 127 Ponsonby Road