Global selections / Rio de Janeiro
Keeping it wheels
As city government initiatives help kick-off a cycling boom in the Brazilian metropolis, we look at the converging urban elements that are rapidly making Rio a pedal-power paradise. Then on the following pages we go global for this issue's travel picks.
Rio's bus drivers are notorious, careening through traffic, blind to cars, bicycles and pedestrians. Last month the city's environment department teamed up with bus companies to launch a scheme to educate drivers: 400 of them were forced onto bikes and into traffic to bring home to them the problems cyclists face. Since launching the Bike Rio sharing scheme with Itaú Bank in 2011, City Hall has implemented more measures for cyclists, such as extending the 304km of cycle lanes to 450km, creating the longest network in Latin America. Unsurprisingly, bicycles have experienced a spike in popularity.
At the end of 2011, friends Daniel Olej and Eduardo Moura quit their jobs at the fashion company Redley to take their hobby up a gear and create bicycle maker Itsu. "We enjoyed building bikes because it contrasted with our office lives. We changed our lifestyle overnight by doing something we believe in, working on a small scale with flexible hours, and the ability to stay fit and travel around the city during the day," says Olej. They build each bike to order in their atelier in Niteroi, offering customisation options that include nine different colour combinations.
Last year the pair added skateboards and a bespoke backpack to the Itsu line. "Geography helps a lot; much of the city is flat and you have the sea as a guide," says Olej of Rio's cycling scene. One of the best routes is around the Lagoa Rodrigo de Freitas. The 8km lane that loops around the lake behind Ipanema beach is a-whir with cyclists who stop for agua de coco or grab a snack at one of the cafés. Riders frequently halt in their tracks to gaze at the helicopters landing opposite the Jockey Club or to watch the Botafogo rowing association train its Olympic hopefuls on the water in preparation for 2016. The local Bar Lagoa serves some of the best pasteis (savoury pastries) in Rio, while the palm-roofed boteco (bar) Palaphita Kitch, serves the strongest caipirinhas and has the best view of the lagoon.
---
On the edge of the CBD, the suburb of Chippendale used to be the home of Sydney's brick quarries. Today it is a mix of light industry, galleries and creative offices and, for Paul Geshos, baker Simon Cancio and chef Ben Abiad, it's also the perfect setting to provide the local community with a genuine neighbourhood bakery. Brickfields produces artisan breads, cakes and pastries inspired by European and Middle Eastern recipes. The space was outfitted by local designers Smith & Carmody and also has a café with coffee from around the world by New South Wales's own Mecca Espresso.
+61 (0)2 9698 7880
---
The evolution of fast food has taken a leap forward in Tokyo, where a new style of hamburger restaurant has opened in Aoyama thanks to United & Collective, the brains behind The 3rd Burger. This is a place for anyone who likes a hit of burger and fries without the usual artificial additives and generic décor. Evaerything served here, from the beef to the buns, is freshly prepared in the restaurant kitchen while the menu skips the standard fizzy drinks in favour of fruit and vegetable smoothies.
Tokyo-based designers UDS were brought in for the interior – all wood and traditional Japanese plastering – and celebrity DJ Towa Tei created the upbeat soundtrack. The 3rd Burger's day starts with a breakfast menu from 07.00 and transitions to beer and organic wine at night. The Midori is a real winner: a regular burger with the addition of peppery komatsuna leaves and olive oil.
the3rdburger.com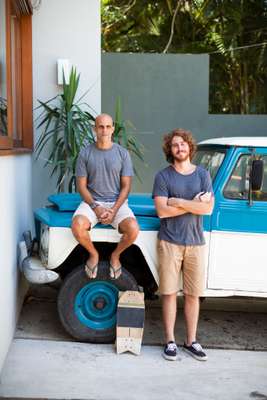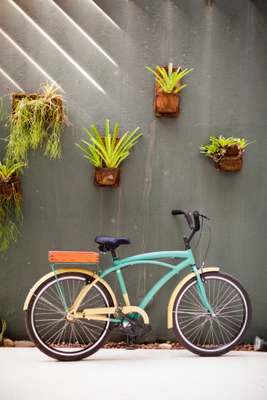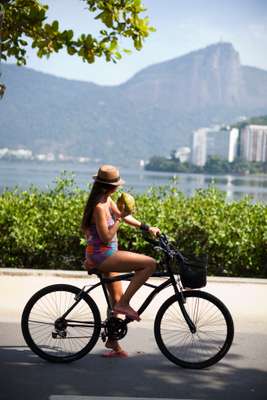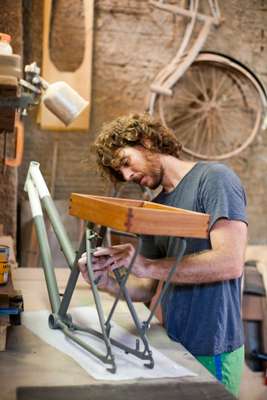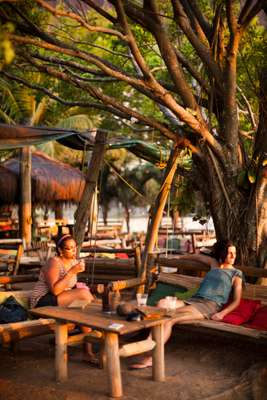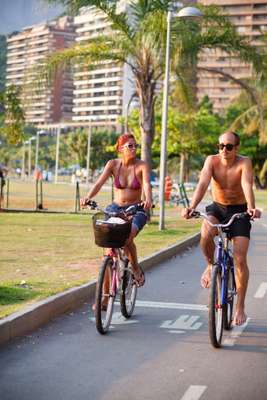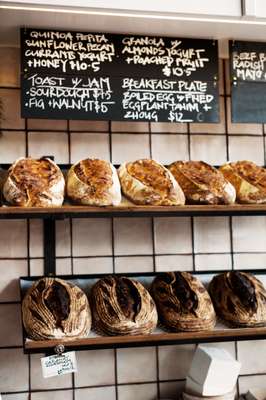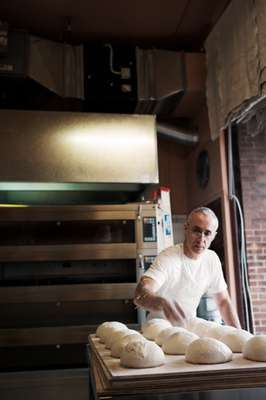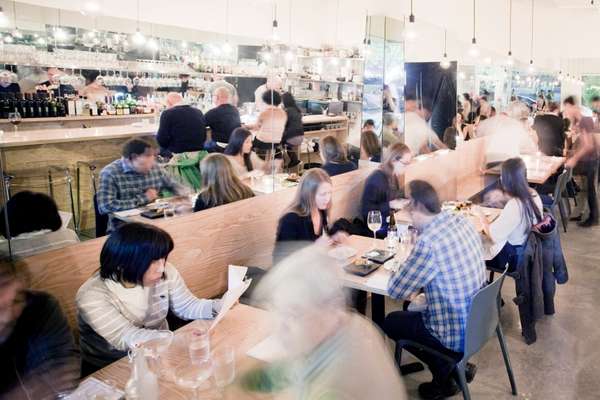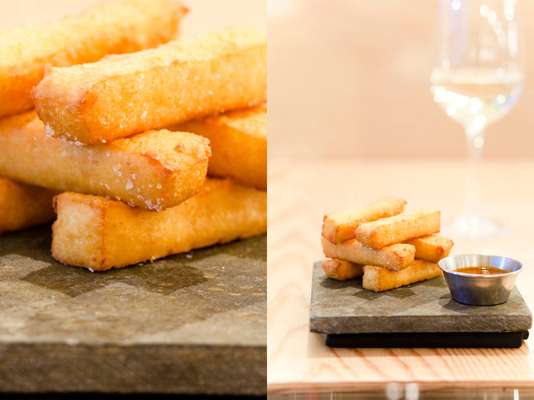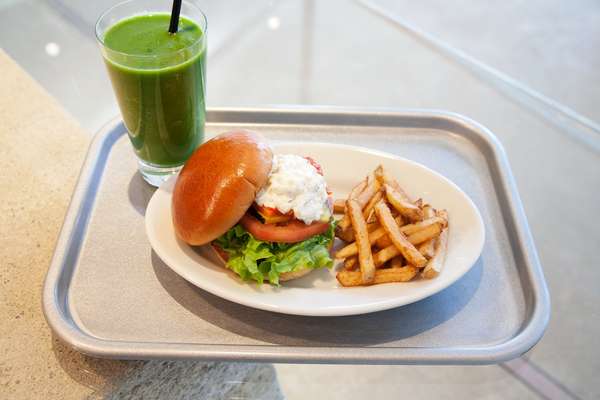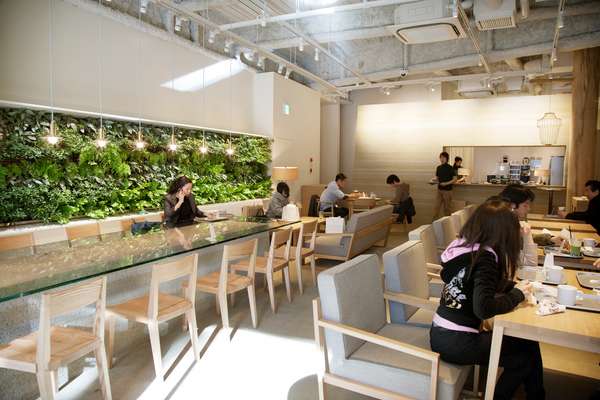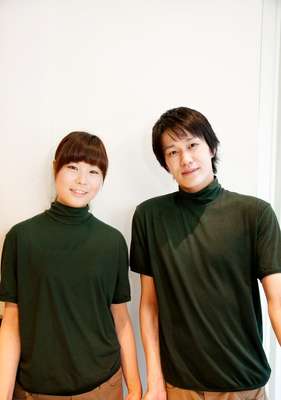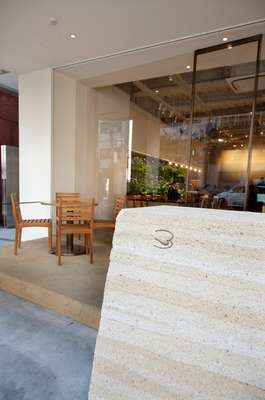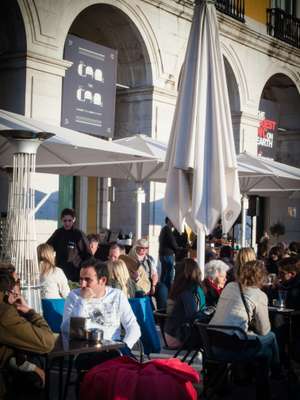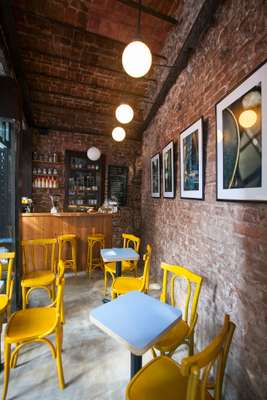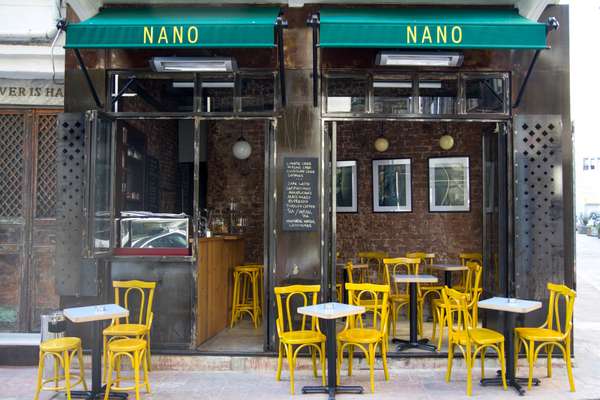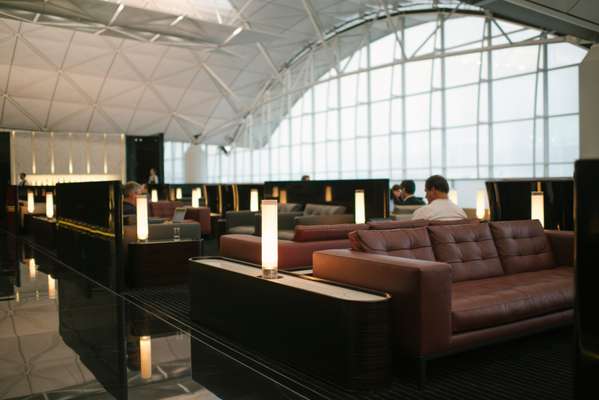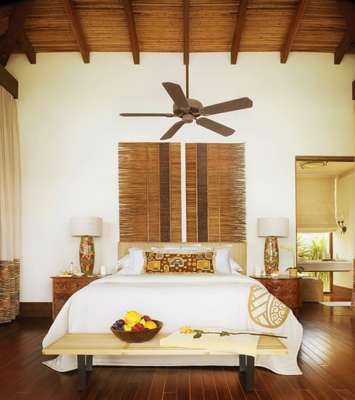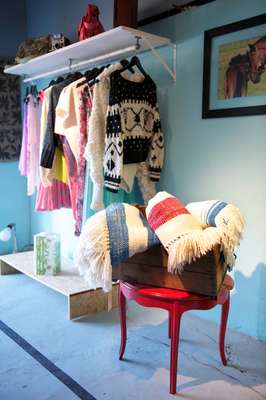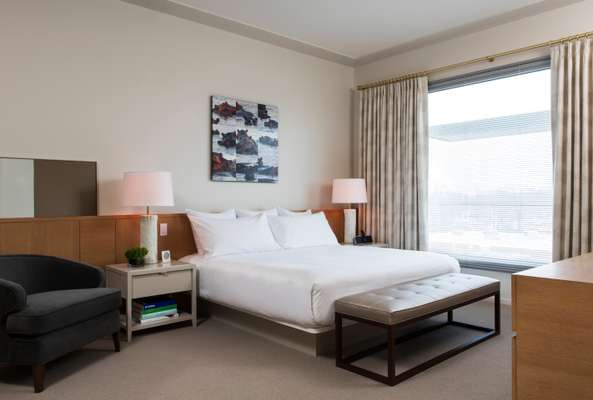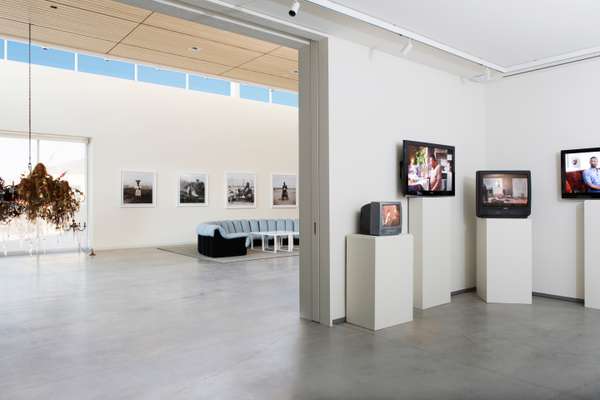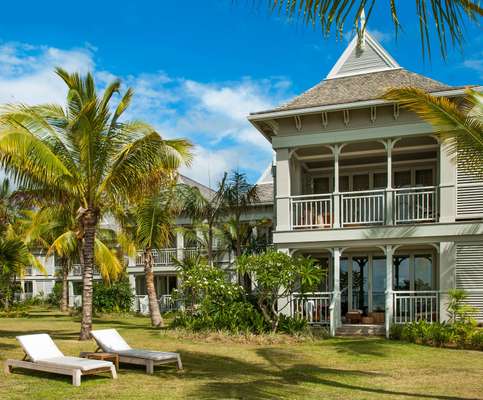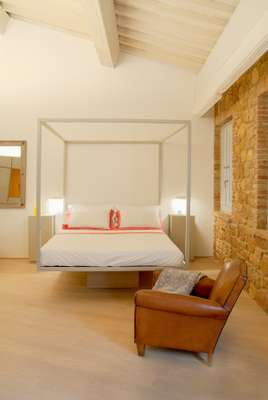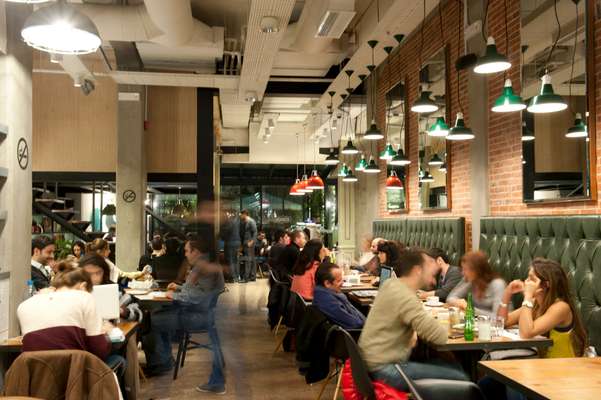 ---
Located between the historic Strathcona and Chinatown areas, The Parker is a welcome addition to Vancouver's vegetarian scene. Executive chef and co-owner Jason Leizert uses seaasonal vegetables from the restaurant's rooftop garden to craft delicate dishes using traditional French methods.
Plates such as porcini jelly with goats' cheese fritter and chanterelle mushrooms or zucchini-wrapped kohlrabi with harissa and miso dressing have graced the tables of the 20-seat bistro. "Local farmers show up with new offerings daily so the menu changes almost every day," explains co-owner, Steve Da Cruz.
theparkervancouver.com
---
Canned food has morphed into a sophisticated gourmet offer at Can The Can, a café and tapas restaurant set on Lisbon's Praça do Comercio. Portuguese designer Victor Vicente's airy interior is an homage to canning, one of his native country's traditional industries. His massive chandelier, constructed of 3,000 empty but sealed unbranded fish cans, hangs from the ceiling, as do tomato paste tins-turned-pendant lights. On the tables large tuna canisters serve as breadbaskets while bright cans of sardines, mackerel, cod and octopus line the soaring birch plywood shelves. Chef Kleanthis Konstantinides is no stranger to preserved food. "Sardines were always present in my mother's pantry in Crete," says Kleanthis, whose staple dish is the tiborna, a Portuguese bruschetta made with sardines, pesto and grilled green and red peppers.
canthecanlisboa.com
---
Two decades after the civil war, Nicaragua is enjoying a surge in tourism, the beauty of the "land of lakes and volcanoes" and its colonial-era cities a natural draw. Businessman Carlos Pellas recently debuted Mukul, Nicaragua's first luxury beach resort, terraced on the cliffs of the Emerald Coast. The 37 rainforest bohios and Playa Manzanillo villas come with private pools, personal staff and towering glass walls overlooking the ocean. Tee off at the 18-hole golf course, enjoy the spa's indigenous therapies or, in the wave-lapped lounge, sip the Pellas family's award-winning Flor de Caña rum.
mukulresort.com
---
Cathay Pacific first-class lounge
Hong Kong Intl Airport
Cathay Pacific is keeping premium passengers happy with a Foster + Partners' revamp of The Wing. Its first-class lounge at home base features Naoto Fukasawa dining chairs, five cabana-style shower rooms and a champagne bar. General manager of product Toby Smith says, "It's about making our passengers' stay as enjoyable as possible."
Top three new elements at The Wing:
A la carte menu at restaurant The Haven.
Full-sized bathtubs at the cabanas.
Eucalyptus and bamboo wood details.
---
Starting a design outlet in a resort town where buckets and spades are more popular than bespoke objects seems ambitious but Carolyn Prevett and her partner Mariano Piñeyrua have managed pretty well. After studying design in Montevideo, the pair opened a store in Pueblo Garzón selling the best of Uruguayan craft. "The town was already popular with tourists," says Piñeyrua, "which gave us the energy to open a unique space." Besides decorative objects and homeware, the store also has gallery space for local and foreign artists.
alium.com.uy
---
Travellers in Tuscany gained an option beyond the usual country villa when La Bandita opened earlier this year in medieval Pienza. "The village provides an opportunity to experience the real dolce vita," says John Voigtmann, a New Yorker who quit the music industry to open his cosy retreat in a house that dates from 1460. The 12 rooms feature towels from Trousseau, Ortigia skincare products and Voigtmann's own vinyl collection. All that, and views of the hilltop villages of Montepulciano and Monticchiello.
labanditatownhouse.com
---
Instead of a gallery to showcase their private art collection, Laura Lee Brown and Steve Wilson decided to open 21c Museum Hotels, marrying a gallery space with luxury accommodation. This February, they opened in Bentonville, Arkansas, home of the new Crystal Bridges Museum of American Art. "Our hotels are centred on art and treated like galleries. We choose downtown locations to help regenerate the core of the city," says Wilson. The 104-bedroom venture houses 11,000 sq m showcasing commissioned works as well as loans from the Whitney Museum.
21cmuseumhotels.com/bentonville
---
The white-sand beaches of the Le Morne coastline in Mauritius and its surrounding caves, lush mountains and turquoise lagoon earned the peninsula a spot as a Unesco World Heritage site back in 2008. So it was no surprise that the St Regis, famed for its five-star hotel in New York, decided to embark on its latest venture there. The group's first resort in the Indian Ocean is a game-changer for the island, offering a gastronomic collection of seven restaurants that includes Simply India run by Atul Kochar, the chef behind Benares in London, and all serving dishes made with ingredients sourced from the subcontinent. A 24-hour concierge and a private butler service is provided and, if you still feel the need for some extra pampering, the fitness centre offers one-to-one lessons with the Mauritian former Olympic athlete Arnaud Casquette, after which your workout can be topped off with a soothing massage at the hotel's Iridium spa.
stregismauritius.com
---
Just off the narrow, bustling Gemmayze Street, Urbanista is an exception in Beirut's nightlife district where bars and restaurants open and close in the blink of an eye. Owners Zeina El Eid and her husband Houssam gathered a crowd of regulars to their "second home for customers" in a matter of days with a menu mixing culinary classics with local produce in dishes such as the brie omelette with watermelon. To add a homely feel to the former warehouse they've provided a stash of their son's comic books for diners to peruse in the restaurant or among Zeina's aromatic gardenia trees in the courtyard.
+96 1156 7811
Footnote: In July 2006, while Beirut was under siege, Mazen Hajjar got into brewing. He named his first batch 961 Beer; seven years later, 961 yields two million litres a year. Its latest is a Lebanese Pale Ale made with sumac, wild chamomile and sage.