Report / Takamatsu
A little respect
Japan's penchant for knocking down old buildings is taking a back seat in one prefecture, where the modernist architecture could, with the right exposure, help boost tourism.
The last time a devastating earthquake shook the city of Takamatsu, in western Japan's Kagawa prefecture, was just after the Second World War. "The central government and seismologists say the next major one could come any time," says Masaharu Kagawa. Responsible for the upkeep of the prefectural office's building, Kagawa's concern over an impending earthquake is valid. This, after all, is no ordinary office block. A hybrid of traditional temple-style architecture and beefy brutalistic concrete beams, it's a 1958 masterwork from famed Japanese architect Kenzo Tange. When we visit, construction crews are digging up the surrounding garden and plaza. Over the next two years Kagawa's department will burrow below the foundations of this eight-storey building and prop it up while installing underground shock absorbers. When finished, the ¥4.2bn (€32m) upgrade will make the building more quake-resistant. "We've never tried to do anything on this scale," he says.
It's a rare case of government officials choosing preservation in a country where tearing down old buildings is standard practice. But it's also a sign of the times in Takamatsu, where works by Japan's great modernist architects, such as Tange, are becoming increasingly recognised.
Many of Takamatsu's landmarks were commissioned by Masanori Kaneko, Kagawa prefecture's first postwar elected governor. Under Kaneko, who held office from 1950 for nearly 25 years, economic growth wasn't the only item on the agenda: he worked with Japanese artists and designers on public buildings and furniture, and promoted the region as a cultural haven. His legacy is a treasure trove of monuments from an era of creative liberty that are woven neatly into Takamatsu's urban fabric.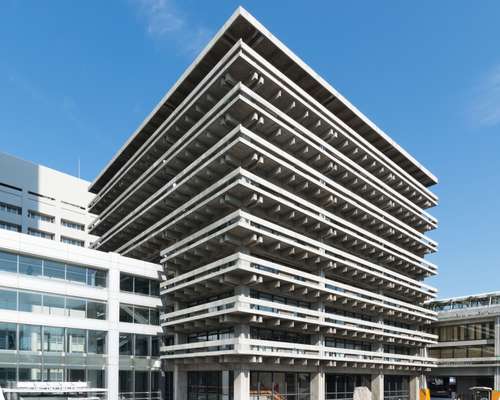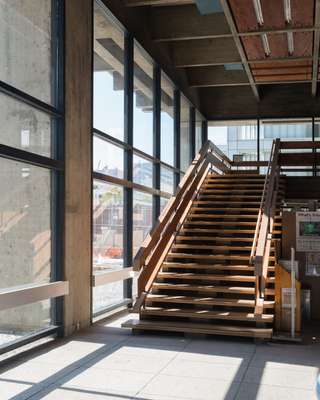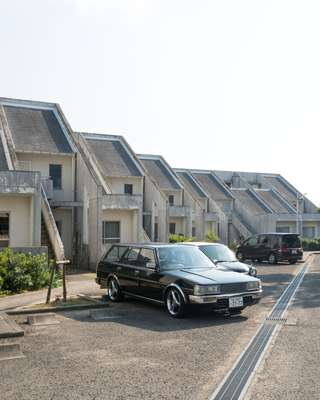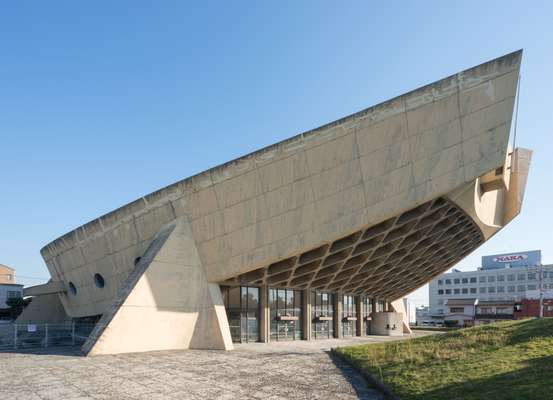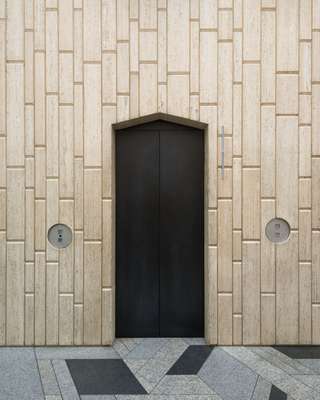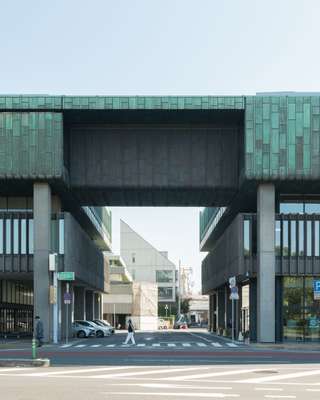 The prefectural office, the city's tallest building at the time, wasn't Tange's only statement here. He also designed Kagawa Prefectural Gymnasium, a swooping concrete building that was opened in 1964, with a form that draws comparisons to the hull of a giant boat. Officials closed the gym in 2014 after ruling that its curved roof structure had become unsafe but designers are lobbying hard for its restoration. For decades the gym was a stage for the region's athletes and advocates for sparing the building from the wrecking ball believe in its cultural and architectural significance. "Volleyball, badminton and table tennis teams in the region came here to qualify for the national level," says Noriyuki Kawanishi, a Takamatsu-based architect and former high-ranking badminton player.
Within days of the gym's closure, Kawanishi launched the Association for the Preservation of Kagawa Prefectural Gymnasium and began enlisting other architects to lobby officials and alert the public. In October 2017 the gym was placed on the World Monuments Fund's 2018 Watch List of at-risk buildings – a positive sign, says Kawanishi. "It represents Japan's highest level of building and design expertise," he adds. He walks around to one side to show how the sloping roof channels water from the rooftop into a pond. "If I were the governor I would save it for future generations. It's a waste not to."
Kawanishi could easily be talking about Takamatsu's other architectural highlights. In the early 1960s, Tange designed a housing complex for low-income families calledIchinomiya Danchi, which is still in use but in need of renovation. In the city's Chuo Koen (Central Park), playground equipment designed by US sculptor Isamu Noguchi occupies a shady spot. And towering over the park's western edge is 114 Bank from 1966, with its patchwork skin of oxidised copper plates, overlapping layers of concrete and glass, and a travertine-and-marble lobby by sculptor Masayuki Nagare.
Yet one of the odd facts about visiting Takamatsu is that the city's architectural heritage is a mystery to many of its residents. Citizens will proudly tell you about Marugemachi Dori, the covered shopping arcade that is the longest in Japan. But few have heard of Shiro-no-me, a coffee house near the arcade featuring a 55-year-old stone wall that architect Kunio Maekawa built to test his design for the Japanese pavilion at the 1964 World's Fair in New York.
At the Kagawa Prefectural Budokan – a 1961 martial-arts venue that is a concrete exaggeration of traditional wooden carpentry – we encounter two firemen who are practising kendo. They are wielding bamboo swords in an airy hall beneath giant lanterns of wood and washi paper. It's a stunning arena for their weekly routine. Masashi Yamanaka admits to knowing little about the building. "I have been coming here since I was very young. I have no idea what the martial-arts halls in other places are like, I'm just thankful that we have a public venue to use."
Takamatsu's citizens may have learned to quietly live within a unique and inspiring urban environment but recent preservation efforts are starting to put the city on the global design map. This could prove helpful for a place that ranks poorly in tourism stakes. It's not easy for Takamatsu to market itself when the Japanese mainly associate the city with udon noodles, bonsai trees and a ferry to Naoshima, one of the remote islands in the Seto Inland Sea. Yet it's this same cultural set who head to the contemporary-art museums on Naoshima that may start to flock to the modernist gems of Takamatsu – if the buildings are given the right exposure. Hopefully the preservation movement by both the government and the more design-engaged residents here can create positive tremors that are felt well beyond the city.
---
Attracting attention
With a population of 420,000, Takamatsu is the economic and cultural heart of Japan's western island of Shikoku – but far from a tourism hotspot. A former fortress town led by a powerful samurai clan in the 16th century, the city is perched among lush lava-formed hills overlooking the Seto Inland Sea. Yet Takamatsu isn't even ranked among the 100 Japanese cities with the strongest brand, according to the Brand Research Institute in Tokyo. Takamatsu's modernist treasures and their contemporary allure may, therefore, help boost its reputation among a culturally engaged audience.