15 ideas for entrepreneurs / Global
Venture forth
Matt Alagiah reporting on start-ups: So your dream of setting up in business has long foundered on the lack of an actual idea? Allow us to propose 15 enterprising concepts that fill gaping gaps in the market. Now quit your day job.
Have you ever had to hand your 110ml bottle of fragrance over to airport security and then go days on the hoof without your favourite scent? Or woken up an entire neighbourhood in the wee hours with an implausibly loud wheelie suitcase? Or arranged to go for a drink with an old friend on a gloriously sunny evening, only to find that the outdoor seating area of your chosen establishment is already – heartbreakingly – in the shade? These are undoubtedly some of the greatest ills currently facing mankind; luckily there is no problem too entrenched for the visionary entrepreneur to tackle.
Let's make 2018 the year in which you find your inner entrepreneur. If you have an idea you've been ruminating on for years, stop boring your heroically patient friends and family with explanations of just exactly why and how it would work. They'll gladly put a few thousand behind you if you take the plunge, if only because it might shut you up. Alternatively, if you lack a concrete concept but still want to run your own show, then fear not and read on. Whether it's a venture built to solve one of the common conundrums mentioned above or one designed to remedy a more serious scourge, we have put together a lighthearted collection of 15 business concepts that we'd like to see emerge in the next 12 months.
Whereas endless time and capital is poured into vanity projects that, even if successful, would have limited benefits for the world (who's crying out for a Hyperloop?), these ideas are mercifully simple and would, on the whole, be cheap to execute. So please feel free to borrow and steal as much or as little inspiration as you like. Our only request is this: if Suncatcher really catches on, take us for a pint please.
Outside Japan, the world has been slow to realise the need for miniature home appliances. Japanese apartments have been small for generations but in much of the West, city-dwellers are only now getting used to the battle for square footage. So there is space (literally) in the market for a Muji-like manufacturer-retailer selling irons, kettles and toasters that fit snugly into our shrinking flats. Ikea hasn't yet cornered this market but must be considering a similar move. Co-living and smaller-footprint apartments are here to stay so it's time for a brand to fill this (petite) gap.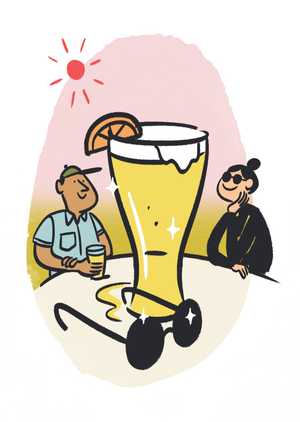 "Drinking in the morning sun/ blinking in the morning sun", sang Elbow on "One Day Like This" and fans loved the double meaning. But where can you drink in the morning sun? Or the early-evening sun, come to that? For too long the post-work negroni or after-hours pint has been downed in shade. So welcome Suncatcher™. This ingenious app collates data from establishments that have paid a small fee to fix a sunshine sensor to their terraces, and points you in the direction of a sunny drink, even suggesting a next stop. A Suncatcher rating will be the key arbiter of any beer garden.
One of the biggest frustrations for the modern traveller is the no-liquids rule. Air passengers either have to buy mini bottles of perfume or try to pour enough for a trip into a smaller receptacle. So wouldn't it be nice if there were a beautifully designed dispensing machine in your hotel bathroom pre-loaded with 10 hand-picked smells? We'd team up with the finest fragrance brands, such as Acqua di Parma and Perfumer H, to cover all tastes. That way you could leave your bottle of scent at home and still have a spritz before dinner.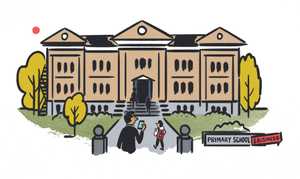 City-centre schools usually belong to the local council or some genteel foundation. Many seem unaware that they're sitting on a valuable asset: a big tranche of land and buildings that are all but dead come 16.00, and dormant all weekend. Others, recognising the financial value and desperate for cash, have sold their playgrounds to developers. There's a more imaginative way to use schools and their land. From their playing fields to their classrooms, schools could be given over to start-up communities at the end of the school day. The sports hall could be a maker's market; the classrooms rented out cheaply to entrepreneurs. A sharing-economy player with scale would have a huge impact – a kind of back-to-school Airbnb.
05
The Modern Travel Agent
Online travel-bookers are among the world's biggest technology firms. But not everyone is happy booking flights, travel and accommodation through a faceless website, so we need an alternative. It's time for the traditional high-street travel agent to return in a more modern guise. We'd like to see one that also acts as a concierge, checking in for you, printing your boarding passes and ensuring your luggage gets to the airport bag-drop counter. A global network of well-appointed city-centre locations would be just the ticket.
Although The Onion is the US's best-known satirical organ, it hasn't been a print publication in nearly five years. It gave up too early though. In this age of Donald Trump, what's needed is a satirical newspaper that people can hold in their hands, leave on the coffee table and pass on to friends. Since Trump's inauguration in January, late-night satirical TV shows have experienced something of a renaissance in the US, so there's an appetite for poignant political puerility. Meanwhile there are plenty of brands keen to disassociate themselves from the current administration that would surely advertise in a satirical print title. It wouldn't even need to be partisan: there's plenty to poke fun at on both sides.
Beaches worldwide now routinely feature plastic bottles washed up on the sand and shopping bags in the shallows (see our report on cleaning up the sea on page 100). Though advances have been made in delivering biodegradable plastics and alternative materials, it's time one large-scale manufacturer hit on a solution. According to Greenpeace, Coca-Cola produces 110 billion plastic bottles every year. Such businesses do little to change the status quo so we call on a new company with a fresh plan to end this nightmare.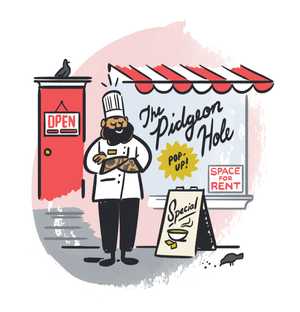 Businesses such as Appear Here and Storefront have revolutionised retail leasing. These platforms connect landlords sitting on empty spaces with eager young brands who want to try out, for a limited period, bricks-and-mortar retail. Many an online-only retailer has used such a platform to experiment with offline concepts, meet their customers and test the strength of their brands.
Yet there are relatively few such platforms for aspiring chefs and restaurateurs to trial F&B concepts for a short time in a restaurant environment. The accepted wisdom is that this demand is met by food trucks – but given the size of a food-truck kitchen, offering a full menu of many courses is impossible. There's a gap in the market for a platform connecting landlords who have empty restaurant space and chefs keen to test their idea. Ours would help with certification and paperwork, and get them up and running in days.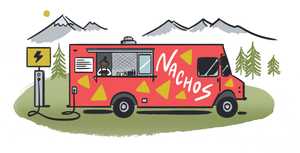 In recent years the food at music festivals has progressed from being a distinctly average support act to centre stage. But while the standard of grub on offer is now first rate, the food trucks themselves are often still run on inefficient generators that spew dirty emissions into the country air all night. Surely nature-loving festival-goers should be up in arms about this? Well, we have a solution. We'd team up with Move Systems in Grand Rapids, Michigan, a company that designs and manufactures the sleek, energy-efficient "food carts" that are taking over the streets of New York's hipper 'hoods. With their help we'd build a line of hardy, mud-proof and solar-powered food trucks with four-wheel drive, perfectly suited to festivals.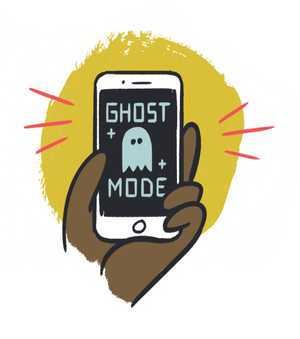 We'd like to see a technology that would allow people to vanish from the screens of those who pan their phones across airline lounges, restaurants and hotel lobbies then post the videos online. Such behaviour is a gross invasion of privacy and needs a seamless solution to protect those who'd rather their whereabouts go undisclosed.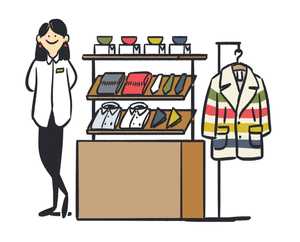 Souvenir shops are invariably miserable affairs hawking cheap "Made in China" knick-knacks. But why can't there be an amazing souvenir-shop chain present in cities across Europe, stocking high-quality, thoughtful gifts? We'd sell postcards featuring pictures by good local photographers; items, such as ties and scarves, made by small independent brands; and beautiful hand-carved models of the city's more unusual architectural delights. We'll see you in town centres, railway stations and airports everywhere from 2018.
Go-Jek, the first Indonesian start-up to receive a valuation of $1bn (€850m), is transforming how people get around congested Jakarta. The company has signed up informal motorbike-taxi drivers (ojeks) in their thousands and manages their bookings via an app. It's now added more unusual services: you can have a personal stylist – or medication, or cinema tickets – dropped off at your door by scooter. Uber has spread to hundreds of cities but there's room for a ride-sharing app offering quirkier add-ons. How about a barber-delivery service in Seattle? Or a vinyl-bringer in Berlin?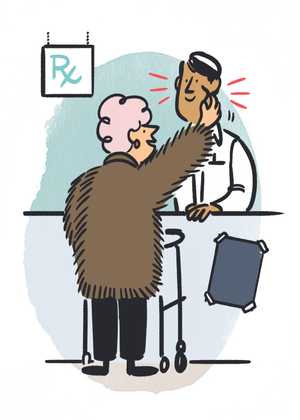 Research shows that elderly people are feeling increasingly lonely. It's little wonder: the supermarket cashier is now a robot and the Post Office has been closed (you can do it all online, don't you know?). This is a public-health emergency with a simple solution. There should be a certification system to tell customers how "friendly" a shop or supermarket is. Retailers with staff on hand to help and chat would get full marks; those with mainly automated tills would score poorly. That way, yuppies can keep choosing convenience over conversation and older citizens can have a good natter.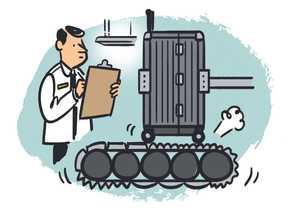 While the mobility maestros of Bavaria and Silicon Valley deliver us electric cars quieter than a mute mouse in slippers, those in the world of luggage have yet to crack the quiet all-terrain wheelie suitcase. The first person to master the sturdy travel bag that glides seamlessly from polished concourse to cobbled Strasse without a murmur will have the backing of councils and residents from Barcelona to Boston. Might this be a side project that bmw could collaborate on with luggage expert Rimowa? Or one for Toyota and Proteca in Japan?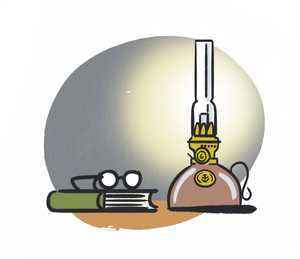 In winter the Swedes know how to light a space and keep it cosy. Sadly, almost everyone else uses leds. If only there were an elegant lampshade calibrated to convert the cold light emitted by an led into the warm glow of a Karlskrona Lampfabrik table lamp – one that could be hung over an led bulb to give any room a pleasant ambience.