Olympic TV / Madrid
Quick off the blocks
Fast-paced drama, twists and even some geopolitical intrigue – no, not the latest Netflix series but the 24-hour Olympic Channel. And with the forthcoming PyeongChang Games, the broadcaster hopes to do more than just run rings around its rivals.
An audience of billions. A global cast of athletes at their career peak. An expanding universe of adrenalin-infused stories. The Olympic Games has always had the core ingredients of a TV show. Now, with the Olympic Channel, which was launched in 2016, the brand is leaping into the media landscape with muscular aplomb by repositioning itself from quadrennial to 24-hour broadcaster. Loading its own bases with talent from every corner of the globe, the channel wants to do more than outrun the competition: this is a plan to change how people consume sport.
"They say patience died with the 20th century," says Yiannis Exarchos, the ebullient ceo of the Olympic Broadcasting Services (obs). Sitting like a statesman in front of several wall-mounted Olympic torches, it's hard to know whether Exarchos evolved into a steadfast embodiment of the brand or whether his penchant for prose and his thunderous voice were gifts bestowed by his Greek ancestors. Nonetheless, he is quick to dispel any old-school air. "When we launched the Olympic Channel the day after the Rio Games [in 2016], this new reality was a fundamental consideration."
Exarchos champions the International Olympic Committee's (ioc's) surge into what he calls "digital territories". Yet the birth of a 24-hour cable channel is only part of the parcel. "Obviously the Olympics will continue to be the big family event around the TV set," he says, acknowledging that the 2016 Olympics in Rio didn't have the highest TV ratings. But he points to a bigger picture. "The engagement on digital platforms, especially social media, actually made them the most watched Games in history – we want to embrace this transformation."
Every new edition – across the Summer, Winter, Paralympic and Youth Games – pushes the broadcasting bar higher. For February's PyeongChang 2018 Games, the obs television crew will grow to more than 4,300 staff in order to produce thousands of hours of content in South Korea and transmit it to the channel's Madrid control room. "Remember this is an event consumed by almost half of the human population," says Exarchos. "For us, each edition of the Games is always a chance to unlock ways to engage with younger viewers."
South Korea may be just around the corner but the Olympic Channel team has a mission that is more marathon than mad dash. Around the world, Olympic coverage is always skewed to the national interest, which means the ioc's lucrative rights deals remain in play. Now the channel wants to keep audiences engaged off-season, amplifying a sports mini-series into an every-day event.The ioc's €490m seven-year investment (plus additional cash from founding sponsors Bridgestone, Toyota and Alibaba) will fund new programming and snappy new formats, and produce coverage aimed at capturing a younger – albeit more distracted – audience's attention.
TV isn't what it used to be. Digital, multi-platform, content on demand: the Olympic Channel is embracing them all. The website is the ace up the network's spandex sleeve, home to a pre-programmed streaming channel and a pool of on-demand content. Agreements with stations in key regions, including Eurosport, Bein Sports, and nbc, also expose channel-surfing audiences to the channel's content via the TV. Rather than pushing people to watch the new channel, this is about changing how people see a channel: put down the remote, pick up a smartphone and dive into the digital domain. Well, that's the idea.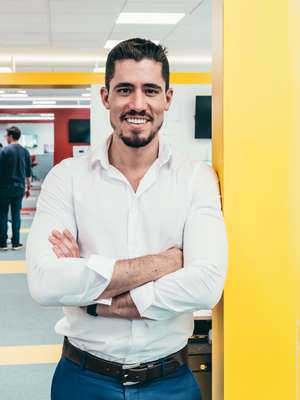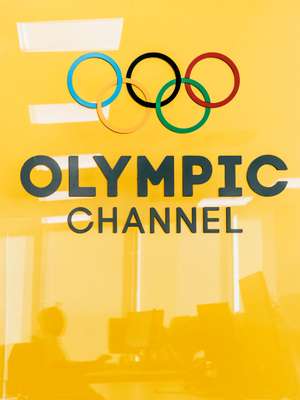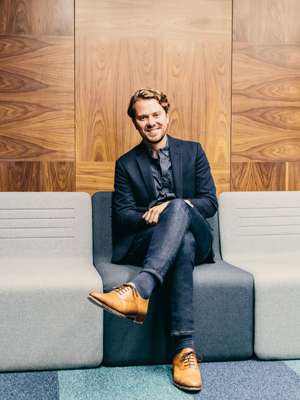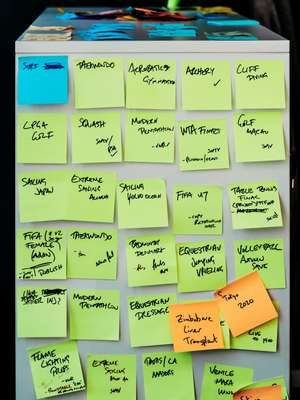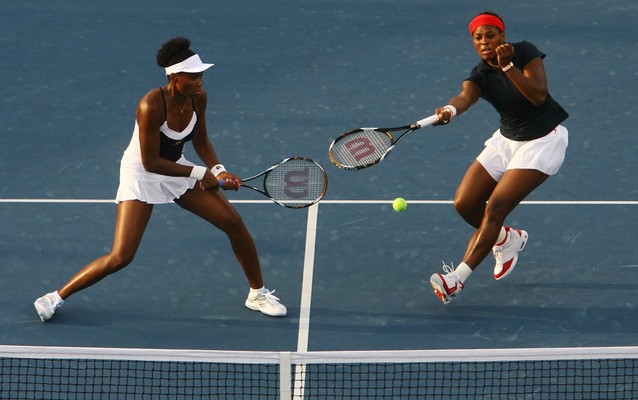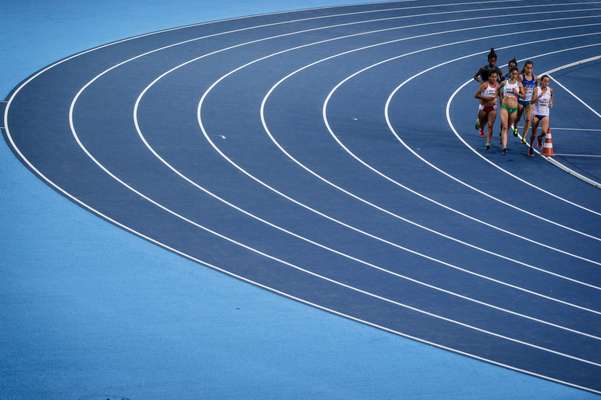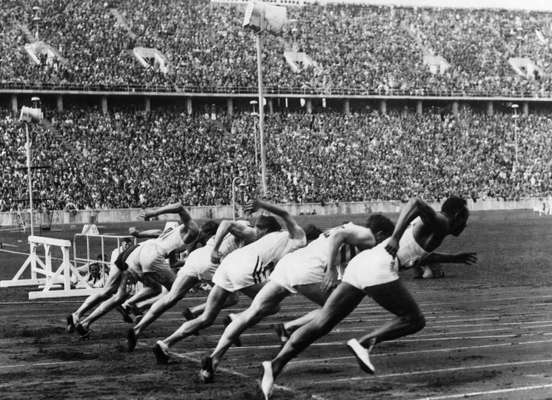 As far as recruiting tools go, a brand built on excellence, co-operation and triumph over adversity is a big drawcard. The 100 or so broadcasting professionals on the channel's Madrid-based newsfloor were easily enticed from other sport networks. "There was a lot to get done in our first 100 days," says the channel's general manager Mark Parkman. "Explaining our story to national sports broadcasters was one; the aggressive effort to snap up the best staff was another."
Digital start-up experience or involvement with Olympic-level sport was a portfolio plus. "We needed people who understood that Olympic success isn't just about gold medals but about the heights of human co-operation and achievement." A central part of Parkman's game plan was to nurture longer narratives: introduce audiences to lesser-known athletes, cover the nuances of their sports and then gear the story towards "the final episode, as they compete on the world's largest stage". The Olympic Games as season finale – very nice.
Catherine Philbin, the channel's power-walking communications chief, is leading us down a glass-panelled corridor as she lists the channel's achievements in its first 20 months. Having cut her teeth at the LA Dodgers baseball team, this seasoned sports PR doesn't skip a beat. "We've created 7,000 pieces of content, televised more than 500 live events, surpassed one billion social media views and signed a raft of reciprocal broadcast agreements with networks and sporting federations around the globe."
Downstairs, a vault filled with ceiling-high hard drives leads onto a 50,000-hour archive of Games footage. Directly opposite we survey the busy screens inside the channel's control room. Philbin points to the nearest monitor where the Olympic logo is embossed into the bottom corner of the image. "This bug [industry lingo for watermark] is a beacon," she says. "It paves the way for partnerships [57 to date] that get us more airtime on other networks, and allows us to share content and material from our coveted film archive."
Back upstairs, former US Olympian Tommy O'Hare is leaping over hurdles within the smartphone-friendly 8-bit game Torch Dash, an amusing crash course in South Korean geography, the development of which he oversaw. The head of digital strategy, and medal-winning speed skater, is devising ways to engage up to a billion social-media spectators. During our tour visit he's applying the final touches to Olympic Plus: software designed to work with exercise app-makers Strava, Moves and Fitbit that allows users to see how they would rate against medal-winning athletes. "The ioc wants people off the couch too," says O'Hare with a smile.
Reeling in viewers is still the main strategy though and there's no shortage of powerful narratives to work with. During the Games the drama can be as stark as blood in the water: during the 1956 Summer Games in Melbourne, defending water polo champions Hungary brawled with the Soviet team while the Kremlin was suppressing a nationalist uprising back in Budapest. Geopolitical drama has been making regular cameos ever since. An Egyptian judo champion refused to shake his Israeli opponent's hand. Ukraine stared down Russia in the fencing ring. Then again, a gesture as small as an unscripted selfie between gymnasts serves as a flash of humanity – especially when shared between North and South Korea.
In theory politics should remain firmly beyond the apron of the sporting arena; in practice this is where national myths have been forged and fortified since the Games were revived in Athens in 1896. Nebraska-born Greg Groggel, the channel's director of original programming, is focusing more on human-interest stories than hot-button political rivalries. "We're not sensationalist – thankfully, in sport, reality is usually better than fiction."
Leveraging the brand's clout, Groggel has commissioned content from some of the strongest players in TV and film. A few highlights include Far From Home, an athlete-preparation documentary from the team behind Chef's Table; and the virtual-reality series Trending Gold featuring the Nigerian women's bobsledding team, marketed as a feminist spin on the 1993 film Cool Runnings. "We shot this eight months ago – it's gearing up as one of the big stories of the next Winter Games," says Groggel.
With 30 series in the bag and an extra 20 in the pipeline, formulaic profiles of sporting superstars are being eschewed for more unexpected programming. In addition, a preference for native producers who know their own backyard ensures the right tone. Identify, a co-production with Viceland about trans-athletes, is a case in point. Veteran producer Frank Marshall, Steven Spielberg's right-hand man, produced another about Cuban boxing. Surfing documentary Shredding Monsters has even been screened at film festivals.
"All of these producers could be working on bigger-budget blockbusters but they're attracted by the chance to tell these incredible sporting tales," says Groggel. "This is the power of the Olympics."
---
Olympic Channel by numbers
7,000 pieces of content created since its launch
500+ live events streamed in 2017
100 staff working at its Madrid HQ
77% of viewers are under the age of 35
57 agreements signed with international sports federations
30 original series with 25 production companies across 23 countries
11 languages available on the channel's platform
1 billion views across all social-media platforms
Olympic broadcasting timeline
1936 First Olympic Games on TV (Berlin)
1960 First Games broadcast live across Europe (Rome)
1968 First Games broadcast in colour (Mexico City)
2004 First Games streamed online (Athens)
2006 First Games available live on mobiles (Turin)
2008 ioc launches own YouTube Channel (Beijing)
2010 More than 100 official websites worldwide carried broadcast coverage of the Games. Online coverage reached almost half of the overall broadcast output (Vancouver)
2012 Internet, mobile and digital platforms exceeded linear TV coverage for the first time. Also for the first time, the ioc's YouTube channel broadcast live and on-demand coverage in 64 territories in Asia and Sub-Saharan Africa (London)
2016 IOC launches the Olympic Channel after the closing ceremony of the Games (Rio de Janeiro)