The Conversation / Global
Talking points
From US midterms to political trouble-makers, we look at the events, nations and people poised to influence and define 2018.
1. Tunisia
Leading the Arab world.
"There's no choice: it's either corruption or the state, either corruption or Tunisia." In May 2017, Youssef Chahed, the prime minister of Tunisia, told his country that he had chosen the state. A week later he told two newspapers that the struggle against corruption will be a long-term war. "No one will be protected."
These were not empty words: several high-profile figures, including a former presidential candidate, had just been hauled in by police on charges of corruption and funding protests in the country's restive south. In the months that followed, dozens of notable people – from mafia bosses to customs officials – were arrested. Chahed's willingness to tackle the biggest issue facing Tunisia, and many other Arab countries, has sparked optimism that this tiny north African nation could be the posterchild for the region in the year ahead.
Since 2011, Tunisia has weathered the downfall of a 23-year regime, the creation of a new constitution, political assassinations, its first free elections and two major terrorist attacks. Of all the Arab world's revolutions, Tunisia's is the only one that has led to constitutional democratic governance. When we're in town, the capital is alive with a bustling film festival, the cafés are packed with men and women, and tourists are once again trekking through the souks. Rather than descend into chaos or stagnate like its neighbours, Tunisia has pressed on – albeit in a halting fashion.
"Corruption permeates every sector so, in that sense, it's the most important thing to address in 2018," says Sarah Yerkes, a Carnegie fellow focused on Tunisia. "Corruption was one of the main causes of the revolution so the government's inability to address that increases the trust gap, which is a real problem for a democratic transition."
It is, Yerkes says, what has allowed human trafficking and the smuggling of drugs and weapons over the border. Corruption has also made it easier for people to fight with militants in Libya and then return home – a huge security threat. (Tunisia has been the greatest contributor to the manpower fighting for Isis.)
While Chahed's crackdown appears impressive, some have accused the government of using it to settle political scores. Others point to the lack of transparency and, according to Carnegie research, three in four Tunisians say corruption has got worse since the fall of president Zine El Abidine Ben Ali. "It's symbolic," says Mohammad, a 26-year-old theology student drinking coffee with three friends in Tunis's historic Medina quarter. "This government does nothing. It's all promise and no action."
Pessimism and a lack of trust in politicians are common in Tunis; there's a feeling that the perfect future envisioned during the 2011 uprising has failed to materialise. Mohammad and his friends – all unemployed – also point to the lack of jobs, particularly for young graduates, a group with 31 per cent unemployment in 2016.
Yet there are reasons to be optimistic. Tunisia's thriving civil society is evidence of how far ahead it is compared to the rest of the region – Egypt, for instance, recently introduced laws that threaten to stop ngos from being able to work at all. In Tunisia even the most government-hostile organisations work without fear of arbitrary arrest. "We are lucky compared to other Arab countries," says Mohamed Chérif El Kadhi, the fast-talking communications manager at I Watch, an anti-corruption organisation affiliated with Transparency International.
In the past two years the watchdog has published more than 20 investigations, naming and shaming everyone from bank officials to media moguls, and even uncovered evidence of shady dealings by the former anti-corruption minister. Headquartered in Tunis's lively downtown, the group has been seen as an unstoppable force since it was founded in March 2011 and has faced legal challenges and smear campaigns. "We have to be fearless because we know we are going to face some threats," says El Kadhi. "We are saying what no one else wants to say."
The increased freedom since 2011's revolution allows for spirited debate in the press, fairer coverage and investigations. Tunisia is a rare beacon, coming top of the 2017 Press Freedom Index among Arab countries in the region. But that's not to say that journalists in Tunisia don't face resistance: "We're in a delicate situation due to this transitional context," says Hanane Zbiss, a freelance investigative reporter covering corruption. "The authorities would like to have greater control over journalists and media groups. But we are not going to give up. I'm optimistic."
For many Tunisians, getting beyond the turmoil of recent years also means reviving the country's crucial tourism industry. Visitors are slowly returning after the horrific 2015 terrorist attacks in Tunis and the resort town Sousse that left roughly 60 people dead. The National Office of Tunisian Tourism recorded 3.6 million visitors by the end of July in 2017, a 27 per cent year-on-year increase. It's welcome news for a sector that previously accounted for a sixth of the country's GDP.
At the Bardo Museum, home to a staggering collection of Roman mosaics, there are still bullet holes in one of the 15th-century palace's many intricately decorated rooms. Staff say visitors are returning – about 250,000 came over the summer – but numbers haven't recovered completely. The ruins of Carthage, an ancient city just outside Tunis, may no longer receive the droves off the cruise ships that once docked in Tunis but tour guide Laouini Kalthoum makes do. "I live for this," she says. "The attacks made everything worse, yes, but it was actually crowded here this summer."
Despite its travails, Tunisia projects an image of renewed stability. Its long history of secularism was entrenched in the new constitution and women's rights are being protected further by new laws. The country is affirming principles that are threatened elsewhere in the Middle East but if it is to be the shining light that PM Chahed wants it to be, he must make good on his anti-corruption crusade.
Kalthoum points to a cluster of sun-bleached stones lying among the ancient rubble. "When you see the Punic sector of these ruins you see that they built things out of older bits from before Carthage, parts of terracotta pots and so on. Well, we do the same," she says. "We're survivors."
---
2. Midterm elections
Can the Democrats stage a comeback?
Ever since the election of Donald Trump to the US presidency, the Democratic party has been anxiously waiting for 2018. The midterm elections in November are an opportunity to initiate the great swing back to power that the party desperately needs: retaking the Republican-held Senate and House of Representatives, and reinstating some checks on the administration's power to push through policy.
The midterms, after all, have long been a see-saw of power for whichever party is in opposition. The 2010 midterms during the Obama administration, for instance, unleashed a powerful reactionary force in US politics: the birth of the Tea Party and some of the more crackpot factions of that movement have since found their way into mainstream Republican discourse. It follows then that these midterms could present the possibility of a similarly grassroots (but hopefully more sane) response from the US left.
The year ended with some promising political twists for the Democrats, with blue wins at gubernatorial elections in Virginia and New Jersey. Meanwhile there's much soul-searching going on in the wings of the Republican party about the meaning of US conservatism itself. To get a sense of how 2018 – a pivotal year in US politics – might unfold we've asked academics, authors and activists about what they think the midterm elections will deliver.
01.
Andrew Feinberg
Whistleblower and former White House correspondent for Sputnik news agency
An animal is most dangerous when it's wounded. With Trump's current 38 per cent approval rating, the right wing-Russia axis is going to lash out so as to hold on to power.
02.
Jim Brulte
Chairman of the California Republican party
Our number-one goal for the midterms is electing a Republican governor. We have seven congressional districts that Hillary Clinton carried and we have really good opportunities in about five others.
03.
Sanaa Abrar
Policy and advocacy manager, United We Dream: the largest immigrant youth-led organisation in the US
Many people are calling the elections in Virginia, New Jersey and beyond a microcosm for what might happen in the midterms. The "Rising American Electorate" is present in every state.
04.
Leah Greenberg
Co-executive director, Indivisible: an anti-Trump, progressive grassroots organisation
The November 2017 elections made it clear that a newly awakened progressive base is energised in every community in the country – even in ones considered safely conservative. A progressive wave is coming.
05.
Nancy Pelosi
House Democratic leader
The people spoke loud and clear on election night in November 2016: they will not stand for a Republican agenda that crushes the middle class and threatens the economic and health security of hard-working Americans.
06.
Peter Baker
Chief White House correspondent, 'The New York Times'
The real question of 2018 is whether the normal laws of political gravity will reassert themselves – or will we continue to be in this freefall, with everyone trying to figure out how they'll land?
07.
Xenia Wickett
Head of the US and Americas Programme at Chatham House, and former adviser to the US State Department
The Democrats shouldn't expect midterm wins to translate to the general election. The party hasn't found a way to reconcile its two sides: the vetted candidate and the outlier candidate. That civil war plays out on a national level.
08.
Brian Klaas
Fellow at the London School of Economics and author of 'The Despot's Apprentice: Donald Trump's Attack on Democracy'
It'll be a landslide rebuke to Trump. I don't think the Democrats will win the Senate but they are likely to take the House of Representatives – and the Republican losses will make it harder for Trump to push through policy.
09.
Jorge Ramos
Mexican-American author and TV anchor, Univision and Fusion
The reaction to Donald Trump has been slow and I'm hoping 2018 might be a revival. I just hope that Democrats put more imagination into their candidates and strategies.
10.
Elaine Kamarck
Senior fellow at Brookings and author of 'Why Presidents Fail and How They Can Succeed Again'
In the 2010 midterms, when the Republicans took back the House, it was a referendum on Obama and his healthcare plan. But we've never had a situation where the national issue is the character of the president himself.
11.
Stewart M Patrick
Senior fellow at the Council on Foreign Relations
This is a pivotal moment because it will determine whether Donald Trump has realigned the Republican party. Ironically, the more Trump succeeds in remaking the party in his image, the greater the Democrats' chance of success in the general election.
12.
Kathie Obradovich
Chief political columnist, 'The Des Moines Register'
A question the midterms will answer is whether Iowa, and other swing states, have taken on a decidedly red hue in the long term. Was the vote for Donald Trump here an anomaly?
13.
Katty Kay
Anchor, 'BBC World News America'
The test for the midterms is whether the resistance, anger and energy on the left translates into winning. We've all seen the protests, we've seen the women's marches; the question is, will people then get out and vote?
14.
Lawrence Rinder
Director, Berkeley Art Museum and Pacific Film Institute
Trump's demonisation of the media has created a climate that could trickle down to undermine freedom of expression in the arts. Anyone with a stake in this will be paying attention to midterms and hoping for the best.
15.
Christina Bellantoni
Assistant managing editor for politics, 'LA Times'
Even though the Affordable Care Act was unpopular, people didn't want to lose their healthcare coverage. So that really was both an emotional and a pocketbook response. The ingredients are there for a wave back towards the Democratic party.
16.
Dana Perino
Former White House press secretary under George W Bush
Only a few times has a president not lost seats in the first midterm. If the stock market continues to do well and companies make decisions to reinvest in the US, that could help Trump.
17.
J Ann Selzer
Pollster, Iowa
We're seeing Congress jolt into action but beneath the surface there is so much changing. There are members of Congress deciding they won't run again so that is opening up possibilities.
18.
Rich Lowry
Editor, 'National Review'
It will be a bad Republican year. Based on the Virginia results and the historic baseline of what an out-of-power party can do, you have to assume that the Democrats are, at the very least, going to come close to taking the House.
19.
Katrina vanden Heuvel
Editor and publisher, 'The Nation'
Resistance to Trump is a tempting default position but won't cut it in terms of consolidating a governing majority, or the mandate for reforms this country desperately needs. It is going to take a cross-class, cross-racial coalition for Democrats to take back the House.
20.
Margaret Brennan
White House and senior foreign affairs correspondent, CBS News
The midterms will be a test case of where we are as a nation: whether the Trump effect has really taken a hold in this country; has it completed its hostile takeover of the Republican party; is it now the party of Trump?
---
3. Making a nuisance
Political provocateurs.
Politics has always had its fair share of agitators. For as long as there have been positions of power there have been those who have wanted to challenge – or flat-out usurp – the people holding them.
Depending on the regime in charge (and who you ask), agitators can either be a force for good or the start of something even worse. Nelson Mandela and Mahatma Gandhi were both revolutionaries who disrupted the status quo and changed the face of their nations. Then again, so was Benito Mussolini.
Some political troublemakers take on corrupt or cruel systems, envisioning a better world. Others are simply looking to claim power for themselves. Yet all disruptors have one thing in common, at least in the beginning: they become something of a pain in the backside for whoever happens to be in charge. After all, it doesn't always take a coup to bring down a government and even the provocations and challenges that don't manage to unseat a leader can still reverberate far and wide.
Here we take a closer look at how a career politician, a rising star, an insider-turned-whistleblower, a perennial oppositionist and a prosecutor who could bring down an entire administration have the power to influence their countries. It's too early to tell whether these five figures will be the leaders of a revolution, turn into the villains du jour or see their efforts fizzle out. But throughout 2018, for better or worse, these rabble-rousers will be serious thorns in the side of power.
01.
Meral Aksener
Leader of Turkey's Good party
A threat to the president's grip on power
For a depressingly long time the received wisdom was that despite the gaffes, spats and constitutional illegalities, Turkey's permanently embattled president Recep Tayyip Erdogan wasn't going anywhere. Meral Aksener has shaken up that order.
A former interior minister in the 1990s, Aksener is informally referred to as Asena, meaning "she-wolf": wolves being a key symbol of the more fanatical annals of the far-right Nationalist Movement party. Aksener broke away from its sycophantic leader in 2017 to form her own political party and now presents herself as a centrist who is cut from the cloth of the old Republic, waving images of Mustafa Kemal Ataturk. She's bemoaned Turkey's cowed media and Erdogan's readiness to run roughshod over democratic institutions.
Her Good party hopes to nudge Turkey back towards the West if it wins in the 2019 elections. Aksener herself comes from a long line of politicians who have no time for Kurdish autonomy and there's no indication she can unite a divided country. That said, she represents a real political threat to Erdogan. He may still have the theatrics but there's growing fatigue in the country, which works in Aksener's favour.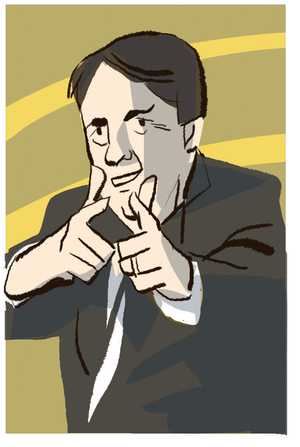 02.
Jair Bolsonaro
Populist politician
Brazil's Donald Trump
Tipped as the tropical answer to Donald Trump, Jair Messias Bolsonaro is a gun-loving, anti-minority right-wing populist who plans to run for president in October's election. Infamous for dedicating a congressional vote to an army colonel notorious for brutality, Bolsonaro sends shivers down the spines of his opponents, invoking Latin America's dark past.
But with Brazil recovering from economic recession and beset by corruption scandals, the former army captain – seen as an outsider to the country's political establishment – is garnering support, particularly among conservatives and religious groups. Like Trump in the US and the Philippines' Rodrigo Duterte, Bolsonaro is a social-media master. His straight-talking tweets have connected with many Brazilian voters tired of false political promises.
Securing enough support to be elected will be a challenge but he need not win an election to disrupt the country's political landscape. While he denies the populist label, Bolsonaro has embraced a string of controversial policies, including ending gun control in an already crime-ravaged nation. What the popularity of a candidate like Bolsonaro represents is the country's pronounced shift to the right.
03.
Grigory Rodchenkov
Scientist
Damaged Russia's key soft-power asset
Since 2016, whistleblower and eccentric scientist Grigory Rodchenkov has been a problem not only for Vladimir Putin and his government but for all elite Russian athletes and the entire nation's sport programme. After several years as the director of the Moscow-based Anti-Doping Centre, Rodchenkov revealed to US journalists that he had been part of a state-sponsored doping programme designed to help Russia's top athletes, including Olympic medallists, achieve success – and avoid being detected.
The fallout from Rodchenkov's revelations was dramatic: more than 100 Russian athletes were banned from participating in the Rio Games in 2016, seriously staining one of Putin's most potent soft-power assets. Rodchenkov, fearing for his life, entered the fbi's witness-protection programme.
Yet 2018 might bring further problems, with the Winter Olympics taking place in Pyeongchang, South Korea, in February and Russia still under suspicion.
What's more, the World Cup is slated to begin in Russia in June and Fifa has confirmed that it wants to meet with Rodchenkov to discuss doping in football.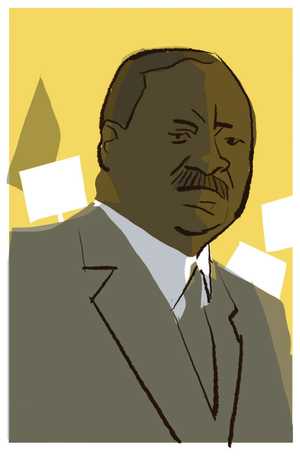 04.
Raila Odinga
Opposition leader
Kenya's resistance movement
Septuagenarian Raila Odinga is Kenya's perennial oppositionist and bridesmaid. In 2017 he tilted at the presidency for the fourth time and again lost to Uhuru Kenyatta. In that respect his career has emulated that of his father who also failed to win the top job, losing to Kenyatta's father in what has become a dynastic struggle shaping Kenyan politics since independence in 1963.
Odinga has cried foul in all but his first defeat, back in 1997. He likely was cheated in 2007 but in 2013 and in the latest election, it's less clear. He won a legal challenge against the August 2017 result then boycotted the court-ordered rerun in October, and continues to insist Kenyatta's government is illegitimate. Kenyans get that he feels aggrieved but given the elite nature of Kenyan politics, there's little sympathy for sore losers whose self-serving antics get in the way of the important stuff like earning a living, paying the rent, getting the kids to school and feeding the family.
That isn't likely to slow Odinga: to push his claim of Kenyatta's illegitimacy he has launched the National Resistance Movement, promising economic boycotts, civil disobedience and protests that are set to disrupt life in Kenya for months to come.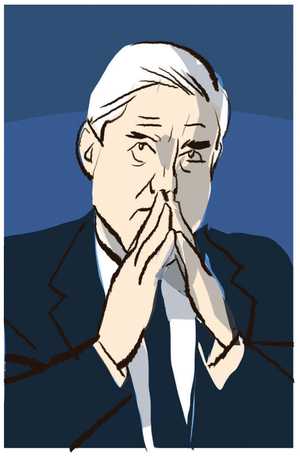 05.
Robert Mueller
Lawyer and civil servant
Probing Russian influence in US politics
Some Democrats may bemoan the fact that Robert Mueller – the former fbi head charged with investigating Russian meddling in the 2016 US election – still has to report to the Department of Justice. (The spectre of Donald Trump firing the special counsel therefore looms.) But that doesn't seem to be stopping Mueller from aggressively investigating the president and everyone in his administration.
Indeed, Mueller has shown little sign of being ruffled by any of Trump's thinly veiled attacks. Alongside the fallen heads of former White House foreign policy aide George Papadopoulos and former campaign manager Paul Manafort, Mueller's outstretched tentacles are getting ever closer to the highest echelons of power. The special counsel may have enough evidence to indict former national-security adviser Michael Flynn and he's also probing the likes of Jared Kushner and communications director Hope Hicks.
What's certain is that Trump – much as he may like to – would be hard-pushed to fire Mueller no matter how close his prosecutions get to the Oval Office. Sure, Trump can level a charge but doing so could unfurl a public and political backlash of Watergate proportions.