Cruise refresh / Setouchi
Berth control
Fiona Wilson reporting from Setouchi: Most cruise-ship owners have gone for boats as large as city blocks. But in Japan a big player is using architects to make the cruise a truly bespoke experience with only a tiny number of guest rooms.
If businesses were just about numbers then Guntu – a new floating hotel that cruises around Japan's Inland Sea – might never have been more than a fantasy project. An exquisite 80-metre-long boat designed by one of Japan's best architects and hand-built by the finest carpenters from Hiroshima, it has only 19 guest rooms and can hold a maximum of 38 passengers with a crew of 46. Luckily its owner, Setouchi Cruise, wasn't looking for a fast buck. Instead it wanted to make something that would bring people to the region and celebrate the heritage of local shipbuilding giant Tsuneishi, 100 years old in 2017 and the yard where Guntu was built.
"It's true that as a business model it might seem unusual," says Akio Jo, the president of Setouchi Cruise, who is in charge of business operations. A career-long shipping man who hails from the commercial side, Jo joined in January 2017, the same month that Guntu was launched from Tsuneishi's picturesque shipyard in Hiroshima prefecture. "It's a very unusual boat," he says. "There is nothing like it in Japan. There just hasn't been this kind of 'river cruise' boat here." The team researched boat services everywhere from the Mekong to Kyoto to refine the idea of what they wanted to create.
Guntu – pronounced "gantsu", a local dialect word for a blue crab – started running in October, welcoming discerning passengers who pay upwards of ¥400,000 (€2,990) per night for the chance to glide along the Seto Naikai (also known as the Setouchi or Seto Inland Sea), a mesmerisingly beautiful part of Japan with blue waters and small green islets. Once on board, passengers enjoy spacious but snug wood-lined berths, cedar baths on outdoor terraces, an on-board spa and cuisine overseen by Michelin-starred restaurant Shigeyoshi. The boat even has its own tea master, Akihiro Nakamura, who was working in a Buddhist temple but now makes guests perfect whisked matcha and traditional rakugan, the hard sugar sweets that go with green tea. The promotion of native products is subtle but pervasive: the bar serves cocktails made with Setouchi citrus fruits, while the elegant souvenir stand sells Hiroshima tea and aizome indigo-dyed letter paper; the sushi counter serves freshly caught fish served with a sprinkle of kabosu citrus and the yukata robes in the rooms come from nearby Tokushima.
There are six routes – stretching from Hinase in Okayama, in the east, to Yanai in Yamaguchi prefecture to the west – and travellers who don't know the area will be taken aback by its balmy loveliness. Chief mate Goro Nishina, who spent 17 years working on a cruise ship travelling everywhere from Alaska to the Caribbean, recalls learning of Setouchi's plan: "I really wanted to join – I've been all over but this is one of the most beautiful places in the world."
The captain, Hirofumi Ochi, has 20 years' experience working on tugboats. He says that although the Inland Sea is sheltered it presents challenges: "The currents can be difficult here, fast and then slow. And there are some narrow stretches that regular boats can't navigate." Guntu had to go through a testing period before the Ministry of Land, Infrastructure, Transport and Tourism could give it the go-ahead. Luckily the 3,013-tonne vessel, which runs at a speed of 10 knots, passed with flying colours.
"It was a dream project," says the boat's designer, architect Yasushi Horibe, who has built 80 houses during his career and is renowned for his expertise in using wood. That he had never built a boat before only made the whole enterprise even more intriguing. "I've always been obsessed with transportation," he says. The team at Tsuneishi knew how to make Horibe's idea a reality and the final product has turned out remarkably similar to Horibe's original sketches.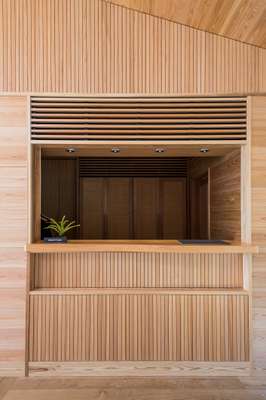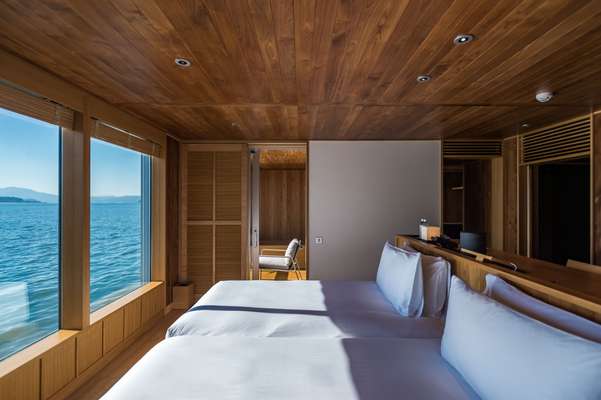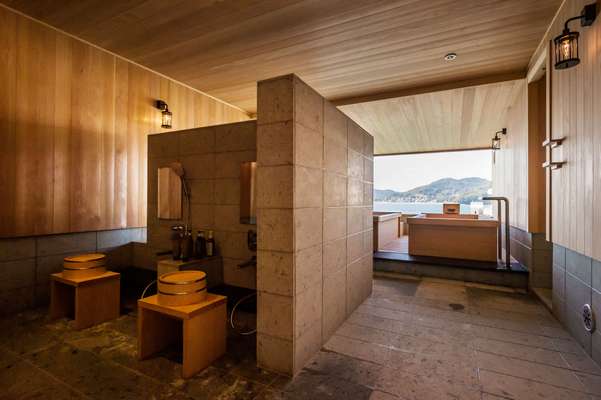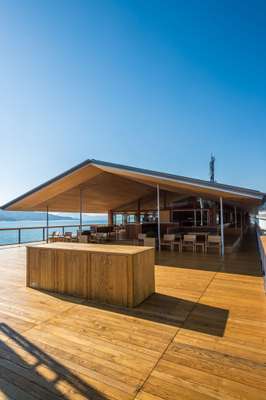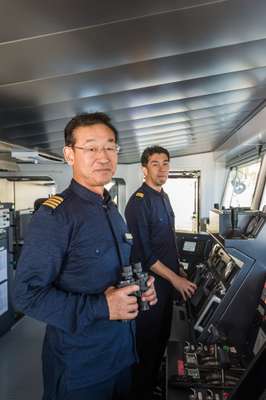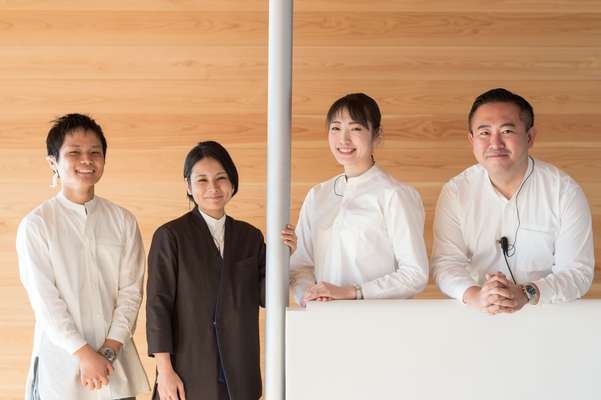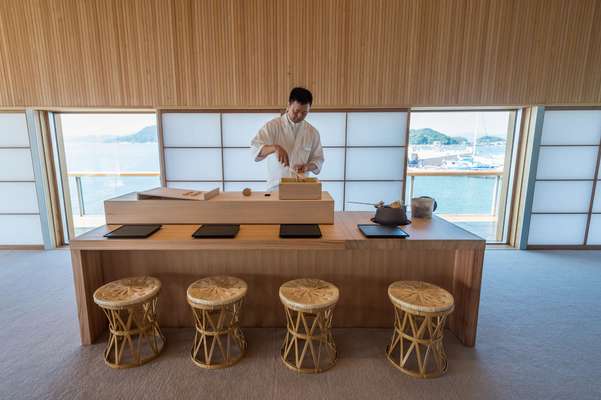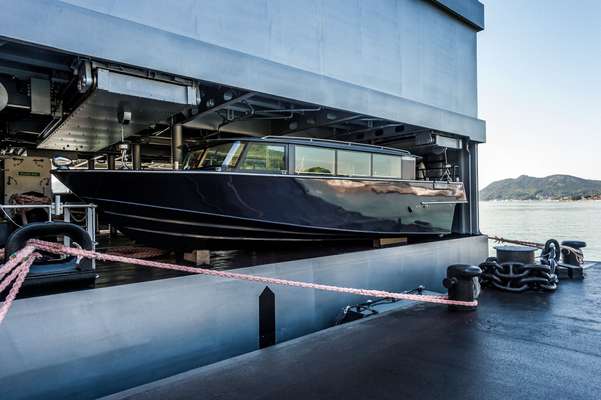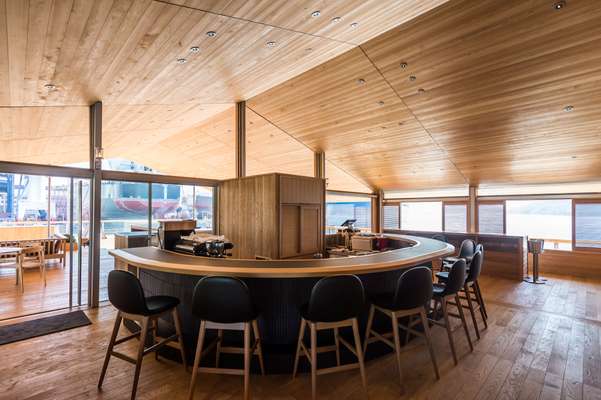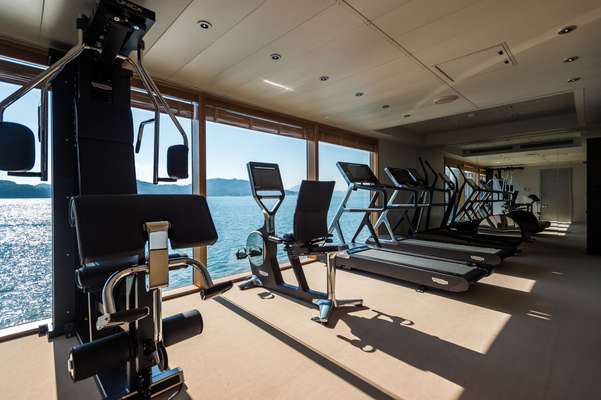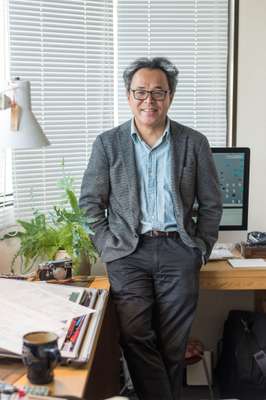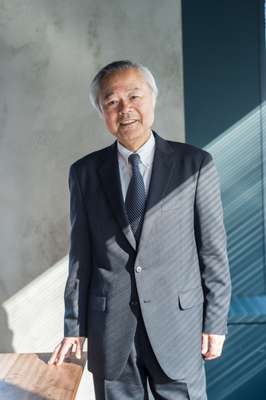 "My approach to architecture was the same as the client's intention for the boat," says Horibe. "We both wanted to showcase the natural beauty of the Setouchi landscape and culture." The exterior is simple and unobtrusive, the roof shape a local style. Horibe used wood throughout: lightweight, water-resistant sawara cypress for the roof and walls, and chestnut for the floors; in the bedrooms he used red alder hardwood and textured ash for the floor.
"I approached it exactly as I would a house project; I was given free rein," says Horibe. The quid pro quo was a tight deadline and some extra design assignments that included two nine-metre-long charcoal-grey motor boats that tuck in at the back of Guntu for passenger outings (another first for the designer). The carpenters who were brought in were house-builders who had to adapt their considerable skills to the slant of a dry dock, as opposed to the level ground they were used to.
The bedrooms are large: 50 sq m for standard rooms and 90 sq m for the Guntu suite situated above the bridge. "All the work I'd done on residential projects helped me with the scale – how to make a large room feel cosy," says Horibe. "One of the guests said that coming back to the boat was like coming back home, which was exactly what I wanted to achieve. I had wondered if the design might be too simple but once I spent a couple of nights on the boat I realised that the setting changes all the time, which changes everything else. The Seto Inland Sea exceeded my expectations. People spend a fortune on air fares – this way they can skip the fare and see something they might never have seen in Japan."
The boat was a departure for Tsuneishi too, a company with sales of ¥154bn (€1.15bn) in 2016, 900 employees and shipyards in Hiroshima, the Philippines and China. At the original yard in the small town that gave the company its name, Tsuneishi's core business is clear to see: the construction of tankers and bulk carriers for industry. They had never built a passenger boat. The shipyard dominates the local economy and the owners take that responsibility seriously. "Tsuneishi has always treated employees as family and has expanded its business to ensure continuing employment for them," announces the corporate- philosophy statement. "Even when the shipbuilding industry was in a slump we did not cut any of our staff."
Tsuneishi's paternalistic approach to its workers now extends to looking after the wider regional economy. In 2011 a separate company, Setouchi Holdings, was founded by Katsushige Kamabara, the former president of Tsuneishi Shipbuilding, who hails from the shipbuilder's founding family. The group's aim is to revitalise an area that – like much of rural Japan – is feeling the strain of depopulation and an ageing society.
Setouchi Holdings' dynamism is impressive. Apart from Guntu, its businesses include new air-charter service Sky Trek; Setouchi Seaplanes, which offers 50-minute tours around the islands or takes passengers to well-connected Hiroshima Airport in only 15 minutes; the popular Hotel Cycle in nearby Onomichi; and a denim project supporting another well-known local industry.
Setouchi Holdings' activities are everywhere, from the Bella Vista Hotel that overlooks the Guntu dock to the shopping arcade in Onomichi. The construction wing of the company works with famous architects to bring quality contemporary architecture to the area. Aside from commissioning Horibe for the Guntu project, the company has worked with the likes of Kyoto artist Kohei Nawa on a vast meditation chamber for the Zen temple of Shinshoji, and with Hiroshi Nakamura to create a new wing for the Bella Vista. "The idea is to make the area more active, both socially and economically," says Jo.
The ideas go beyond philanthropy: the company is trying to ensure the area's future economic survival and so, where necessary, works with banks, other businesses and local government. Guntu will have its own knock-on effect for the economy as wealthy guests spend money in the area (many will stay at the Bella Vista before or after their cruise). "And we're buying fresh produce – fish, octopus, fruit and vegetables – from local suppliers," says Jo.
At the same time as contributing to the region's economy, Guntu is also reinventing the whole cruise experience. It is perfect for anyone who thinks that cruises are all about naff cabaret singers, bad food and compulsory group activities. On Guntu, passengers are free to travel for just one night (the maximum is three nights). The boat doesn't port anywhere – it leaves from a small dock next to the shipyard – but passengers can go on fishing excursions (hamachi caught on a recent trip were grilled in the boat's restaurant) or to small islands such as Miyajima or Naoshima, travelling on Horibe's smart motorboats. Soon they will be able to lounge on a classic yakatabune: a traditional cruise boat that has been renovated and brought to Onomichi by sea from Tokyo.
Jo's challenge is to create a market where none has existed. "Railroad culture has prevailed in Japan; there is a lot of nostalgia for sleeper trains but not yet for boats," he says. Plus Guntu isn't exactly most people's idea of a cruise. "The image of the cruiseship is dinner with the captain in a big dining room; our target audience isn't interested in that kind of experience." You could say that Guntu offers a more low-key kind of luxury. "When you get on the ship you can feel and smell the wood. There's a good feeling; the air is fresh. There is so much in this area: different islands, different cultural sites, great food. Guntu is a chance to see and rediscover those things."
At the moment most customers are sixty-something baby boomers from Japan, with a few from South Korea and Taiwan. But Jo believes this will change and from spring 2018 he is looking to extend sales into Europe. "It takes time," he says. "Our target is not to make money this year or even next but to raise the boat's profile in Japan and abroad." This in turn will increase awareness of the region and what Setouchi is doing to revive it. The key is getting people here: "I always say that seeing Guntu in real life is 10 times better than looking at a photo – but travelling on it is 100 times better."
__
Cruise control
When it comes to seaborne stays, luxury invariably means a gleaming steel hull, painted white or perhaps a garish red, and expensive-looking glossy interiors boasting mahogany veneers and a good helping of onyx. Private yachts are designed to attract attention so subtlety is generally in short supply. Meanwhile, so-called "luxury" cruises are, more often than not, mass-market affairs with enough berths to sleep a few thousand at a time.
Guntu demonstrates that softer materials, warmer textures and a less in-your-face aesthetic can provide a more arresting and lasting visual impact. Moreover, it proves that a truly luxury travel experience simply can't be shared by thousands at a time; it needs to feel far more personal than that. From the mere size of the vessel to the high ratio of crew to passengers, Guntu offers those onboard a trip that feels more tailor-made than all-inclusive.
Japan has a habit of reimagining the possibilities of premium travel. East Japan Railway's Shiki-Shima 10-car train launched in 2015 and comes complete with private sleeping quarters, lounges, a dining car and cypress-wood bathtubs; like Guntu, it cannot accommodate more than 40 passengers at a time. The rest of the world has been slow to catch up but in future we hope to see many more smaller vessels at the premium end of the cruise business worldwide. For those who can afford it (and granted that's not everyone, by a long hop), such an experience is worth every extra penny.