Recipe / Japan
Yoshoku, what's up?
Aya Nishimura with recipes from Japan: Asian cuisine that riffs on western comfort food: that's what's up. Here we cook up some katsu curry, 'omu' rice and potato croquettes – and encourage you to do the same.
Mention Japanese food and sushi, soba and tempura will spring to mind. But what about omu rice, napolitan (pasta) and tonkatsu (deep-friend breaded pork cutlet)? These dishes belong to a style of Japanese fare known as yoshoku (western food) and they're usually lumped in with kare (curry), croquettes and hayashi (hashed beef) rice.
It's cooking that Japan imported by way of Europe and the US after the country ended more than two centuries of isolation in the latter half of the 1900s. Over the years chefs have tinkered with the recipes (and the sauces, which riff on demi-glace, Worcestershire and ketchup), making the dishes more palatable to a domestic audience and less similar to their western equivalents.
The culinary alchemy that took place in the transition from west to east is what makes yoshoku such a cut above the sloppy fast food it was cooked up to ape. The vinegary sauces and gloopy condiments that dress it and form its sweetish base are elevated and changed immeasurably by the addition of dashes of soy or sesame seeds.
What started as a trickle of change in the early 20th century became a tide that altered the diets of working men and women – particularly after the Second World War, when the ingredients became more affordable. And now? Simple, reasonably priced comfort food par excellence.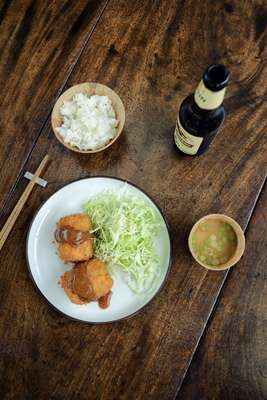 ---
Classic katsu curry
Serves 4
Ingredients
2 tbsps olive oil
1 large onion, finely sliced
5 garlic cloves, grated
30g ginger, peeled and grated
2 tbsps butter
4 tbsps plain flour
3 tbsps mild curry powder
I ltr good-quality chicken stock
200g tinned chopped tomatoes
2 tbsps ketchup
2 tbsps Worcestershire sauce
2 tbsps soy sauce
1½ tsps honey
2 small red apples, peeled and finely grated
2 carrots, peeled and grated
For the chicken katsu:
200ml vegetable oil
4 small chicken breasts, butterflied
4 tbsps plain flour
2 eggs, lightly beaten
150g panko breadcrumbs
Salt and pepper
Japanese rice, cornichons, tiny pickled onions and a soft boiled egg, to serve
Method
1. Heat a heavy-bottomed pan with olive oil, then add onion, garlic and ginger. Stir-fry on medium heat until they start to soften and caramelise (about 10 minutes). Reduce heat. Add butter and flour, cooking until mixture is a golden colour (about 5 minutes). Add curry powder and increase heat until spices release an aroma.
2. Add 240ml of stock, mixing well to dissolve the spices, then add the rest of the stock. Add chopped tomatoes, ketchup, Worcestershire sauce, soy sauce, honey, apple and carrots. Bring to boil then turn down the heat. Simmer for 30 minutes, stirring occasionally.
3. While the curry sauce is cooking, prepare the chicken katsu. First heat the oil to 180c in a medium-sized pot, then heat the oven to 100c.
4. Prepare 3 shallow bowls, 1 with flour, 1 with eggs and 1 with panko breadcrumbs. Season each chicken breast, coat in flour (and dust with excess), coat in the egg mixture and then cover with panko.
5. Shallow-fry the katsu until deep golden brown (3 to 4 minutes either side). When both sides are cooked, remove and keep warm in an oven.
6. Season the curry, scoop the rice into a bowl and top with the sauce. Slice the chicken katsu and place on top. Serve with cornichons, pickled onions and soft boiled egg.
---
Ingredients
For the sauce:
200g tinned vine tomatoes | 120ml tomato ketchup 1 tbsp Worcestershire sauce
For the rice:
2 tbsps butter
2 garlic cloves, crushed
1 small onion, finely chopped
200g chicken thigh, boneless, cut into 1.5cm cubes
6 button mushrooms, sliced
Handful of cooked green peas
900g cooked Japanese rice
6 tbsps ketchup
½ tsp salt
¼ tsp ground white pepper
8 eggs
4 tbsps milk
2 tbsps vegetable oil
Method
1. To make the tomato sauce, mix tin of tomatoes, ketchup and Worcestershire sauce in a blender until smooth, then pour into a small saucepan. Keep warm and set aside.
2. Heat butter in a frying pan over medium-high heat. Sauté garlic, onion, chicken, mushrooms and green peas for 3 minutes. Add rice; stir for 3 more minutes. Add ketchup, salt and pepper and stir until the ketchup is mixed through.
3. Preheat a small or medium-sized frying pan with a little oil, evenly spreaded. Break the eggs into a large measuring jug and whisk until combined. Pour a quarter of the egg mixture into the pan; tilt it to coat the bottom and side. Move a spatula through the mixture in a circular motion until the egg is halfway cooked through.
4. Place a quarter of the chicken rice in the centre of the egg mixture. Tilt the frying pan to the side a little and fold one side of the omelette over the rice. Push and slide the omelette to the other side of the pan. When it reaches the edge of the frying pan, flip it out onto a serving plate so that the other side of the omelette folds under the rice. Spoon the tomato sauce on top and serve.
---
Potato croquettes
Serves 4
Ingredients
For the tonkatsu sauce:
3 tbsps ketchup
4 tbsps Worcestershire sauce
1 tbsp Dijon mustard
4 tsps soy sauce
4 tsps light brown sugar
½ tsp lemon juice
40g toasted sesame seeds, ground coarsely
Pinch of salt
For the croquettes:
1.1kg floury potatoes
1 tbsp butter
1 medium onion, finely chopped
250g minced pork
250g minced beef
50g plain flour
2 eggs, lightly beaten
150g panko breadcrumbs
Salt and pepper
1 ltr vegetable oil
1 white pointed cabbage, finely shredded using a mandolin and kept in icy water
Miso soup and Japanese rice, to serve
Method
1. Mix all the ingredients for the sauce in a medium bowl until well combined. Set aside.
2. Place potatoes in a large stockpot and cover them with water. Add a large pinch of salt, bring to the boil then turn down to medium heat and cook until the potatoes are soft.
3. While you're cooking the potatoes, prepare the mince mixture. Melt the butter in a frying pan and fry the onion until transparent. Add the mince and cook until the pan is dry, then add salt and pepper and turn off the heat.
4. When the potatoes are cooked, drain the water and cool slightly. When they are cool enough to handle, remove the skins with a knife and set aside the peeled potatoes (they should weigh about 850g).
5. Mash the potatoes, keeping some texture, and add to the mince mixture. Once the mixture is cooled, divide it into 8 equal parts (about 80g each). Mould into cylinder shapes.
6. Prepare 3 shallow bowls, 1 with flour, 1 with eggs and 1 with panko breadcrumbs. Coat each croquette in flour (and dust with excess), dip into egg mixture and then cover completely with panko.
7. Heat oven to 100c. Heat oil to 180c and fry each croquette until golden brown and crispy. When cooked, remove with a slotted spoon and place on kitchen towel to drain the excess oil. Keep it in the oven while you're cooking the rest. Serve with sauce, cabbage, rice and miso soup.