Observation / Global
Watch this space
Refurbish, repurpose and revive are the watchwords for 2018. From a former cinema to Balkan bunkers and cat-sized couches, we've picked out the projects that are putting innovative thinking to the fore.
Sitting kitty
Pet furniture
While prowling the streets of Zürich I noticed that the cat ladders that have long scaled its handsome housing stock have been given a revamp. These devices providing upper-level access for felines were formerly ramshackle creations but this year neighbours are competing with one another, with smarter, more slender styles made from expensive materials perfectly sympathetic to their homes.
Anyone who's been paying attention to the world of cat furniture will have noticed more costly commissions spreading well beyond the streets of Zürich.
Kota Kurashige works for the city of Okawa's government, which recently launched a campaign to promote cat beds and couches made by its master craftsmen. "These neko kagu [cat furniture] pieces are testament to our skill in working to clients' specifications," he says. International interest in the region's industry has followed, with sales enquiries and commissions for both human and cat-sized furniture.
The design-led pet-furniture industry is about to boom: Ikea's dedicated pet range rolls out in 2018; Zaha Hadid Architects has dabbled with sculpting a cloud-like dog bed; and upmarket pet hotels are commissioning interior designers for animal-friendly fitouts. "People are more attracted to designer pet furniture than what came before from standard pet-care companies," says Julian Victoria, editor of Dog magazine. "We no longer have to compromise on beautiful furniture just because we have a dog."
But furniture built with design in mind is still a niche market within the multibillion-euro pet industry. The real test of how far it can expand will be when Ikea's Lurvig (Swedish for "hairy") range hits shelves. The company has dabbled in animal furniture before but they have invested more effort and money into the line this time around.
"Today you see hairdressers for cats and dogs; we didn't want to humanise the pets because they aren't little humans," says Inma Bermúdez, one of the designers Ikea commissioned. The depth of r&d that went into the collection led to working with fur-friendly fabrics and designing a slow-feed bowl to stop dogs from getting indigestion. "With this collection we wanted to help people learn to respect their pets even more, while adding further function to the home."
Purrfect pieces
Modernist Cat Furniture: Produced by Okawa's fourth-generation maker Tateno Wood Art Co, these handmade pieces use American walnut and Japanese Paulownia.

Alpine Cat Ladder: Stretching from the ground to higher apartment levels, these seem precarious by human standards but are perfect playthings (and walkways) for cats.

Cat Scratch Mat: This wrap-around mat from Ikea clings to table legs, protecting furniture from wandering claws. It helps to maintain a minimalist vibe in a small apartment with its simple, clean design.
About: Nolan Giles is monocle's Design editor. His London flat is catless but he's considering a Swiss cat ladder to attract lonely felines.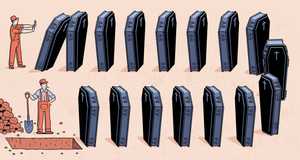 Death in cities
The grave lack of cemetery space
Gary Burks, a 52-year-old man dressed in a trim suit and a blue coat as thick as his east London accent, leads me to the sprawling beech tree that stands as a memorial to his parents. We are in the middle of the City of London Cemetery and Crematorium, where Burks is the superintendent and registrar.
The cemetery is so big that its paths are named, like streets. Our route takes us down South Gate Road, left onto Cheethams Road then onto Limes Avenue. But despite its size, the cemetery has come close to running out of space.
Cities have a problem with death: many of their cemeteries are full or filling up. It's expected that only a third of London boroughs will have burial space by 2031. With populations rising, most are reluctant to allocate land for graves.
The City of London Cemetery solved the problem by embracing an unusual method: reusing its graves. Burks tries to find the descendants of remains that are more than 75 years old. If no one objects, he deepens the plot and buries someone else on top. Since 2007, this has created 1,500 new graves and Burks no longer needs to worry about space.
Legislation allows London cemeteries to reuse graves but no others have taken the plunge. An attempt in 2017 left local politicians in the borough of Southwark branded "grave robbers". Elsewhere in England, grave reuse is banned. "It isn't seen as attractive legislation," says Burks.
Other cities use design to maximise burial space. Columbia University has a research facility known as DeathLab, which focuses on tackling the problem in New York, while engineers in Hong Kong have proposed a floating cemetery bobbing on the South China Sea. Twice a year during religious festivals it would sail into harbour so that people could visit the urns of the dead. Then there are solutions that do away with graveyards altogether: alkaline hydrolysis involves breaking down the body into its chemical components as an alternative to burial and cremation. Like grave reuse, these ideas have not been widely embraced.
But attitudes around death are changing quickly. Forty years ago, only a third of Hong Kongers were cremated; today it's more than 90 per cent. Could traditional cemeteries become a thing of the past? Burks hopes not. Half a million people came to his cemetery every year, with the highest turnouts on Mother's Day, Father's Day and Christmas Day. Children learn about nature and biology on school trips. Dog walkers, joggers and cyclists exercise here, escaping the surrounding streets. Some people even live in houses in cemeteries, as Burks has done for much of his life (which took some explaining to his first girlfriend).
Few of us want to dwell on death but, with rising numbers living – and dying – in cities, only creative thinking will solve the shortage of burial space.
About: Matt Pickles is an Oxford-based writer. He usually covers education for the bbc; this was his first time reporting from a cemetery.
How to behave... in a hotel lobby
Our guide to avoiding silent public disapproval begins with your accommodation.
Don't pad around in pyjamas
No one needs to see your rumpled sleepwear, no matter how at home you feel.
Mind the social-media snapping
You may "like" the swish lobby but do those checking in want to be online too?
Lose the luggage
Nothing kills the ambience like a pile of bags being held for of those who didn't book late check-out.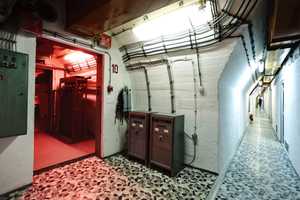 A sheltered life
Cold War bunkers repurposed
"The toilet paper is original," says Mirnes Bajic as he points out the period features of Atomska Ratna Komanda (Ark). Formerly a secret facility in the mountains that rise behind Konjic, an unremarkable town about an hour's drive from Bosnia's capital Sarajevo today Ark is at the vanguard of a trend for repurposing Balkan bunkers as attractions that attempt to make sense of the region's turbulent history.
The Ark is not just a former nuclear shelter and Cold War relic but a museum and art gallery focusing on the era. As the co-ordinator of the project, Bajic spends his time sharing the history and secrets of the bunker with visitors.
Getting to the Ark feels like an illicit excursion; despite its declassification, the site is very much off-piste. No signs mark the way so Bajic battles dodgy mobile-phone reception to talk visitors over rusty bridges across the Nevetna River, then along a track to a military checkpoint. Past the grumpy guard are three shabby houses concealing the entrance to the shelter known as Tito's Bunker.
For the generation that grew up in the area during the Cold War, the Ark is a flashback to an era of constant background fear. If Yugoslavia had come under nuclear attack this would have been the country's safest place. "The Ark was built for the 250 most important people in Yugoslavia, including President Tito and his wife, Jovanka," says Bajic, gesturing to the first lady's dressing table.
Luxury, however, was not part of the plan. Two kilometres of harshly lit corridors loop around a core of utility rooms that house the generators and water-processing equipment crucial to life underground. Dozens of cubicles open off the corridors, each equipped with a bunk bed, desk and chair. Considering the Ark took more than 25 years to build and had cost almost €3.9bn by the time it was completed in 1979, it is spartan.
All the expense was futile: Tito died in 1980 and Yugoslavia collapsed just over a decade later. Preparations for an external attack were no defence against the poisonous strains of nationalism, which consumed the country from within. Bajic shakes his head as he considers the grim irony the bunker embodies.
Others are following Ark's example: Albania's capital Tirana boasts two Bunk'Art museums set in facilities built for the paranoid dictator Enver Hoxha. Vis, once known as Croatia's "forbidden island", is using its bunkers and submarine tunnels to attract tourists.
They all synthesise traumatic times into poignant cautionary tales but none more so than Ark, a monument to hubris. By giving the bunker a second life, Bajic says it can confound the expectations of history buffs and art aficionados alike. "We have the chance to blow the minds of people only interested in history with art – and those only interested in art with the history of Yugoslavia."
About: Work for Monocle keeps Liverpolitan Guy De Launey busy in the Balkans. Moving from Belgrade to Ljubljana revealed that urban cycling here needn't be a bloodsport.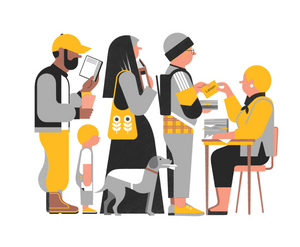 True calling
Sweden's new name-change law
A beige 1950s office building next door to a convenience store holds the fates of countless Swedes. On the sixth floor of this unassuming property in Norrköping, a mid-sized industrial city about 160km from Stockholm, handlers at the Swedish Tax Agency's naming and registration section keep track of the country's births, marriages and deaths. Since last summer they've also taken care of change-of-name applications, which have increased markedly since July 2017, when Sweden introduced a more liberal naming law. In the first two months after it was enacted, a record 29,000 people applied to change their names. The Norrköping name section has had to employ several additional handlers to cope with the workload. "Applications increased by over 100 per cent," says Margot Holm Almberg, manager of the name section.
Previously Swedes were prevented from having double-barrelled surnames or giving two siblings different last names. No more. Swedes can also change their first names as many times as they wish (for a small fee). "The previous law from 1982 had become dated," says Anna Berg, a senior handler who has taken care of applications under both the old and new law. Her colleague Jennifer Larsson, one of the new employees, adds: "The old one had so many restrictions."
The new law also includes a so‑called "free list" of about 500 common Swedish surnames, such as Andersson or Karlsson, that were previously off limits unless someone in an applicant's family had them. Studies have shown that it's easier to get a job in Sweden with a Swedish-sounding name and immigrants felt hindered. Under the old rules they were unable to remedy the situation.
Despite the boom in applications, working at the agency is not all paperwork. Many decisions are difficult and the handlers often sit down to discuss cases with each other or the section's lawyers. They spend a lot of time on the phone, answering questions about the new law and explaining why some names can't be accepted.
Some decisions take more time than others. Larsson is battling with an application from a woman who has 30 given names; she wants to change every single one. "Names are a very emotional issue," says Larsson. "They are closely linked to a person's identity. Often when people want to change their name, they want to leave a previous identity behind."
Larsson believes that the new law is positive, giving, for instance, transgender people the possibility to align their name with their identity. Larsson herself is not planning to send in an application. "When I was growing up, I didn't think Jennifer was a proper name. But today, I think it's OK."
"Plus, we have enough work on our hands," adds Berg.
The name game
Germany
Boys can only be given male names and girls female names – with the exception of Maria, which is acceptable as a second name for a boy.

Iceland
A naming committee maintains a list of approved names. Recently this strict practice has been loosened and some new names, among them Eros, Angelína and Nala, have made the list.

Denmark
Parents choose children's names from an approved list. They can apply to get a new name passed but there are restrictions. For example, the names of cartoon characters or brands are banned.
About: Elna Nykänen Andersson is Monocle's Stockholm correspondent and editor at content agency OTW. She's only changed her name once.
How to behave... on the beach
Yes, the picture of you looking saucy on your sunlounger may get you lots of "likes" but it's no way to be beside the seaside.
Don't use drones
Men who fly their drones low over sunbathers are perverts. Put your toys away.
Don't be a model
The whole beach is pained watching as you reject shot after shot taken by your exhausted boyfriend.
Don't pose and flex
Sleep. Put your headphones on. Feel the heat. Swim. Eat. Turn your phone off and have a holiday.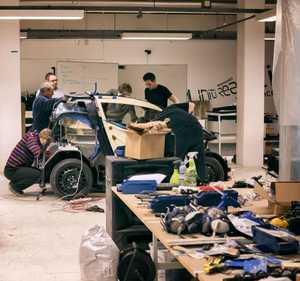 Bright sparks
Rethinking the electric car
Albin Wilson stares out of the office window. The view isn't glamorous, looking over an industrial estate's muddy car park towards a dual carriageway. But Wilson adores it. "It's inspiring because you see all the cars passing by and every single vehicle is a petrol or a diesel," he says. "We're fighting for something to change all that."
The office is in Lund, a charming but tiny university city in southern Sweden. On the surface it's an unlikely home for a firm aiming to redefine urban mobility. But it was here that Uniti's ceo Lewis Horne started a research project on electric cars and quickly converted it into a start-up with a team of 50. The goal is to create a light, hi-tech, sustainable city runaround aimed at the mass market.
Wilson, an engineer and former sea captain, was one of the company's first recruits. Engineering runs in his blood: his father had a long career with Volvo and his great-grandmother was the first woman in Sweden to get an engineering degree. But he hated the idea of ending up in a big company where he would start out as "a no one" confined by a "structure and an old way of doing things".
Instead, at Uniti structures and job descriptions are fluid. Wilson works as a lighting engineer but his official title is art director and he's unofficially the face of the firm. He stars in and edits the YouTube videos that document the firm's journey, including the initial funding round that valued it at €9.8m.
Wilson's co-host is Isak Monrad-Aas, Uniti's prototyping manager, who shares a workspace with blue-haired cognitive scientist Kim Johansson. "It's chaotic here," she says. "But everything somehow magically works out." Uniti has partnered a Formula 1 racing team and Siemens to build its two-seater vehicle, which weighs 450kg and reaches speeds of up to 90km/h. It has a 300km range and comes with a compact external battery pack, designed so users can charge up at work or even in a coffee shop, and a smart heads-up display alongside autonomous driving features. The €20,000 flagship model is due for delivery in 2019.
Employees here don't seem fazed by the competition from the likes of Nissan and bmw. "Making lightweight cars isn't something the old companies have a tradition of doing," says Johansson. "We're using a lot of carbon fibre to keep the weight down. We're designing for the Achilles heel of the electric car, the battery, and adapting from the start for automation. [Other companies] have a way of working that is old school, while we're creating new ways of production and new ways of thinking from the start."
About: Stockholm-based Londoner Maddy Savage is a freelance journalist. She moved to Sweden in 2014 after getting a taste for Scandinavian life while reporting there.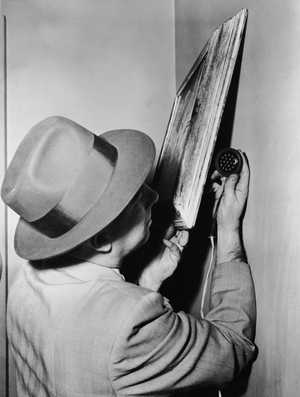 Peep show
The Manhattan museum of spying
Should you find yourself in an interrogation booth, in front of a camera and having to lie, don't smile too much. It's a telltale sign of fibbing, along with pursed lips and constant face touching. These are some of the facts to be gleaned when visiting New York's shiny new David Adjaye-designed espionage museum, Spyscape. I also discovered that I'd smiled 30 times in four minutes when facing questions in the booth (one of the museum's interactive elements), confirming I would make a lousy spook.
Spyscape was four years in the making and occupies Manhattan digs vacated by the now-defunct Al-Jazeera America. The timing couldn't be better. At no point in recent history has the notion of spying been so prominent. With allegations over Russian meddling in the US presidential election swirling, and the hacking of the Democratic National Convention's computers to boot, isn't opening a museum about spying, by essence, political? "We just give the facts," says its chief of staff Shelby Pritchard, affably sticking to script.
Spyscape is designed so that none of the seven exhibition spaces look the same. The Surveillance area, for example, is a circular, windowless room with cctv feeds on the walls. Interactive stations test your skill at spotting suspicious activity among the deluge of imagery. Or, through videos, photos, wall-mounted text and props, you can absorb the story of Edward Snowden or the journalists who used surveillance techniques to expose illegal fishing in Asia.
The museum also tells the story of famous espionage characters, from double agent Robert Hanssen in the Deception gallery to Second World War spy Virginia Hall in the Special Ops section.
But Spyscape is arguably most interesting when it looks at the fascinating and discomforting direction in which spying is headed. In the Hacking gallery there's an eerie display of signed Anonymous masks, and the Cyber Warfare Gallery tells the story of Stuxnet. "There's a new unchartered territory of spying and we're interested in bringing it to the light of day," says Pritchard, who says topical spy stories will be shown on screens.
Of course, there's a chance that a few hours testing your aptitude in, say, a laser tunnel, may reveal you as a master mole. Or, like me, you'll realise it's not time to give up the day job.
About: Ed Stocker is Monocle's New York bureau chief and, given his terrible poker face, is not about to be recruited by the secret service.
How to behave... at a dinner party
There's an etiquette to follow if you want to be invited again – and we're not talking about keeping your elbows off the table.
Don't monopolise the music
Everyone's a DJ now but step away from the stereo (unless you've been asked).
Put it out
Even when eating alfresco, don't smoke at the dinner table – unless you lean very far back.
Know when to leave
Your host shouldn't have to throw you out. When the subtle hints (or stifled yawns) start, head home.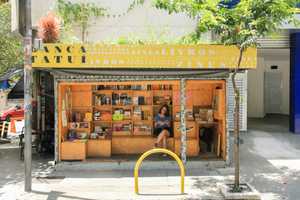 Turning a page
Banca Tatuí newsstand
Not long ago the Rua Barão de Tatuí in central São Paulo was a no-go area to many. A particular spot to avoid was a dilapidated newsstand on the corner of Rua Inmaculada Conceição, which was used by drug dealers as a storehouse and meeting place.
Today, rather than illegal substances on sale, it's books. The gloomy kiosk has been replaced by the Banca Tatuí, a newsstand touting work by more than 160 publishers from Brazil's independent literary scene. Addicts looking for a quick fix have moved on, while couples and students craving more intellectual highs are moving in.
Mario Mellili, a septuagenarian who has lived on the block since he was nine, is one of the kiosk's regulars. When we drop by on a sunny morning he warmly greets owner João Varella as he strolls up to the stand. "We needed a shop window of our own as well as for other small publishers," says Varella, who also runs independent publishing house Lote 42 with his partner and Banca Tatuí co-owner Cecília Arbolave.
The Brazilian-Argentine couple have lived in the Santa Cecília neighbourhood since 2009. When the stand at the corner of their street was put up for sale three years ago, they snapped it up. But less than a week later thieves broke through its ceiling – only to find three reais (less than a euro) in cash.
"They didn't even take any books, which actually made me feel sadder," says Varella. So the pair hired architect Mario Figueroa's firm to give the stand a much-needed facelift, fitting it out with shelves and seating, as well as a reinforced ceiling. The roof is now strong enough to use as a pop-up stage for gigs at book launches, when the Banca – with its fetching wood-panelled interior – becomes a de facto street-party venue.
"I think we've built a real affinity with residents," says Fernanda Custódio, one of the newsstand employees. The kiosk's popularity has even had a ripple effect: a selection of buzzy cafés and restaurants have sprung up nearby.
The Banca's shelves are filled with colourful creations of all shapes and sizes, including comics, novels, children's picture books and zines. Many of the works were painstakingly produced with specialist techniques including silk-screen printing, analogue typography and woodblock printing. Lote 42 typically works with print runs of 1,000 to 1,500 – a relatively large number in the indie publishing world. "Manual printing requires so much time and you never know what to expect," says Arbolave. "But there's an audience which is very interested in collecting these books."
The couple believes that Banca Tatuí's success has also demonstrated how art and retail can be used to catalyse urban change. Although he admits it's not a panacea, Varella believes that establishing a friendly public space has made the community more relaxed because "people care for each other.
"We started believing that public security issues can be resolved without the police. Before, with the drug den, there was always a sensation of danger. People were worried about walking here at night but now it's peaceful."
About: Frederick Bernas is a journalist and filmmaker who uses culture to illuminate social and political issues across Latin America.