Refrigerated logistics / Global
Cold calling
We seldom stop to think about how our food gets from its source to our plates but, when we do, we realise the mammoth effort involved. Luckily technology is revolutionising the industry and temperature-controlled cargo is going places like never before.
Refrigerated logistics has been around for more than a century in one form or another. But in recent years it has become a highly technological and hugely profitable industry. Nonetheless, it's still something we take for granted. How often do we eat Norwegian salmon in Singapore or tuck into Kenyan green beans in Europe without thinking about how these perishables got onto our plates?
Things are changing though. We might be used to it in the West but some countries are only now developing their chilled supply chains. India, for example, sees roughly €5.7bn worth of food go to waste due to lack of infrastructure to keep it fresh and is working with US refrigeration giant Emerson to improve its so-called "cold chain". At the same time, new technology and software are making it easier to trace and track cold products across the globe, whether they're in planes, on container ships or loaded into the back of a van. We take a look at two companies operating in different sections of the chilled-logistics industry and hear how they're planning for a frigid future.
Finnair
The passengers boarding the jfk-bound Finnair Airbus a330 are blissfully unaware that this afternoon they will be outnumbered by fish. As the plane sits on tarmac at Helsinki-Vantaa Airport, staff skilfully manoeuvre eight tonnes of fresh Norwegian salmon into the temperature-controlled cargo compartment in the plane's belly.
Less than a day ago these fish were caught in northern Norway. From the moment the salmon leave the chilly waters of the Atlantic it takes a mere 34 hours for the catch to reach a restaurant in New York. Throughout their journey the fish are kept in a cool environment. This is a marvel of modern logistics and would not be possible by means of sea cargo.
Transporting seafood is one of the fastest-growing areas of temperature-controlled cargo, along with pharmaceuticals. Given its strategic focus on Asia and the demands that restaurant patrons in countries such as Japan, Thailand and Singapore place on fresh fish, Finnair is focusing on these markets. On the day we visit, the terminal handles 60 tonnes of seafood heading to destinations such as Tokyo, Osaka, Bangkok, Singapore and Seoul. All of its seafood cargo, up to 20 tonnes per flight, travels on its passenger planes – mostly on new a350s that Finnair asked Airbus to equip with custom-made cool-cargo compartments. The 19 new a350s (11 of which have been delivered so far) will increase the airline's cargo capacity by 45 per cent. To accommodate this growth the carrier has built a state-of-the-art, 31,000 sq m cargo terminal that isn't yet fully operational. "Technology is rapidly changing the way temperature-controlled cargo is transported," says Janne Tarvainen, Finnair's head of cargo, standing in front of the 33 screens arrayed around the terminal's control centre. Here Tarvainen oversees a team who monitor the movement of salmon and live king crab hauls inside the terminal.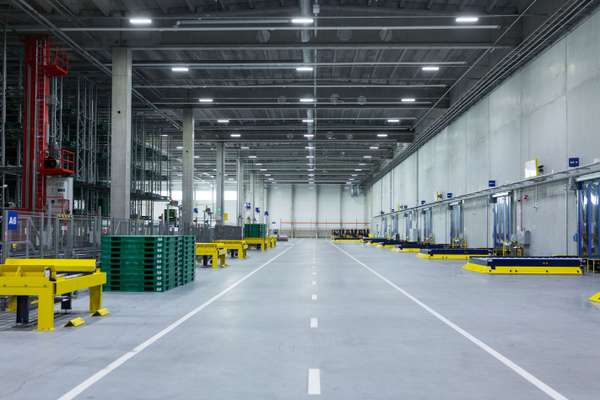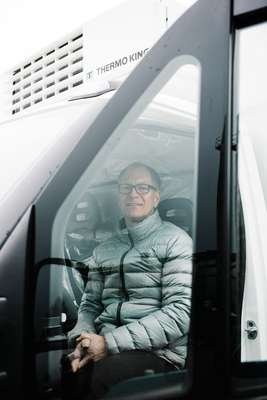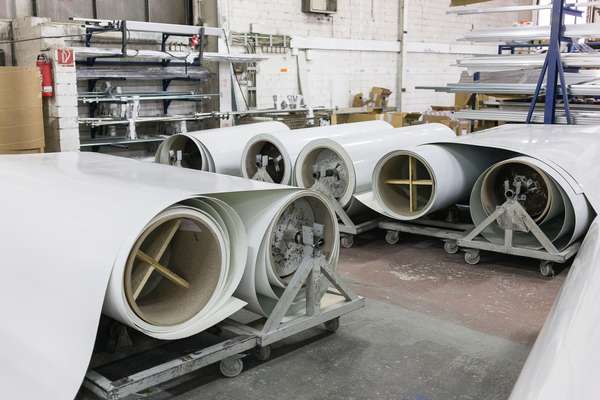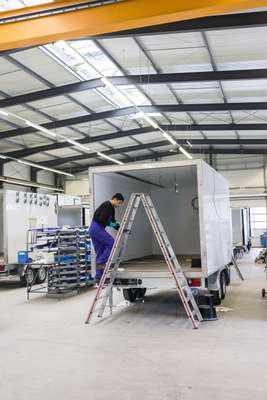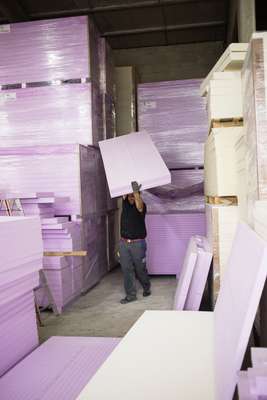 Yet were it not for the labels printed on the cargo boxes you would have no idea that the terminal is storing tens of thousands of fish. The salmon are packed at source and not opened until they reach their destination. Everything is clean and sterile; it doesn't even smell of fish.
Much of what happens inside the terminal is automated and carried out by software designed by US company Mercator and equipment built by German supplier Lödige. The fish is weighed, repackaged and moved to the apron side of the terminal (the area where aircraft are parked, unloaded and loaded) and the automated machines then manoeuvre in total darkness. "Machines don't need light so we switched the lights off," says Tarvainen. At any given moment, the control centre knows exactly where everything inside the terminal is and where's it's going next. "Clients want precision, transparency and traceability, and technology can improve that," he says.
But it's not just fish that needs to be monitored: transporting pharmaceuticals is another growing part of Finnair's business. "The value of pharmaceuticals transported annually is more than €250bn," says Tarvainen. "Errors in transport, such as temperature excursions, cost pharmaceutical companies up to €10.5bn each year." If the transport provider can minimise that, the profit potential is massive.
For Finnair, cargo represents more than 15 per cent of its wide-body revenue so it's a solid arm of the business. And interest in the sector is rising. The airline has been invited to present its logistics technology at Slush, a Helsinki technology conference, to a throng of Silicon Valley types. As more technology is needed in the complicated industry of chilled logistics, the more observers will see these worlds merging. For now though, Tarvainen is pleased with Finnair's position. "This is the most modern cargo terminal in Europe and definitely the most modern used by any passenger airline in the world."
---
Kress Fahrzeugbau
It's not just airborne cargo that needs chilling. Demand is also rising worldwide for refrigerated road transport so specialist truck manufacturers – such as German firm Kress – are keeping cool and cashing in.
Entering the industrial premises of Kress Fahrzeugbau, a manufacturer of refrigerated vans based in Meckesheim, north of Stuttgart, it's not immediately obvious that this is a business on the cusp of huge technological change. The sounds that ring out – hammering and electric saws – speak of manual work and the family business is run by the fourth-generation Joachim Kress, who wanders through the manufacturing halls here daily.
Yet Kress's industry is undergoing a huge transformation. Thanks to increasing urbanisation and the boom in e-commerce – in particular for perishable groceries – demand for refrigerated road transport is set to grow rapidly. The biggest technological shifts will affect the market for long-haul trucks, according to Christiane Auffermann at research centre Fraunhofer iml. These, she says, will soon be digitally connected, increasingly autonomous and "pooled into platoons", with fewer than 15 metres between each vehicle to reduce drag and increase road capacity. (Whether such a "platoon" is a sight we want to see on our roads is debatable.)
Meanwhile, when it comes to city deliveries, Auffermann's predictions are less dramatic – automation here is still some way off. However, she says, "short-distance delivery could shift into night time to reduce delays in traffic and avoid time-sensitive fees, such as London's congestion charge." For that to happen, delivery companies will need quieter vehicles, since cities such as Paris have introduced night-time noise restrictions.
One way to achieve that is to remove the internal-combustion engine. As in the rest of the automotive industry, electrification is now a key trend in the refrigerated-vehicle market, including for lorry-chassis manufacturers; Tesla's electric truck Semi goes into production in 2019, while electric models by Mercedes and Framo will be tested by supermarkets in 2018. At the same time, engineering companies providing refrigerated units that sit atop the chassis are also getting cleaner. "Today most coolers are diesel-powered, either by the truck's engine or a separate unit," says Stefan Meternek of US behemoth Thermo King. "But we'll increasingly offer coolers using liquid CO2 and electric power."
Back in Meckesheim, Joachim Kress has other concerns. "Besides electrification, our focus will be on weight reduction," says the ceo. Even shaving a few kilograms off the total weight allows a supermarket to deliver to more customers. "Over the past three years the share of extra-light grocery vans has grown by five times and now represents 20 per cent of our sales." Simultaneously, pharmacists increasingly need trucks with particularly stable temperatures, as drugs have become more sensitive.
But, according to Kress, the biggest change will be new cooling systems. "I am betting on tubes of frozen gel that you can stick into vans – a bit like an ice pack for a picnic." One company that is developing this light, quiet and emissions-free system is Dutch start-up BoTemp. "If we get to fit those into our vans it could revolutionise the sector."
---
More big chillers
Carrier, USA: Willis Carrier invented the first modern air-conditioning system. Today, alongside home and office air-con, the company supplies refrigeration for shops, restaurants and transport.
carrier.com

Daikin Reefer, Japan: Daikin specialises in virtually everything that controls the atmosphere and Daikin Reefer, its transport division, makes refrigerated containers for seaborne cargo. The firm has even developed a way to control the oxygen level in a container.
daikin.co.jp

Thermo King, USA: With nine plants in six countries, this Minneapolis-based behemoth is a world leader in temperature-control systems for transport. Thermo King also claims it can deliver any of 20,000 parts anywhere in the world overnight.
thermoking.com