Reportage 1. / Switzerland
All the fun of the fair
Olma, Switzerland's annual agriculture and nutrition tradeshow, has been going strong for 75 years. It's how all nations should connect with their agrarian roots – and bet on a pig race or two.
Switzerland has become Marie-Sophie Schwarzer's second home: Monocle's associate editor is sent there whenever there's a story to cover. And that happens quite a lot: Switzerland may be tranquil but there's no shortage of stories to tell. This one was particularly fun to report – after all, who wouldn't want to spend the day among piglets and burly Schwinger champions?
---
It's a clear sunny afternoon when the contestants enter the packed arena to the sound of the Star Wars theme tune. They have been training for eight weeks and now they're in the starting stalls, stamping their hooves on the ground amid sharp grunts. "The moment we've all been waiting for has come," shouts suited and booted master of ceremonies Christian Manser from the sidelines as the music fades. Everyone in the audience is on the edge of their seats as the referee blows a golden horn and the gates open. The race has begun: five piglets shoot out of the stalls and race around the arena to thundering cheers from the packed crowd.
The wiry Öpfeli, fittingly sponsored by the Swiss army, comes in first place, lured to the finish line by a trough heaped with treats. The audience – espcially those fired up by betting chf5 (€4.30) or more on the winning contestant – applaud the pink pig, who is wrapped in a Swiss army banner. As the cheering dies down, Manser steps into the centre of the sand-filled arena and congratulates the "Maserati of pigs" on his victory. Then he invites a group of elementary school children to accompany the pigs back to their enclosure. What follows is a scene straight out of a cartoon: a boisterous horde of children begin chasing the snorting pigs, including a few stragglers who need an extra push, back to the stalls. "Ready for round two?" asks Manser as the music swells. "There's a lot of money in the game."
The pig races are a highlight at Olma, Switzerland's annual tradeshow for agriculture and nutrition. Every year some 365,000 people from all over the country descend upon the valley of St Gallen for the most Swiss of fairs. This is the place where you'll come across myriad products that you didn't realise you needed; we spy an electric cow brush as we enter the grounds. Sophie – a hazelnut-hued Alpine cow – nuzzles the yellow bristles as if paid to advertise DeLaval's product. The Swedish producer of dairy and farming machinery is one of the 611 exhibitors represented at the 11-day fair. And while Olma started as an agriculture exhibition when it first opened its doors in 1943, organisers have adapted and visitors can now find everything from coffee-makers to whirlpools at what has become Switzerland's largest consumer fair.
During the Second World War, when Olma was born, Swiss farmers fed the nation and made up 25 per cent of the population; today that figure is down to just 3 per cent. Yet while the farming industry may be costing the Swiss taxpayer an estimated chf4bn (€3.4bn) in subsidies every year, it continues to produce more than half of the food consumed in the country. That's why even though farmers are no longer the fair's key demographic, Olma continues to celebrate everything Swiss. Next to Sophie's grazing spot there's a stand selling cow fodder; nearby, visitors are huddled around tables downing pints of beer. The lager they're swilling is from the nearby Schützengarten brewery packaged in Olma-themed bottles to celebrate the fair's 75th anniversary.
"These days Olma is more of an encounter between countryside and city," says Nicolo Paganini, director of Olma Messen, projecting his voice above the chatter and occasional moo. "Our goal is to reintroduce people to rural life," says Simon Bieri, cradling a 13-day-old squealing piglet to the delight of throngs of children. Bieri represents Suisseporcs, the Swiss pigs association with a booth adjacent to Sophie's pen. A couple walk past him while heartily biting into a grilled Olma Bratwurst. Is it tasteless to eat what you've just cuddled? Perhaps it's simply too good to resist. "Our Bratwurst is so delicious that it's a crime to top it with mustard; they'll kick you out if you do," says Paganini with a chortle. In the 1970s the Olma Bratwurst (which is made with bacon) even claimed a spot in the Guinness Book of World Records when 60 St Gallen butchers grilled a 1,293-metre-long sausage for the occasion. And yes, it all got eaten.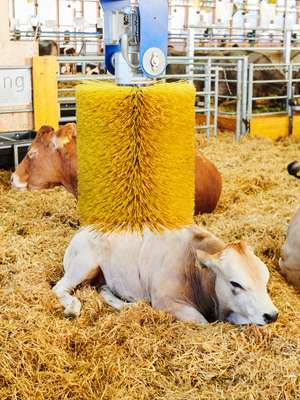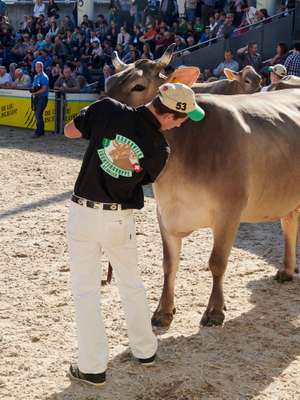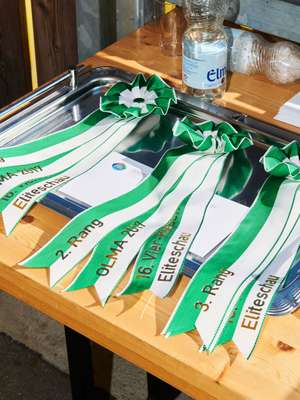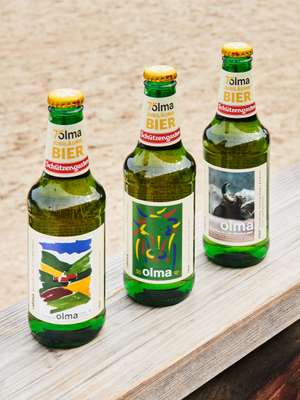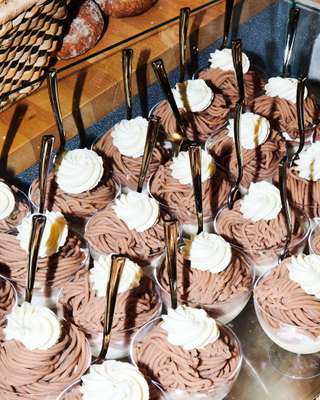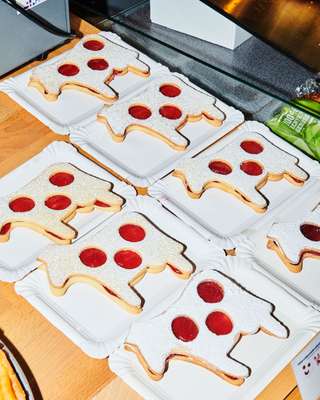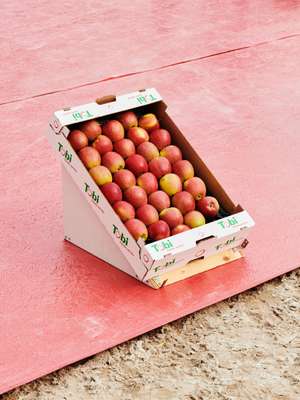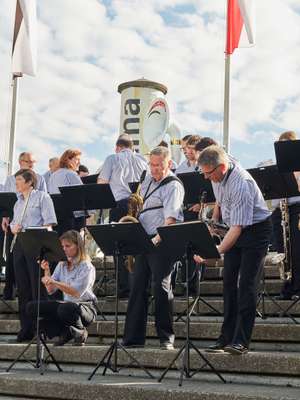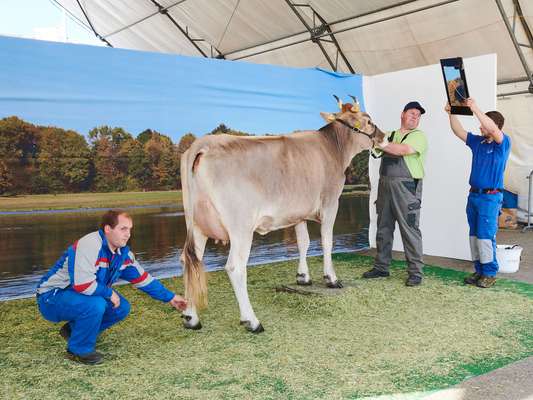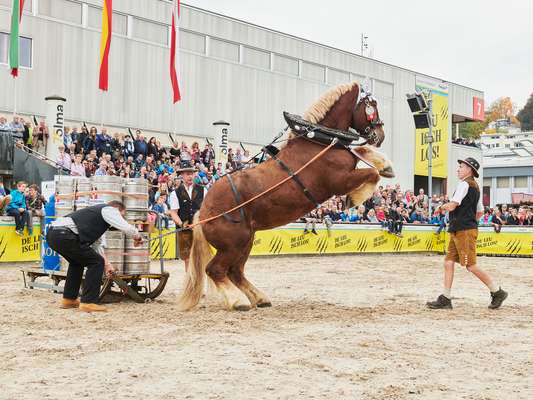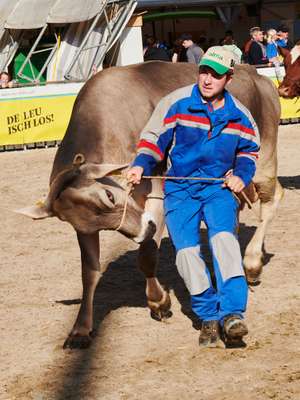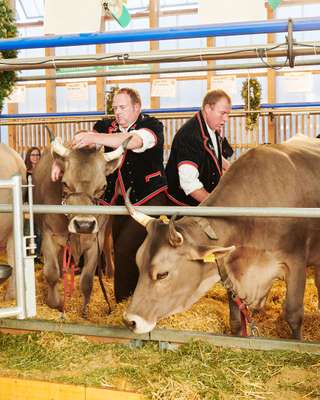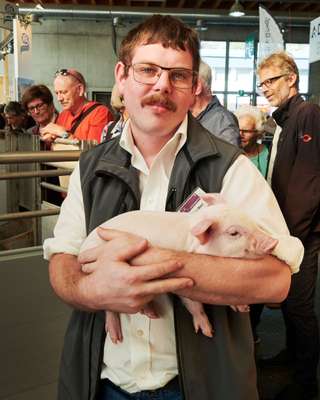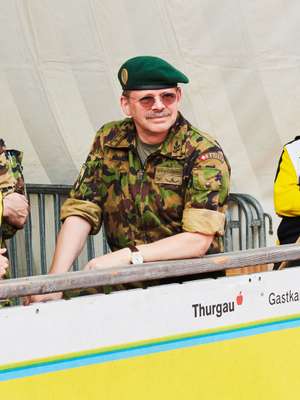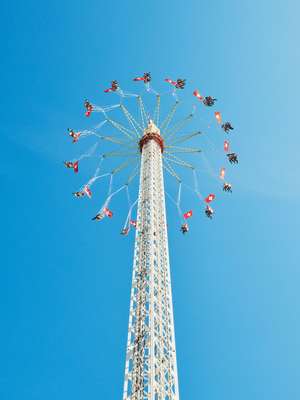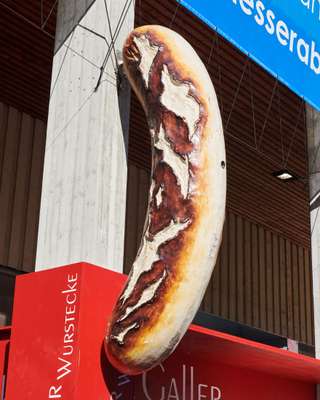 "We want our visitors to understand where their food comes from," says Paganini. "That way they gain respect for the animals and the environment." The link couldn't be made more obvious: while cows are crowned with floral headdresses and paraded around the fair, burgers and Bratwurst are consumed left and right. "The idea is to let urbanites experience farm life while promoting Swiss produce and products," adds Paganini. He admits that he owes his wife a round on the Ferris wheel and that he has yet to prepare for this afternoon's big tug-of-war competition. "If it's up to me we'll lose disastrously, even though we do have a champion Schwinger on our team," he says, referring to the Swiss wrestling sport.
Before disappearing into the crowd he points us in the direction of the degustation halls where Swiss wineries abound. Yet the people delighting in their tipples seem less concerned with provenance than with sampling as much alcohol as possible – hence the large squad of security guards. Indeed, Olma can get rowdy. At the alpine cheese stands in hall 9.1, visitors descend like hungry hawks on carefully laid-out samples, skipping queues and coming back for seconds. In Swiss terms, it's chaos. Over at the booth of chocolatier Kägi, an apron-wearing volunteer with a wide smile is handing out chocolate bars. "It's been exhausting," she says croaking, her voice almost inaudible as another piece of confectionery is grasped by greedy hands.
Olma fans take pride in regularly attending the fair but only a few can call themselves true Olma Grand Slam champions for attending 11 days in a row. One such title-holder is Albert Nufer, who's 75. "I'm just as old as Olma," he says with a crinkly grin. A golden medal around his neck catches the light: it turns out Nufer is one of Olma's anniversary ambassadors, nominated alongside figures such as FC St Gallen goalkeeper Daniel Lopar, Reto Preisig, the ceo of the Schützengarten brewery and federal council member Ueli Maurer. Nufer made the cut as Olma's number-one fan. "There are so many beautiful treats for the eyes here at Olma," he says, stroking his bushy grey beard. "Today I'm on a shopping spree: there are certain products on sale here that you'll find nowhere else." He picks up a glass jar of rowan berries. "When boiled these poisonous berries are an ancient household remedy."
For some it's berries, for others it's vacuum cleaners and lawn mowers; in many ways Olma is a shopping channel come to life. At every corner there's an overzealous salesman hoping to sell you one thing or another. "We're here for the free food and something to drink; we don't want to buy anything," says Lucas Patt, who visits Olma annually with his family. "Then again, we always say that but ended up buying a Kenwood mixer and a coffee machine last year – we got a good deal."
Most years the fair runs much the same way, with a few variations. This year the canton of Thurgau near Lake Constance has been named Olma's guest of honour and in celebration of this bestowal, organisers decided to host its annual Apple Queen contest at the fair. Much like Miss USA, this competition is all about selecting a representative of the region. Its most profitable export – the apple – is also celebrated.
Marion Weibel is one of six finalists; her father prompted her to apply but she never imagined getting this far. "I grew up in the countryside picking apples for my family," she says, as she brushes a strand of brown hair off her face. Later that day she is crowned the 20th Thurgauer Apfelkönigin (Apple Queen) in front of 4,000 people. The competition may not involve swimsuits but there is a crown, laid out on a red velvet cushion. And while Weibel doesn't shed a tear when her name is finally pulled out of the golden envelope, she's visibly overjoyed as she carries out her first task, which is – surprise, surprise – handing out apples to the cheering crowd.
But the event the crowd has been most looking forward to is the ultimate tug-of-war competition. The arena is cleared and Paganini and his troops enter to wild applause. The team from St Gallen – including the director of Olma, Schwinger champion Daniel Bösch and Swiss Snowboard World Cup winner Julie Zogg – will have to compete against Weibel's compatriots from the canton of Thurgau. The Thurgau team look confident in their matching shirts. Paganini seems amused but not entirely optimistic about what is about to happen.
"Ladies and gentlemen, get ready for the main event," shouts Manser. Music blasts out of the speakers and the match begins. Paganini grips the rope with all his might but the men and women from Thurgau take home the win. Paganini shrugs: "All that matters is that the audience had a good time." He looks around the packed stands. "You can see that Olma is riding the same wave of popularity as Schwingen," he says, pointing out that the folk wrestling sport has enjoyed a resurgence in recent years. "Traditional customs are experiencing a revival in a backlash against globalisation. The Swiss are proud of their roots and young generations are rediscovering their heritage. There's a sense of escapism about Olma – it has the semblance of an unspoiled world. But of course, that's an illusion."
And it remains a successful illusion. With annual cash flow of chf8.5m (€7.3m), Olma is one of Switzerland's most profitable fairs and it's investing in its future. "We're working to expand the exhibition grounds with a new hall by 2024," says Paganini. He has fond childhood memories of Olma and wants to see the tradition preserved. "I used to come here with my family, boarding the train to Olma was always a special occasion. You could say I grew up here. And so did many others."
It's clear why the fair has such a hold on Swiss hearts. It's a place where couples meet; it's where they share their first kiss and sample their first beer. Olma is a fair of firsts – and there are bound to be many more.
__
Forecast comment
Olma's evolution from a farmers' fair to a celebration of everything Swiss signifies the rise of the conscious consumer. The event brings the countryside to the city and teaches younger generations the importance of provenance and sustainability. Mass production and blind consumerism are (in some quarters) giving way to a new set of values and Olma is at the forefront of this movement towards greater transparency.
Issues such as fair trade, sustainable manufacturing and responsible farming have all become important to consumers. At Olma, cows, pigs, sheep and goats are presented to the public, regional produce is celebrated and producers explain how and where their food is made. It's a step in the right direction when it comes to transforming consumerism and brands around the world are catching on.