My cabinet: Young & Norgate / Bristol
Wood times
Sitting at the intersection of design and fabrication, Young & Norgate conceptualises, makes and fits bespoke furniture for some of the UK's leading architects and interior designers.
Furniture and joinery company Young & Norgate is in the business of making beautiful things. In its Bristol workshop, the team crafts custom furniture for some of the UK's biggest architecture studios, making and installing handcrafted designs for shops and homeowners around the country. "Our job is to take architects' and interior designers' projects and make them functional from a woodworking point of view," says co-founder and technical director Ross Norgate. 
Norgate and his business partner, design director David Young, started their operation in an old cider press in Devon in 2010, before relocating to Bristol as demand for their products and a need to be closer to their clients grew. Now, as part of their new venture Husk, they've started selling cupboard fronts, doors and handles that can replace the standard ones found on kitchen cabinets from the likes of Ikea. "We want to offer quality products to more people," says Young.
In the busy workshop, wood, tools and computers sit side by side. From a product's initial design concept to 3D modelling to sanding and spraying for a perfect finish, everyone has a role to play. "We try to make sure that all of those involved feel a sense of ownership to be a part of the overall effort," says Norgate. "People aren't just cogs in a machine."
Good craftsmanship is at the heart of the operation and this human element remains a constant even in the firm's most technically demanding designs. "I know that we make physical things and help people to create their dream homes. But when I look at a piece of really complex furniture, I think of the months of emotion and all the time and challenges that went into it," says Norgate. "When it's over, it's almost as though we've given birth."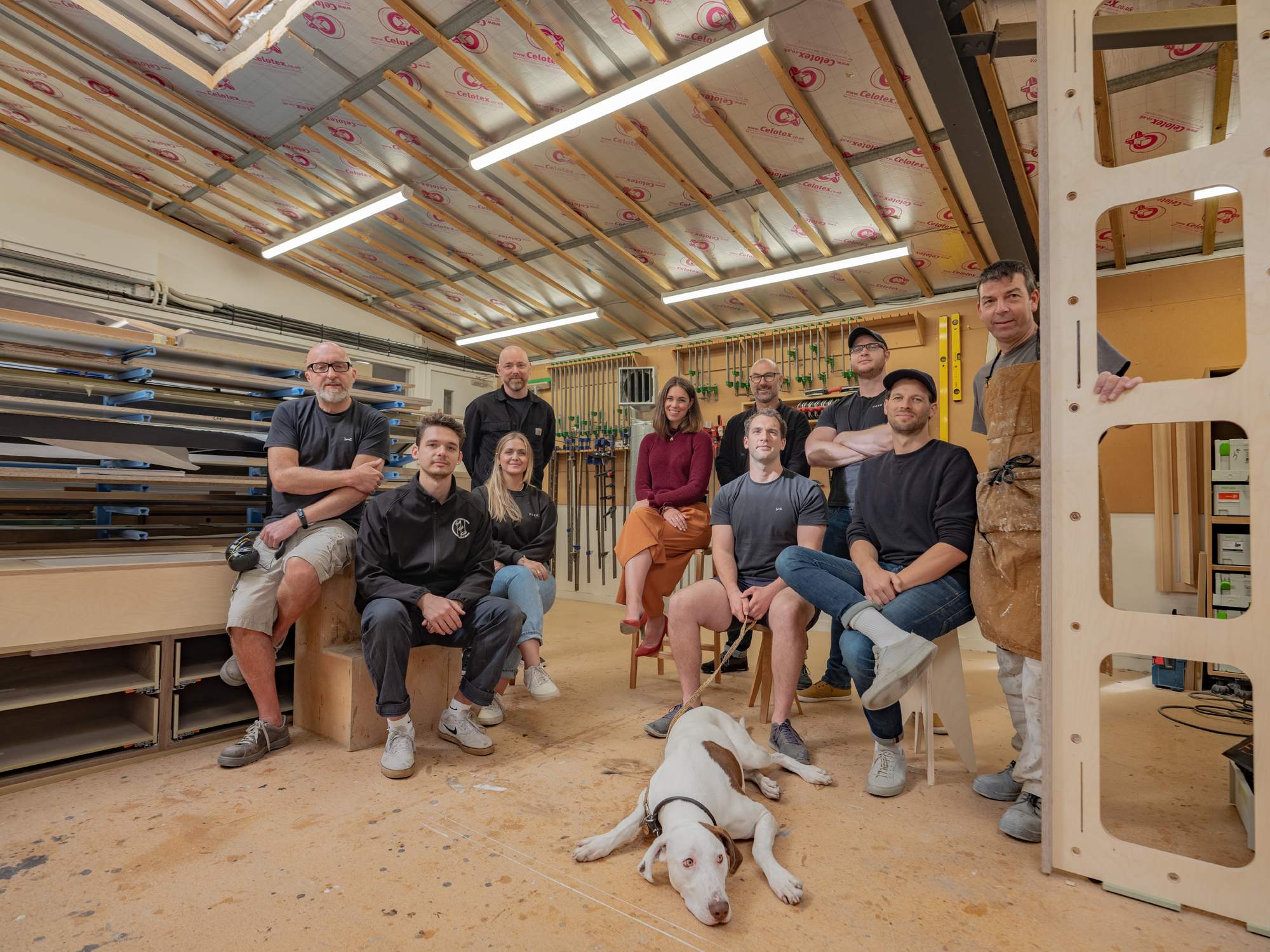 The Cabinet (From left to right)
Nigel Bull, Workshop manager,"Link between design office and the makers." 
Joe Thompson, Local coffee roaster, Triple Co Coffee,"Keeps everyone in the business well fuelled."
Millie Teden, Marketing head, Husk,"Drives the development of our new brand."
Ashley Smith, Architect, Smith Maloney, "He's a frequent collaborator."
Maddie Difazio-Wright, Brand manager, Make construction firm. "Collaborator from a company who is on a mission to build extraordinary homes."
Norman, Morale co-ordinator,"Makes the place much livelier." 
Will Manaton, Head of design,"Taking the vision of the architects and interior designers we're working with and turning it into something we can actually produce."
David Young, New Zealand-native Young met co-founder Ross Norgate while they were studying furniture design and cabinet-making in 2009. Now, as design director, he "makes sure that everyone is happy with what they're doing, and that clients' needs are fulfilled"
Tony Pugh, Production manager, Husk,"Orders the materials for the jobs and programs them into the CNC."
Ross Norgate, Co-founder Norgate also serves as the brand's technical director. A joiner by trade, he is adept with tools. And with an emphasis on making rather than manufacturing, you can be sure he "follows the project right down from the start to the installation".
Chris Chinnery, Sprayer, "The last pair of eyes on the items."