Travel edits / Global
Monocle travel guide
With typical egalitarian flourish and quirk, New Zealand's national carrier has come up with an innovation that will expand the horizons of horizontal leisure travel. Plus overleaf, we discover a new Hong Kong hub, a cosy Cape Town bistro, inspired accommodation in Melbourne and Berlin and pancakes in Tokyo.
Saying kia ora to the future of air travel, Air New Zealand – known for its video security demonstrations conducted by naked, body-painted stewardesses, and its matey "How ya going?" customer service approach – revealed in Auckland in January the prototype design of its new Boeing 777-300s. After three years of planning, the airline is bringing to the long-suffering economy traveller that icon of modern long-haul travel: the bed.
Technically, it's a clever footrest. Hinged to the bottom of the seats is a flap that can be swung up to lay flat in line with the seat, filling the gap over the leg room. If you have three seats next to each other, with their flaps up you can create a cosy sleeping platform known rather grandly as the Skycouch. You then lie down sideways, across all three seats: there's enough space for a couple.
Recognising that its core market comprises leisure travellers (it recently scrapped First Class), Air New Zealand will aim the Skycouch at couples or parents who can purchase the middle seat at a discount, creating a spooning space for two or a space to shut the kids up with some crayons. They will be available in 11 rows on each side of the 777-300s, starting on Air New Zealand's Auckland-Los Angeles routes in December, before hitting the London leg in April 2011. No one knows how the pricing system will weigh up (will it be better to just buy two adjoining seats in its pioneering Premium Economy class?), or whether discounting those valuable middle seats during peak times is such a good idea. All will become clear in April.
This project began when CEO Rob Fyfe visited Boeing's seat gallery and was "underwhelmed" with the options open for the NZ$300m he was prepared to spend on each aircraft. So he set his team the challenge of horizontal travel for economy class. "We fly a disproportionately large number of ultra-long-haul routes, most of them overnight, so sleep is important to our passengers," he says.
Working with Californian consultancy IDEO, 30 polystyrene potential designs were developed, before the Air New Zealand team narrowed down the options to bunk-beds ("but aircraft just aren't designed to carry any load from the ceiling," says Fyfe on this soon-rejected option), "staggered" seating (where the middle seats of each row were moved forward) and the final footrest idea. Led by ANZ's group general manager Ed Sims, all seating versions were tried on actors in warehouses, doing role-plays for six hours at a time, in top-secret Project Kupe.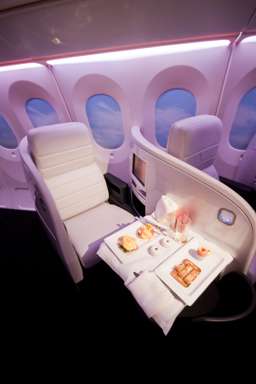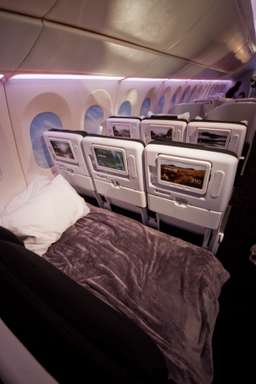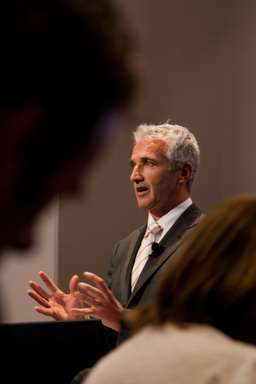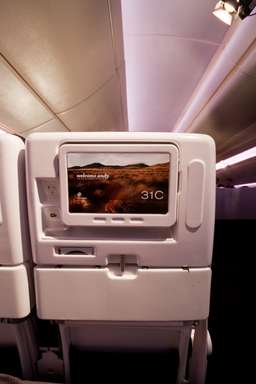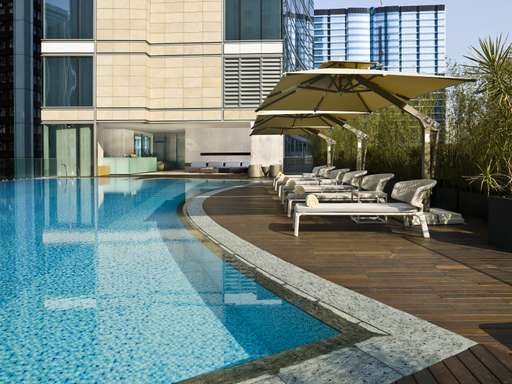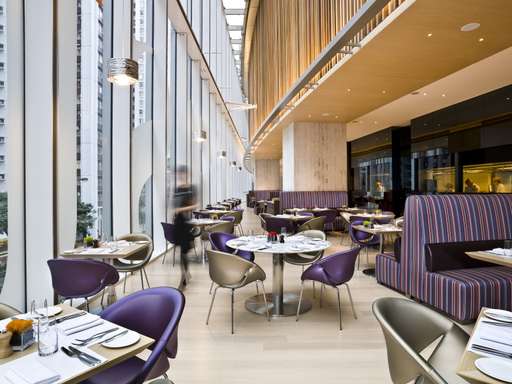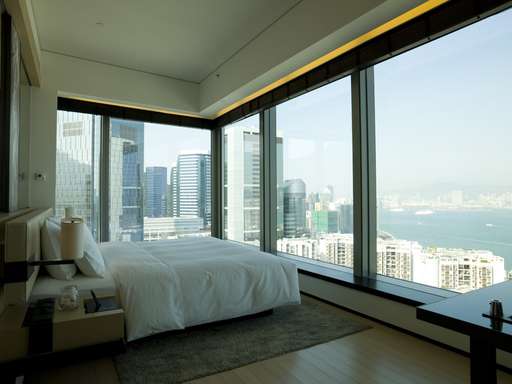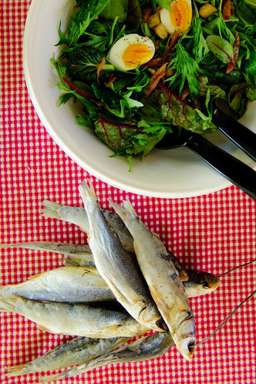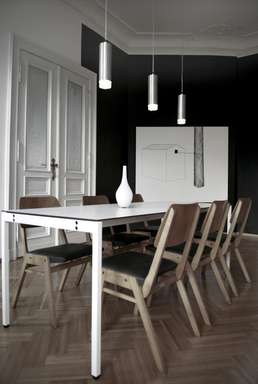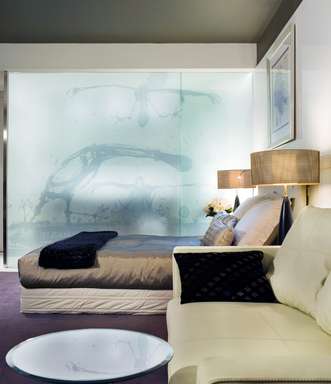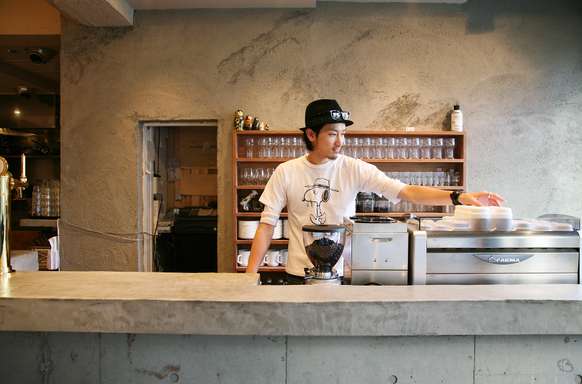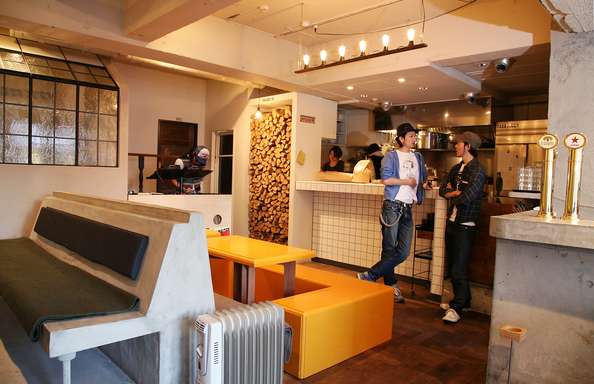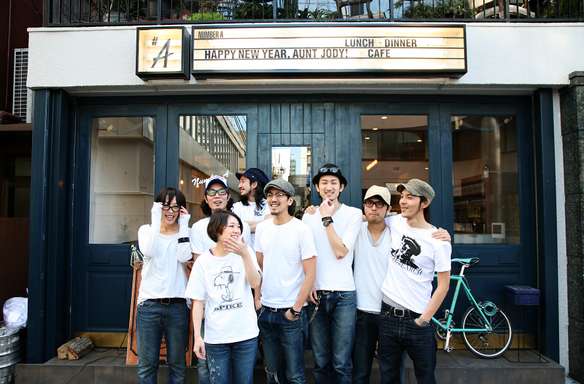 The airline's coupling theme is reiterated beyond Economy class. In its updated Premium Economy 2-2-2 format cabin, the central bank of seats angle away from each other with a shared dining surface/armrest in the middle, for those mile-high candlelit moments.
Lone passengers will have to take solace in the outer rows – both seats have a largish partition between them. Alternatively they can take to Business Premium, where the lie-flat beds are now softer and the TV screen is almost two inches wider. Having fiddled with the Business Premier lie-flat beds enough, ANZ can now apply for a new patent, having up until now used Virgin Atlantic's licensed design. For a company that has weathered the downturn well, licensing agreements on the Economy Skycouch and Spaceseat in premium will no doubt take ANZ's profitability sky high. It'll also offer a sought-after travel proposition on a highly competitive route.
Other gems to come include loo windows, USB connectors in every seat, sleek new livery and touch-screen snack-ordering outside mealtimes. In a characteristic flash of democracy, that's through all classes.
Hotel East
Island East: Hong Kong
The opening of the East Hotel in January represented a new direction for the Swire group, previously known for top-end developments such as The Opposite House in Beijing. "Being located in Tai Koo business district means that we're catering for the regular business traveller," says Swire MD Brian Williams, "and the hotel has been built around their specific needs, with innovations such as a paperless front desk with embedded touch screens and iTouches that allow instant access to anything from room service to a daily Hong Kong guide". With 345 rooms and luxury facilities including a skyline bar and decking, the East is a perfect remedy for weary workers.
east-hongkong.com
Swire Hotel MD Brian Williams chooses his favourite Hong Kong spots.
Best bar: Sugar on the 42nd floor of our hotel with harbour views and an outside deck
Best restaurant: Food Republic in Cityplaza. A food court that has something for everyone
Best meeting place: ArtisTree, an events space in Cornwall House; Butterfield's members' club in Dorset House; Clifton's Lincoln House; Executive Centre, Cambridge House
Best shopping: Cityplaza, the largest mall on Hong Kong Island, is literally on the doorstep
Best breakfast: Café Habitu or Epoch
Favourite spot: The sky lobby in One Island East
Oep Ve Koep Bistro
Restaurant: Paternoster
On the wild west coast near Cape Town is Paternoster, a fishing village where bistro Oep Ve Koep has just been opened by Kobus Van Der Merwe. Serving Weskus Salade Niçoise with bokkoms (dried and salted mullet), Cape Malay curries and the best bobotiem, Van Der Merwe gives golden oldies a twist while using hand-harvested "fleur de sel" from Velddrif and hand-churned Malmesbury butter. This is South African food that is refreshing and unfussy – just like Paternoster itself.
+ 27 22 752 2105
Sankt Oberholz
Apartments: Berlin
Ad man Ansgar Oberholz and restaurateur Koulla Louca have extended the success of their St Oberholz bar at the Rosenthaler Platz with two flats where visitors feel like real Berliners. The building was a former centre of bohemia, with its Aschinger restaurant serving beer to an artsy clientele. Nowadays free wi-fi and coffee has made it a regular hotspot. The creative vibe is, of course, still alive.
sanktoberholz.de
The Olsen, a sleek, glass-encased 241-room hotel in Melbourne, is dedicated to the works of legendary Australian artist, John Olsen, it accommodates 492 of his visionary, high-spirited "emotional landscapes" as well as a commissioned 6m mural, The Yellow Sun and Yarra. The Olsen is the second of six artist-themed hotels from the Art Series Hotel Group after The Cullen (2009), featuring the works of painter Adam Cullen. The Blackman, showing the dreamlike work of Charles Blackman, opens May.
637 Chapel Street, South Yarra
artserieshotels.com.au
Footnote: The Olsen has the world's largest glass-bottomed pool, which hangs over Chapel Street.
Number A
Diner/bar: Tokyo
It''s all about the pancakes at Number A, a new diner-style bar recently opened in an Aoyama side street. Created by Tokyo design company The Round Table, there are long wooden tables, whitewashed walls, concrete benches and beer on tap served at a bar lined with wooden tripod stools. The show-stealer is its pancakes: against a stream of rare groove records playing on the decks, customers tuck into a cornucopia of them, from caramel to bacon and egg. End result? American diner meets urban design – plus the greatest pancakes in town.
3-12-2 1F Kita-Aoyama, Minato-ku
+ 81 (0)3 6427 4038
Footnote: Nicest touch? Bowls of snacks such as M&Ms served with drinks and other complimentary nibbles, and the odd slice of cake made by staff members' friends and family.
Q&A
Rob Fyfe, CEO, Air New Zealand
What does customer service mean to the Air New Zealand brand?
I dread saying this because it sounds so clichéd, but for me the pivotal point that took us in a different direction happened five or six years ago when we made the decision to be about flying people and not about flying planes. I spend 80 per cent of my focus on where customers come in contact with employees. That interface is where value is created in this business. One of the core attributes of the personality we've defined in our brand is "be yourself" and to allow a certain level of individuality and authenticity in service. People want real people, not the "have a nice day" type of service approach.
What can other airlines learn from ANZ?
Airlines are very risk-averse organisations. For a passenger that's a good thing; you don't want to fly on an aeroplane that's taking a risk. We don't want to take operational risks, but we do actually want to take commercial risks. We have a high appetite for risk in terms of innovations, commercial and customer service strategies. We've tried some things that don't work. Last year we put in an extra row of seats in to our 737s, but our customers didn't like it so we pulled them back out again. A focus on people, an appetite for commercial risk, and moving fast are our foundations to build a successful and continually profitable business.