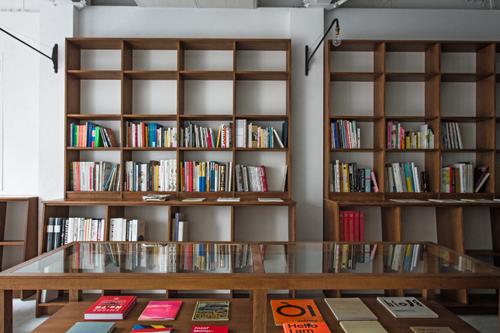 Web designer Osamu Kawata built up such a sizeable collection of books and magazines on typography that he decided to open his own bookshop (pictured). Book and Sons, a few minutes from Gakugei-daigaku Station, now sells thousands of new and vintage typography titles. There is a gallery space that focuses on typographical works and a stand serving Ogawa coffee.
bookandsons.com
Meandering between fact and fiction, Moonglow is a collection of stories shared between a grandfather and grandson. Told in the form of a deathbed confession, the elder protagonist reveals wartime exploits, the tribulations of marriage and a shocking spell in jail.
harpercollins.com
Apartamento Cookbook #1: Cakes and Desserts
Recipes from chefs and food-lovers such as Fergus Henderson, Martha Stewart and Alice Waters. The line drawings make the 40-pager feel intimate and appetising, particularly Henderson's gingerbread pudding.
apartamentomagazine.com
Dear Data
Giorgia Lupi and Stefanie Posavec
The designers (and pen pals) behind this pretty book exchanged 52 postcards that decoded the data behind their days and daydreams through scribbles, drawings and colourful illustrations. It's an inspiringly analogue footnote proving that data need not be dull.
dear-data.com
Looking Good: A Visual Guide to the Nun's Habit
Veronica Bennett
London-based GraphicDesign& enlisted the vast talents of the illustrator Ryan Todd to depict the clobber worn by 40 communities of Catholic nuns. Far from pious, it's a charming and eccentric celebration of religious raiments through graphic design.
graphicdesignand.com
Looking Good: A Visual Guide to the Nun's Habit Veronica Bennett London-based GraphicDesign& enlisted the vast talents of the illustrator Ryan Todd to depict the clobber worn by 40 communities of Catholic nuns. Far from pious, it's a charming and eccentric celebration of religious raiments through graphic design. jaf graphicdesignand.com
Future Imperfect
Anthony Downey
The complexities of the Middle East can befuddle the most experienced pundits. So for a bit of context about the health of the arts there, this compendium of essays explores how the dust has settled after a series of revolutions that rocked the region – and what these shifts might mean for the Middle East's complex but simmering art scene.
sternberg-press.com
Bernerd's interior-architecture practice has refreshed hotels and restaurants from New York to Hong Kong (and beyond). This coffee-table beauty is a fine fillet of the projects that have made here a key contact for brands and businesses. And to be clear, she does this by delivering projects that have her deep understanding of luxury, colour and wit at all times.
rizzoliusa.com
A paving slab-sized compendium that charts the past decade of Hockney's work, from painted technicolour landscapes to photography and digital drawings. Plus, a smattering of essays to better appreciate the maestro's boundless curiosity.
thamesandhudson.com
After studying at the London School of Economics and working for charities, Lisa Jaspers pioneered an economic development of her own: the ambition to open one of Berlin's best-stocked shops. While travelling for work she saw brands she liked and artisans she admired who would one day adorn her shop Folkdays. "It was the perfect way of combining an entrepreneurial business model with the issue of poverty reduction," she says. "We quickly realised that artisans were very interested in working on designs with us so we started developing product ideas." Today the range includes kilims woven in Anatolia and ikat-dyed silks.
folkdays.com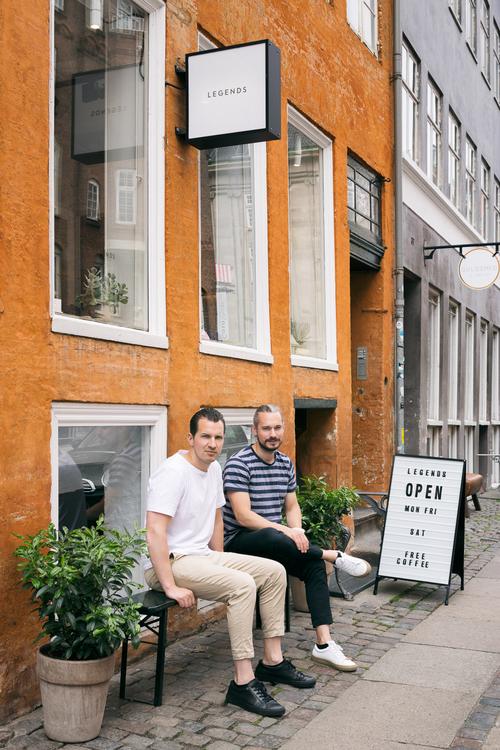 Opened in 2016, Legends' lastest shop joined a notable roster of brands such Han Kjøbenhavn and Storm already at home in the Indre By neighbourhood. It was founded by Thomas Daniel Dam Larson and Mads Ulrik Greenfort back in 2013 and has won fans for its impeccably tailored clothing and refined collection of trainers, boots and headwear. Expect clean Scandinavian lines combined with something of a laidback Californian style.
legends.dk
Katsute 100 is a moodily lit Japanese ochaya (tea room). The shelves are piled high with rare blends such as gyokuro (green tea that's grown in the shade) and genmaicha (green tea with brown roasted rice), plus a selection of saké and whiskey. "We select the teas during our trips to Japan," says Joe Mossman, who opened the space with a partner in 2016. The late-Georgian building sets the tone; the Victorian chandeliers and kitschy wallpaper add a homely touch.
100 Islington High Street, N1
Publisher Laurence King's playful steer on the classic board game Battleship caught our eye this month. Inspired by patterns used by the allies in the First World War to evade submariners, it is reimagined by design firm Pentagram. In the same vintage vein, a playful take on Rock, Paper, Scissors has been converted into a card game.
laurenceking.com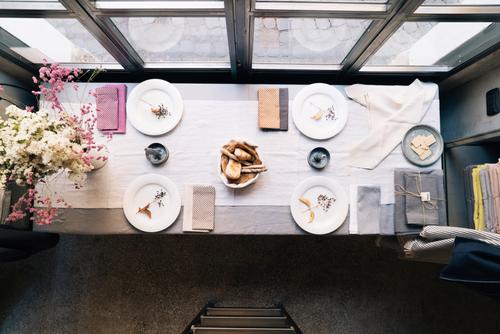 Roman linen shops aren't known for their understatement but the bedclothes in this tasteful space are admirably unembellished; the focus instead is on fabric. The business was founded by textile industry veteran Ruben Fatucci and his partner Alessandra Azzali. Fatucci scours Italy for manufacturers who use natural fibres and dyes to create sheets, towels, blankets, rugs and table linens in a mercifully muted colour palette.
staystore.it
Gaston Greco launched his footwear brand Posco (Products of Simple Composition) eight years ago while studying architecture. Hailing from the Chaco Province where he manufactured his initial pairs, he soon shifted production to Buenos Aires and opened his debut Palermo shop. Step inside to see a collection that eschews the movements of the seasons that beset the world of fashion. Instead the hand-stitched kicks are made from Argentine leather, suede and canvas, with a distinctive rubber sole in contrasting colourways (Argentinean president Mauricio Macri is one high-profile fan). This new and nearby premises opened in December.
4684 El Salvador, Buenos Aires
Former art directors Jenny Tavassoli and Johan Fredlund started Dry Creative Projects design studio after years of intermittent collaboration. As well as creating visuals for the likes of Gant, the duo worked independently on a line of products that grew into Dry Things, a pleasingly homely shop in Vasastan teeming with beautiful posters, candleholders, soap and books. "We started with graphic prints and soon moved to furniture," says Tavassoli. "Now we even have an in-house carpenter."
drythings.se
Bottle shops aren't big business in Singapore but EC Proof, the retail arm of spirits wholesaler Proof & Company, is eyeing a change. Its retail arm seeks to quench a growing thirst for spirits. "Bottle shops are actively unattractive – fluorescent lights and metal racks," says co-founder Spencer Forhart. By contrast EC Proof's apartment-style salon is located in a 1960s shophouse designed for browsing. Products include Willett American bourbon and rare Trinidadian rum.
ecproof.com
Q&A
Ben Walters
Co-founder, The Stables
Sydney
Sydney favourite The Stables opened a second shop in December on trendy Crown Street in Surry Hills. Ben Walters, one of the four founding partners, tells us about branching out.
Why open another space in Surry Hills?
We wanted to reach the global consumer while being a part of the growing Surry Hills community. Crown Street is a changing space with big boutiques opening and so we wanted to be part of what has become one of Sydney's most important shopping streets.
How would you describe the new space?
Two floors focus on retail and we will be incorporating a record shop on the top floor soon. We want to create different avenues of a similar lifestyle, letting the product speak for itself in a minimal and clean decor.
What brands do you stock?
We select brands that have a good story to tell such as Muuto, a Danish furniture brand; New Albion Sports, which uses tech fabrics; and Nanushka and Objects Without Meaning for womenswear.
wearethestables.com
Hackney's all-female group are saved from being a flash in the pan by their wonderful musicianship, clear-eyed vocals and indefatigable larynges.
Savage Times
Hanni El Khatib
Scuzzy, splashy, charming garage-rock wickedness in a five-EP best-of. Get among the buzz by seeing him.
Dirty Projectors
Dirty Projectors
A typically cerebral but chill post-hip-hop break-up album. Solange Knowles and Tyondai Braxton provide lushness and gorgeousness.
Psychedelic jazz-rock is delivered with an impish charm that's rare for a group with a conveyor belt of members. A fine introduction to a wonderful and experimental band.
The Founder
Director John Lee Hancock
A mad-eyed, bulging-veined and scenery-chewing Michael Keaton is Ray Kroc, the down-on-his-luck travelling salesman whose Damascene moment comes in a Californian burger bar that flips, fries and charges quicker and meaner than anywhere else in the west. The rest? History. A fabulous tilt at the creation myth of the man who made McDonald's.
Personal Shopper
Director Olivier Assayas
An unusual, uneven yet very compelling ghost story. A grieving Kristen Stewart is PA to a supermodel but Eurostar-ing it to Givenchy to pick up a dress messes with contacting her dead brother through the spirit world.
Stockholm's Byredo is stepping out of its perfumed comfort zone with a rainbow-hued blanket in collaboration with textiles company Klippan. Made from merino and lambswool, this throw will keep you snug on the chilliest of nights.
byredo.com
Designed and assembled in Dublin, the W1 ticker was dreamt up by Ian Walton in 2014. The w1/d comes with a full-grain vegetable-tanned leather strap.
ntn.ie
Berliner Brandstifter gin
Berlin
German-made wheat and botanicals from Speisegut farm in Berlin form the basis of this brew. The fiery name means "arsonist" in German – but the gin is smooth.
berlinerbrandstifter.com
Frederic Malle aftersun balm
Paris
Complemented by notes of jasmine and gardenia, the scent of Carnal Flower took perfumer Dominique Ropion 18 months to perfect.
fredericmalle.com
Mühle shaving kit
Stützengrün
Designer Mark Braun worked with German firm Mühle for this dashing hexagonal brush and razor set. It comes with an aluminium brush topped with badger-hair bristles and chrome-plated razor.
muehle-shaving.com
The notion of a Bremen-based tea-maker is an odd one but entrepreneurs Ralf Janecki, Andreas Brehm and Rainer Schmidtholz went ahead and founded Trink Meer Tee in 2015. Ingredients are sourced from the north coast of Germany – think sea buckthorn, quince, elderflower, stinging nettles and berries – and the playful packaging was illustrated by Marta Colomer.
trinkmeertee.de