Food / Hokuriku
Bounty hunters
Most restaurants in Japan are in the city but in rural Hokuriku a young crop of restaurateurs and producers are hoping diners will follow them into the wild.
The waters of the Sea of Japan are cold and the tide is fast, making the fish netted off the west coast of Japan's main island the tastiest and most sought after for sushi. It's the kind of seafood that Tokyoites hunger for, which means that the two-and-a-half-hour Shinkansen ride to the Hokuriku region is a pilgrimage for chefs and restaurateurs in search of suppliers.
It's also the path we're following by boarding the 07.20 Kagayaki service from Tokyo to Kanazawa. This city – and the surrounding area – has long been a centre of the seafood trade and where many traditional methods of preserving and preparing food were forged. Now, after honing their skills in Tokyo and abroad, a new generation of entrepreneurs is taking the road to the deep north to settle alongside some of the country's oldest food purveyors.
Fermented-seafood producer Aburayo is one of the latter. This 300-year-old family business, located a short drive northwest of the station, specialises in removing the poison from fugu (puffer fish) by soaking them in salt for six months and then in a rice bran and malt mixture for another two years. Inside the factory dozens of wooden baskets are stacked high and topped with stones to keep their lids shut as the fish ages within. It's a rare craft and one that only a few licensed businesses in this region can undertake. "Hokuriku has the perfect environment for fermentation because it's humid and has a lot of rain," says Aburayo's seventh-generation owner Takaaki Terao. "People have been passionate about food here for hundreds of years."
A few kilometers south in nearby Nonoichi, baker Junji Nio is one of those who have only recently settled in the area. Opened in 2016, his bakery, Nior, sells superb bread, pastries and pizza made using techniques that Nio learnt in Italy and France before moving back to Japan. "I went to Europe to learn the trade in an authentic way," he says as a queue of locals forms for his lauded loaves. "Unlike in Tokyo, people in rural Japan are still pretty unfamiliar with western-style bread. But I like the challenge." Set inside a boxy concrete building with its whitewashed interiors and floor-to-ceiling windows this bakery wouldn't look out of place in the capital. The minimalist space is also kitted out with desks by Dutch designer Friso Kramer upon which baked goods are neatly arranged. "It's good to establish your business in the countryside," says Nio.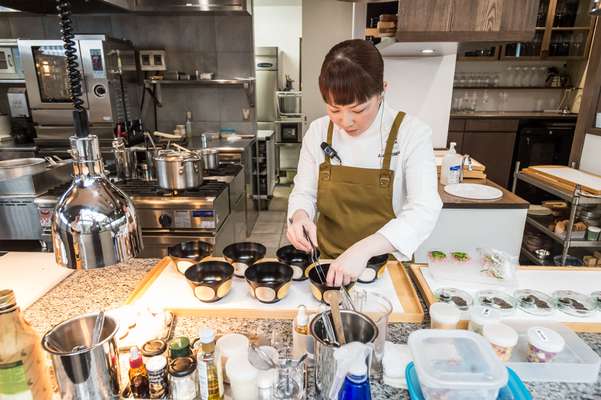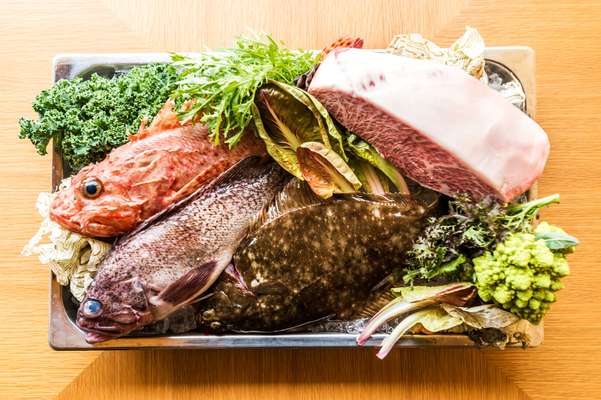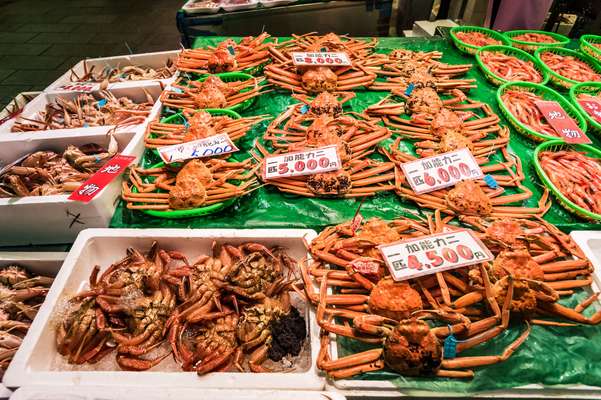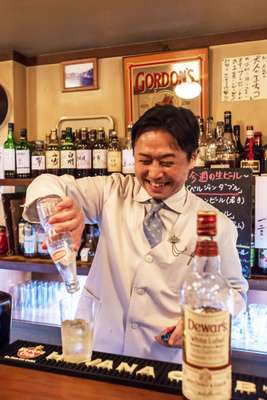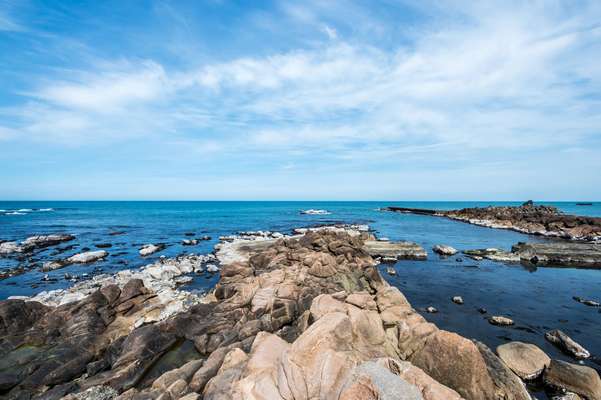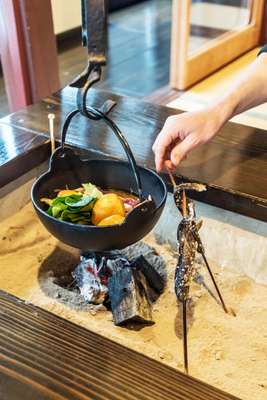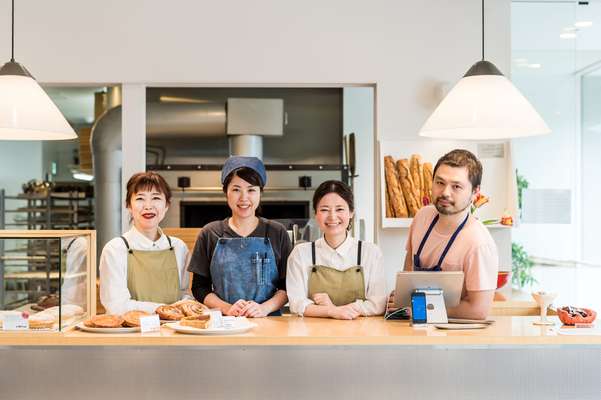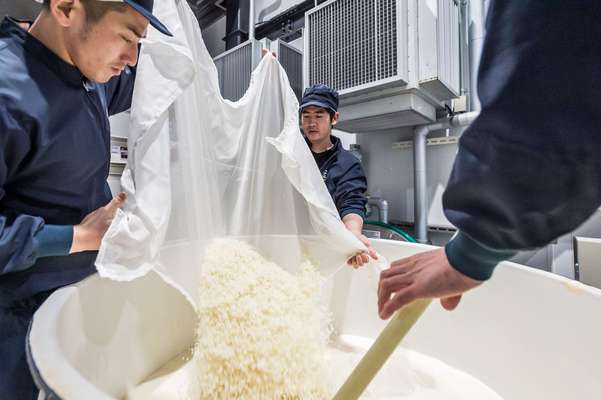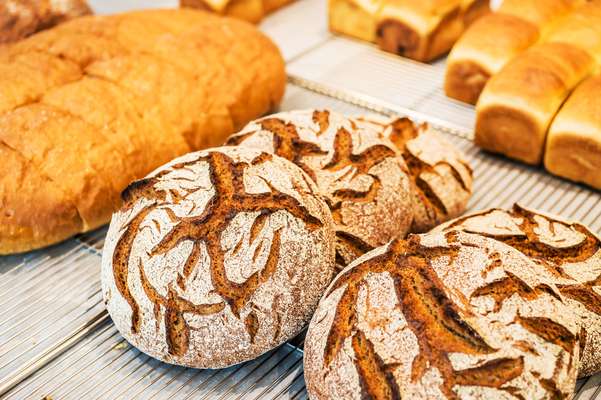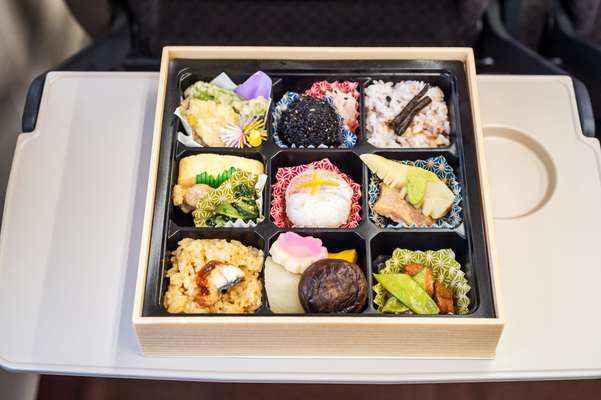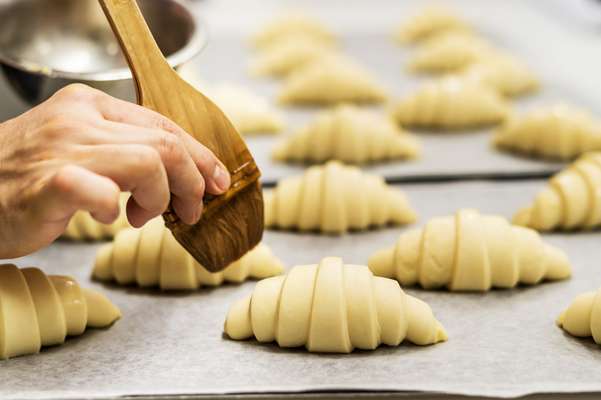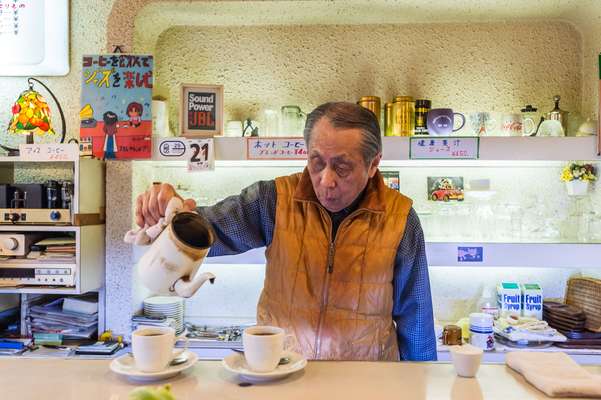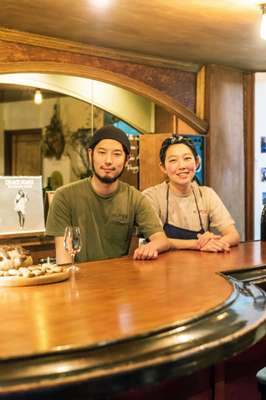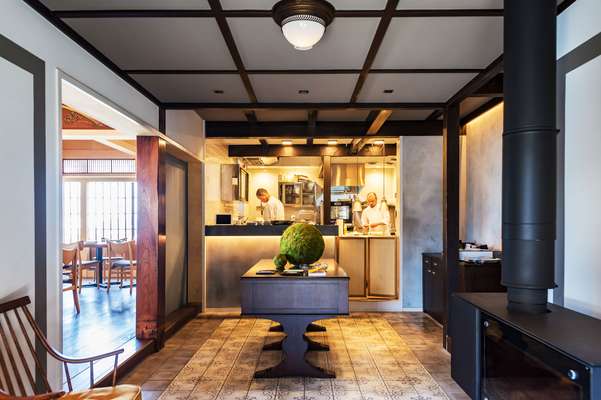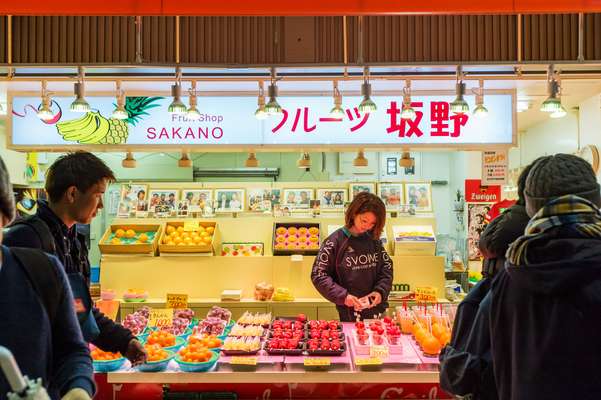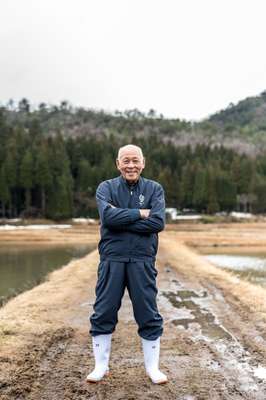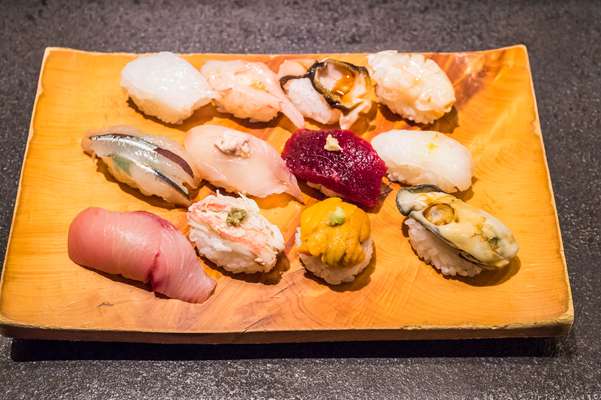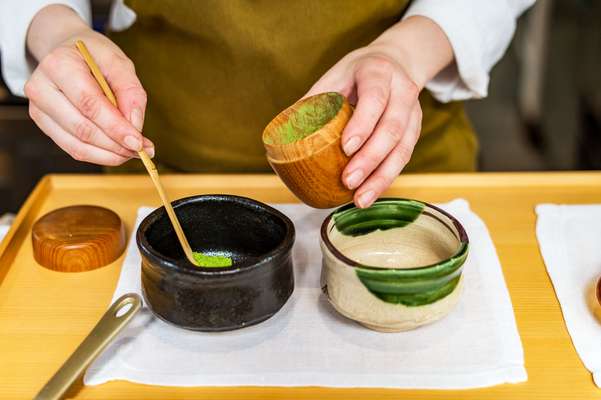 For many, Hokuriku's attraction is the produce of the land as much as the sea. A two-hour drive southwest on the Hokuriku Expressway, past the snow-capped Hakusan mountain range, is small seaside town Mikunichosaki. It is here that surf'n'turf restaurant Lull opened in 2016 in an old wooden house overlooking the ocean.
When Hokuriku-born owner Tomohiro Ogawa, who also runs a French restaurant in Tokyo, was offered the chance to use this heritage Japanese wooden building, he jumped at it. Ogawa knew that he'd have no issues finding quality produce here. "Our area's vegetables are not famous because of poor distribution," says Lull's chef Tsuyoshi Hotta. "But the quality is exceptional." From pork to squid, aubergines to turnips, everything Hotta needs is sourced directly from fishermen and farmers living nearby.
The clear rivers running down the region's mountains help feed Hokuriku's fertile fields. Nestled close to one such stream – a 60km-long drive up the winding roads that scale these peaks – Furari is a small inn run by Keisuke and Ayako Takagi. "Everything we make comes from the mountains and river, nothing from the sea," says Keisuke of the warm homemade dishes they serve. In summer Keisuke's father catches ayu (sweetfish) from the waters, while in winter hunters supply game meat such as boar and bear for Keisuke to make a sensational inoshishi nabe (boar hotpot) with a variety of vegetables in a miso dashi broth. His masu-zushi – pressed sushi made with Nijimasu rainbow trout – is another of his most-appreciated specialities.
The glaciers' pristine waters are also handy for making another Japanese speciality: saké. Further down the valley, the Noguchi Naohiko Sake Institute is a new brewery led by the legendary 85-year-old toji (master maker) from whom it took its name. Noguchi attempted to retire three years ago but his trade pulled him back. "I started making saké when I was 16," he says. "When I retired, I missed it. Saké-making is my life's work."
Nowadays he teaches his craft to eight would-be tojis who have gathered here from across Japan. Noguchi and his pupils live and work together for six months a year next to the state-of-the-art brewery that's equipped with temperature-controlled rooms and thermal tanks. These modern additions to the traditional production method help stabilise supply as demand for the bottles skyrockets.
Country cuisine:
Japan's rural population has been in decline for years as people move to big cities. But now, as city-slickers attempt to bring produce into town (urban farms, rooftop gardens), agriculture is at last attracting a trickle of businesses and keen apprentices back to the countryside. As city restaurants continue to flaunt ever-shorter supply chains, reviving the production of regional specialities and growing a few forgotten ingredients is becoming an attractive model with an eager market and a social purpose. Relocating a restaurant to the country might be seen as a risk for entrepreneurs who are worried about getting bums on seats but it's a great way of bringing visitors into villages. The cash that these visitors spend could spur on the local economy after they're gone.
Combining age-old traditions with newer techniques has also proved a winning approach for Yuji and Asami Yoneda, the owners of Shokudo Yarn. A 45-minute drive away, back towards the Japan Sea coast, their restaurant opened in Komatsu in 2015 and has since become a destination in its own right. Located within a black wooden barn – a former yarn factory the duo inherited from Asami's family – the restaurant has an unassuming air. When we visit, a group of seven women from Osaka are enjoying lunch before heading off for a food-focused trip to Spain.
Despite turning their backs on mainstream food culture in favour of something more authentically Japanese and homespun, both owners cut their teeth in fine-dining restaurants in Italy and Spain before returning to their home. "We wanted to approach Japanese food with a fresh perspective," says Yuji.
Their past may show in the experimental presentation but nothing is pretentious. Customers are visibly relaxed in the warm wooden interiors. Dishes strike a comforting note and even unusual ones such as fukinoto butterbur sprout tempura ice cream and nikujaga (meat-and-potato stew) with foie gras powder are devoured with curiosity. "In Europe the countryside is filled with great restaurants but in Japan they are concentrated in Tokyo, Osaka and Kyoto," says Yuji. "We wanted to return to the land we grew up on to cook dishes based on our native food culture. That's why we're here, not in Tokyo."
1.
Aburayo
A 300-year-old family business focusing on fermented seafood.
aburayo.jp
2.
Nior
This smart bakery is kitted out with Dutch design pieces.
nior.jp
3.
Shijimaya
Try the fermented yellowtail and turnip (kabura-zushi).
kabura.jp
4.
Furari inn
Superb home-style dishes.
hakusan-furari.com
5.
Noguchi Naohiko Sake Institute
Book ahead for a tasting course.
noguchi-naohiko.co.jp
6.
Lull
This surf'n'turf restaurant overlooks the Sea of Japan.
mrivers.jp/lull
7.
Ko Zushi
Peerless sushi by brothers Kenichi and Yukihiro Yamada.
30-1 Aioi-cho, Nanao city, Ishikawa
8.
Hirosaka Highball
Bustling bar opened in 1989.
h-highball.jp
9.
Parlour Ako
Nobuo Okano has run this jazz kissaten for 50 years.
23-2 Ameya-machi, Komatsu city, Ishikawa
10.
Shokudo Yarn
Yuji and Asami Yoneda elevate traditional Japanese food.
shokudo-yarn.com
11.
Ohmi-cho market
A 300-year-old site of saké shops, fishmongers and more.
ohmicho-ichiba.com
12.
Michino Eki Noto Chirihama
A great roadside pit-stop for gelato and local produce.
noto-chirihama.com
13.
Grill Otsuka
Kanazawa's yoshoku (Japanese-style western food) institution.
2-9-15 Kata-machi, Kanazawa city, Ishikawa
14.
Wine Bar Alpes
A cosy setting in a renovated former karaoke bar.
4-7-18 Sougawa, Toyama city, Toyama