Affairs: Politics / Brazil
Fork in the road
As former president Luiz Inácio Lula da Silva attempts to turn his lead in the polls to success in Brazil's forthcoming elections, Jair Bolsonaro is in the line of fire. But as we find out on the campaign trail, support for the right-wing incumbent remains strong – and voters haven't forgotten Lula's corruption charges. Which way will Brazil turn next?
On a steamy Monday evening in August, hundreds of people are packed into a tin-roofed building in Andaraí, a neighbourhood in Rio de Janeiro's working-class North Zone. Inside, music lovers guzzle ice-cold beers and jostle for space around a group of percussionists playing the "Samba do Trabalhador" ("Worker's Samba"). These weekly samba nights are about as politically left as Rio gets. Many dancers wear stickers saying "Samba is democracy". Red-clad volunteers hand out campaign flyers for the Partido dos Trabalhadores (PT, the Workers' Party). A woman sells T-shirts emblazoned with the face of Luiz Inácio Lula da Silva ("Lula"), the former leftist president who is challenging far-right incumbent Jair Bolsonaro in October. 
Polls suggest that Lula is set to defeat Bolsonaro. When the latter, a former army captain, swept to a surprise victory in 2018, he promised to return Brazil to economic prosperity while combatting the violent crime that plagues the country. But in the four years since his election, Bolsonaro's shine has worn off as a devastating pandemic response and a deepening economic crisis have made life harder for most Brazilians. Still, Bolsonaro is holding on to some support, partly with the help of a complex misinformation machine churning out fake news. Ahead of elections, his allies have encouraged the spread of false information across social media networks and messagingservices such as Whatsapp and Telegram. Brazil's electoral court has cracked down but enforcement is haphazard. In today's Brazil, facts have become subjective.
On the fringe of the samba circle, Danielle Couto leans back in her plastic chair and declares that Bolsonaro's time is up. "The past four years have been nothing but a huge leap backward," says Couto, a 46-year-old nurse. Her companion, 54-year-old psychologist Carlos Olinto, nods in agreement. "Bolsonaro's presidency has caused so much harm. It will take years to repair."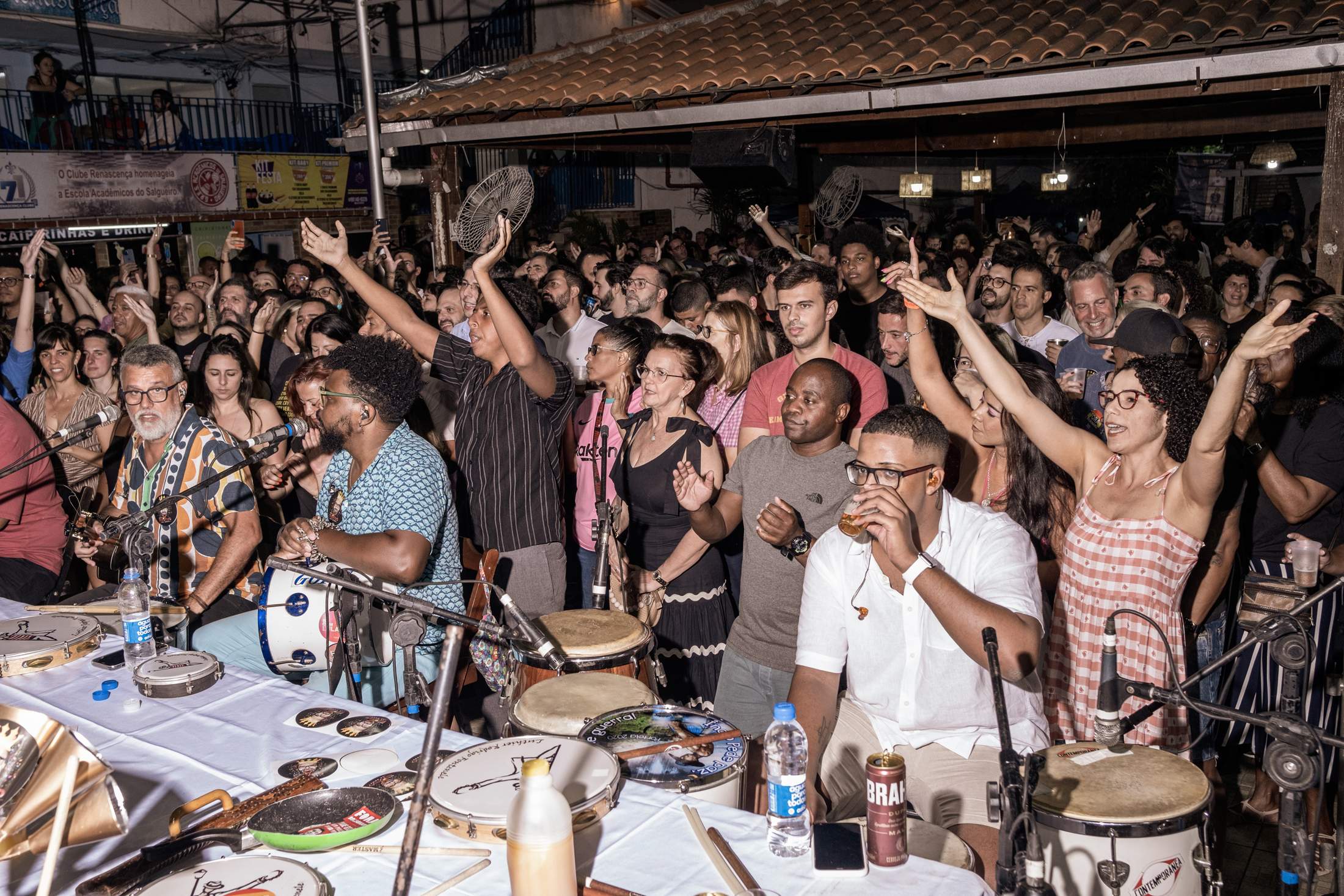 Scars from the coronavirus pandemic run deep here. The virus has dealt a punishing blow to Brazil, killing more than 680,000 people – nearly 11 per cent of the world's deaths, in a country with 2.7 per cent of its population. Perhaps unsurprisingly, most of the attendees at tonight's samba seem unwilling to forgive Bolsonaro for his denialist response and sluggish purchase of vaccines. "The priority is to get Bolsonaro out of office," says Fernanda Farias, a 35-year-old researcher. "His actions were genocidal."
That said, Lula is far from a clear-cut choice among cariocas – as Rio's residents are known. Between 2003 and 2010, the former trade unionist presided over a golden era of commodity-fuelled growth that saw millions of Brazilians climb out of poverty. But a sprawling corruption scandal embroiled his party and, in 2018, he began a 12-year prison sentence on charges of money laundering and corruption. Lula's conviction, which barred him from running in the 2018 election, was overturned by the Supreme Court last year, which ruled that the presiding judge, who went on to serve as Bolsonaro's minister for justice, had been biased. Still, he wasn't completely absolved and, even though a new trial is unlikely, the former president has struggled to win back the trust of many Brazilians. 
At the other end of the samba circle, Raphael Oliveira de Souza taps his foot to the beat. He is surrounded by Lula supporters but insists that he would never vote for the ex-president. "I don't want to see my country looted any more. I want to see Brazil prosper." I point out that Bolsonaro has also been linked to corruption, but he dismisses it as fake news. He believes the incumbent has what it takes to steer the country back to growth. "He's the better option for Brazil," says the 46-year-old oil rig worker. Whatever the result, De Souza worries about the future. "Brazil is more divided now than it has been at any point in the past 15 years. We can't talk to each other any more." Four years after a contentious election highlighted how polarised South America's largest economy was, divisions linger. Bolsonaro rose to power in part thanks to his "tough on crime" agenda, promising Brazilians that he would beef up policing and hand down longer sentences to criminals. He also pledged to relax gun laws and crack down on drug traffickers, vowing that bandits would "die in the streets like cockroaches". The president has made good on at least one of those promises. Since taking office, Bolsonaro, who revels in his nickname "the Trump of the Tropics", has issued more than a dozen decrees loosening controls on gun ownership for civilians. At the same time, his allies have waged war on Rio's drug gangs through a series of bloody police operations that have left dozens dead, some of them innocent bystanders. In the first half of 2022, Rio recorded some 628 police killings, many of them in police crackdowns on favelas. In July, one operation left 17 people dead in Complexo do Alemão, a sprawling network of favelas. Yet despite the brutality, Bolsonaro's law-and-order rhetoric has resonated with many in a country with one of the world's highest rates of violent crime. He was quick to claim credit when data showed that the number of murders dropped 7 per cent in 2021.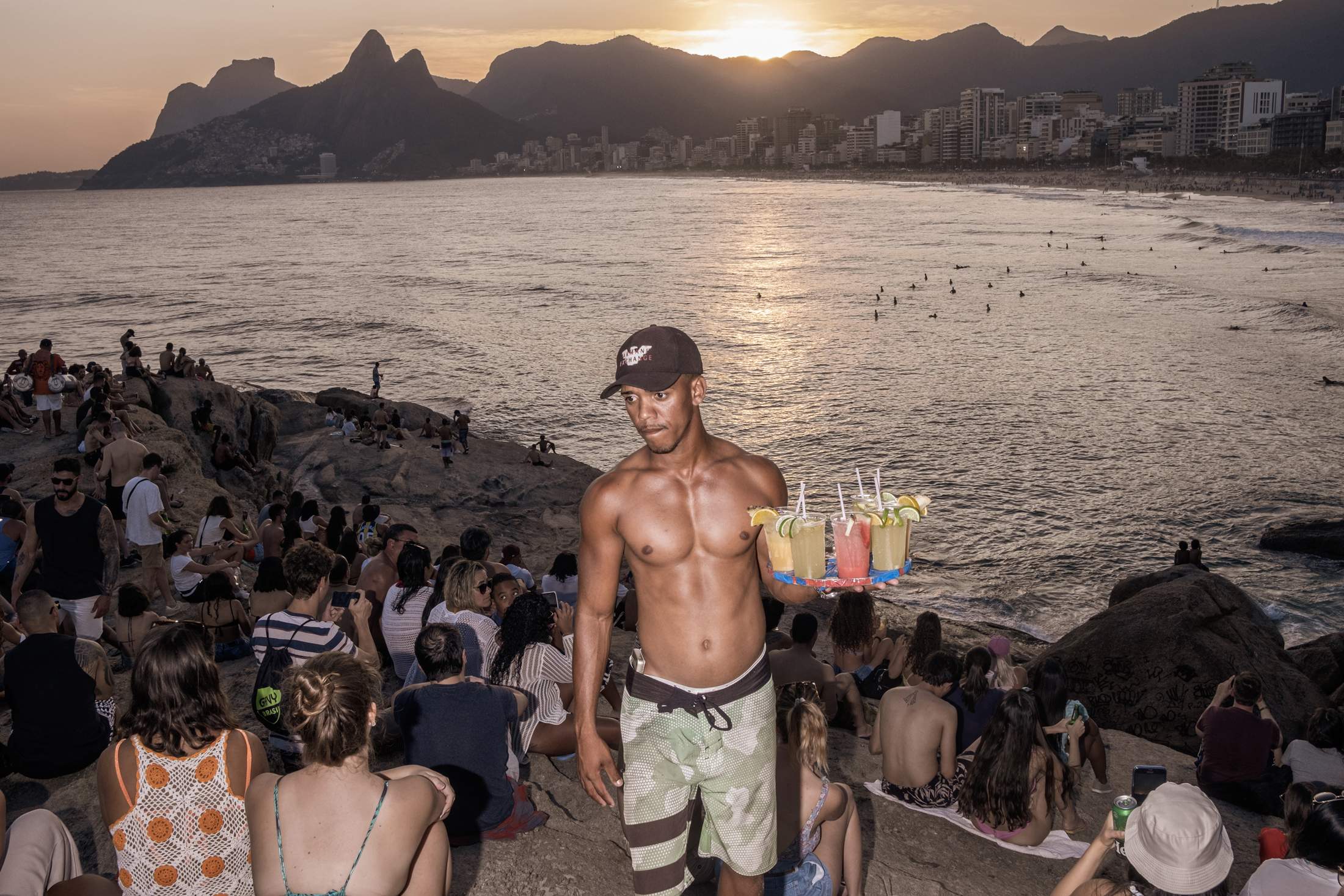 In Rio's wealthy Recreio dos Bandeirantes neighbourhood, I meet Armando Piccinini, a businessman and gun-rights advocate. He belongs to the local branch of the Hunters, Shooters and Collectors' Club (cac), a national network of gun enthusiasts that he says has ballooned from 7,000 members to nearly one million over the past 20 years. On a quiet, tree-lined street, I follow Piccinini inside one of the group's clubs. At the entrance, he takes out his gun and empties the bullets into a barrel of sand. "It's a safety protocol," he says. Inside, the politics of the club is unmistakable. An oversized portrait of Bolsonaro hangs alongside framed posters of gun-toting action heroes, including Keanu Reeves as an assassin in John Wick. Patrons wearing yellow football shirts – now a symbol of far-right politics in Brazil – stand by a snack bar serving burgers with names such as "9mm". 
Piccinini speaks proudly of this community. "It's a family club. People come to have barbecues here, to celebrate birthdays." The faint sound of gunshots rings through the bulletproof glass behind us. Piccinini's views on guns are unequivocal: after a robber murdered his father in front of him 20 years ago, he started working to improve his aim.
"My father was killed because we weren't armed," he tells me. "Lula stopped upstanding citizens from carrying their weapons." I ask him about his view on Bolsonaro's approach to crime. "Security has improved," he says. "President Bolsonaro is the best option for Brazil."
About 40km north in Nova Iguaçu, Nivía Raposo tells a different story. For her, not much has changed since 2015, when her 18-year-old son was gunned down by the militia that controlled swaths of their neighbourhood. "When Bolsonaro was elected, the militias got bolder," she says in her plant-filled front yard. Shortly after his election, gunmen began sporting T-shirts emblazoned with the word "Mito" ("Myth") – a popular nickname for the president. "It created an atmosphere of impunity," she recalls. In the four years since, the violence wracking poor neighbourhoods has not let up. Raposo now co-ordinates a group of mothers who have lost their children to gun crime. But she doesn't see relaxed ownership laws as the answer. "The poor will never be able to arm themselves for protection. They will continue to be the ones killed on a daily basis."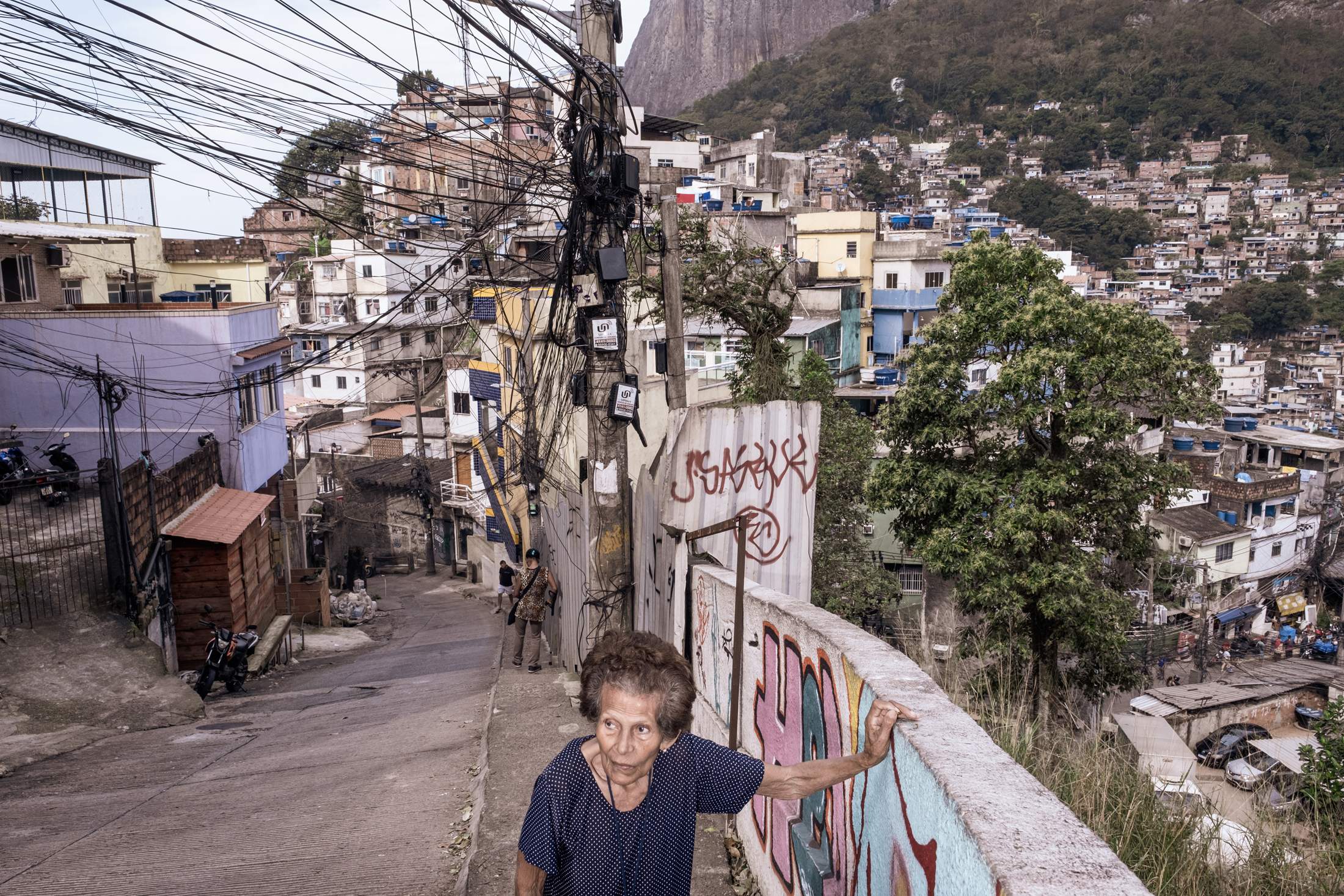 Throughout his time in office, Bolsonaro has clashed with Brazil's other branches of power, dragging the country to the brink of constitutional crisis and fuelling worries about the health of its 37-year-old democracy. In his most persistent crusade, Bolsonaro has repeatedly tried to discredit Brazil's electronic voting machines by claiming that they are rigged. Last year he pushed forward a proposal to bring back paper ballots and, when lawmakers rejected it, warned that he would only accept a result from "clean elections". These declarations have unnerved many in a country with fresh memories of the brutal military dictatorship that governed from 1964 to 1985. Bolsonaro's attacks on the electoral process have been coupled with a courtship of Brazil's armed forces, fuelling speculation that he might be trying to lay the groundwork for a possible coup if he loses. 
While similar tactics by Donald Trump in 2020 failed, some experts fear that Brazil might be more vulnerable. The president, who has often waxed nostalgic about the dictatorship, has worked to win the loyalty of the military. He has handed out more than 6,000 government jobs to former and current military officers – more than double the number that served under his predecessor, Michel Temer. Political scientist Mayrá Lima puts it this way: "What is at stake in these elections is basically a more democratic or a less democratic perspective for the next four years." That said, it seems unlikely that the military leadership would stand by Bolsonaro were he to lose the election and attempt a coup. Although, one sergeant tells me, he has succeeded in winning – and keeping – the votes of the rank and file. "Most of the army is still with him all the way," he tells me, anonymously. Still, he is disenchanted with the president and plans to abstain from voting this time. "He disappointed me. He could have done more." A key mistake, he feels, was allowing a sweeping pension reform to include the military, requiring more years of service (35, up from 30) before retirement. But the sergeant is clear about one thing: "There's not even the slightest chance of a coup. The president defends liberty and democracy much more than the left does."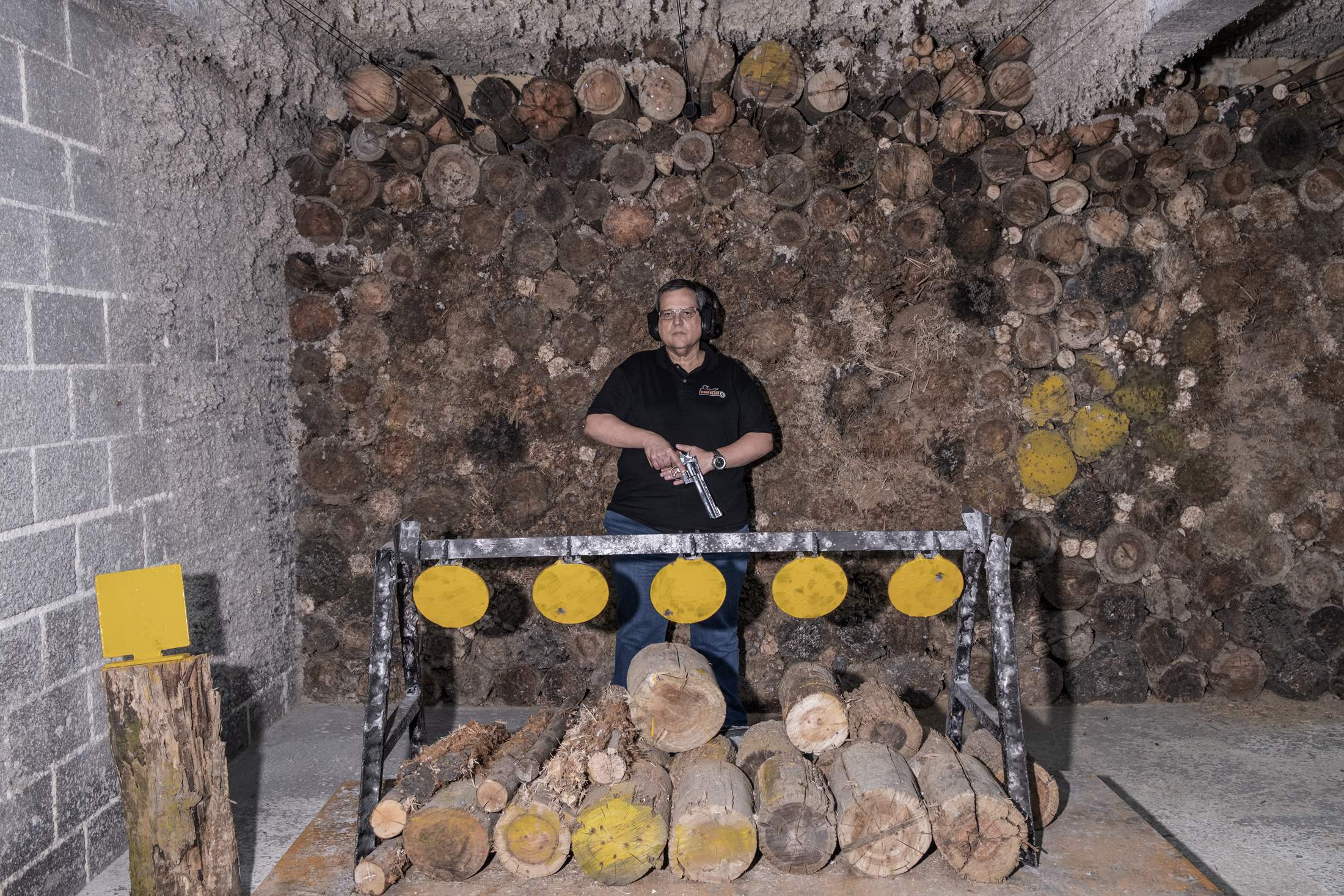 Some 1,450km west, in the heart of Brazil's soy belt, political divisions are less obvious. In the state of Mato Grosso do Sul (literally: "Southern Thick Bush"), Bolsonaro received a resounding 65 per cent of the vote in 2018. Here, where most of the forest has been cleared for soya plantations, the president's vows to implement farmer-friendly policies and do away with strict environmental regulations were particularly seductive. At a rest stop just outside Rio Brilhante, a farming town of about 38,000 people, I spotted packs of election-themed lighters on sale. The red ones had Lula's face on them; a defiant Bolsonaro was pictured on the green ones. Which sell more? I ask the cashier. "Believe it or not, it's Lula," she says, incredulous. "Seems like he's strong."
"There's not even the slightest chance of a coup. The president defends liberty and democracy much more than the left does." 
But, despite his popularity among smokers, few signs point to an overall advantage for Lula here. Along highways, towering billboards picture a smiling Bolsonaro announcing that he is "the president who cares for the farmer". Bumper stickers plastered on muddy suvs are also resounding: "Bolsonaro 2022". Chit-chat at petrol stations and shop queues repeatedly turns to politics. Igor Toro, a 41-year-old agronomist at one of the region's main farmer's unions, doesn't miss a beat when asked about the president. "Bolsonaro is the best we've ever had," he says at the union's office in Naviraí, a soy hub 380km south of the state capital. "Agribusiness is with him all the way. The PT was destroying this country. Look at how we're growing now." It's not surprising that Bolsonaro has built a loyal following here. In office, the president has pushed forward an agri-friendly agenda, often at the expense of indigenous Brazilians' land rights. Lawmakers are currently mulling a proposal that would relax regulations on agrochemicals and another to make it easier for cattle ranchers, farmers and miners to claim state-owned forests. Under Bolsonaro's watch, environmental fines have slumped to their lowest levels in decades, even as deforestation of the Amazon hit a 15-year high. "We are hoping to see him go," one indigenous leader tells me. "Maybe things will get better for us then." 
On 16 August, the day Lula kicks off his campaign, I meet 18-year-old activist Vitoria Rodrigues de Oliveira at her home in São João de Meriti, a working-class area in the outskirts of Rio. Over lunch in her mother's kitchen, she tells me how she registered 160 people to vote. "There had to be some incentive," De Oliveira says jokingly. She set up a stand at school, offering help – and chocolate – to anyone who was signing up for the first time. But, for her, the options are far from exciting. She'd like to see fresh faces who fight for causes such as lgbt rights and the environment. "It's not exactly my wish to vote for an old straight white guy," she says. "But I'll probably have to – not because I want to but because I can't stand Bolsonaro any more."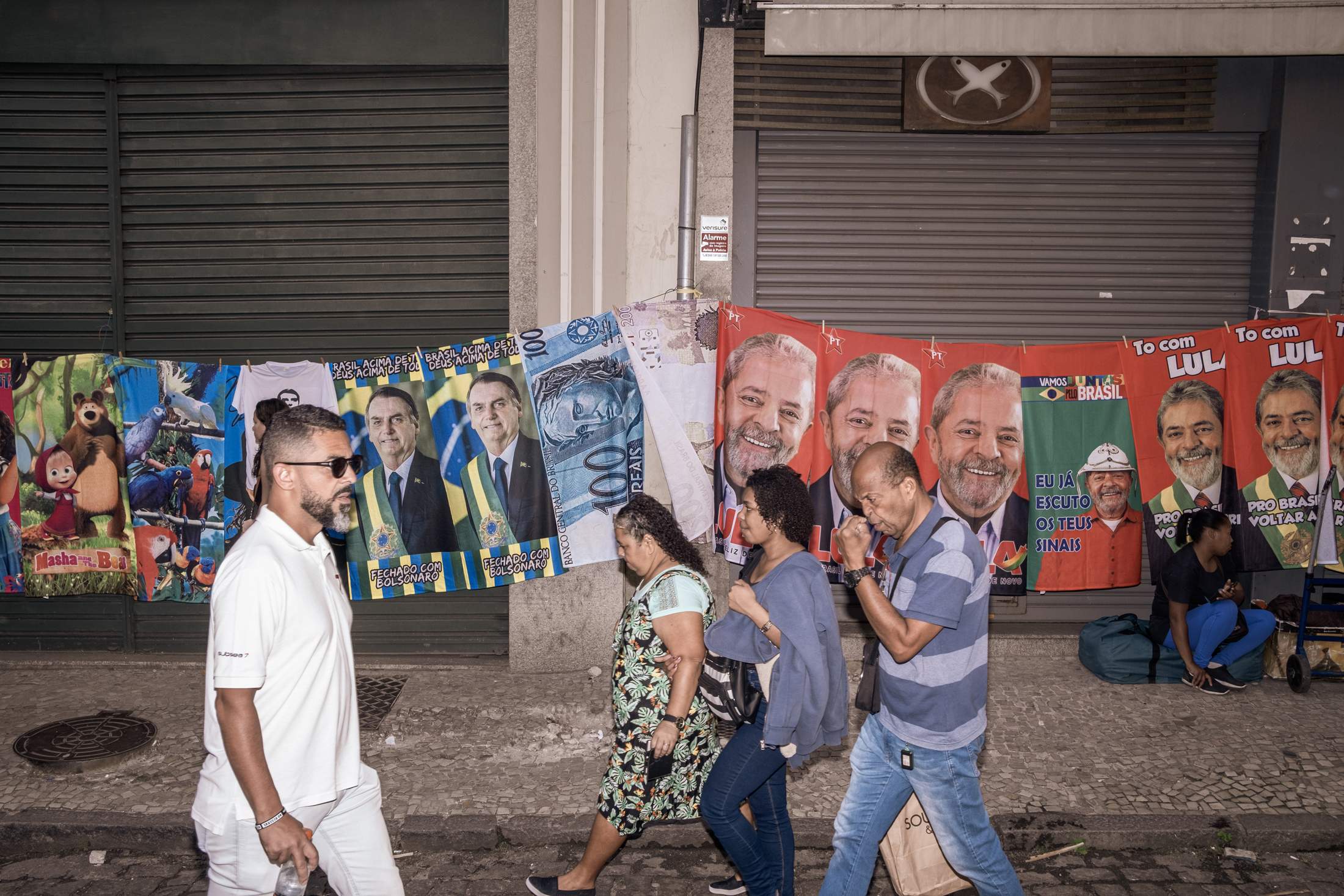 Although Lula's PT party has long defended progressive policies such as gay marriage and transgender rights, the leftist candidate has said little about such issues during this campaign. Instead, he has focused on the religious, forging alliances with pastors, trying to launch a podcast for evangelicals and promising that all religions will be respected under his leadership. He hopes that this can help him claw away some of the conservative, evangelical Protestant voters who catapulted Bolsonaro to victory. In 2018, 70 per cent of evangelical voters cast a ballot for the far-right populist, drawn by his promises to preserve "traditional family values" and fight efforts to bring gender education and unisex bathrooms to schools. Evangelical support for Bolsonaro has waned but recent polls suggest that about half still stand by him. With the election inching closer, Bolsonaro has doubled down on culture-war issues that won him the loyalty of Brazil's most influential evangelical pastors, including Silas Malafaia and Marco Feliciano. He has also promised to fill key jobs with figures such as ultraconservative pastor André Mendonça, whom he nominated to the Supreme Court last year. 
"It's not exactly my wish to vote for an old straight white guy," she says. "But I'll probably have to – not because I want to but because I can't stand Bolsonaro any more." 
As the sun sets, we pile into Pastor Danilo Martins' car and head to Complexo do Alemão. Weaving through the narrow streets, we pass lookouts manned by drug traffickers. Near the Matinha favela, a man zooms by on a motorbike with an automatic rifle slung across his back. Inside the strip-lit Assembly of God church, Pastor Martins walks to the front and drops to his knees in prayer. "Oh my dear Lord, protect our president Jair Messias [Portuguese for 'Messiah'] Bolsonaro," he chants. "Continue to give wisdom to our president." Many in the congregation are women. Some bounce small children on their laps while they leaf through worn-out bibles. In deeply religious Brazil, Pentecostal churches like this one are attracting ever more followers. Over the past 20 years, the number of evangelical Protestants in Brazil has doubled, now making up about 30 per cent of the population. Most analysts expect that evangelical Protestantism will soon overtake Catholicism as the country's majority religion. 
In poor, neglected areas like the Complexo do Alemão, they fill the vacuum left by an absent state. Here, churches run rehab clinics for addicts and after-school programmes for children. During the pandemic, they stepped in to hand out food baskets. "The church plays a huge role in people's lives," says Pastor Martins. It has also begun to wield more influence over their politics. Like most evangelical leaders, Pastor Martins rejects the left, casting its defence of lgbt rights and abortion as a dangerous threat to Christian values. "Our president is God-fearing. He fights for our values." Back at church, a woman takes the stage and breaks into song. "Hallelujah!" Tatiana Martins Araújo shouts as she sways to the rhythm, tears streaming down her face. Araújo, a 43-year-old mother of four who runs a small bakery from her kitchen, tells me that the church saved her husband from a life of crime. "The church does so much for the community," she says. "The politicians forget about us here." As for the elections, she will follow Pastor Martins' lead and give the president another chance. "I know many people who are going hungry will vote for Lula again. But I'm going to stick with Bolsonaro."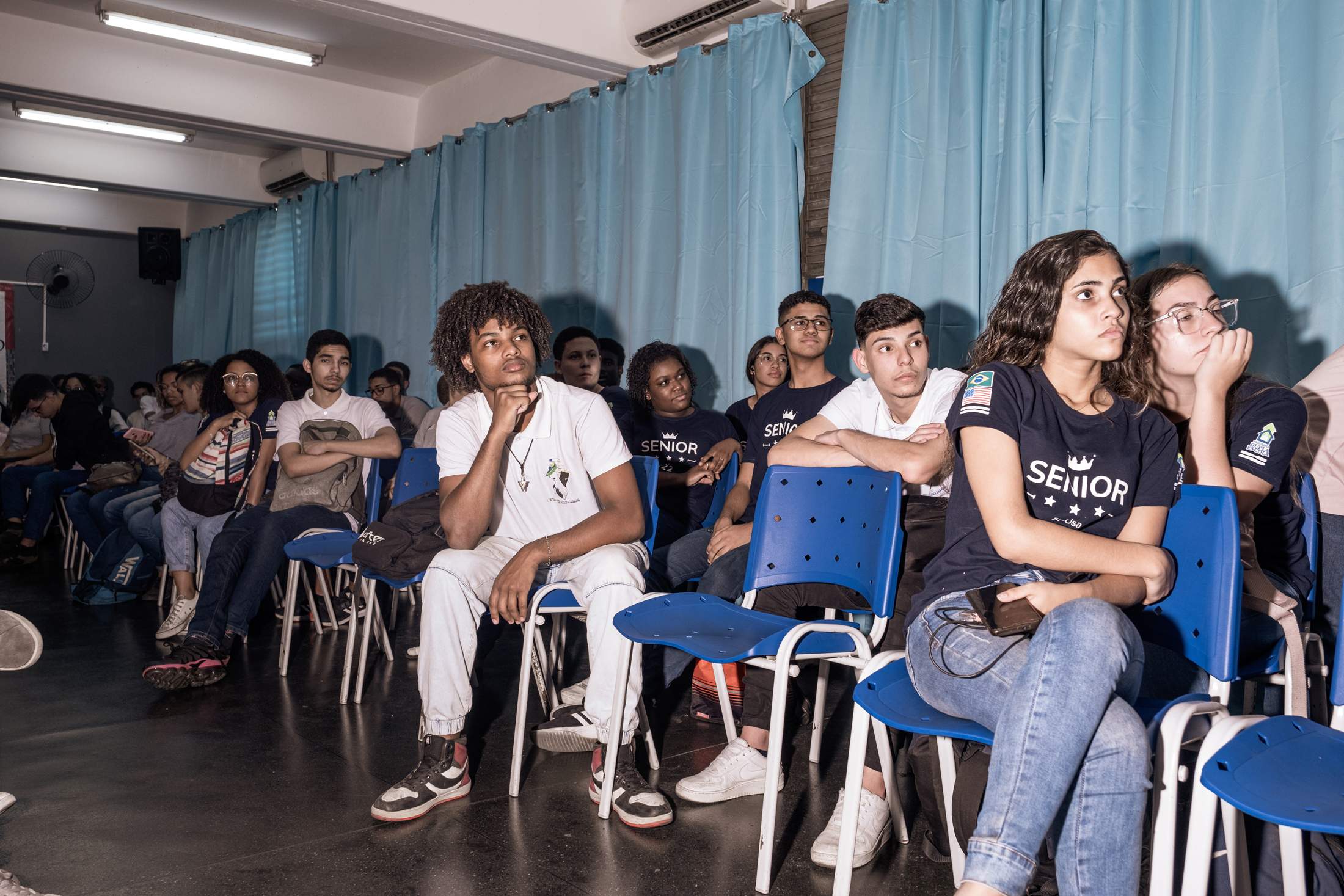 In recent years, many Brazilians have grown frustrated amid a deepening economic crisis. Unemployment and poverty have worsened. As surging food prices have pushed even staples such as rice and beans out of reach for many families, some 33 million Brazilians – 15.5 per cent of the population – are now going hungry. Bolsonaro has boosted social spending on welfare paid out to needy families, bumping up payments until the end of the year. In a bid to ease the blow of sky-rocketing petrol prices, he has increased the amount paid out in cooking-gas vouchers and created a fuel-aid scheme for truckers. 
On Rio's Copacabana beach, joggers bounce along the black-and-white boardwalk in the fading sunlight while tourists stroll aimlessly amid vendors selling souvenirs. I meet Betina Mestrinho, a 59-year-old fitness instructor, as she steps off the beach after teaching a class. Things have been tough and the 1,300 reals (€257) she brings in every month doesn't go very far these days. "I haven't eaten meat in six months," she says. "Things have become harder for us." She can't contemplate another four years of Bolsonaro. "It would sink Brazil, once and for all." When I ask who she will vote for, Mestrinho pauses. "Can I say his name?" she whispers. "Lula. I'm going to vote for Lula."
A few kilometres south in Rocinha, a jumble of cinderblock homes perched on the hills above Rio's glitzy beaches. One of Latin America's largest slums, it houses tens of thousands of the city's working poor, many of whom toil in wealthier areas as maids, doormen and drivers. Public services are scarce, housing is overcrowded and drug gangs battle each other and the police. 
The fresh welfare aid is easing the pain for some. But José Martins de Oliveira is sceptical of Bolsonaro's pre-election generosity. "He's trying to buy people's votes," says 75-year-old De Oliveira, a long-time resident and member of Rocinha Without Borders, a community group. Francisco Flávio Eufrazino is tidying his restaurant before the lunchtime crowd arrives. On a small television a news anchor announces that, in the previous month, bars and restaurants turned a profit for the first time in 2022. But, for Eufrazino, recovery has been slow and surging food prices haven't helped. "I'm just about breaking even," he says. The pandemic battered his small business and he only stayed afloat with the help of emergency federal aid handed out to millions whose incomes were wiped out early in the crisis. But he doesn't credit Bolsonaro for much and plans to cast a ballot for Lula, hoping that the leftist candidate can put Brazil back on the path to prosperity. "It will be difficult for anyone to come in and bring change overnight. But I'm certain that things will get better."
Next door, 24-year-old Leandro Lourenço disagrees. "Bolsonaro is the only president who cared about the people," he tells me from behind the counter of his paint shop. He once supported Lula but will never vote for him again. "We thought he was one of us. But he only robbed."
Down a narrow alleyway a few streets over, 51-year-old Maria Nusa Martins sits in her tiny party shop, adding up business expenses amid rows of fake flowers and plastic cupcake stands. When I ask her about the elections, she scoffs and shakes her head. "I'm not voting for either Lula or Bolsonaro." Instead, she plans to cast a ballot for a third candidate, Ciro Gomes, who is polling at about 7 per cent. If he doesn't make it to the run-off round of elections (scheduled for 30 October), she will spoil her vote.
As the campaign progresses, Lula's lead over Bolsonaro is narrowing. Even if he doesn't win an outright majority in the first round, most polls predict that he would defeat Bolsonaro in a run-off vote. Still, a narrow Lula win is likely to feed suspicions among Bolsonaro's supporters, deepening mistrust of democratic institutions and widening political polarisation. And, undoubtedly, Lula's return to the presidency would frustrate the millions of Brazilians who have lost faith in the left for doing little to heal a deeply divided Brazil. Whoever wins has a big job to do in bringing this diverse country, with so much potential, back into ascendancy. Their success depends on a complex interplay between global economic forces and domestic public policy. But the divisions might be here to stay.