Local flavour / Athens
Greek revival
Athens is at the forefront of a national drive to refresh Greek cuisine. We take a tour with one of its pioneers.
With the opening of his Athens restaurant Aneton in 2005, Vasilis Kallidis heralded the arrival of new Greek cuisine (although "new" in this instance involves a revival of interest in traditional Greek ingredients).
"I want to revisit the roots we forgot. After the Olympics in 2004, Greeks wanted to show the world their cuisine was more than just souvlaki. And so chefs started to open restaurants and people started to buy Greek produce again," says Kallidis over breakfast at Eatit, an independent café group with a Greek slant. Kallidis comes here every day for fresh pomegranate juice and a Caesar salad wrap with intensely flavoured Kasseri cheese.
After breakfast, we walk to the Pnyka bakery where we are greeted with wafting smells of sourdough bread. A baker for the past 60 years, owner Dimitri Kotsaris is a well-known figure for both his bread and his attire – under his white baker's coat he always sports a suit, tie and immaculately polished brogues. "Pnyka doesn't use salt in its bread and Dimitri scours Greece for the best wheat that they blend themselves," says Kallidis.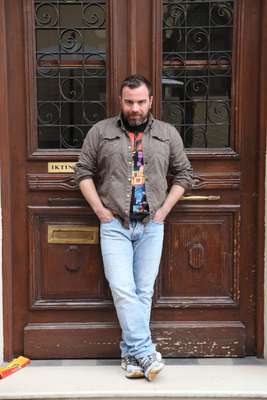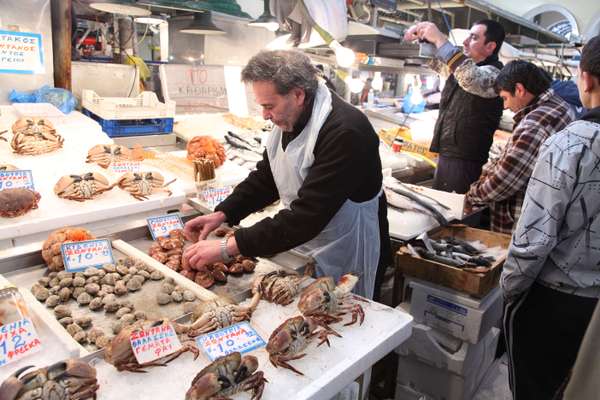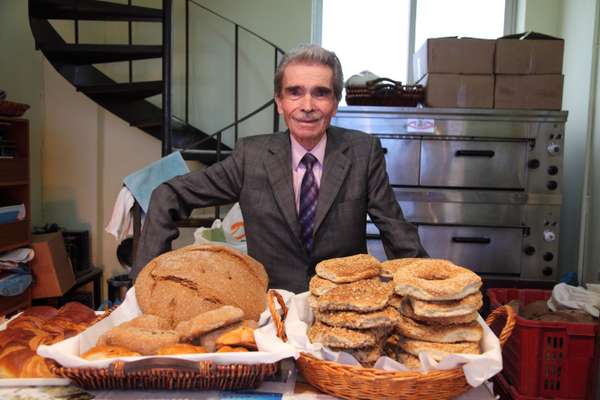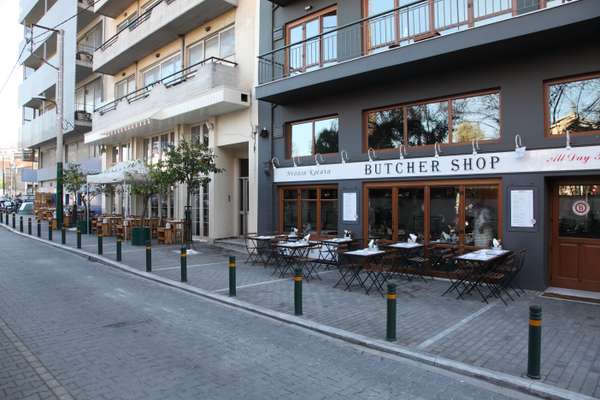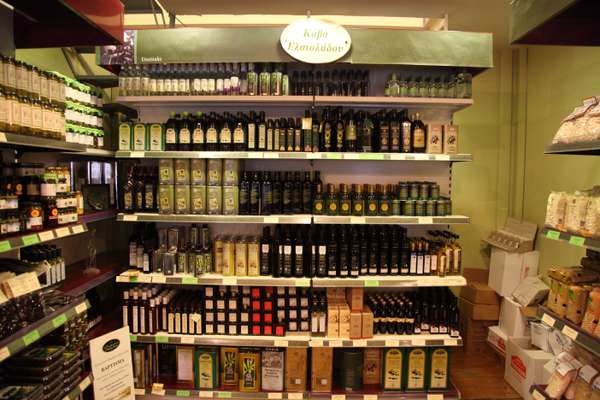 From Pnyka we head to To Pantopoleion, a store that works with rural co-operatives in Greece and stocks products from over 2,000 artisanal companies. When we visit, Vasileia Christodoulopoulou is hosting a tasting of Malevos wines. We try a red made from Koliniatiko grapes.
"I buy everything for my house here, including rare fava beans from Santorini. A couple of years ago no one would have been interested in buying such specialist ingredients," says Kallidis before he whisks us off to Athens' central market, the Agora, and his butcher Angelis in the meat section.
"Milk-fed lamb is the pride of Greek meat. When you make lamb chops it just melts," says Kallidis before we pop into Ipiros opposite, a popular breakfast spot with other butchers. The patsas (tripe soup) at Ipiros isn't for everyone, but it's a popular local hangover cure garnished with vinegar or pepper flakes.
At the Dimitra Arapi stall in the fish market next door, father and son Vasilis and Giorgos Arapi stock the freshest catch, including razor clams and sea urchins, which Kallidis serves raw on bread at his restaurant.
Heading out of the market, we see an extensive queue outside the Bahar spice market, which stocks over 2,500 varieties including the Greek mountain tea Tsai tou Vounou, a home staple. Then it's off for lunch at Sardelles, a fish restaurant where we have grilled sardines, squid and bakaliaros skordalia, deep-fried salted cod with garlic potato puree. "I eat here so often, it's an extension of my house. In the summer, they give you basil or oregano pots to take home," says Kallidis.
After a gruelling schedule that sees Kallidis head to the studios of Mega TV each morning at 07.00 to record one of his cookery shows – then the rest of his hours at his restaurant until late – he heads home for a well-earned nap.
The historic centre of Athens is made up of a rough triangle formed by Akadimias, Mitropoleos and Athinas streets. Due to the influx of more than a million refugees from Asia Minor in the early 20th century, the centre is a mix of different cultures. The streets around the market form an old retail centre with streets specialising in a specific trade such as fabric or jewellery. Walking distance from his home on Lykavittos hill, this is where chef Vasilis Kallidis shops for both his restaurant and the lively dinner parties he hosts from his home.
Eatit
Panepistemiou 39, + 30 210 33 13 872, eatit.gr
Pnyka
Petraki 24, + 30 210 32 45 162
To Pantopoleion
Sofokleous 1, + 30 210 32 34 612
Angelis
Agora, Central Meat Market, Aiolou 81, Athinas Street, + 30 210 32 43 464
Ipiros
Agora, Central Meat Market, Filipomenos 4, Athinas Street, + 30 210 32 40 773
Dimitra Arapi
Agora, Central Fish Market, Athinas Street, + 30 210 32 13 069
Bahar
Euripidou 31-33,+ 30 210 32 17 225, bahar-spices.gr
Sardelles
Persefonis 15, + 30 210 34 78 050, sardelles.gr