Start as you mean to go on / Seoul
Cities at 07:00: Seoul
Need some inspiration to get out of bed? Look no further; we visit three cities at sunrise to show you what lies in store for early birds. First up: Seoul.
Seoul can be a concrete jungle accompanied by round-the-clock gluttony and debauchery: a group of dishevelled suits downing soju and chewing on grilled pork belly isn't an unusual sight, even at 05.00. Less well known are the South Korean capital's easily accessible green spaces, which are at their best in the morning.
For a sprawling city with more than 25 million people, metropolitan Seoul has a remarkable number of national parks; granite peaks rise just behind the central business district, and riverside parks extend for miles.
Hiking is a national pastime and there is no shortage of mountains dotting the cityscape. Trails are paved and riskier parts are fitted with wooden steps, from where you'll spot wild mushrooms growing on pine trees and migratory birds resting on their way from Siberia to Australia.
As summer segues into autumn, the chorus of cicadas will cede to bright yellow gingko leaves and maple redder than roses. But competition for the scenery can be stiff: a gaggle of grandparents, dressed in neon tracksuits brighter than any flower "own" these routes.
Before the morning commute begins the parks along the Han River, on the other hand, are eerily calm – if only for a while, before they fill up with the city's cyclists, runners and dog-walkers. The river's banks are home to rows of high-rise buildings but the rippling water offers respite in this dense city.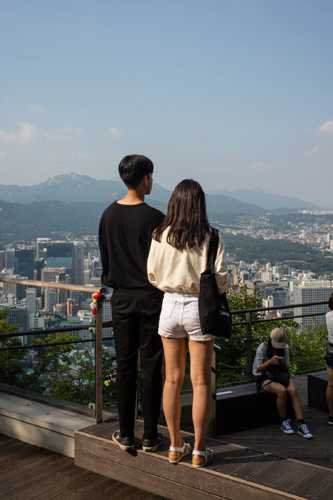 RUN: Namsan Park: Lift your mood with a jog through this national park. The scenic route starts at the National Theatre; take the road on the left with a gradual incline and you'll reach the Namsan summit in 20 minutes. The view from here – 260 metres above sea level – is often spotted on postcards. On the way down, the path on the south side will take you to the gate at the ancient city limits.
National Theatre of Korea, 59 Jangchungdan-ro, Jung-gu
BREAKFAST: Hadongkwan, Myeong-dong: A Korean breakfast is like any other meal of the day: a bowl of steamed rice and piping hot soup. Koreans nursing a hangover swear by the seolleongtang (beef-bone broth boiled with briskets and chopped scallions); hit Hadongkwan to see what all the fuss is about
hadongkwan.com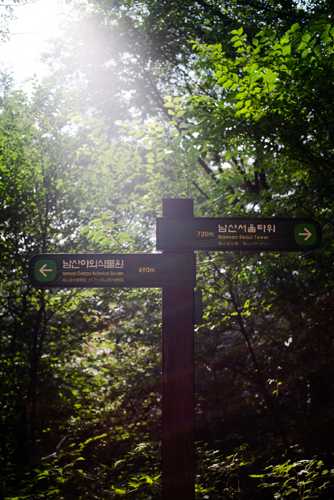 HIKE: Inwangsan: A mountain with exposed granite peaks, Inwangsan appears in many paintings as a backdrop to the royal palace; it is also downtown Seoul's quickest hike. Start from Hwanghakjeong, a historical archery field. After about 600 metres turn right and you'll see a sign for the path to the summit. The way up is steep at times but should take less than 30 minutes. On the way down take the path along the stone walls of the ancient city.
Hwanghakjeong, San 1 Sajik-dong, Jongno-gu
BREAKFAST: FourB, Gwanghwamun: A hit with the city's coffee aficionados and embassy staff in the downtown area, FourB is the best bet for morning caffeine and freshly baked goods. Sample the bagels made with organic flour, sea salt and natural yeast.
fourb.co.kr
CYCLE: Hangang Park: Rent a bike from public racks near the hip Garosugil neighbourhood and hop on at Jamwon. Once at the river, ride westward until you reach Banpo Bridge. Cross the river on the lower level and continue westwards until Hapjeong, where you'll see the towering skyscrapers of Yeouido, Seoul's main financial district. Turn back and ride eastward to Hannam-dong.
Jamwon Hangang Park, 386 Apgujeong-dong, Gangnam-gu
BREAKFAST: Artisan Bakers, Hannam-dong: This independent bakery predates the Seoul outpost of San Francisco's Tartine Bakery next door and has held its ground. Sourdough is its speciality but fans of savoury treats can grab some Laugencroissants: a pretzel-meets-croissant popular in the German-speaking world.
sourdough.co.kr
STAY: Ryse Hotel, Hongdae: Opened in 2018, Ryse is replete with exposed-concrete walls and eclectic furniture. It's also home to libraries, workspaces and a contemporary-art collection.
rysehotel.com