Beauty / Global
From farm to face
Creating cosmetics from surplus farming produce is the latest trend in agriculture. We meet the folk sowing the seeds.
"I wanted our facial mist to smell like a wildflower meadow after rain," says Lisa Smallpeice, co-founder of skincare brand Amly. It's 05.00 in Sussex and Smallpeice is standing barefoot in a field next to her farmhouse, carrying a bucket. The sky is clear but dew glistens on the grass underfoot. "I do a little bit every day," she says, plucking an aromatic elderflower from the ground and popping it in a container brimming with botanicals. "Foraging starts in May and finishes at the end of summer. First it's hawthorn blossom; next it's meadowsweet. I pick it all myself."
Hawthbush Farm, a two-hour drive south from London, boasts 60 hectares of verdant land. Foraging is just one of Smallpeice's daily activities: she also rears chickens and tends to her organic vegetables. But she insists that the early-morning alarms are worth it: Amly, which launched in 2016 with a single face mist and £15,000 of start-up cash, is the farm's most successful export. Stocked in independent beauty shops in the US, Hong Kong and Europe, the skincare brand's product range now includes cleansing balms, anti-pollution serums and facial oils, all packaged in Somerset (some four hours away) in chic, recyclable-glass vessels.
Almost every ingredient in every product comes directly from the farm. A soon-to-launch facial vinegar is made from apples; even the water used in Amly's facial mists is sourced from a spring on the farm created by Smallpeice's husband Toby. Infused with a giant slab of rose quartz, the spring provides the farm with an unlimited, chlorine-free supply of water. "It is high in silver, which is good for skin health because it speeds up the healing process," says Smallpeice.
There are a growing number of entrepreneurs integrating skincare into their farming businesses. Borgo Santo Pietro, a rolling 109-hectare site in Tuscany, has 150 chickens, 350 sheep and countless pigs, as well as luxury accommodation and a spa. However, arguably the property's prime product is the Seed To Skin cosmetics range launched by founder Jeanette Thottrup in 2019.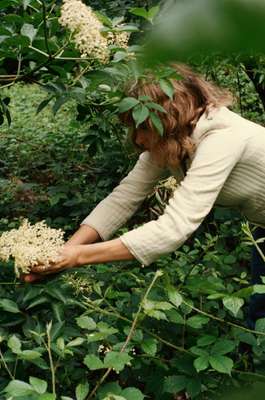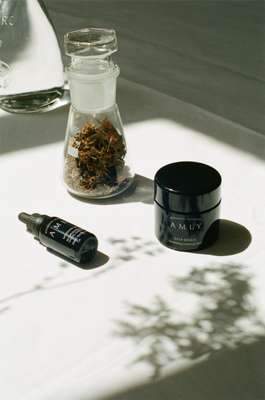 In Cumbria in the UK, meanwhile, Maria Benjamin of Nibthwaite Grange Farm sells hand salves, beard butter and shampoo bars under a brand named The Soap Dairy – her soaps are made using the milk from a single Jersey cow called Honeysuckle. Each of these farms is turning the land's surplus produce into beauty products. Forget field to table: the latest trend in agriculture is farm to face.
The rise of farm cosmetics reflects a general move towards natural goods in the beauty industry. Consumer desire for traceability in skincare – as in food and clothing – is at an all-time high; farm brands are well placed to capitalise. The ingredients in their products come from their own pastures and some brands – including Seed To Skin and The Soap Dairy – make their products on-site.
Pivoting to cosmetics has been a necessary move. "There's no money in farming any more so we have to do other stuff as well," says Benjamin, whose tactic was to launch The Soap Dairy in 2017. "I don't think there's any other industry that pays as poorly as farming. My soap business has the potential to be far more profitable than the farm." In the first five months of 2019, The Soap Dairy had netted Nibthwaite Grange Farm more than £14,000 (€15,250) in revenue; Honeysuckle cost Benjamin a mere £200 (€220). "I've done zero marketing," she says. "All of my sales have come through word of mouth or Instagram."
Jersey milk is beneficial for the skin, according to Benjamin. "It's a super-fat so it adds extra nourishment," she says of the marbled soaps that are "tested on farmers" (presumably with their permission). Infused with essential oils, such as birch tree and bog myrtle, and activated charcoal for exfoliation, Benjamin's products are free from "junk". "Commercial soaps take out the super-fats," she says. "They are worth money so brands sell them to other companies to put in lipstick and mascara. So the soap ends up being a byproduct. They essentially sell you the waste."
Beauty is a lucrative side hustle; Benjamin can make as many as 350 bars of soap in two hours. "Even if I'm busy on the farm – during lambing time when we're working 16-plus hours a day – I can whip up a batch in the evening," she says. "It's a very cost-effective use of my time." And the business had few upfront costs. "It's small-scale: we have six soaps that are variations on a base recipe and our ingredients are minimal." Customers' enthusiasm is showing no signs of waning: a recently developed wool-wash bar for handwashing knitwear sold out instantly.
Thottrup of Borgo Santo Pietro says that producing end products such as moisturiser or soap, rather than merely selling raw materials, is key for profitability. "When we bought our farm, our neighbours were getting 19 cents for every litre of sheep's milk they sold," she says. "It's not worth getting out of bed for. You have to 'brand' the farm. It's the only way to make farming sustainable."
Thottrup and her husband Claus bought the Borgo Santo Pietro farm in 2001, after it had closed. Having worked as a fashion designer for 15 years, Thottrup assessed her new venture with a commercial mindset. She decided to transform part of the estate into a luxury 20-room hotel. "Our farmer neighbours were saying, 'You want to do a hotel here? You can get €50 per room, maximum,'" she says. "Today we get €3,400 a night for our most expensive room. We employ 90 people in an area where there was no industry left." She's also opened on-site restaurants offering field-to-plate dining by Michelin-starred chefs, earning the Thottrups the table mark-up for the food rather than the wholesale costs.
But beauty provides a more stable income. Unlike other aspects of farm life, such as lambing, the industry isn't dependent on the season. Products have a longer shelf life than produce so the lotions and potions can be sold globally. "You can't just export cheese to the other side of the world," says Benjamin. Her milky soaps, on the other hand, are stocked as far away as Australia, while Seed To Skin's body balms retail at Liberty department store in London and are sold online by Net-a-Porter and Luisa Via Roma.
Some see a much brighter future in beauty than in beasts. "We would like to have no animals on the land at all because there's a general movement towards eating less meat," says Toby Smallpeice of Amly. "Commercial meat production is not sustainable. The way to make the farm more efficient is to move away from livestock." These farm brands are perfectly poised: when seen on shop shelves, their products have an edge. "The story makes the brand even more legitimate for consumers," says Smallpeice. Benjamin agrees. "People can come and meet Honeysuckle if they want," she says. "Farm businesses are small-scale by industry standards. Customers trust that our products aren't marketing bullshit."