Observation 2 / China
Stout fellows
The dad bods are on display at Qingdao's annual beer festival.
Chinese dads need little excuse to bare their bellies. When temperatures go up, T-shirts come off. This reaches new heights – or widths – in Qingdao during its month-long beer festival. Glassy-eyed drinkers show off portly midriffs with pride; proof of regular pilgrimages to China's largest booze-up, which has been running in the northeastern coastal city since 1991.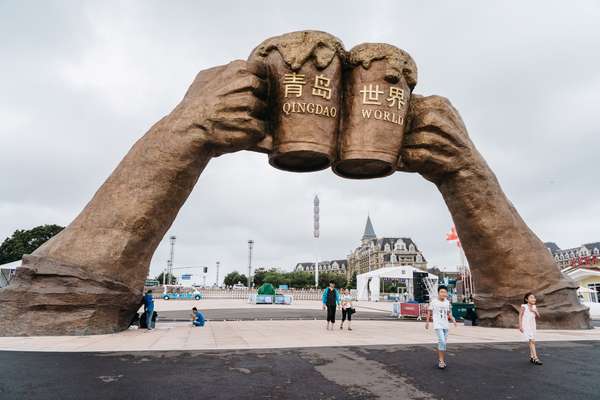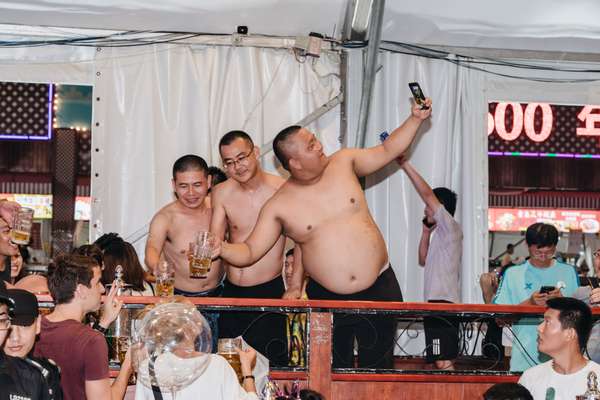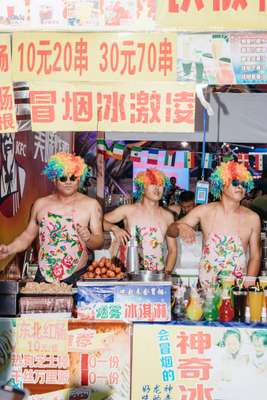 The Qingdao International Beer Festival is, despite its name, a very Chinese affair. The lager-swilling devotees – more than six million of whom visited this year – are overwhelmingly domestic. "We target people living within a four-hour drive of here," says Yan Yachao, the deputy secretary responsible for promoting the festival. "But we are still international – we have performers from Russia and brands from all around the world." Major labels such as Heineken, Carlsberg and Budweiser have their own tents alongside niche German pours such as Irlbacher Premium. Yet the most happening location is home to a raucous sing-song and served up by local beer giant Tsingtao.
This Chinese take on a Bavarian-style beer hall – a mix of The X Factor and mass karaoke – is surprisingly family-oriented. One man has brought along his two young sons, his wife, his mother-in-law and his mistress. Wholesome fun for all of the (extended) family. Mothers hold babies aloft while their husbands smoke cigarettes, stand on tables and sing their hearts out to their favourite pop songs that are performed on stage by scantily clad entertainers (although our minders are keen to downplay this aspect; a higher brow demonstration of calligraphy created the one noticeable lull in revelry).
Beer – or piju in Chinese – has been a longstanding feature of Qingdao's modern history. Germany occupied the city at the turn of the 20th century and established a brewery here. Now the festival is ushering in a new era of urban development and the port city of about 10 million people, located midway between Beijing and Shanghai, is expanding outwards. An under-sea road tunnel, completed in 2011, opened up the west of the city for development and the following year saw the opening of Qingdao International Beer City, a dedicated festival site with a concert hall, theme park and museum alongside a 3km-long sandy beach. Five-star hotels are springing up and a metro line is under construction.
The entrance to Beer City leaves no ambiguity as to what the place is all about. Two giant bronze arms clink mugs overflowing with beer – you can almost hear the shouts of ganbei (Mandarin for "dry cup") from within. While it looks like a place that communism goes to clock off, the beer festival is a latent soft-power asset – albeit a gassy one – for Qingdao.